There are so many reasons to purchase art jewelry…
You got that hard-earned promotion—celebrate!
You're experiencing a once-in-a-lifetime occasion—honor it.
You wrapped up that major accomplishment—pay it tribute.
You want to mark the beginning of a new relationship or the end of one— commemorate it.
Perhaps it's an investment—do it!
It's the perfect piece to round out an aspect of your collection—pounce!
Or maybe it's to treat yourself—just because.
Art Jewelry Forum's international gallery supporters celebrate and exhibit art jewelry. Our monthly On Offer series allows this extensive network of international galleries to showcase extraordinary pieces personally selected to tempt and inspire you. Take a look. You're bound to find a fantastic piece you simply have to add to your collection! (Please contact the gallery directly for inquiries.)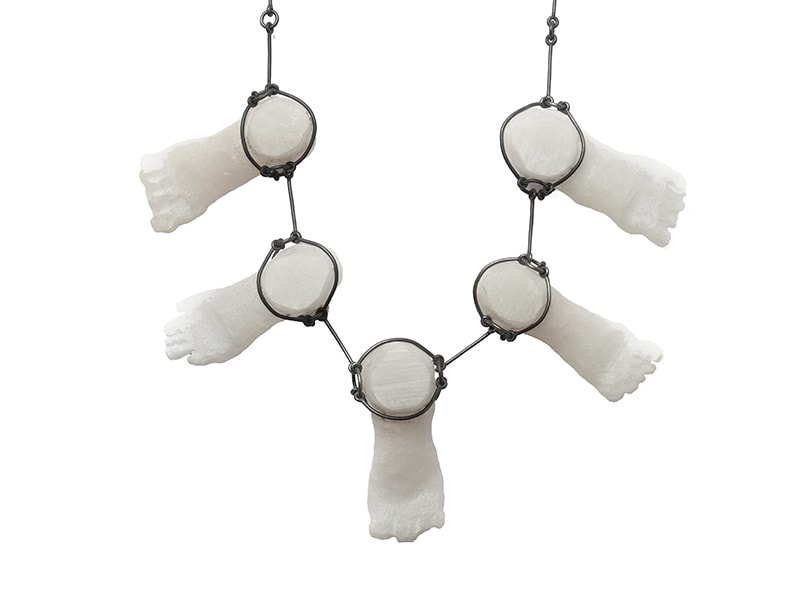 Gallery: Galeria Reverso
Contact: Paula Crespo
Artist: Ruudt Peters
Retail price: €2,800
"We walk through the world with our feet, but we are not aware that our feet do more than merely transport us," says Ruudt Peters. "Our feet are necessary tools, but also root us to the ground. I emphasize awareness of my place as jewelry maker in the world of body and mind. Terram helps me to connect between the micro and macro cosmos, between the upper and the underworld. Step on the ground."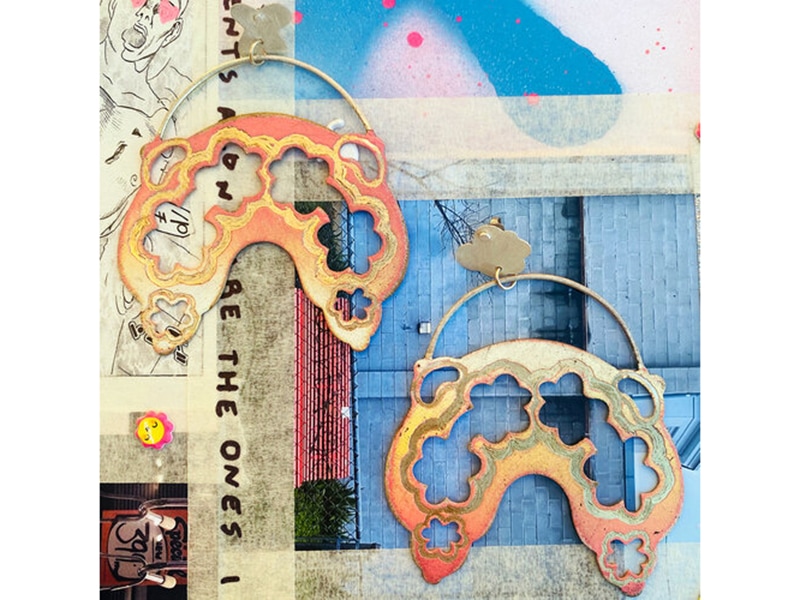 Gallery: Baltimore Jewelry Center
Contact: Shane Prada
Artist: $ulo Bee
Retail price: US$380
$ulo Bee earned their BFA from Texas State University with a focus in metals and jewelry in 2018; they are currently working toward an MFA at SUNY New Paltz. They have exhibited their work with Heidi Lowe Gallery, Ombré Gallery, Vancouver Metal Arts Association, Australian Temp/Contemp Gallery, and Milan Jewelry Week. They were included in the Emerging Artist program of New York City Jewelry Week and completed a three-month residency at the Baltimore Jewelry Center. Bee is featured in the Smithsonian Cooper Hewitt Learning Lab highlighting LGBTQIA+ artists, SNAG JaMS, ARTISTAR Jewels, and Accessory Vanity Fair Magazine.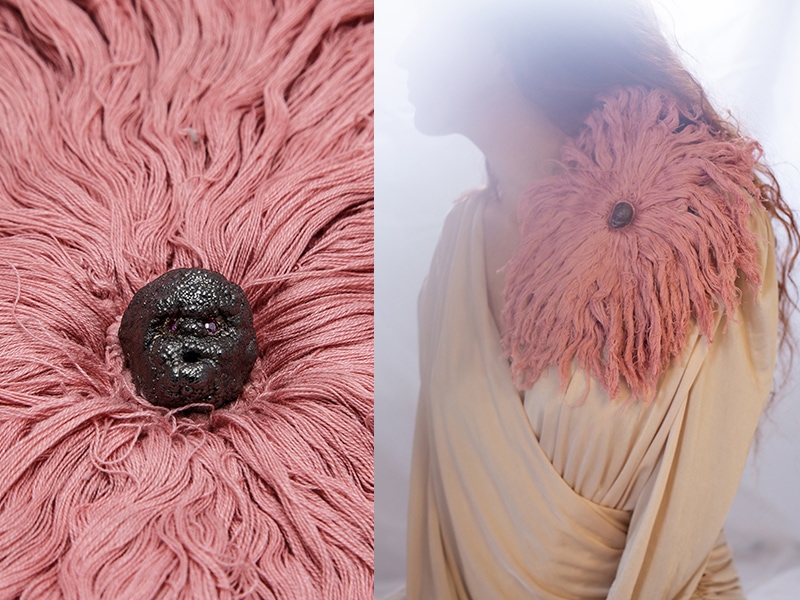 Gallery: Galeria Alice Floriano
Contact: Alice Floriano
Artist: María Ignacia Walker
Retail price: €900
This brooch is a very special piece that gave rise to the solo exhibition From Memory, by María Ignacia Walker. A very well constructed brooch, with a stitched back and a ruby-eyed face—unforgettable.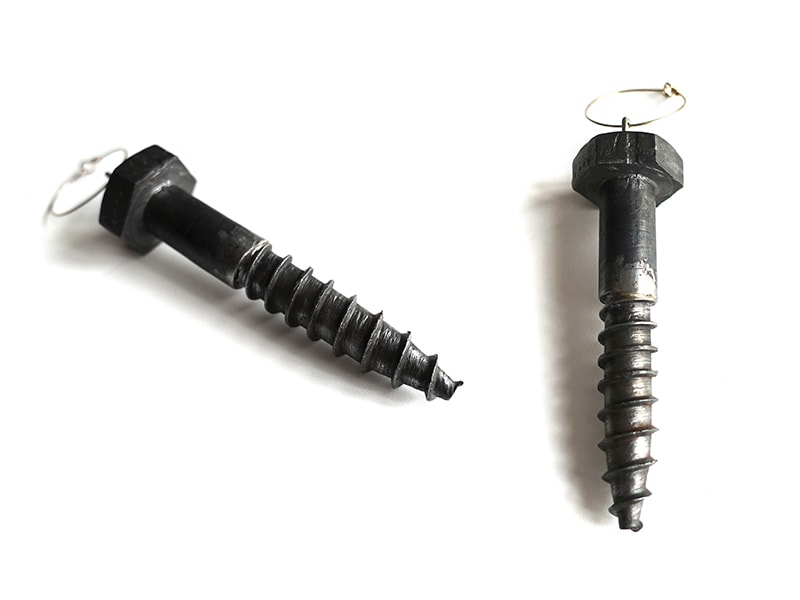 Gallery: Four Gallery
Contact: Karin Roy Andersson
Artist: Staffan Jonsson
Retail: €300
Staffan Jonsson collects objects. Everything is then put on the "thing table." The objects stand there and gravitate toward each other. They move around, forming couples or groups that create meanings and expressions. They are then joined together and made wearable. Jewelry as an art form has a unique ability to communicate with its surroundings and to move through rooms and environments. Jonsson was introduced to jewelry art by a teacher in 2015. This art expression grew on him. One of the things that captured him was the objects' intimate connection to those who choose to wear them.
Gallery: Archivio Negroni
Contact: Eliana Negroni
Artist: Maria Rosa Franzin
Retail price: US$350
Maria Rosa Franzin, international artist, is among the guest artists linked to the Gioielli in Fermento project and to Archivio Negroni's contemporary showcase. Her works reflect a daily poetry where traces, research, and results intertwine her approach to art jewelry with her experience—that is, the approach into teaching. For Franzin, her relationship with her students has a profound meaning, and is embodied in her personal method of leading the students to the achievement of the result. For Archivio Negroni, Franzin proposed the Archivio/Archive limited series of pieces and a seminar in Milan, suitable for everyone, that is an introduction to drawing and goldsmith design.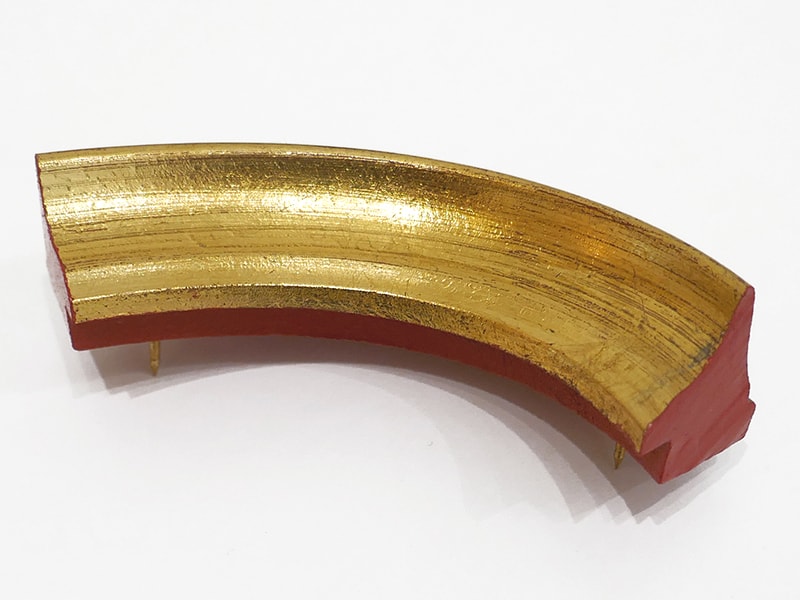 Gallery: Galerie Spektrum
Contact: Jürgen Eickhoff
Artist: Marianne Schliwinski
Retail price: €260
A small decorative brooch, made from a fragment of a broken frame.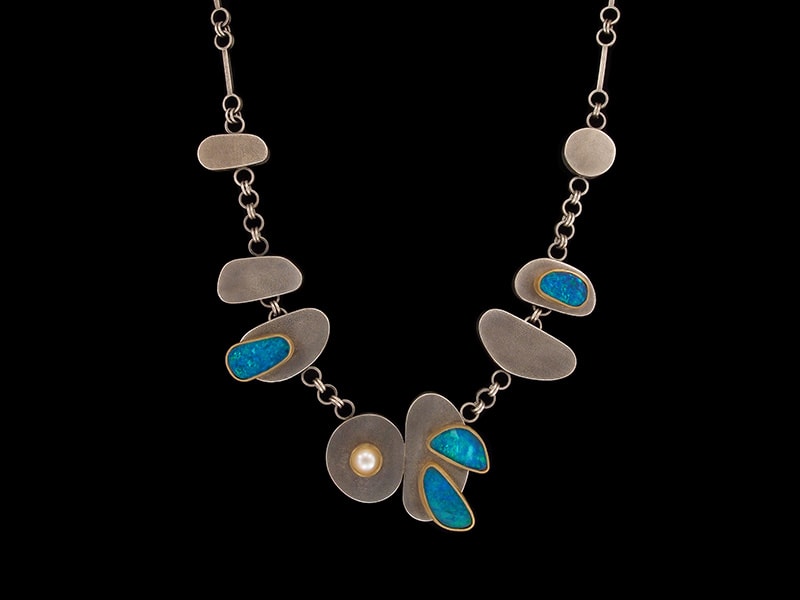 Gallery: De Novo Fine Contemporary Jewelry
Contact: Cherry LeBrun
Artist: Linda Perry
Retail price: US$2,200
Linda Perry loves to work with opals. In this necklace she has created forms in metal that echo the gentle shapes of the stones. Her lightly oxidized finish provides a subtle background to the dramatic blues of the stones, while the pearl offers a perfect point of contrast in the design.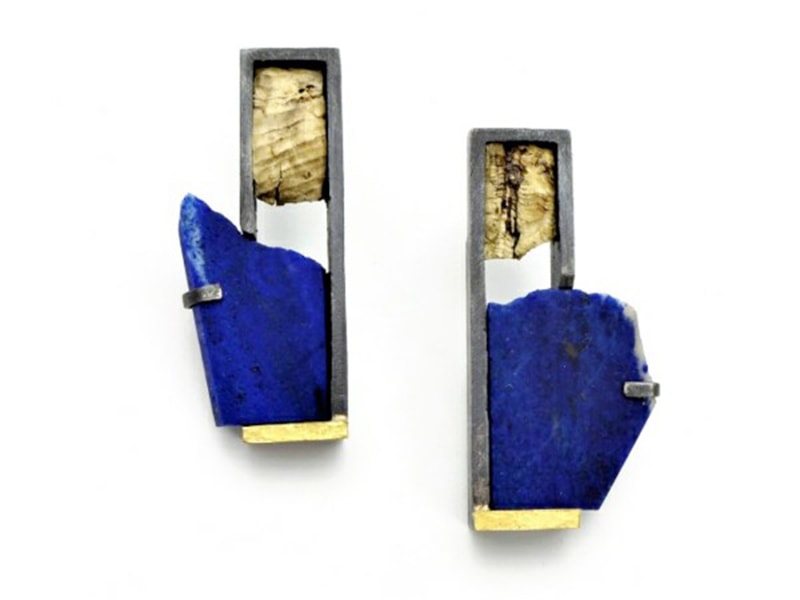 Gallery: Thereza Pedrosa Gallery
Contact: Thereza Pedrosa
Artist: Lluís Comín
Retail price: €480
Lluís Comín's work is an homage to the mountains. The mountain is the place where the senses and emotions become sharper, where friendship becomes a kind of religion, where time is relative and freedom absolute. The artist's love for his land, for Barcelona, and for the mountains can be found in each of his creations, where natural elements are often included.
Gallery: Gallery Loupe
Contact: Patti Bleicher
Artist: Shinji Nakaba
Retail price: US$400
Shinji Nakaba (born 1950) is a contemporary Japanese jeweler who renders naturalistic, albeit ambiguous, images in minerals, shell, pearls, and steel, as well as upcycled aluminum cans and plastic bottles. Nakaba believes all materials to be of equal value for jewelry-making and treats them with the same reverence, whether precious metals and gemstones or discarded aluminum beer cans and plastic water bottles. He carves gemstones, seashells, and pearls using ancient processes. Nonetheless, his necklaces, brooches, and rings look anything but traditional, even though the realistic images are rendered with utmost precision.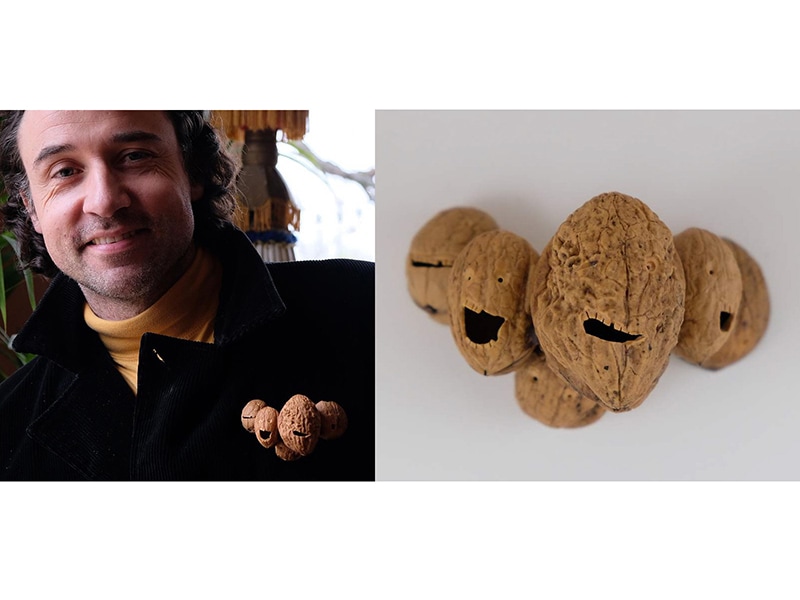 Gallery: Galerie Door
Contact: Doreen Timmers
Artist: Hartog & Henneman
Retail price: €290
The artist duo Hartog & Henneman live in the old fortified town of Buren, in The Netherlands, opposite the church. There's a huge walnut tree in between. The Are You Nuts? collection started out as an experiment, just for fun. With an abundance of nuts literally on their porch, they started carving them and were surprised by all the faces and the wide variety of characters that emerged. New characters keep on coming, each time slightly different, each nut with its own story and emotion. A never-ending story? Are you nuts?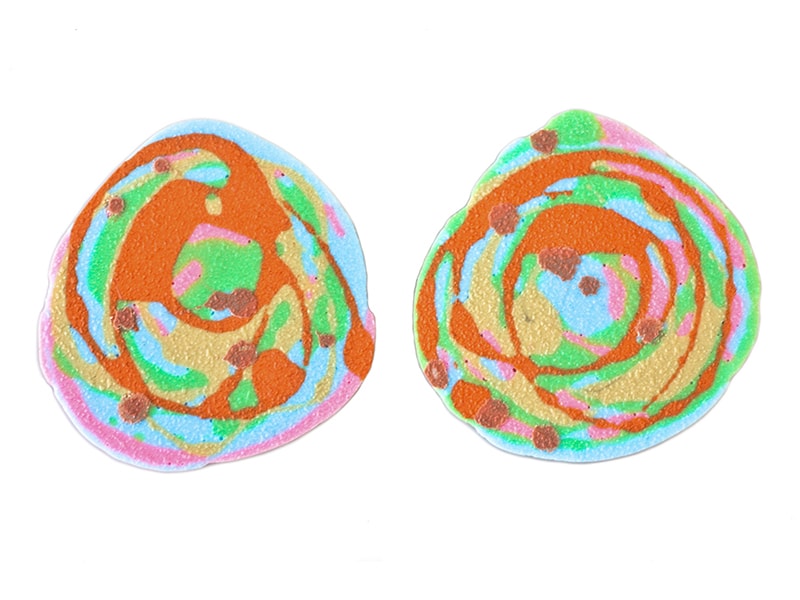 Gallery: Galerie Noel Guyomarc'h
Contact: Noel Guyomarc'h
Artist: Ela Bauer
Retail price: CAN$210
The colored resin offers the artist multiple possibilities that she uses brilliantly. A free gesture and spontaneity are found in this collection.
Gallery: Galeria Tereza Seabra
Contact: Tereza Seabra
Artist: Iris Eichenberg
Retail price: €3,000, plus shipping
"Beginnings/Endings or everything in between. Imagine a secret or a ritual to unfold," says Iris Eichenberg. "These sets of tools or remnants offer a new shared moment, the unfolding of a potential secret. The objects aim to activate but do not direct a concrete scenario. They activate a moment that might be choreographed between two people or that might travel through lines of generations, friends and families connected in the moment of unpacking, the intimate gesture of opening up, the embracing and marking of an event. This event does not exist yet. I am curious about the impact things have on us and how they create a space that would not exist without them. So, rather than suggesting a narrative, I wish to hand the tools to be activated. Lending a space which is not occupied but might not mark endings but beginnings of a shared act."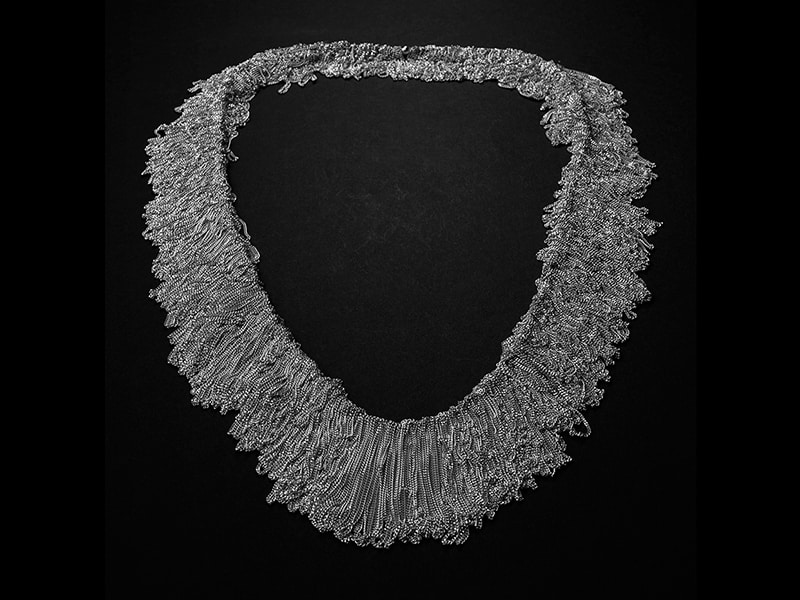 Gallery: PLATINA Stockholm
Contact: Sofia Björkman
Artist: Claudia Milić
Retail price: US$3,800
When Claudia Milić makes her jewelry, she does so with the distinct desire that each piece will fully engage the senses. This necklace is created by thousands of identical elements, in a time-consuming and repetitive process that Milić describes as being "near meditative." It looks like flowing rivers of chains within chains, cascades of preciousness that glitter and shine yet remain constrained within a design so elegant it merely caresses the wearer. The feeling of the piece is intriguing on many levels.
Gallery: Galerie Marzee
Contact: Marie-José van den Hout
Artist: Chequita Nahar
Retail price: €425 (outside the EU: $438)
Chequita Nahar just won the Prestigious Françoise Van Den Bosch Award 2022. She's the head of the Fine Art and Design program at Maastricht Institute of Arts and an important promoter of diversity and inclusion in art education. She curated Schmuck 2020.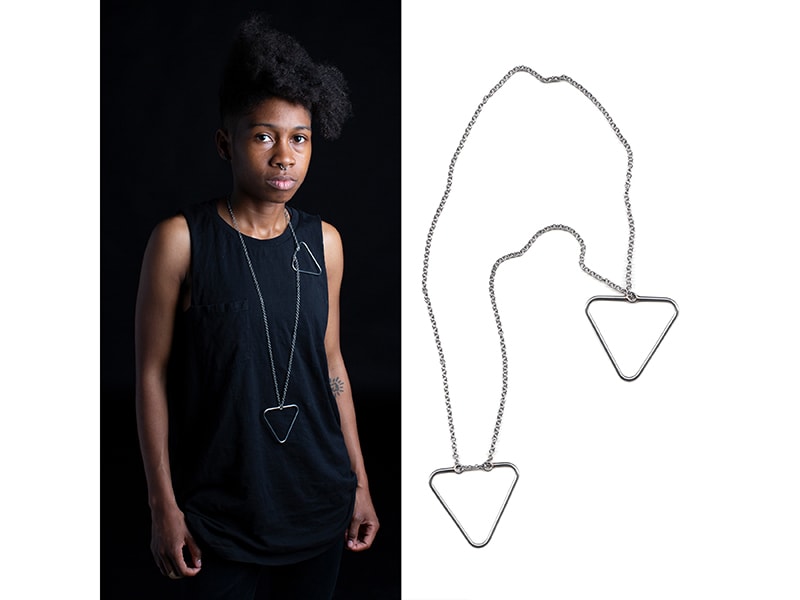 Gallery: Ornamentum
Contact: Stefan Friedemann
Artist: Rebekah Frank
Retail price: US$400
Rebekah Frank's Charmed series necklaces allow even the most budget-conscious wearer to add one of her stunning steel compositions to their collection. The Charmed necklaces continue her compositional explorations of fluid chain juxtaposed with the linear elements found in her more substantial works. While these are simpler constructions, they allow themselves to be worn in multiple manners—long, short, open, closed. Contact Ornamentum for photos of the different variations.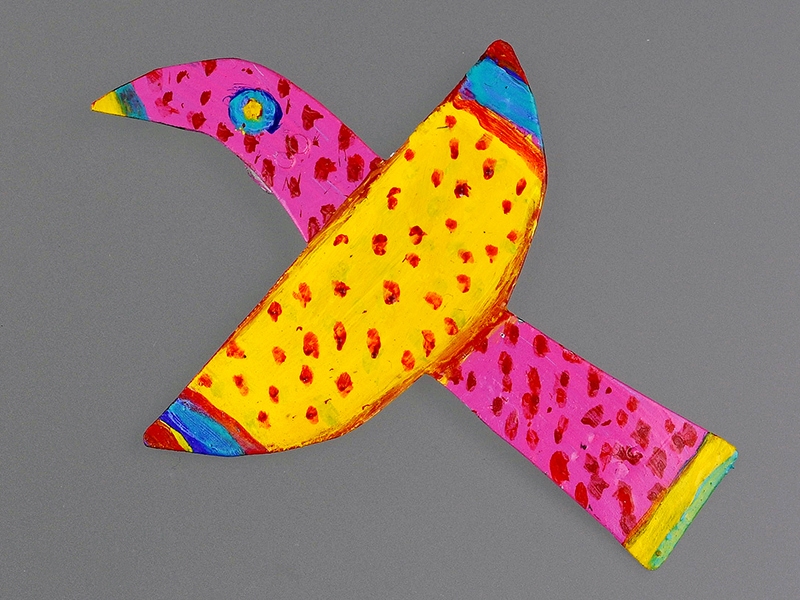 Gallery: Fingers Gallery
Contact: Lisa Higgins
Artist: Barry Clarke
Retail price: NZ$180
"I came late to jewelry-making and am self-taught," says Barry Clarke. "After spending most of the 60s through the early 70s as a seaman in the Merchant Navy, I was determined, with the money I had saved, to paint. Visits to St. Ives, Cornwell (UK), where artists like Alfred Wallis, Ben Nicholson, Roger Hilton, Bob Law, Breon O'Casey, and Bryan Illsley have lived, influenced my thinking. Abstraction, with a leaning toward simplified figuration, where birds, boats, and sea are not far away. In my work, jewelry methods are simple. Scraps of gold or silver are melted and beaten out. Stones are cut and ground, and tin playfully painted."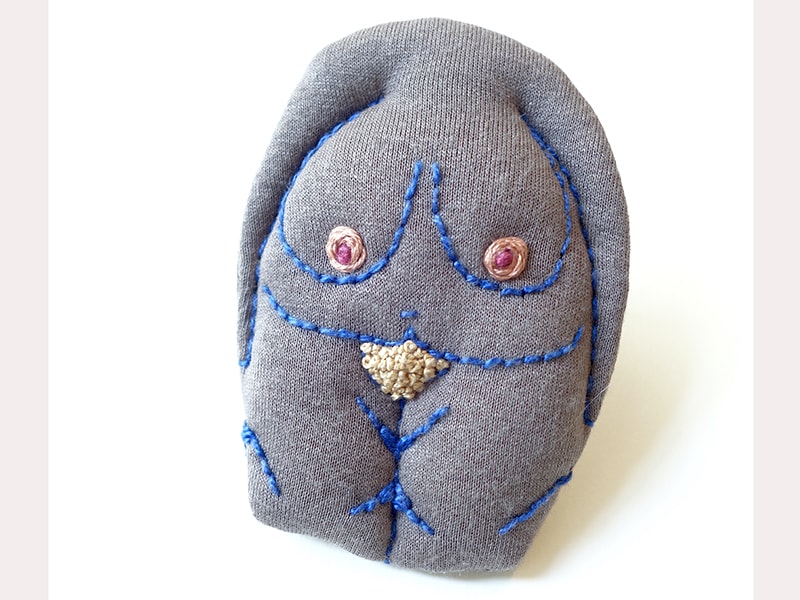 Gallery: Galeria Tereza Seabra
Contact: Tereza Seabra
Artist: Inês Reis e Silva
Retail: €140, plus shipping
In her work, Inês Reis e Silva celebrates the difference and acceptance of the skin in which we live. Using techniques traditionally linked to women's hand work, the artist questions the way society sees women's bodies and how we accept ourselves in the face of certain beauty prejudices that can be segregating. With this work, the artist invites us to expose and enjoy without fear our wrinkles, our hair, our varicose veins, or our color.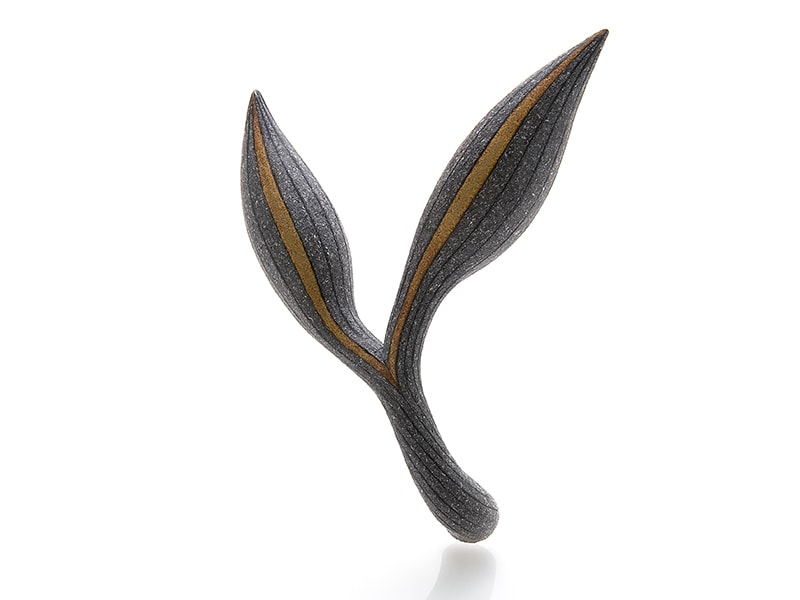 Gallery: MydayByday Gallery in Rome
Contact: Laura Helena Aureli
Artist: Jaiik Lee
Retail price: €865
MydayByday Gallery in Rome is featuring artist Jaiik Lee, with his brooch from the series Lifeform_43, from 2021, in leather board, split leather, and sterling silver. "I've been making metal objects with the theme of life variation and evolution," says the artist. "Since various forms of experiments were essential to make them, I began to make small handicrafts of various forms using materials like recycled leather boards and split leather, which have flexible properties."