As the executive director of Art Jewelry Forum (AJF), it is my distinct pleasure to work with an amazing board of directors. These volunteers are dedicated to the field of art jewelry and lend their vision and leadership to guide the activities of everything we do.
Since I became the executive director in June 2015, I have been honored and grateful to have the insight and expertise of Susan Cummins as chair, Marion Fulk as treasurer, and Linda Peshkin as secretary and organizer of many of the past AJF trips. These three individuals' passion for art jewelry and years of dedication to the board helped shape AJF into the organization it is today. As Marion and Linda step down from the board, I look forward to enjoying their company in a different capacity, specifically by exploring the art jewelry world with them as they continue to support AJF through their membership and participation in AJF trips. We are very pleased that Susan will continue to serve on AJF's board, as the chair of the development committee, with a focus on the long-term sustainability of the organization.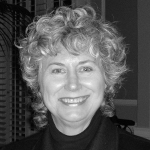 I'm pleased to introduce our new board leadership for 2018: Sienna Patti and Raïssa Bump as co-chairs of the board, Sarah Turner as treasurer, and Bonnie Levine doing double duty as secretary and continuing as chair of the award and grant committee. These women have shown their dedication to art jewelry in their personal lives as artists, gallerists, and administrators, as well as through their willingness to serve on AJF's board for many years. To see the full roster of AJF's board of directors and their roles in the organization, please go to this link.
I look forward to working closely with this team of inspiring jewelry thinkers in 2018. If you are interested in being on the AJF board, please contact Doug Bucci to find out more information.
Rebekah Frank
Executive Director
Here's a note from our new co-chairs:
As we write this quick note to introduce ourselves in our new roles as co-chairs of AJF's board, we are in sunny San Francisco listening to Rebekah read aloud the wonderful thank-you notes she received from AJF members who attended the 20th anniversary trip (January 11-14, 2018). What stands out is that connecting the makers, dealers, and wearers of jewelry is what makes Art Jewelry Forum such a fantastic organization. As an artist and a dealer coming together to lead this organization into the future, we feel confident that this community will thrive and continue to inspire. We are excited, honored, and galvanized (get it?) to serve you.
—Raïssa Bump and Sienna Patti, AJF Co-Chairs