AJF just announced this year's five 2018 Artist Award finalists: Karin Roy Andersson, Bifei Cao, Corrina Goutos, Aurélie Guillaume, and Jelizaveta Suska. Their work represents a group of outstanding pieces of contemporary jewelry.
For this, the 16th annual AJF Artist Award, the jurors were Swedish collector Inger Wästberg, Australian curator Su san Cohn, and American artist Lynn Batchelder, the winner of the 2016 Artist Award. The jurors met in December and selected the finalists for the 2018 AJF Artist Award from more than 100 applicants. Their choices were based on originality, depth of concept, and quality of craftsmanship. These artists were all 35 years of age or younger at the time of the application deadline. The winner will be announced during Munich Jewellery Week, in March. During the fair, the work of all five finalists will be on exhibit at Platina's booth in the International Trade Fair hall in Munich, in the Frame area surrounding Schmuck.
AJF asked the finalists to tell us a bit about their backgrounds, the work they submitted for the competition, and their thoughts on the future of the art jewelry field. Here is our interview with Karin Roy Andersson. It's the first of the five interviews with all the artists.
Bonnie Levine: Congratulations on being one of the five finalists of the 2018 Artist Award competition—that's quite an accomplishment! Please introduce yourself to our readers. How did you become interested in jewelry, and what inspires your work?
Karin Roy Andersson: Thank you! I was so happy when you called me; I thought you might hear my heart beat all the way across the Atlantic!
I was born in the north part of Sweden—Umeå. There I studied at the nature science program, thinking I would become a physician, a scientist, or a physicist. However, somewhere an artistic career was a dream I couldn't let go. One day I was surfing around looking at different design schools and I found HDK – Academy of Design and Crafts in Gothenburg. I read that they had a program for jewelry art. I had never heard of it before, but it sounded very appealing. I think it was the freedom of choosing materials and the scale that made the thought of producing three-dimensional "hand-sized" objects so attractive. Without any hope of anything else than a refusal, I sent my application and when I, about one year later, entered the wonderful brick building on the Swedish west coast, I almost expected to suddenly wake up.
Like many others I find a lot of the inspiration for my work in nature. Fish, birds, plants, and landscapes—the shapes and patterns appear in my pieces but in a non-figurative way.
An urge to repeat movements is also something that is significant for both my personality and for my work. Multiplicity is something that really attracts me. I love big volumes of small details—repetitions that create patterns and rhythms that you can look at very closely or see from a distance, discovering different qualities depending on the scale. The creative process is often a lot about solving problems. I can definitely see similarities between how I approached mathematical equations and how I now think about making a piece or a body of work.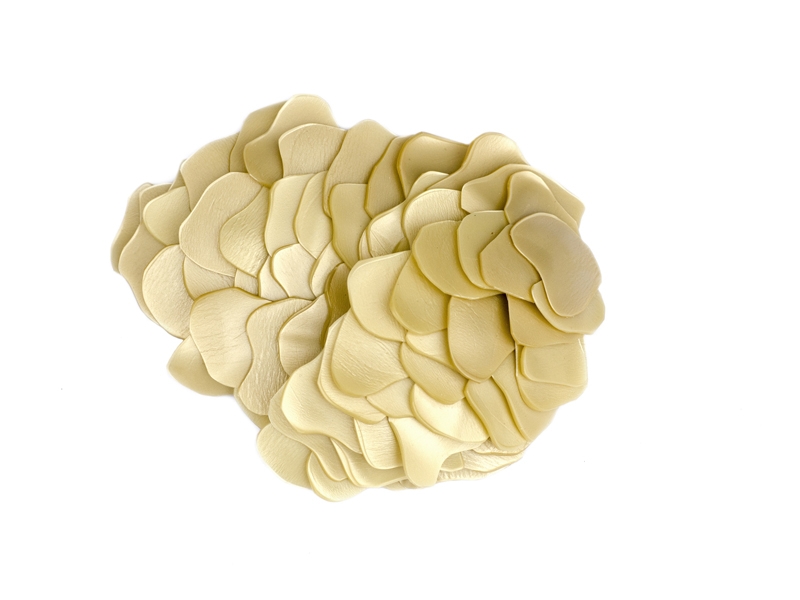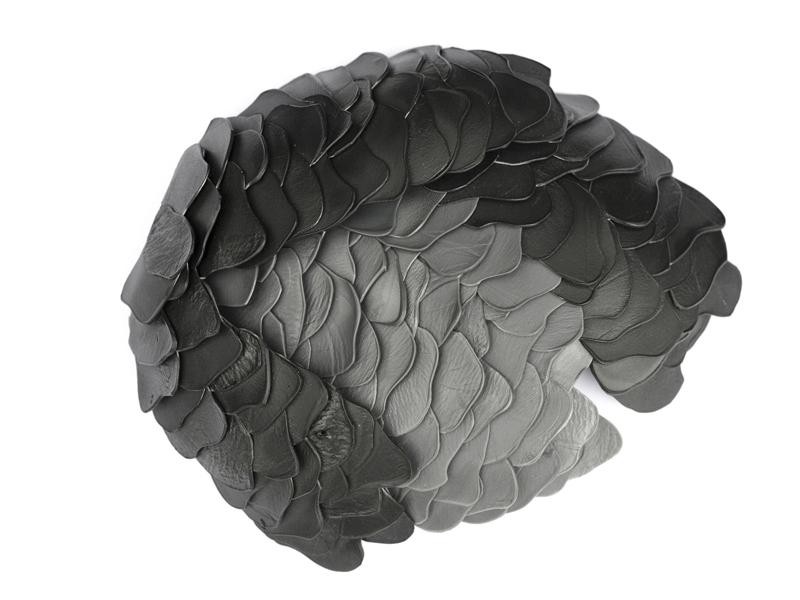 Tell us about the work you submitted for the competition.
Karin Roy Andersson: I have been working with plastics for some years now. I find my material in garbage containers, on the banks of ditches, and at the hairdresser. I even search for it in my friends' bathrooms and fridges—you have to be observant if you are going to find that perfect jewelry material.
From the plastics I make scales that I sew together by hand. It started with some fish-inspired pieces, but lately the pieces have turned more into birds and other "scale-covered" animals. In the most recent work I have moved from the oval shapes in the fish and bird pieces to more irregular shapes. Different colors give different associations and it's often when I sew the pieces together and the material grows that it starts reminding me of something and that it gets a title and a background story.
For example, the Sastrugi pieces that are made from a mayonnaise bucket. The pieces I cut from the plastics had a bark-inspired shape, but when I sewed them together they made me think of snow. It made me think about the parallels between the protective layers of bark and the quiet, calming snow blanket that puts growth and animals to sleep, and maybe gives time to reload. And how both trunks and snow show other sides in storms and avalanches. Falling trees and collapsing snow covers clearly demonstrate the balance of power between man and nature. Somewhere in the back of my head I had a notion that snow can form layers looking a bit like the material I was making and that there is a word for it. I contacted my sister, who knows a ridiculous amount about snow, and of course she could help me to find the word: Sastrugi.
What excites you about the art jewelry field?
Karin Roy Andersson: I absolutely love the art jewelry field! It constantly strikes me with clever, innovative ideas, great concepts, and super-skilled craft. But what might be even more impressive are the people behind the artwork. Besides my own artistic work, I run a jewelry gallery in Gothenburg: Four. This means that I have lots of good excuses to go to events like Schmuck or SNAG or Joya, and that I have a lot of contact with artists, gallery managers, and other jewelry enthusiasts. They are absolutely unbeatable—I can't imagine another business where you would find these kinds of intelligent, warm, friendly, and fun colleagues.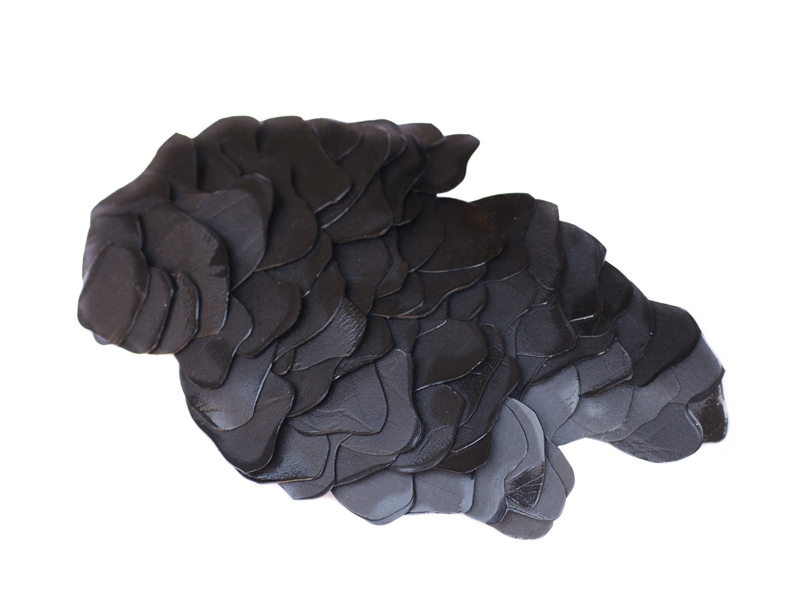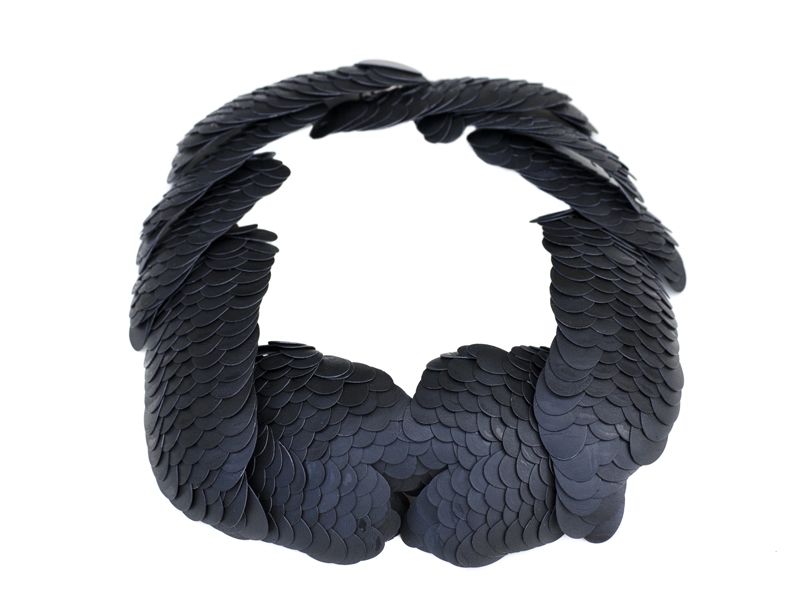 Where do you think the art jewelry field is going? Are there new and exciting trends that you see?
Karin Roy Andersson: I enjoy seeing how the different events like the Munich and Athens Jewelry Weeks, Joya, SNAG, Parcours Bijoux, etc. are evolving. I hope this will make people "from the outside" more exposed to art jewelry—that it will let them bump into it in all the different venues that are used to showing exhibitions, for example cafés, shops, hairdressers, or libraries; that people get to see art jewelry worn in the streets and hopefully that it will generate some media interest so that people will read about it in the newspapers and see it on TV.
If you could write a master plan for your practice, where would you like to be five years from now?
Karin Roy Andersson: I am actually quite happy with how my situation has developed in the last five years, and I am looking very much forward to the coming years. I am combining my own artistic work with managing the gallery—Four—and some other projects and collaborations. This makes it possible for me to work full time with jewelry, and that was one of my goals when I finished HDK. During the coming five years I hope to continue developing the business at Four, to show some of the well-known jewelry superstars to the Gothenburg audience, and to find new artists, maybe from countries that are not yet that well represented in the art jewelry scene, or who have connections to other art and craft traditions.
This January I will be teaching a workshop in Beirut. My colleague Sanna Svedestedt Carboo and I are also planning for a workshop that will take place here in Sweden this coming summer. Next year I will participate in some international exhibitions, for example one in Norway and one in South Korea. These kinds of work projects give me opportunities to travel, to meet new colleagues, and to make plans for new cooperations. I hope to see more of this in the future. In five years I also hope to make a lot of new work and maybe discover some new techniques and materials.
Congratulations again! Thank you very much.
Karin Roy Andersson: Thank YOU! This is the best Christmas gift!