October 2023, Part 1 
Art Jewelry Forum is pleased to share the news that members of our community find noteworthy. Is something missing? The success of this compilation of compelling events, news, and items of interest to the jewelry community depends on YOUR participation. If you're a member of AJF at the Silver level or above, you can add news and ideas to this bi-monthly report by going here. If you aren't a member, but would like to become one, join AJF here.
Listings gathered with assistance from Carrie Yodanis.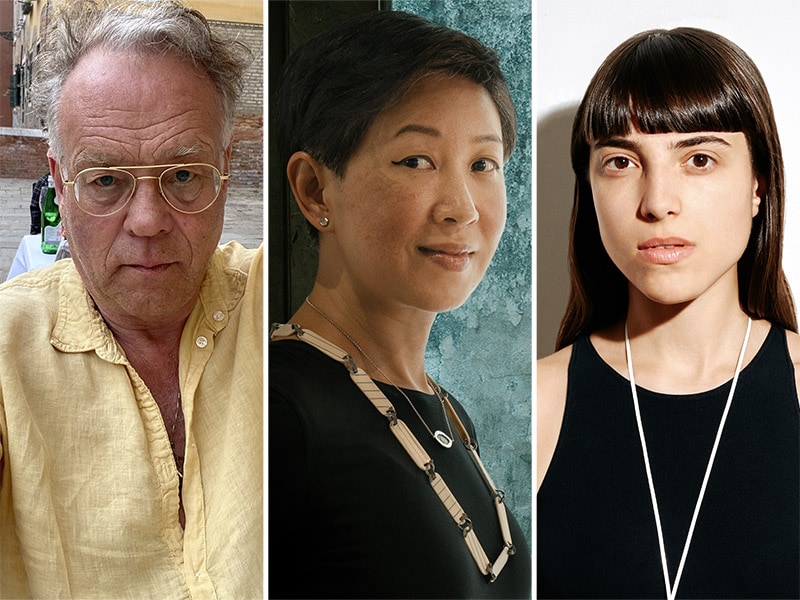 WIN $7,500 AND AN EXHIBITION IN MUNICH!
AJF's Young Artist Award acknowledges promise, innovation, and individuality, and advances the careers of rising artists. Artists aged 35 and under may apply for this international prize in contemporary art jewelry, which includes US$7,500 for the winner, as well as an exhibition during Schmuck, in March 2024, for the winner and four finalists, who will each receive $1,000. Applications accepted through November 6, 2023. Info.
---
THREE AJF LIVE EVENTS COMING SOON
AJF Live with Sulo Bee, October 4, 2023. Register here.
AJF Live with Khanya Mthethwa. The winner of the Susan Beech Mid-Career Grant will be our guest on October 25, 2023. Register here.
AJF Live Goes to South Africa, November 1, 2023. Register here.
---
JEWELRY EVENTS
From trunk shows to jewelry weeks, auctions, lectures, symposia, and everything in between. See the list here.
---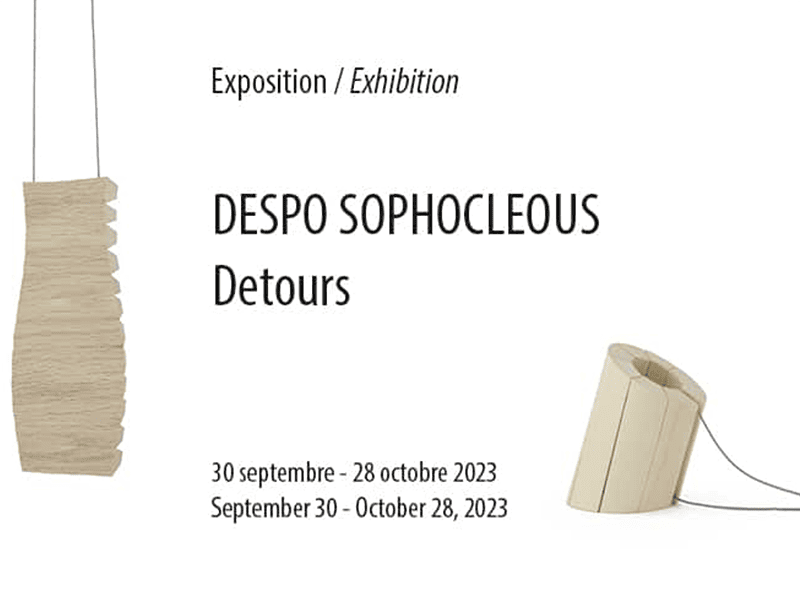 FEEL LIKE SEEING A JEWELRY SHOW?
Find these listings and many, many more on our dedicated exhibition page:
FROM OUR MEMBERS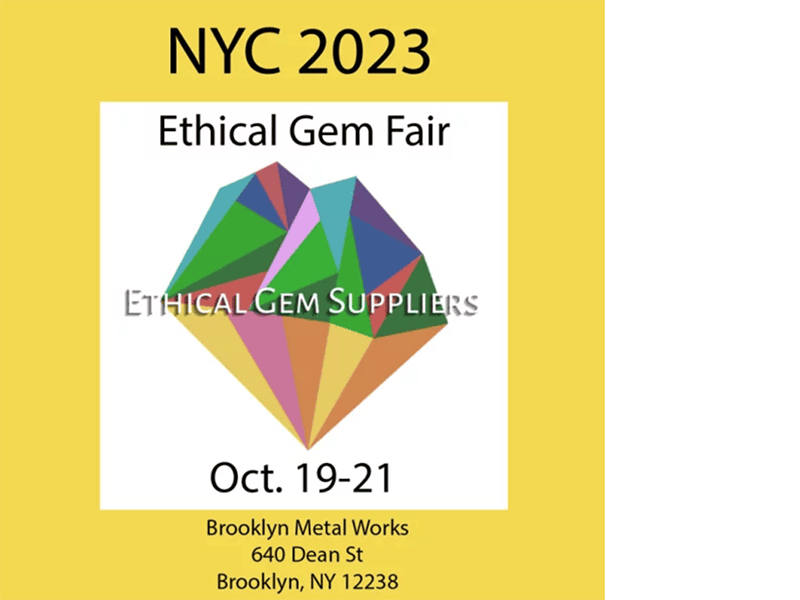 ETHICAL GEM FAIR AT BROOKLYN METAL WORKS: OCTOBER 19–21, 2023
Held by a group of gemstone suppliers with a commitment to transparency and responsible sourcing in the gemstone supply chain. They operate in different ways to achieve this: by supporting artisanal miners and their communities, providing gemstones with verifiable origins and full traceability, committing to fair pay and fair treatment for everyone involved in the supply chain, adhering to clear and responsible environmental policies, and promoting health and safety at mines and supplying SCS-certified recycled diamonds and gemstones. Info.
---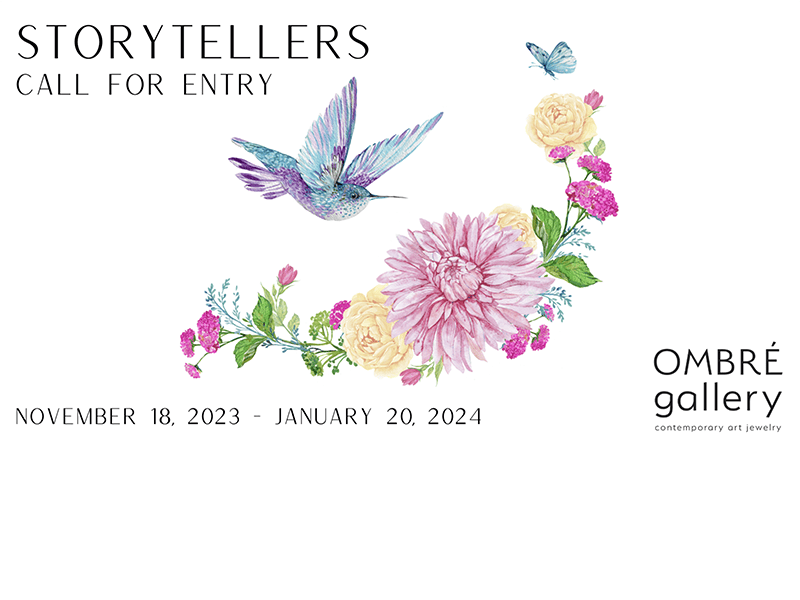 CALL FOR ENTRY—STORYTELLERS
This exhibition at Ombré Gallery will focus not only on the jewelry, but the artists' stories behind the work—revealing a memory, a truth, or something imaginary. The magic of storytelling has existed across cultures dating back over 30,000 years. Today, artists continue to share storytelling traditions, but have added modern methods such as social media, photography, performance, and videography to activate and showcase various forms of art and craft. Deadline: October 1, 2023. Info.
---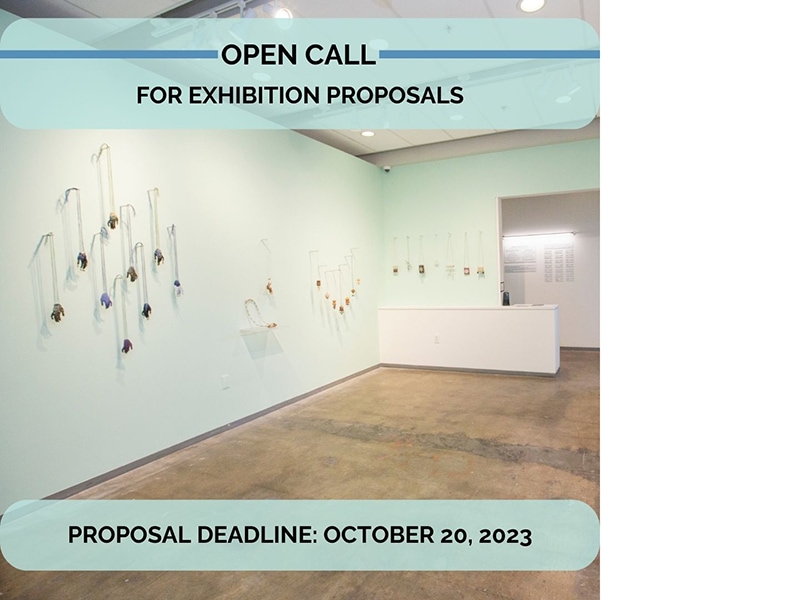 THE BALTIMORE JEWELRY CENTER SEEKS EXHIBITION PROPOSALS
Proposals, which are for BJC's 2024/25 gallery schedule, are not limited to jewelry, and might include thematic exhibitions or exhibitions showcasing an artist or group of artists. BJC wants exhibitions that explore the gallery setting in an unexpected way, seek to place jewelry and craft within a larger context, and expand connections in the community at large. The BJC's goal is to demonstrate unique curatorial viewpoints, expose its audience to fresh and emerging makers and ideas, and present art jewelry and metalsmithing in a broader art context. The institution is especially excited to see proposals that create a diverse and inclusive gallery space in order to elevate underrepresented voices. Deadline: October 20, 2023. Info.
---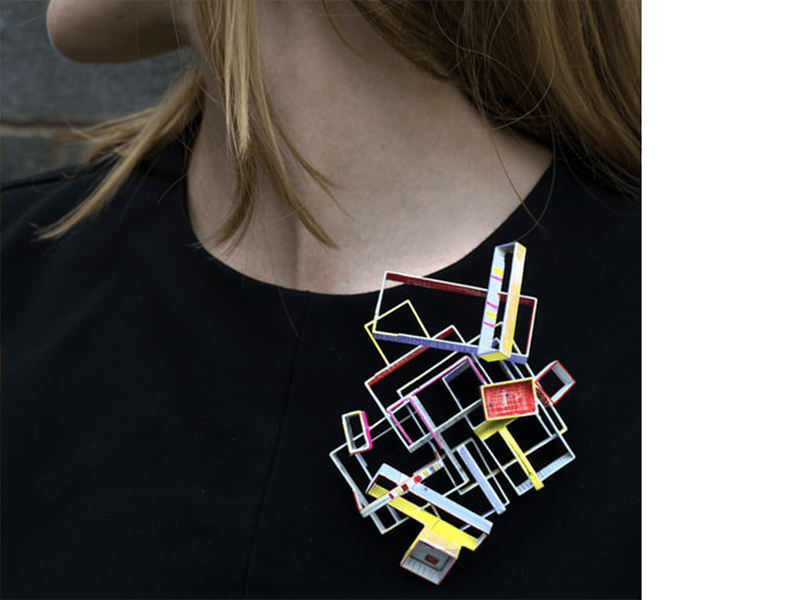 DEMITRA THOMLOUDIS WILL TEACH A WORKSHOP OCTOBER 18, 2023
Learn how to transfer laser-printed images to metal surfaces. This technique can also be used on multiple other materials, including wood and plastics. Afterwards, you'll talk shop and discuss hacks and best practices. Info and tickets here.
---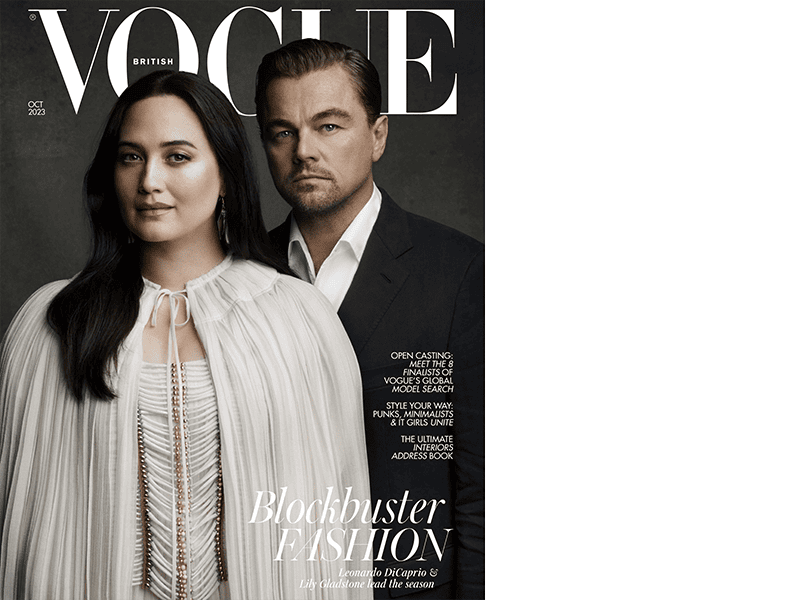 NATIVE AMERICAN DESIGN: THE OTHER STAR OF BRITISH VOGUE'S OCTOBER COVER
Jewelry by Charles Loloma, Jamie Okuma, Pat Pruitt, Ataumbi Metals, Elias Not Afraid, Ironhorse Quillwork, Patricia Michaels, and other makers feature in the images accompanying the cover article, which centers on Lily Gladstone and Leonardo DiCaprio's upcoming film, Killers of the Flower Moon. Mahnaz Collection, an AJF member gallery, loaned pieces for the photo shoot. Congrats to all the makers! More.
---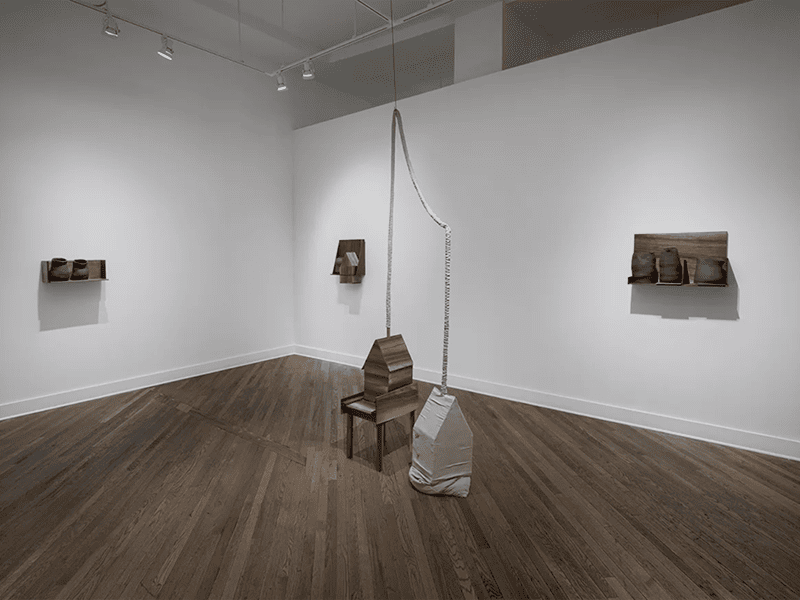 TWO EXHIBITIONS FEATURE IRIS EICHENBERG
Iris Eichenberg: Where Words Fail will run October 20, 2023–January 13, 2024 at the Lowe Art Museum, in Coral Gables, FL. Featuring nearly 40 objects that span three decades of activity, this exhibition is the first comprehensive, mid-career survey of Eichenberg's oeuvre, which ranges from conceptual jewelry to thought-provoking installations. Topoanalysis/ Wer bin Ich? is at David Kelin Gallery, in Detroit, through November 4, 2023. It shows new work that refers to Gaston Bachelard's study of the sites of our intimate lives.
---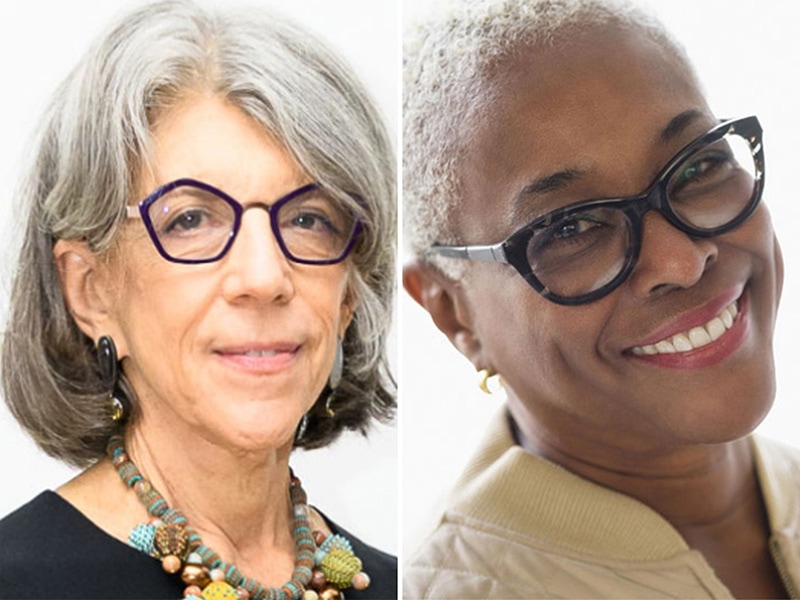 TWO AJF MEMBERS JOIN MAD'S BOARD OF TRUSTEES
Susan Ach and Cheryl Riley have joined the Museum of Art and Design's board of trustees. Ach was a human resources executive and advised law and graduate students; she has served on the MAD About Jewelry Advisory Committee for more than a decade. Riley was an account executive in advertising and is now an artist, furniture designer, and art advisor whose focus is artists of the Black African Diaspora. She was a guest on AJF Live; watch it here.
---
PODCAST INTERVIEWS DIRK ALLGAIER
The Jewelry Journey talked with the managing director of Arnoldsche Art Publishers, which is known for its gorgeous books on art jewelry and fine craft. Listen here.
---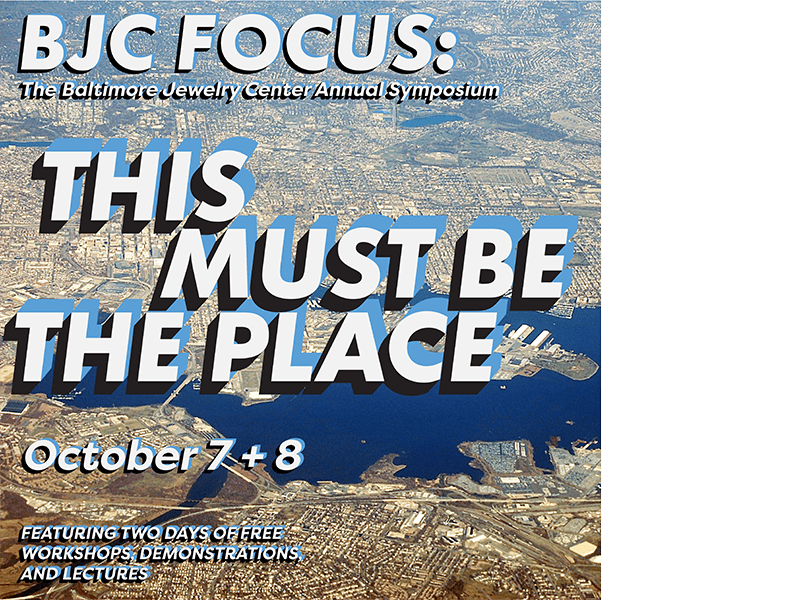 SYMPOSIUM: OCTOBER 7–8, 2023
BJC Focus is a free, annual symposium that features presentations, workshops, and demonstrations all centered around a particular theme. This year's two-day event will explore the complexities of place: how artists and makers utilize both the direct artifacts of locations and spaces, as well as memory and imagination, to inspire and influence their work. It will feature speakers whose work utilizes specific references to place, including: Demitra Thomloudis, Christina P. Day, Khanya Mthethwa, and Liesbet Bussche. The symposium will also feature a day of free workshops and demonstrations related to this year's theme of place.
---
MARGIT HART IS PARTICIPATING IN VIENNA DESIGN WEEK 2023
The maker is part of a presentation called Design without Borders | Design ohne Grenzen, held at Vienna's Collegium Hungaricum through October 6, 2023.
OTHER NEWS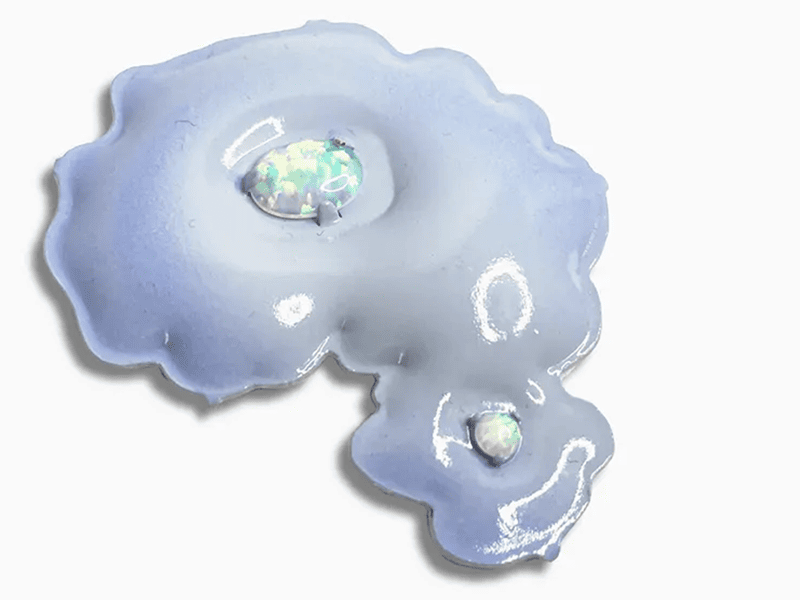 SHIQI FU FEATURED IN WALLPAPER*
"My aesthetic philosophy is centered around crafting pieces that not only embellish the body but also stir emotions and memories," says the Glasgow School of Art grad, "thus bridging the gap between the enchanting realm of childhood and the intricate complexities of adulthood." The work is primarily based on clouds, which the maker used to want to catch as a child. More.
---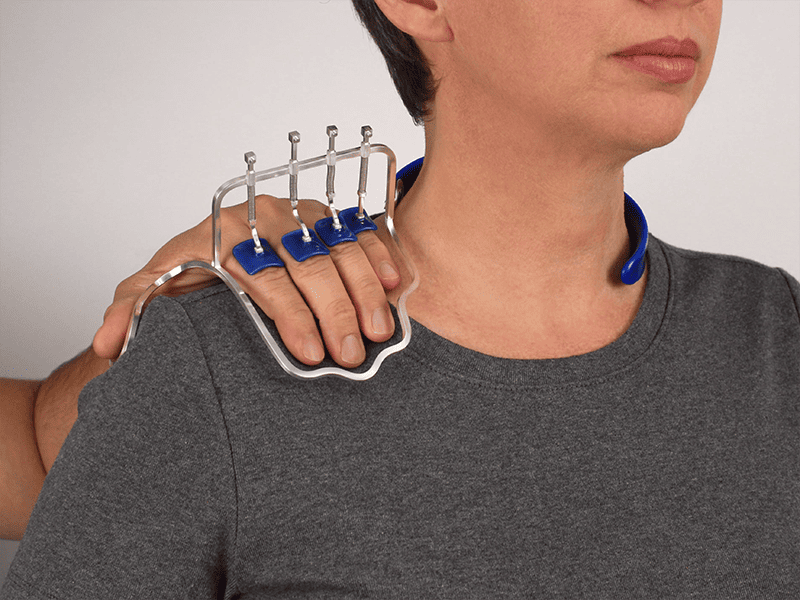 JENNIFER CRUPI FEATURED IN COLOSSAL
The artist's new Tools for Reassuring Contact series explores the power of human touch. Born out of lockdown isolation, the prosthetic-like pieces curve and press the fingers and palms down, into the shoulder or arm of a companion. "Each work implies an empty space where a second user is encouraged to place [their] hand," Crupi says. "Once engaged with the piece, a clamp-like mechanism exaggerates the contact and pressure." More.
---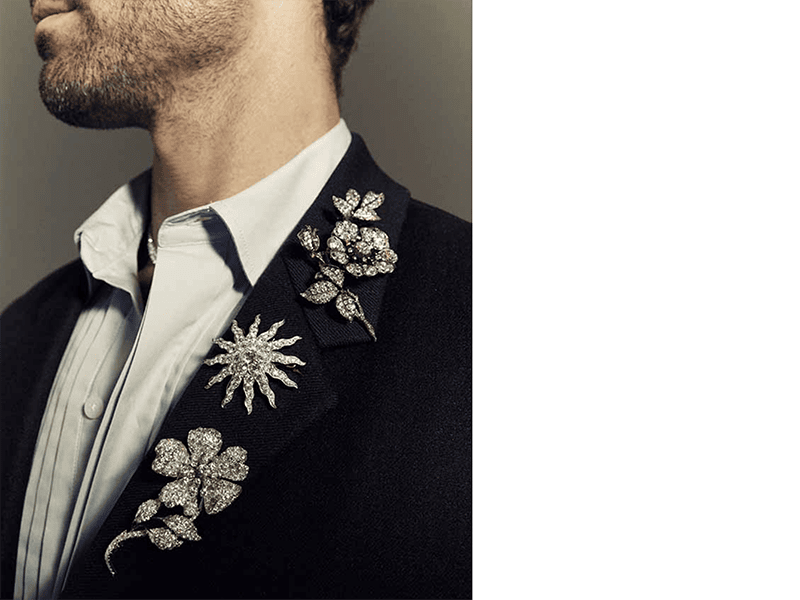 LET'S SEE MORE DUDES WEARING BROOCHES!
Before we routinely saw high-profile men wearing brooches on the red carpet, Frank Everett, Sotheby's vice chairman of jewelry, was wearing and helping popularize them. With For the Boys: A Jewelry Exhibition, he has now taken his passion to the next level and curated a selling exhibition of 100 jewels geared at convincing more guys to buy luxe jewelry designs. The exhibit is at Sotheby's New York until October 5. Prices range from $3K to $300K. More.
---
WHY PINK DIAMONDS?
New information on the possible origins of Australia's pink diamonds has emerged. More.
---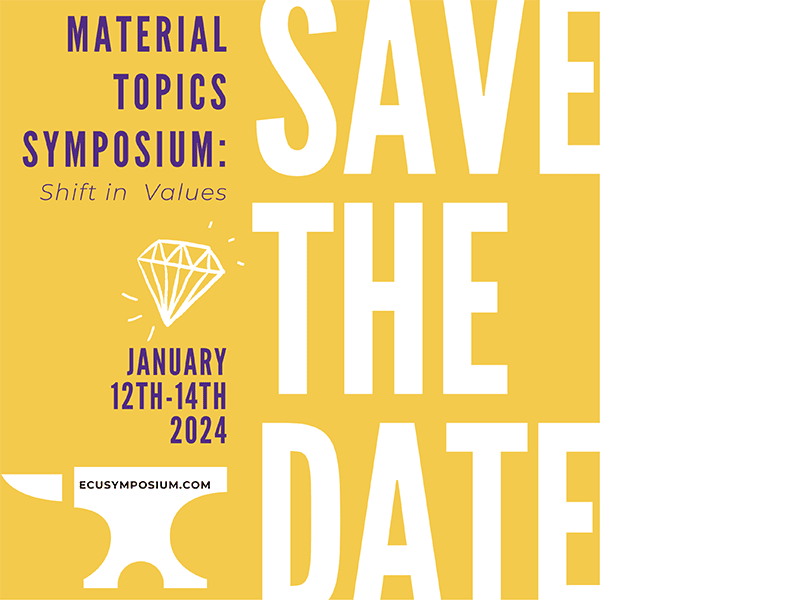 MATERIAL TOPIC SYMPOSIUM: SHIFT IN VALUES
Organized by East Carolina University MFA candidates Emily Booker, Tracey Lagomasino-Bell, and Chase Shotton, the event will be held January 12–14, 2024, in Greenville, NC. The schedule of events will be announced later this month. Info.
OPPORTUNITIES
APPLY FOR THE FAVELAB E-RESIDENCY
The four-day e-residency, with the theme "The Road to Elefsina," includes online workshops + Athens virtual visit + publication + video screening. Participants are challenged to explore the myth of Persephone and her sacred marriage and death, and to give their own interpretation of eternal flow. Deadline: October 8, 2023. Info.
---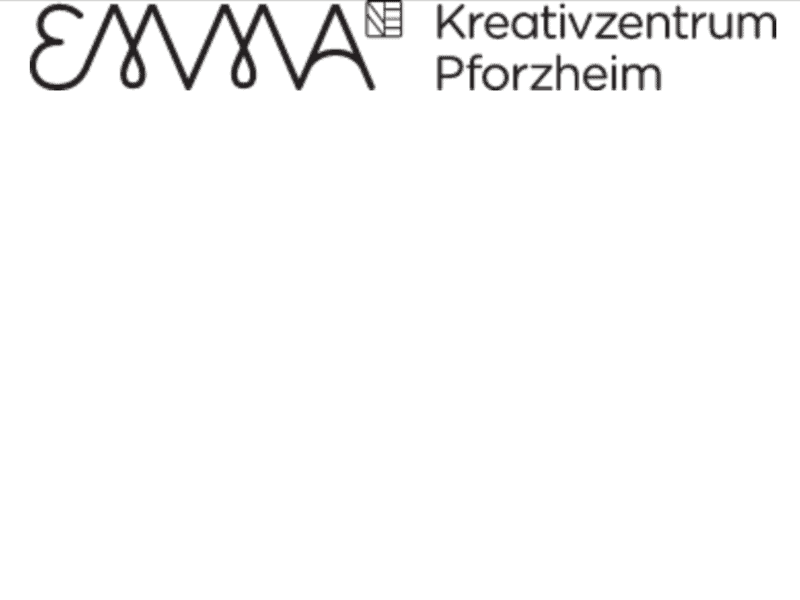 DESIGNERS IN RESIDENCE 2024, AT EMMA CREATIVE CENTER
Interdisciplinary project proposals are welcome for this residency directed at designers in the areas of jewelry, fashion, accessory, industrial and communication design, and other design disciplines. Three scholarships available. The winners will stay in Pforzheim, Germany, April 1–June, 30 2024. Deadline: November 15, 2023. Info.
---
SEND IN WHATEVER TO THIS CALL FOR SUBMISSIONS
Quebec City's Galerie Lewis seeks whatever for its annual holiday exhibition. Most of us have carefully considered practices, reasons why, what, and how we create. We can fall into a cycle of churning out commercial work, staying in our comfort zones, feeling the pressure to feed an algorithm. There's freedom in letting go, saying "whatever," and making Whatever. One of a kind and limited-edition pieces preferred, but you can submit your production work—who cares! Deadline: October 31, 2023. Info.
PAGES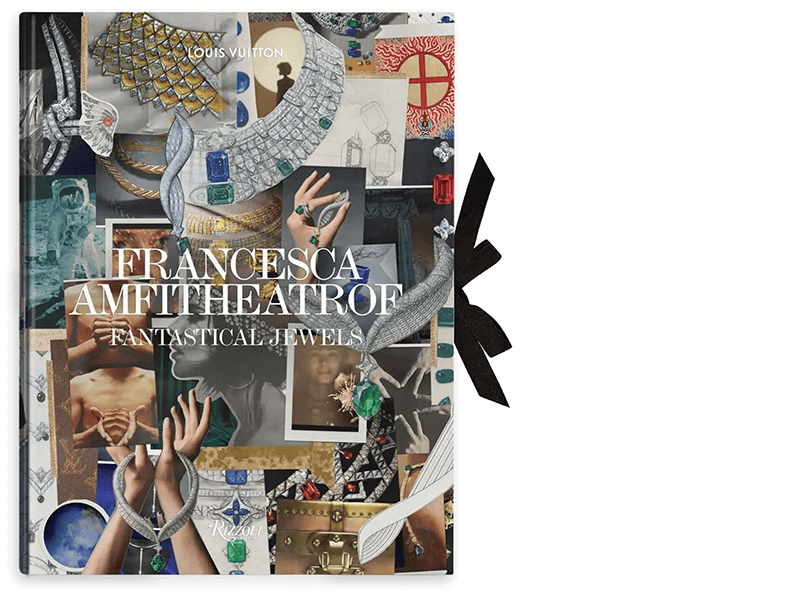 BOOK—FRANCESCA AMFITHEATROF: FANTASTICAL JEWELS
Written in a journal-like style and adorned with exclusive sketches, gouaches, collages, and personal photographs, the book showcases how Amfitheatrof, the artistic director of jewelry and watches for Louis Vuitton, approached four collections following a theme, as a storyteller would approach a novel, but written in the oldest materials on our planet—diamonds, colored stones, and golds. More.
---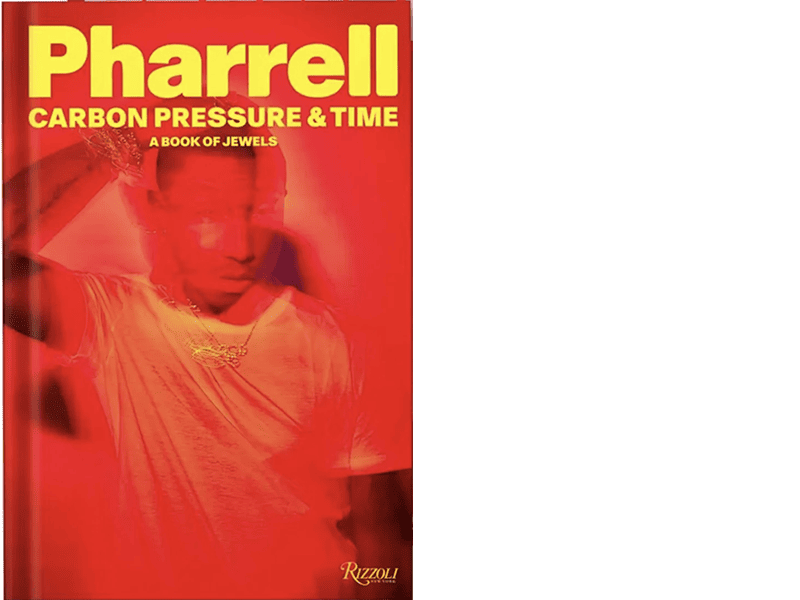 BOOK—PHARRELL: CARBON PRESSURE & TIME |A BOOK OF JEWELS
Few recording artists have had a greater hand in incorporating the culture of hip-hop into contemporary luxury than Pharrell Williams. Collaborating with Louis Vuitton nearly 20 years ago, Pharrell was the first to have his designs integrated into haute joaillerie. His innovative team-ups continue, most memorably with Tiffany and Chanel. With frequent collaborators such as NIGO® and Tyler the Creator, Pharrell discusses his role in the evolution of hip-hop jewelry, the processes involved in the creation of his one-of-a-kind custom pieces, and the state of connoisseurship in a growing market for the most extravagant of hip-hop collectibles. Here's a review.
© 2023 Art Jewelry Forum. All rights reserved. Content may not be reproduced in whole or in part without permission. For reprint permission, contact info (at) artjewelryforum (dot) org