Mana Hewitt: Persistence
July 25–September 8, 2019
701 Center for Contemporary Art, Columbia, SC, USA
Mana Hewitt's solo exhibition, Persistence, displays a series of 60 unique medals made of etched brass, copper, sterling silver, and vitreous enamel. They recognize the courage and perseverance of women who have challenged societal perceptions, and feature leading figures including Susan B. Anthony, Queen Victoria, Marie Curie, Rosa Parks, Amelia Earhart, and Ruth Bader Ginsburg. The stylistically diverse works provide a timely opportunity to "familiarize and instruct, lest we forget the women that have forged a path to give us voice today."
"Life is not easy for any of us. But what of that? We must have perseverance and above all confidence in ourselves." —Marie Curie, chemist, physicist, Nobel laureate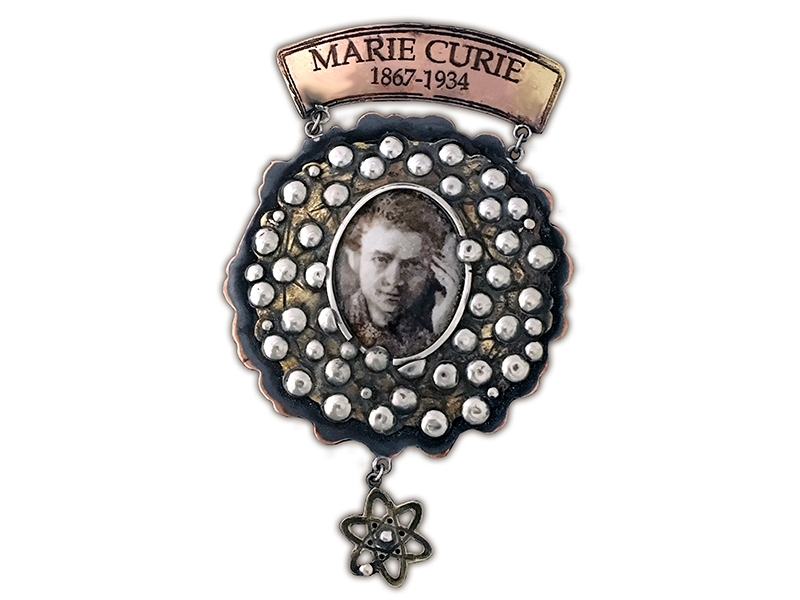 More than any other time in history, the present is punctuated by examples of women successfully making their voices heard in all areas of social and professional life. Elected women officials have assumed increasingly prominent roles, female athletes are suing for equal pay, female musicians are demanding equal airplay, mature women artists are finally getting the attention they deserve, and the #MeToo movement has shed light on sexual harassment and the abuse of power. Women are speaking loud and clear, and people are listening, but the female portion of humanity has played a long game in its struggle for gender parity and the recognition of its achievements. In her solo exhibition, Persistence, Mana Hewitt displays 60 medals that commemorate great historic and contemporary women and their contributions, and beautifully demonstrates that today's successes rest upon the shoulders of women who have steadfastly faced and overcome challenges throughout history.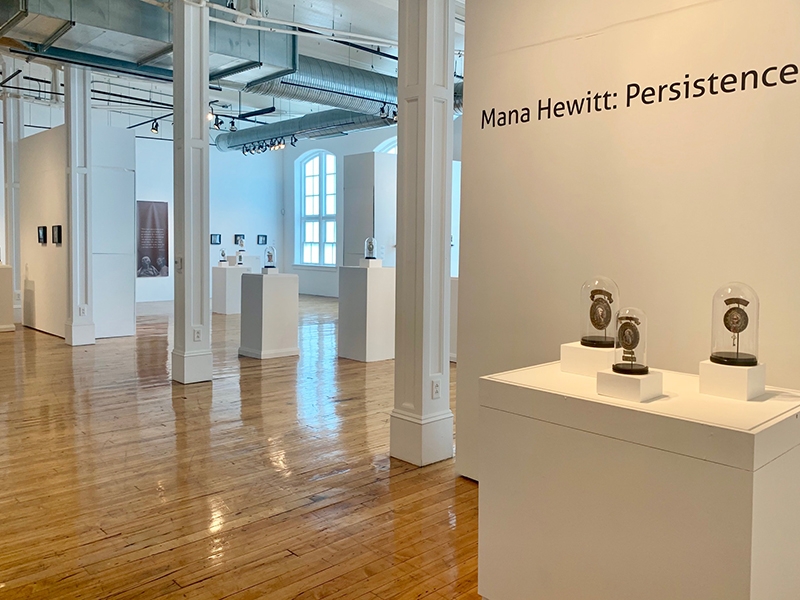 Hewitt had long considered making medals honoring activists Elizabeth Cady Stanton and Margaret Sanger, but began this series in response to the 2016 US presidential election and the seemingly impenetrable glass ceiling it suggested. She channeled her creative and intellectual energies into creating a body of work that recognizes the courage and perseverance of women who have challenged societal perceptions and worked to improve conditions for all. Her intention is to create at least 100 medals, but the series is open-ended and includes great women artists, musicians, authors, aviation pioneers, athletes, scientists, activists, world leaders, and US Supreme Court justices.
Men have historically been decorated with medals in recognition of service and valor, and in the same spirit Hewitt has created unique works of etched brass, copper, sterling silver, and vitreous enamel that reflect aspects of the individuals they commemorate. Each medal features a central oval enamel portrait, the subject's name, and decorative motifs referencing the subject's characteristics, contributions, or stylistic moment. Because medals are intended to be worn, each includes a clasp so that it may be fastened or hung, and features a quote or biographical information etched on the verso.
While some of the works would be heavy to wear, they are all nevertheless intimate in scale and finely wrought in their attention to detail. Hewitt utilizes a variety of processes to produce these jewel-like creations. The delicate vitreous enamel portraits require five to 10 firings at intense heat, leaving the artist no room for error. She digitally designs the surrounding metal components, and then etches, pierces, solders, and finally rivets the elements together, deftly combining manual and digital approaches. The overall effect is one of great stylistic variety, detail, and skill, creating a diverse body of work that charms the viewer with its invitation to look closely for visual clues and hidden information.
The exhibition space at 701 CCA is large and luminous, and such small, precious works could easily have been lost in the vast interior. Hewitt's display strategy is intentionally suitable for a variety of spaces; she places many of the works under glass domes set on pedestals or attached to the wall, which draw the viewer in to examine the works from all sides. Other works are housed in shadow box frames against a backdrop of related imagery, and bring visual variety to the installation. Banners reminiscent of those carried by suffragettes feature inspirational quotes from the exhibition's subjects, adding historical context and grouping the small works into related categories. Her intention is to have the show travel as widely as possible, and her displays make the exhibition adaptable to a variety of venues. Portions of the series have been shown at Piedmont Crafts, in NC, and TRAX Gallery, in Lake City, SC; Persistence will travel next to St. Joseph's University, in Philadelphia, PA.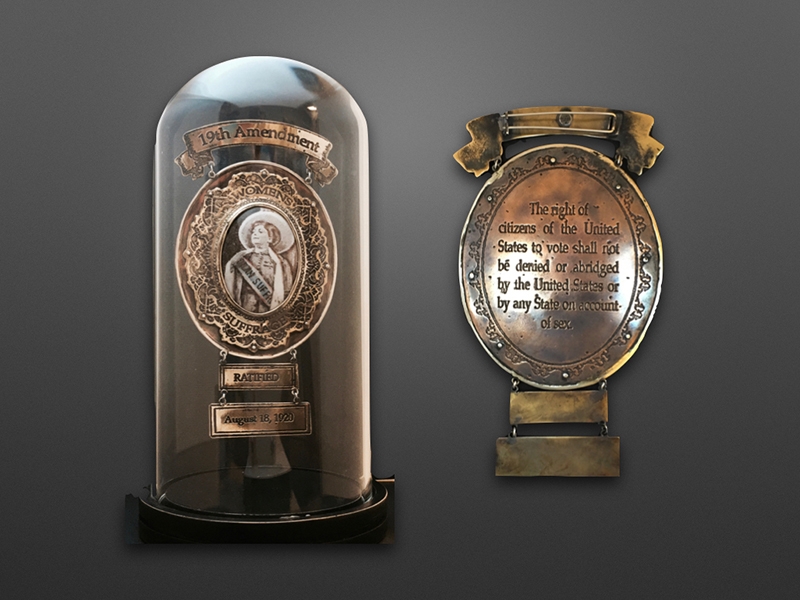 Activism forms the bedrock of the exhibition, which commences with a medal dedicated to the 19th Amendment, which granted equal voting rights to women and men in the US. The medals dedicated to individuals convey dignity and sacrifice, and utilize a variety of inventive and occasionally playful stylistic solutions. The medal for Susan B. Anthony, social reformer and women's rights activist, includes a memento-style pendant containing a lock of hair, perhaps a reminder that Anthony defiantly cut off her hair in protest of the constraints of female fashion. Rosa Parks, the civil rights activist celebrated for her role in the Montgomery bus boycott, is memorialized with a portrait framed by sterling silver beads, a banner bearing her name above, and a lower pendant in the form of an etched brass bus. The portrait of Margaret Sanger, early birth control activist, is surrounded by a delicately etched, curvilinear brass framework that proves to be a decorative rendering of fallopian tubes, ovaries, and a multitude of floating eggs.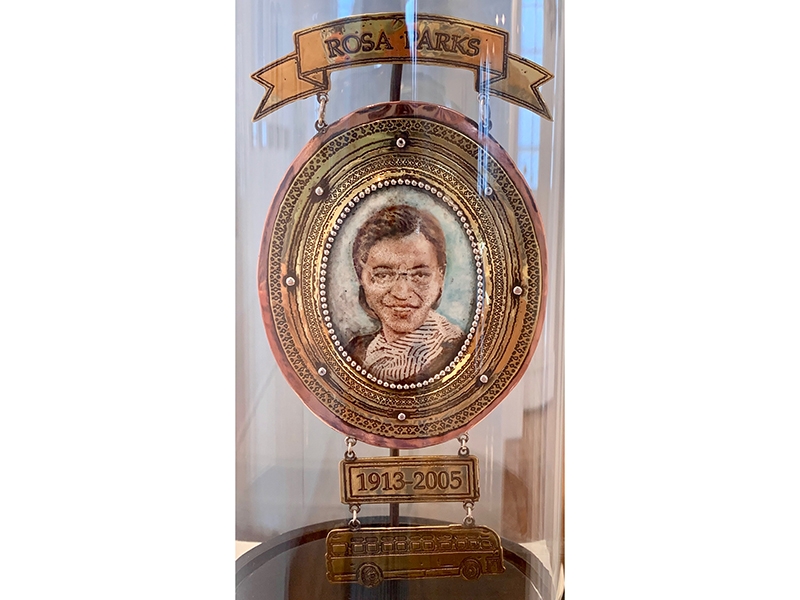 Science, ingenuity, and exploration are richly represented by pioneering female figures. The first woman to win the Nobel Prize, physicist and chemist Marie Curie, is remembered with a striking medal that references her pioneering research into radioactivity. A pattern of silver spheres suggests Curie's isolation of radioactive radium, while an atomic symbol dangles below. Many remember Hedy Lamarr as a Hollywood icon, but she was also an avid inventor who patented a frequency-hopping system for radio-controlled torpedoes that ultimately led to the development of Wi-Fi, GPS, and Bluetooth. Her glamorous portrait is contrasted by an etched rendering of her patent's technical drawing, with the date it was granted, August 11, 1942, inscribed at upper left. The medal dedicated to anthropologist and author Zora Neale Hurston sets her portrait against a striking African batik design, a graphic reference to her work on ethnicity and identity. The portrait of Amelia Earhart, the first woman to fly solo across the Atlantic Ocean, is backed by a topographic globe, while her plane flies as a pendant below.
Medals commending leadership and public service feature queens, world leaders, Supreme Court judges, and one spy. Queen Victoria's elaborate medal shows a stately portrait set in an oval frame dotted with sparkling gems, surrounded by decorative foliage and surmounted by a crown set with a ruby-red stone. Ruth Bader Ginsburg, Associate Justice of the Supreme Court of the United States, is housed in the classical grandeur and solid dignity of the court's architecture, flanked by fluted columns and surmounted by a pediment. Mata Hari, the exotic dancer and World War I spy, receives a medal in the form of a delicate jewel. The portrait is encircled by silver beads that echo her elaborate headdress, while the sinuous lines of the Art Nouveau-inspired background suggest the draped stages where she performed.
Hewitt's nominees from the fields of art, music, and literature are many and varied, and feature both contemporary and historic figures. The artist noted that one of her favorites is the medal for Louise Nevelson, the American sculptor known for her monumental wooden wall pieces. The main element of the medal echoes the characteristic abstract and boxy shapes of Nevelson's sculptures, providing an effective backdrop for the oval portrait. The rich selection of musical legends includes Nina Simone, whose portrait is surrounded by a halo of her iconic Afro, while French singer, songwriter, and cabaret performer Édith Piaf is set against an art deco backdrop, more delicate brooch than medal.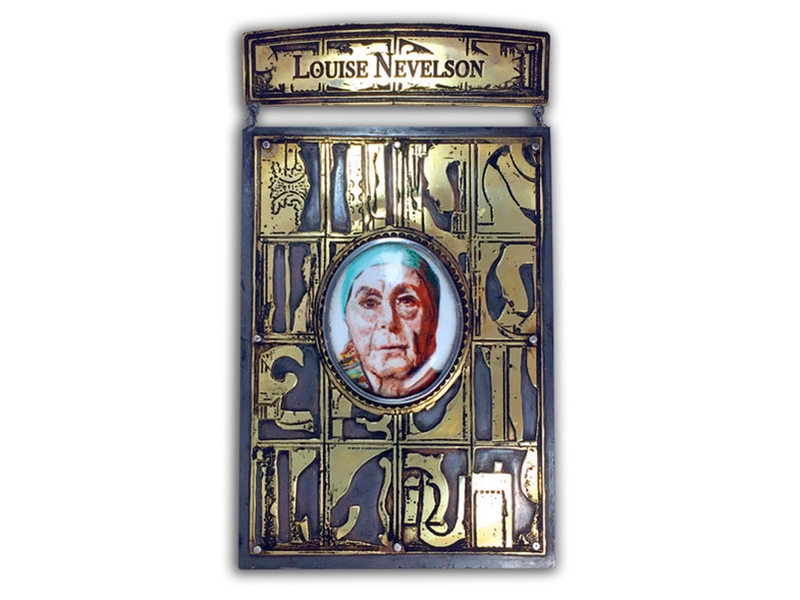 Eleanor Roosevelt, Maya Angelou, Georgia O'Keeffe, Margaret Mead, Mother Teresa … the list goes on, and perhaps that's the point. There's an endless and evolving roster of exceptional candidates that grows out of Hewitt's own research and the suggestions that continually flow in. A faculty member at the University of South Carolina's School of Visual Art and Design, Hewitt powerfully exercises her dual roles of educator and artist with this epic body of work. Her declared intention speaks loud and clear: "They are intended to familiarize and instruct, lest we forget the women that have forged a path to give us voice today."