Art Jewelry Forum's extensive network of international
gallery supporters
is dedicated to celebrating and showing art jewelry. On Offer is a monthly series that allows AJF galleries to showcase a piece that they've personally selected to tempt and inspire you. Please contact the gallery directly for inquiries. Enjoy!
MUSEUM WORTHY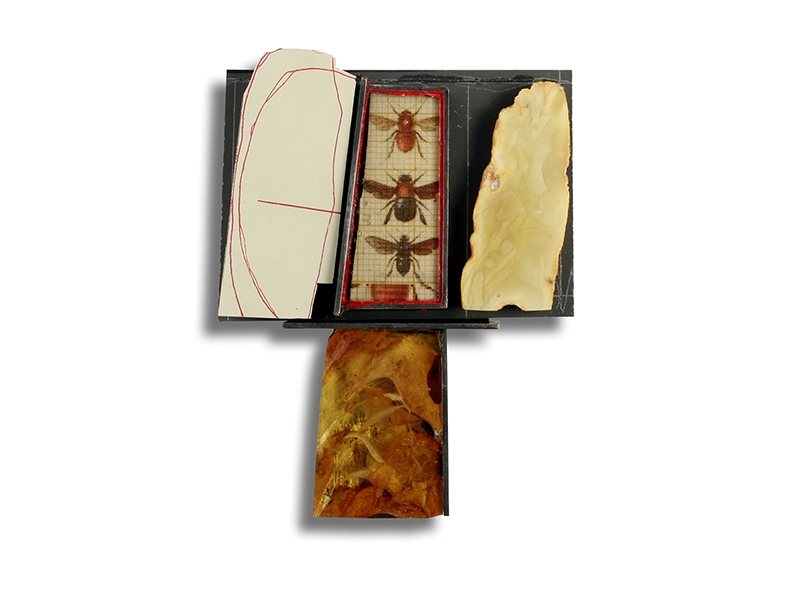 Artist: Ramon Puig Cuyàs
Gallery: Galerie Noel Guyomarc'h
Contact: Noel Guyomarc'h
Retail: CAN$1,445
Ramon Puig Cuyàs was born in Matarò, Barcelona, where the sea and the mythology of the Mediterranean world colored his life and work. Watching ships sail beyond the horizon, observing the stars, and questioning biological diversity created in Puig Cuyàs an interest in science, exploration, and the world beyond that which was visible to him. Rather than pursuing this interest through scientific voyages, however, he turned to art, which he said "gives you the opportunity to discover, imagine, invent, and transform other kinds of universes, inner universes, which emerge from the depths of our dreams and our desires." Puig Cuyàs found expression for his investigations of the human spirit through his study in jewelry at the Massana School, from which he graduated in 1974. He was the head of the jewelry department there from 1977 to 2017. His work is included in the permanent collections of many prestigious museums around the world. He has taken part in exhibitions in Europe, Asia, the US, and Canada, and received numerous awards. In September 2019, the gallery is pleased to present a retrospective exhibition on Puig Cuyàs's and Silvia Walz's oeuvre.
MUSEUM WORTHY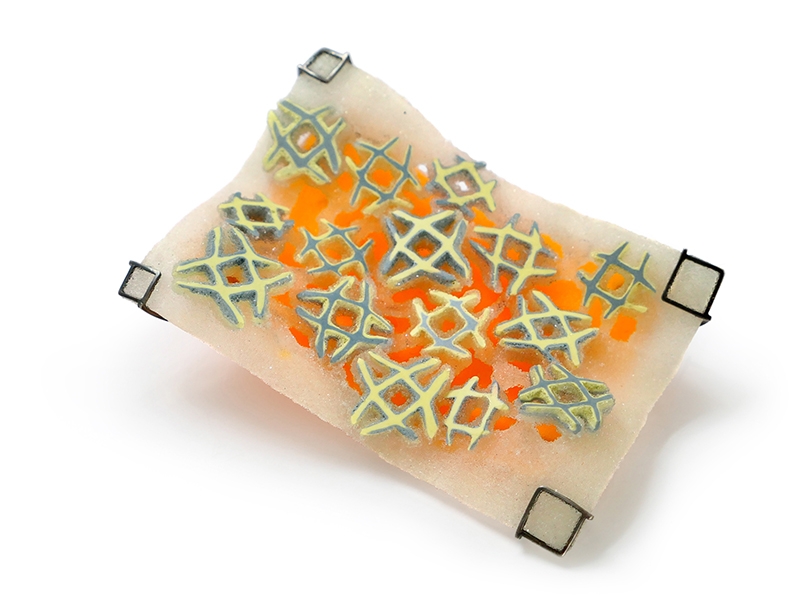 Artist: Andrea Wagner
Gallery: Galerie Spektrum
Contact: Jürgen Eickhoff
Retail: €2,280
Jardin intérieur is an French expression that translates to interior or secret garden and refers to the private landscape in our minds. This series initially started off as a play on the idea of blurring the boundaries between separate entities, in this case architectural forms and nature. On a deeper psychological level it obviously also stands for incorporating any personal contradictions, such as perhaps the life lived versus the aspects we prefer to hide.
MUSEUM WORTHY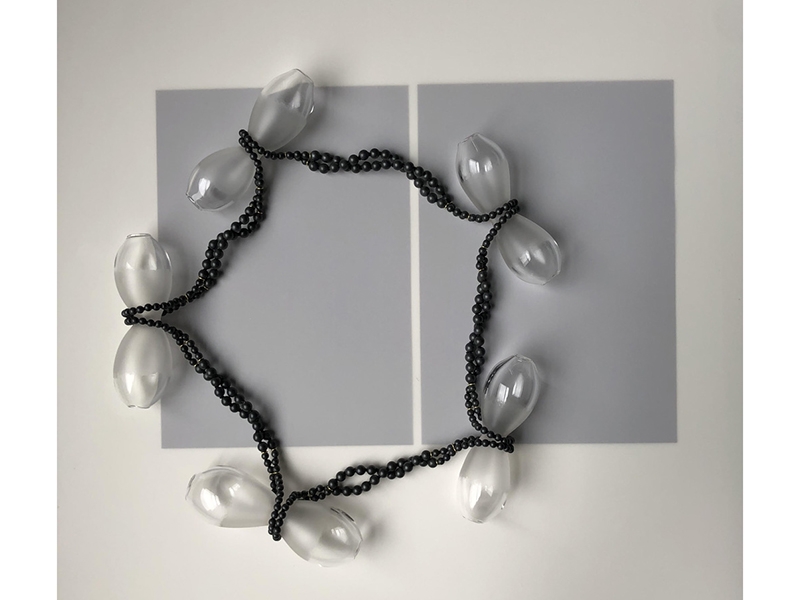 Artist: Caroline Gore
Gallery: Gallery Loupe
Contact: Patti Bleicher
Retail: US$5,100
Caroline Gore marries sculptural borosilicate glass forms handmade by glass artist Carmichael Jones with 18-karat gold, hematite, and silk in this striking necklace from Last, a recent exhibit of Gore's work at Gallery Loupe. The series of pieces developed for Last relate to the formation of ideas through mending and altering, remembering and forgetting.
MUSEUM WORTHY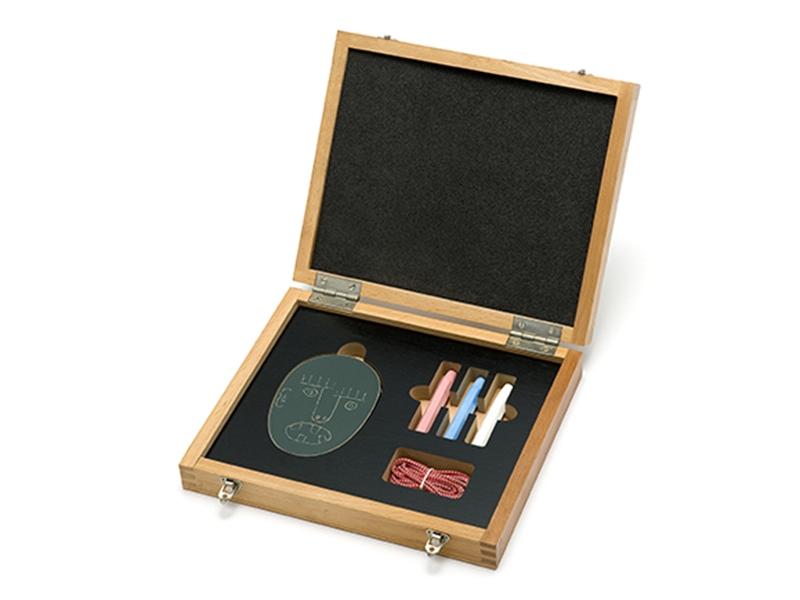 Artist: Sungho Cho
Gallery: ATTA Gallery
Contact: Atty
Retail: 38,500 THB (Thai baht)
In his recent exhibition A Human, A Monkey, An Alien, Sungho Cho explores qualities and identities of nonhuman beings that seem to exist within human beings, and vice versa. For this particular piece, Cho challenges the idea of the life of an art object … does it end as it left the creators' studio or in the hands of the owner of the piece? Or is it ever evolving, with no "end," just like human beings? One can draw his/her own impermanent creatures on the back of the pendant with the chalk provided in the jewelry kit box. How fun!
MUSEUM WORTHY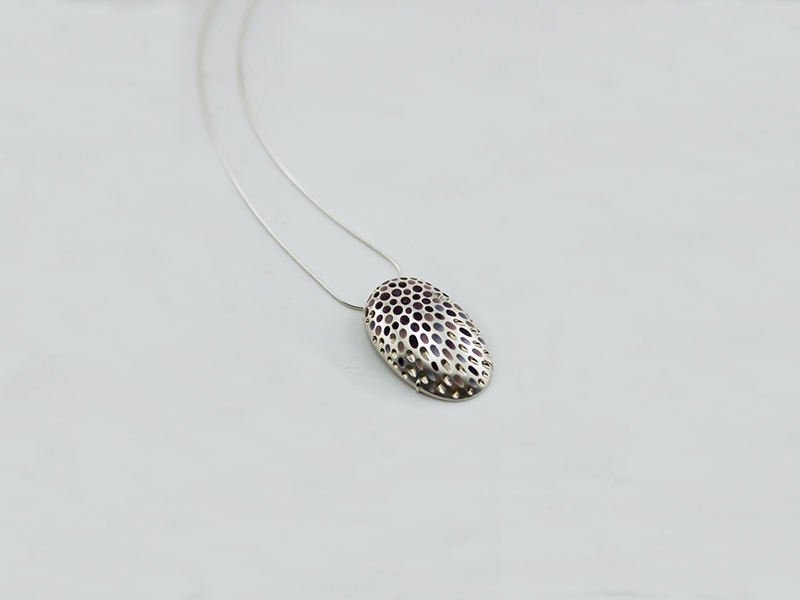 Artist: Heather Bayless
Gallery: Metal Museum
Contact: Alicia George
Retail: US$460
Heather Bayless is one of 40 artists featured in the Metal Museum's exhibition 40 Under 40: The Next Generation of American Metal Artists. Her metalwork focuses on natural form and pattern, and each piece integrates the concept of containment.
MUSEUM WORTHY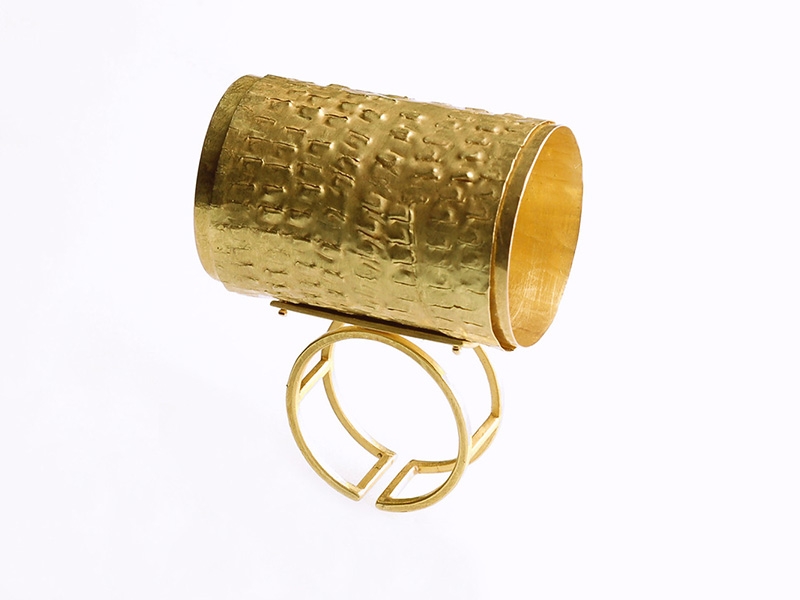 Artist: Stefano Marchetti
Gallery: Irene Belfi Gallery
Contact: Irene Belfi
Retail: €3,800
Stefano Marchetti, master goldsmith of the Padua school, explores new paths between art and science, taking inspiration from multiple artistic influences. Japanese art and contemporary art, as well as ancient art, fragments, and mosaics, become constant elements of inspiration and study during the realization of his works. Marchetti's jewels, made in gold, platinum, silver, and shibuichi (an ancient Japanese technique alloying copper and silver), are reenactments of ancient beauties that merge with science and technology to give to the jewels new possibilities of expression.
ESTABLISHED ARTIST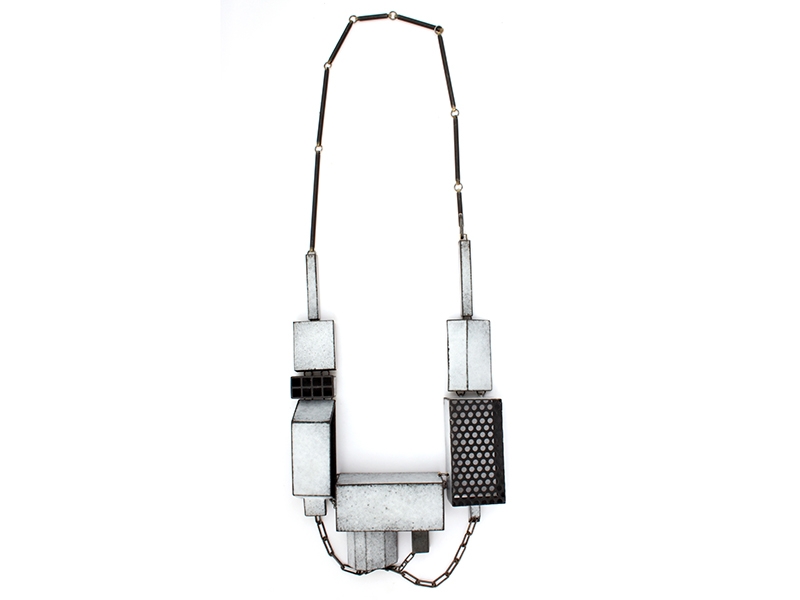 Artist: Kat Cole
Gallery: 108 Contemporary
Contact: Susan Baley
Retail: US$1,800
Kat Cole is a studio artist in Dallas, TX. Cole received her MFA from East Carolina University and her BFA from Virginia Commonwealth University. She's the co-founder of the online and pop-up project Jewelry Edition and currently serves on the board of directors for the Society for North American Goldsmiths. Cole's work is internationally recognized and has been published in 500 Enameled Objects, Art Jewelry Today 3, Metalsmith, Ornament, American Craft, and Art Jewelry. Her work is in private and public collections, including the Museum of Arts and Design, in New York City; the Racine Art Museum; and the Museum of Fine Arts, Houston. "I look to the built environment, the city in which I live, for the formal qualities of my work: materials, forms, color and surface quality," says Cole. "The steel and concrete structures that surround us are evidence of human inhabitants—past and present. Monumental structures are interpreted into the intimate scale of jewelry and are completed when worn on the landscape of the body."
ESTABLISHED ARTIST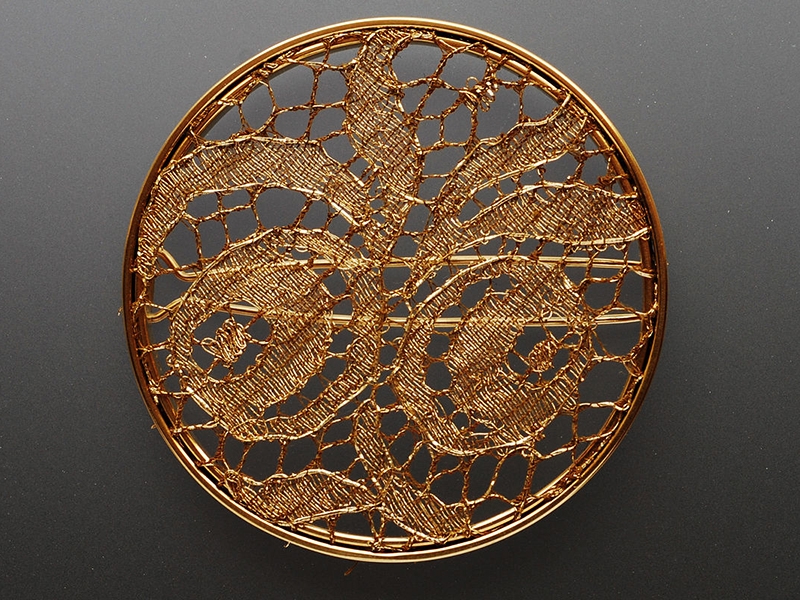 Artist: Joanna Campbell
Gallery: FINGERS GALLERY
Contact: Lisa Higgins
Retail: NZ$710
Prior to training as a jeweler, Joanna Campbell worked in the clothing industry as a production assistant and as a dressmaker. Since establishing herself as an independent jeweler in 2001, Campbell's passion for fashion and textiles has continued to inform her jewelry practice. This brooch features gold metallic lace tension-set into a gold-plated silver hoop. In 2011, Anna Miles, of Anna Miles Gallery, said, "Campbell interestingly responds to the ornamental wonder-land of lace with a modernist eye. She perceives special value in her favoured material because unlike many types of textile, the ornament and structure of it are inseparable."
ESTABLISHED ARTIST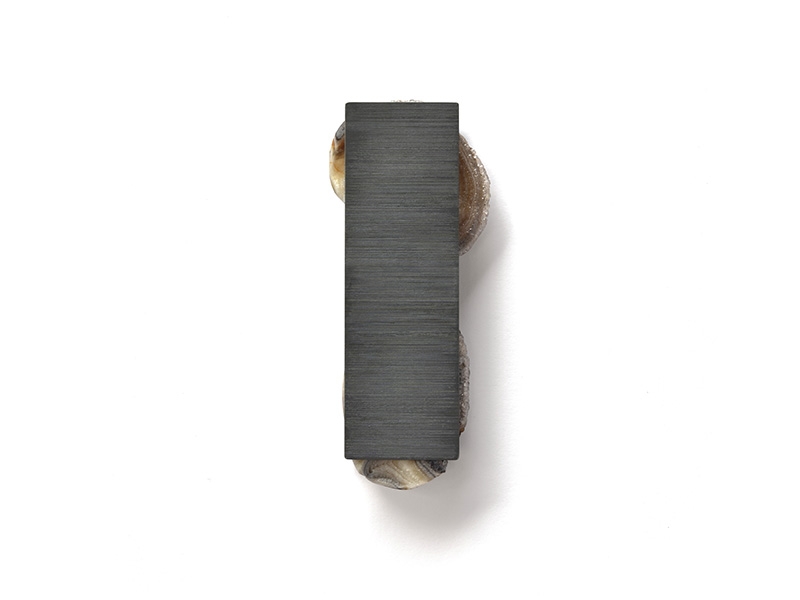 Artist: Ute Eitzenhöfer
Gallery: Ornamentum
Contact: Stefan Friedemann
Retail: US$4,150
The brooch Discourse 03 hails from German artist Ute Eitzenhöfer's exhibition Subtext (on view at Ornamentum September 7–October 6, 2019), marking her first new body of work in five years. Since 2005, when she began teaching at Hochschule Trier, in Idar-Oberstein, the stone capital of Germany, Eitzenhöfer's work has employed gemstones with intriguing results. In the group titled Discourse, the stones are recognizable as natural, but are mostly hidden. The slab covering the stone is clear and decisive in its form and creates confusion—enlightenment is not attainable. The unprocessed mineral as a sign of nature only appears at the edges. It refers to an inner context, and perhaps awakens the longing to perceive more of it. It is well protected and trapped at the same time.
ESTABLISHED ARTIST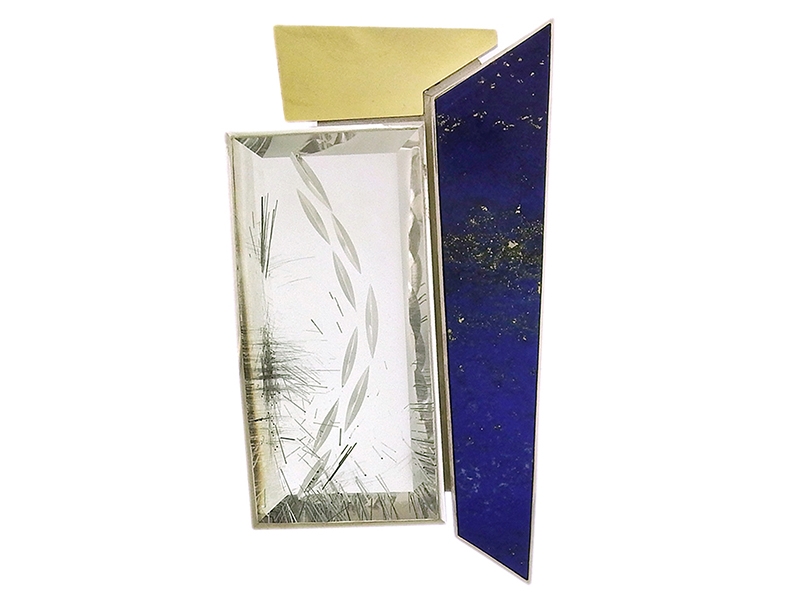 Artist: Tom and Jutta Munsteiner
Gallery: Aaron Faber Gallery
Contact: Patricia Kiley Faber
Retail: US$7,900
Atelier Munsteiner—the collaborative and independent artists Jutta Munsteiner, Tom Munsteiner, and Bernd Munsteiner—is renowned for its sculptural approach to gems, which Tom Munsteiner attributes to seeking out the natural material's essence. He notes, "Transparency and reflecting light are my basis for the ongoing artistic quest for the inner and outer visual spaces—to the viewer illusionist or spectacular—of and into the mineral. I see each of my gems as a sculptural work of art." Jutta Munsteiner adds, "When designing stones, we need to realize that the rough material, the mineral, is not an unlimited source. These selected, rare crystals are the basis for the realization of an idea within the mineral."
ESTABLISHED ARTIST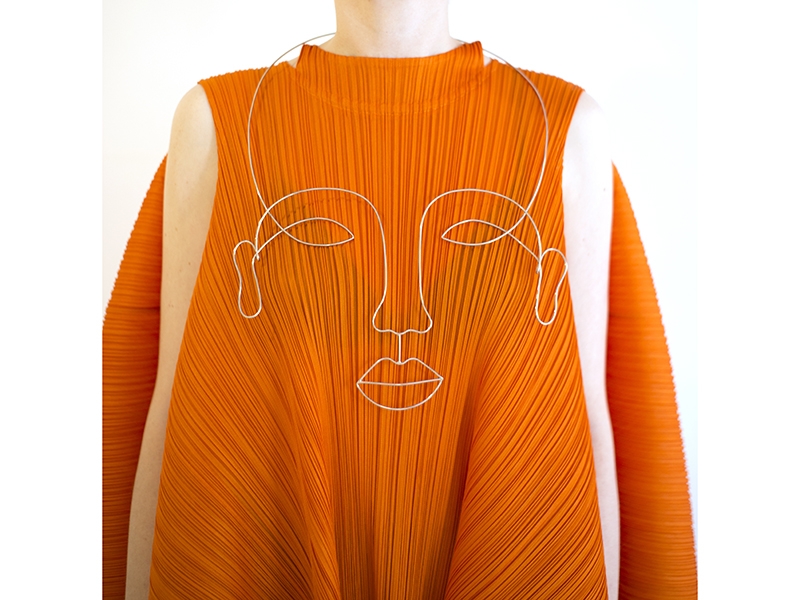 Artist: Julia Walter
Gallery: OHMYBLUE
Contact: Elena Rizzi
Retail: €444
Julia Walter said that "jewelry is charged with the energy of its maker, the energy of a moment, the energy of a ceremony, the energy of its materiality." By transforming line drawings into a surreal steel wire necklace, the spontaneity of the artistic gesture is transported into the work, out in the world and onto the body of the wearer.
MID-CAREER ARTIST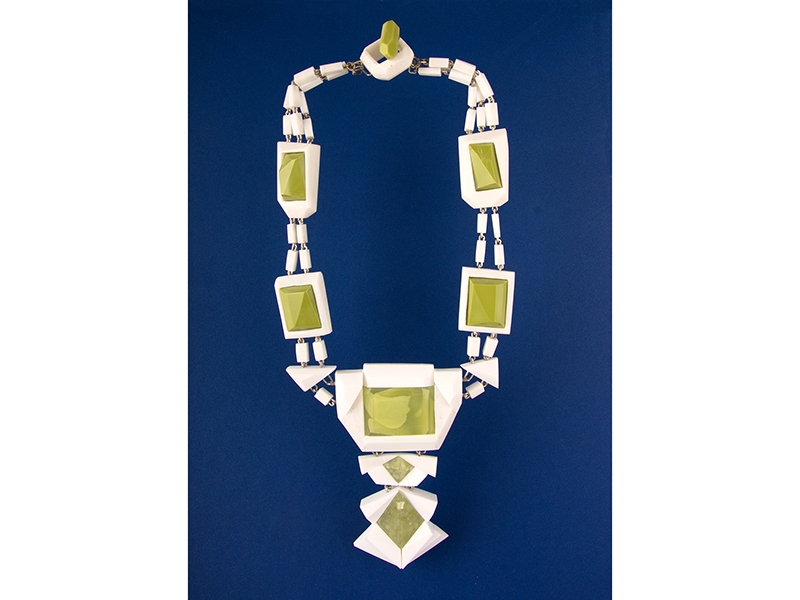 Artist: Annika Pettersson
Gallery: PLATINA
Contact: Sofia Björkman
Retail: US$1,700
As a jewelry artist, Annika Pettersson is fascinated with value and authenticity, how these concepts are present in intimate objects. The necklace Royal Resolution takes its inspiration from traditional royal necklaces and the process of transformation. The idea is based on the notion of copying and pasting from one media to another, duplication of data, sampling, and mash-ups of pre-existing works. Today we have unlimited access to pictures and information online, and this extensive accessibility often pays the price of loss in resolution. This project creatively examines the formal changes that occur in online pictures due to the change of resolution.
EMERGING ARTIST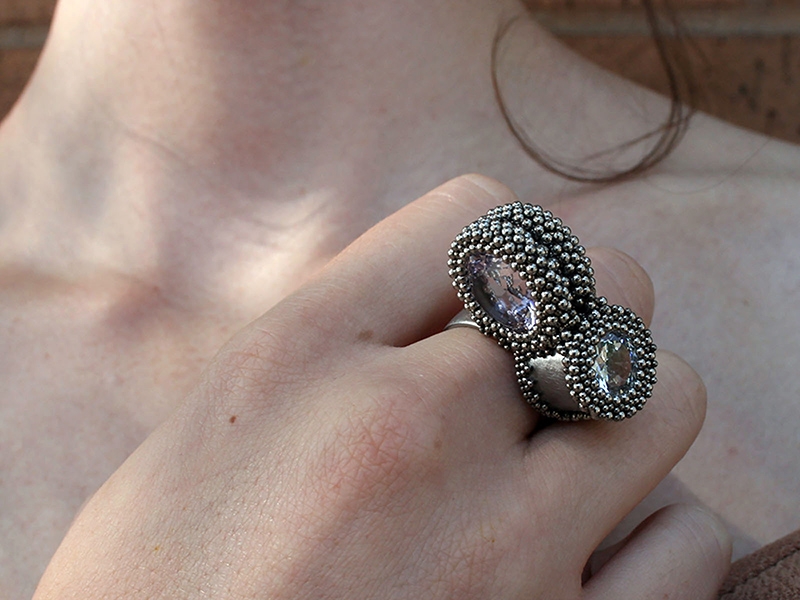 Artist: Ben Dory
Gallery: Gallery 2052
Contact: Nora McCarthy
Retail: US$500
Ben Dory's work focuses on fusing stainless steel granules as structural and decorative elements. Using specialized tools, each granule is placed individually, creating patterns that lock into each other or stack to create more organically derived masses. The heat in the fusion process is so localized that he can use the granules in a way similar to bead or prong setting and capture materials as sensitive as pearls.
EMERGING ARTIST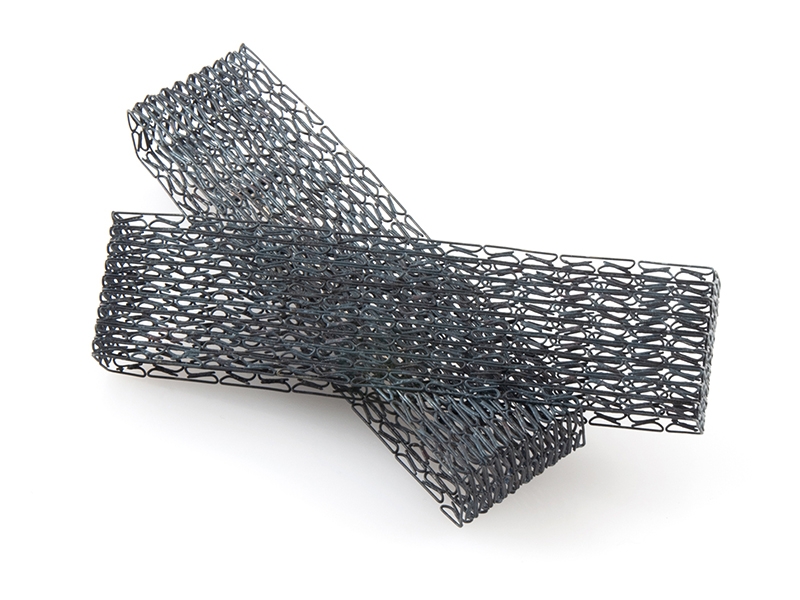 Artist: Jess Tolbert
Gallery: In the Gallery at Brooklyn Metal Works
Contact: Brian Weissman
Retail: US$650
Jess Tolbert's work explores and reconsiders the commonplace, where everyday mass-produced materials become personal, intimate objects. Here, Tolbert's jewelry builds a tangible link between the repetitive actions that create the humble staple to the pattern and rhythm of the staple's daily use. With this process, Tolbert produces complex, elaborate, and ultimately beautiful pieces of wearable art.
EMERGING ARTIST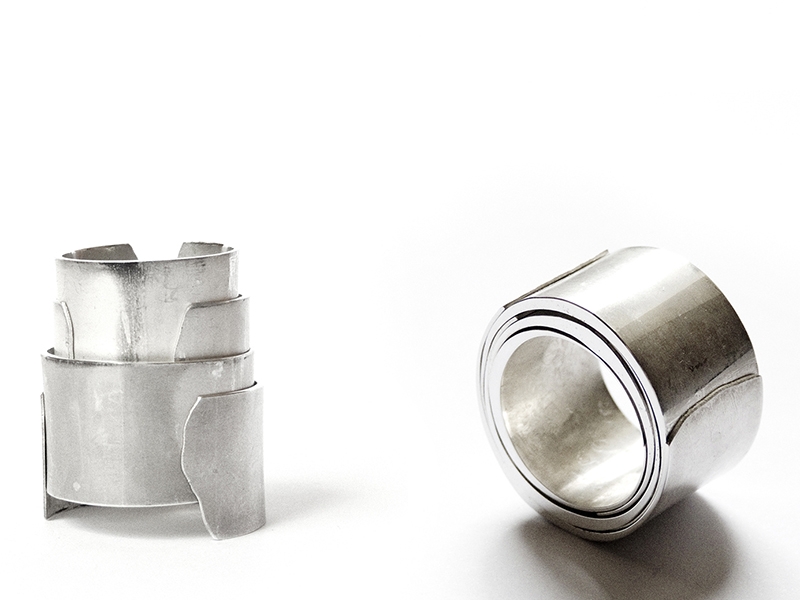 Artist: Marine Dominiczak
Gallery: Galerie Elsa Vanier
Contact: Elsa Vanier
Retail: €780
Marine Dominiczak questions the human being and the place of the body inside society. Allium Porrum is a series of adjustable hand jewelry with varying dimensions. Inspired by the growth pattern of leeks, the pieces are made from metal plates rolled progressively to reduce the thickness while leaving the marks of the tool: streaks reminiscent of the pattern of the leaf. The plates, shaped one by one, turn into rings that telescope one into the other to create a set, illustrating the metaphor of Russian dolls. The modularity allowed by the whole invites manipulation, play, and experiencing the object.
EMERGING ARTIST
Artist: Brice Garrett
Gallery: Baltimore Jewelry Center
Contact: Shane Prada
Retail: Each US$600
These brooches are part of Casting Shadows, Brice Garrett's current solo exhibition at the Baltimore Jewelry Center. The exhibition features ceramic and metal jewelry and sculpture. Garrett uses production materials, techniques, and the language of adornment to explore associations with the body, labor, and value. The work complicates the narrative of producing through the act of mold making: carving out, reconfiguring, and deconstructing—reimagining the methods that generate form and shape. These brooches, and the other works in the exhibition, ultimately question what becomes of the mold and what becomes of the object, what is discarded and what is valued, and what is seen and what is unseen.
EMERGING ARTIST
Artist: Emma Gregory
Gallery: Galerie Beyond
Contact: René Darmont
Retail: €970
Emma Gregory has created her own way of interpreting electronic dance music into jewelry from the perspective of musical notation. A master-class on typography and writing systems gave her the opportunity to develop a unique form of musical notation for electronic dance music, which she then used as a basis for creating her pieces. Each link and element represents a "bar" or four beats of the music; each circle or line relates to the percussion or harmonies respectively. Gregory's work is made of highly polished stainless steel wires, laser-welded into tiny intricate shapes, transforming the songs that inspire her into treasured objects.
GALLERY CHOICE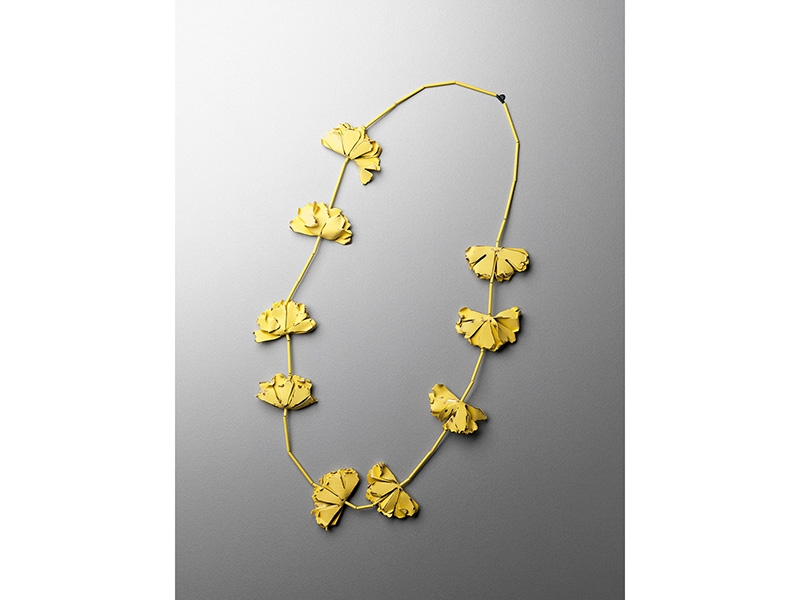 Artist: Jess Dare
Gallery: Gallery Funaki
Contact: Katie Scott
Retail: AUS$2,660
Adelaide-based Jess Dare is a jeweler and glass artist who explores the fragility of memory, decay, beauty, and the natural world. This garland of brass pressed marigolds references the decaying phuang malai, a type of Thai flower garland. Jess photographed at temples and around the streets of Thailand during a residency there in 2014. "After a floral garland is offered it will eventually decay, leaving behind only the act of offering," says Dare. "These enduring garlands made in brass, flattened, wilting, surface decaying, represent this passage, this state of impermanence." A selection of pieces from this body of work has recently been acquired by the National Gallery of Victoria, Melbourne.
GALLERY CHOICE
Artist: Earl Pardon
Gallery: Patina Gallery
Contact: Allison Barnett
Retail: US$4,000
Known as a leader in contemporary craft jewelry, Earl Pardon achieved recognition through innovative experience in his field. Here, exuberant color and vivacity leap out from his intricate work. Pardon masterfully combines many miniature elements to create a sumptuous medley of prismatic marvel. Harnessing discerning design from his years as a painter, Pardon illustrates a world of geometric vitality within the core of the work. The cubist figures own pinpoints of color in varying scale, which gradually seem to emit their uncontrollable radiance to the rest of the composition. Beyond, a textured border of sterling silver gives the eye reason and rest before expanding to its outer perimeter. Shades across the spectrum emanate from its distinguished throw. Enamel playfully jests with sparkling tourmaline and amethyst with sheer joy. Skillfully, the artist adheres pins through the piece to maintain integrity, as one remains astonished by his accomplishment. On the body, it is the perfect balance of abstract elegance while also one of unique ingenuity.
GALLERY CHOICE
Artist: Alejandra Solar
Gallery: Galerie LA Joaillerie par Mazlo
Contact: Céline Robin (Curator)
Retail: €1,300
Initially trained in graphic design, Alejandra Solar draws from this apprenticeship the substrate of her jewelry practice. Her keen sense of composition expresses through the combination of photography, stone cutting, and goldsmithing techniques to create new images characterized by a profound dramatic tension. In the lines of collections of rare stones, symptomatic of the phenomenon of cabinets of curiosities, Solar uses stones whose nature imitates art: veins, natural inclusions forming landscapes, reliefs and textures are exploited for their expressive power or for their camouflage effect. It's an approach reminiscent of the works called "two-handed"—painted stones taking advantage of existing natural patterns, associating the genius of nature and the talent of the artist, so popular in the 16th and 17th centuries. In Solar's work, the ornamental stones, chosen for the quality of their polish or for the richness of their natural inclusions, thus serve as a support for photographic motifs, generally evoking industrial wasteland landscapes and urban panoramas in the middle of which evolve the spectral presence of very rare "still" living beings: the raven, the fly, the tree, a human silhouette—these appear as the last witnesses, solitary and fragile, of a world at the threshold of an inevitable collapse.
GALLERY CHOICE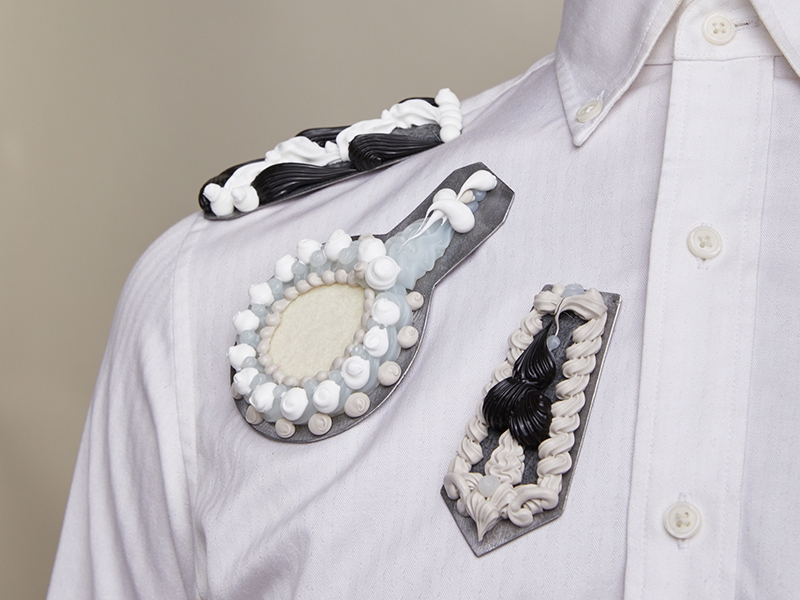 Artist: Matt Lambert and Edward Cabral
Gallery: Four
Contact: Karin Roy Andersson
Retail: US$ 600 for the pair, or singly US$400
This piece is a result of CAKE, a collaborative project between Matt Lambert and Edward Cabral. CAKE is a conversation and investigation exploring gender, decoration, and opulence as well as indulgence. These concepts have the ability to both provide pleasure but also become burdensome and nauseating. These epaulettes can be worn on the shoulders, but feel free to decorate yourself with these brooches in any way that gives you the most satisfaction!