Each sculpture, a hybrid of equal part necklace and handcuff, hang on the wall throughout the gallery. The show is tidy, with each piece staying closely within a simple format. But within that format variations arise allowing for an individuality that humanizes the objects and each one becomes a description of a person, a collection of contemporary archetypes staring, wide-eyed, back at the viewer.
Applying the aesthetic of opulence, Olujimi highlights the allure of criminality, sin and those who take part. Using the necklace in order to speak the language of commodity, the work points a finger at contemporary culture's role in disseminating and fostering our desire for deviance. The work is reminiscent of Jeff Koons's reproduction of kitschy materials and tends to Haim Steinbach's mimicry of commodity using seriality. Far more poetic and mysterious than Steinbach and Koons's stark approach, the sculptures tend to Meret Oppenheim's psychological and surrealist work and Duchamp's earnest approach to the everyday object.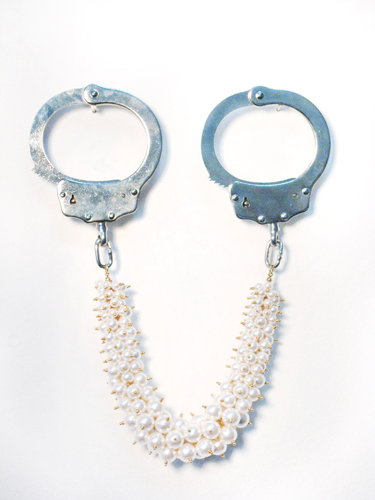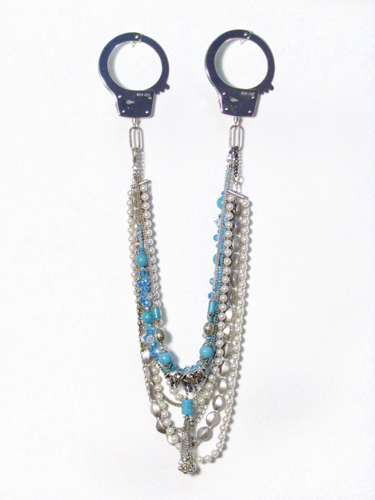 Resisting a dogmatic conclusion, The Black Out Collection allows the viewer to roam amongst notions of criminality, social norms, fetish, commodity and luxury. The handcuffs become bracelets. The necklace becomes the noose, the shackle or the leash. In this way the work lays bare a complex language and seems to ask just who is the perpetrator, if there is one at all? Or is it all of us, all at once? On the issue of wearability, Olujimi says, 'The utility is not as important as the statement and what I hope to say with these pieces.' My suggestion on how to view this work, tempting as it may be, is to put aside your jewelry expertise. Don't put it away; just put it aside. Now look at the work for what it is, sculpture for contemplation only . . . not for wearing.