In the early 1990s word traveled quickly through collectors of contemporary jewelry, museum curators, and the craft world at large that a major collection of modernist jewelry had "escaped" the United States. Collective gnashing of teeth decried "the one that got away." The collection had been assembled by Mark McDonald, Mark Isaacson, and Ralph Cutler, partners in New York's Fifty/50 Gallery. To the chagrin of many in the United States, the collection was acquired by the Montreal Museum of Decorative Arts by gift and purchase in 1993. The acquisition and exhibition resulted in the most comprehensive book on modernist jewelry of the time, Messengers of Modernism. The book is still a must-have for any serious art jewelry library.
On March 10, 2011, Sotheby's New York offered important selections of modernist design from the collection of Mark McDonald at auction. The auction featured some exemplary modernist jewelry by Art Smith, Harry Bertoia, Sam Kramer, and other masters.
We at AJF believe that any auction, exhibition, or publication that further informs our members and the public at large should be embraced enthusiastically. Who knows, perhaps the pieces from this auction will stay in the United States and enter collections of AJF members!
In that spirit, I interviewed McDonald about the auction, its importance to the art jewelry movement and his plans and desires for the future.
Ron Porter: What factors led to the Sotheby's auction and what would you like to see as secondary outcomes?
Mark McDonald: I see the auction as a close of a phase in my career. I'd like to get away from the physical challenges of dealing in furniture for example. Also, I'd like to focus on helping to develop significant collections of modernist art jewelry or at least to add pieces from the period to serious collections of art jewelry. I would like to continue to educate people and maybe they will 'back track' to appreciate and add examples of modernist jewelry into their collections.
Are you aware of any collectors that exemplify that wish?
Yes, I have worked extensively with Daphne Farrago in that regard. She had begun to collect contemporary art jewelry and soon discovered the importance of vintage jewelry from the 1940s, 1950 and 1960s. She has amassed an important collection, some of which has been acquired by the Museum of Fine Arts, Boston.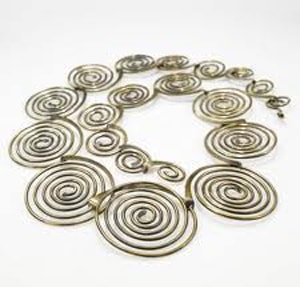 We believe that a thorough knowledge of the history of jewelry is vital to our members, be they makers, collectors or enthusiasts. With that in mind will you please pique our curiosity and inform us about modernist jewelers you find important?
Margaret De Patta began her career in the art deco period, but then became freer and embraced geometric abstraction. Peter Macchiarini produced multi-level, multi material works. His work is more gestural but less defined than that of De Patta. Sam Kramer created outrageously wild extravaganzas and was more of a surrealist. Art Smith was influenced by Calder, more by his sculpture than his limited output of jewelry. He was also influenced by ethnic culture. Smith was a jeweler who made sculpture to wear whereas Calder was an artist and sculptor who made jewelry. Harry Bertoia began making hollowware in the 1930s, jewelry in the 1940s and sculpture afterwards. His jewelry was phenomenal and very expensive for the time. Craftsmanship was very important to Bertoia, but others like Art Smith had businesses to manage and made multiples of necessity by learning 'minor mass-production.' Elsa Freund, Earl Pardon and others added their take on jewelry of their time as well.
What does the future hold for you?
Who knows? I'd like to continue in the field but focus on vintage jewelry. I'd like to help others build substantial, interesting collections that include modernist jewelry by working with contemporary collectors.
What does the history of art jewelry need at this time?
A bigger book. Marbeth Schon has added to the knowledge base since the publication of Messengers of Modernism. I'd like to see a book modeled perhaps after the one published for Helen Drutt's collection. It should feature biographical material, an exhaustive bibliography, as well as images of extraordinary examples of modernist jewelry. It is a real need.
Why don't we end with that dream and maybe this interview will hurl the gauntlet to our younger, wider professional audience. Thank you.