This is the first in a new series called "in Sight series." We have asked a maker, a curator, and an historian to discuss From the Coolest Corner, an ambitious event that was just launched in Oslo, Norway. Märta Mattsson reported on the event as a visitor and exhibitor; Love Jönsson, who juried the main exhibition, took our written questions; and Liesbeth den Besten, who curated one of the shows, responded to a Skype interview after returning from Oslo. Mattsson, Jönsson, and den Besten went to Norway with a different job to do and together their reports produce a varied and complex snapshot of the event. We hope their overlapping voices, as well as those to come in this series, stir vigorous debate.
Etienne Glaser, a Swedish writer, actor, and director was the first speaker. He confidently entered the stage and spoke about the human need for an identity. He talked about his own experience of playing roles in his daily life and entering identities. How can we discuss the identity of Nordic jewelers if we don't first address the issue of what identity is and the psychology behind how we grow into an identity? As children we have great spontaneity. We have not yet learned the human rules of how to conform to a given identity. When growing up, we try hard to control or get rid of this spontaneity. The feeling of belonging to or being a part of something is one of the strongest human needs. Glaser believes that as an artist your aim is to regain this spontaneity. Artists try to find something to relate to, and art gives us many borrowed identities. "Humans can have several identities, and if you have a true self then you also have many false selves," Glaser stated.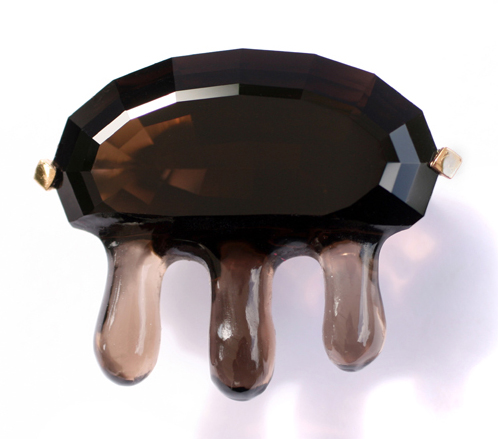 Sometimes, I feel it is the teacher and the teaching style at a school that influences students more then the country itself. Ruudt Peters changed the metal department at Konstfack into Ädellab, placing young Swedish jewelry artists at the forefront of the field. Proof of Konstfack's strong positioning was obvious in the From the Coolest Corner exhibition—11 out of 61 participating artists are recent Konstfack graduates. The current professor at Konstfack, Karen Pontopidans, shared quotes in her lecture from students and teachers of the school. "We value the lack of skill." I think this quote from a student epitomizes not only Konstfack's current position but also how parts of the jewelry field stand today.
Marjan Unger's lecture began with a quite different approach, stating that contemporary jewelry is a dying field. She suggested that like the mythical character Cassandra, she is one who foresees disaster and whose warnings go unheeded. She raised the question, "why would you like to join a movement at the worst possible time?" By mixing her strong critique with a lot of humor and people laughing along the way, she insinuated that the contemporary jewelry field is an incestuous, inbred circuit where there is very little space on the artistic top. Her talk was not negative but inspiring. I think her aim was to challenge jewelers to find new ways to work and to push the field forward. She wanted to give the new generation a push in the right direction, to make them see new possibilities and find new platforms for their work.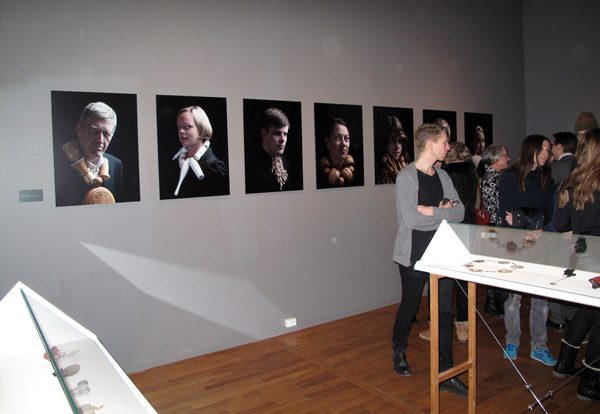 Similarly, Swedish gallery owner and artist Sofia Björkman's lecture Middle Is Not Cool exhorted jewelers to open up contemporary jewelry beyond the inner circle to the outer circle and the world. 'Talk, explore, and spread the word," she demanded. "The middle is not cool. Movements are cool." Unexpectedly, she quoted lyrics from a Marilyn Manson song during her lecture. The first quote, "I am trying to fit in, trying to fake it" related back to what Etienne Glaser said about borrowed identities and artists trying to make work that fits the mold of what is popular within the field. The second quote, "… and then I found how to be what you want when I was out looking for something new, digging too deep, and now it's too late. We just keep on breaking the same old ground." I think both Ungers's and Björkman's lectures were thought provoking, inspiring, and needed for a field that should aim to keep moving forward. The important thing for the new generation of jewelers to realize is that we are living in a time of change and tough economics, so we should open our eyes and our minds for new ways of making what we do matter!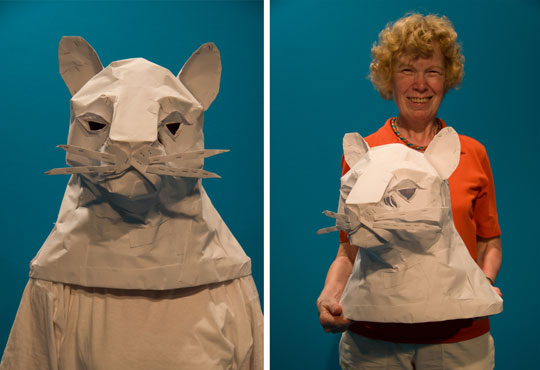 Nanna Melland's exhibition Swarm at the Deichmanske Library was the second example of the new generation creating its own opportunities. The exhibition featured 5500 aluminum airplane brooches distributed over a 5 x 5 meter (16.4 x 16.4 foot) wall. Melland says about the work, "The conquest of aerial space and the challenges provoked by this new traffic have consequences for our lives and humanity at large. We realize that we are unable to always be in control. We live in the midst of evermore intensifying global connections, one swarm among many others, each trying to survive.'' There is something about swarms that creates the feeling of unease. The artist uses these feeling of anxiety and danger to shed light on the today's society. What changes await the world and the environment, when humans can move like swarms across the sky? I thought the project was very strong. Not only was it a deft move for Melland to show Swarm in a public space, opening up our field to the public, but it also showed how contemporary jewelry can engage with larger social issues, how it really can be something other than just adornment. By changing the concept of a swarm from a natural act (bees, birds, fish) to a swarm of manmade flying machines, Melland is also raising environmental issues and hinting at the idea of an artificial future world. During the exhibition period, Melland and the Deichmanske Library invited the public to a series of lectures and film presentations that offered different perspectives on the theme of "mass and individual."