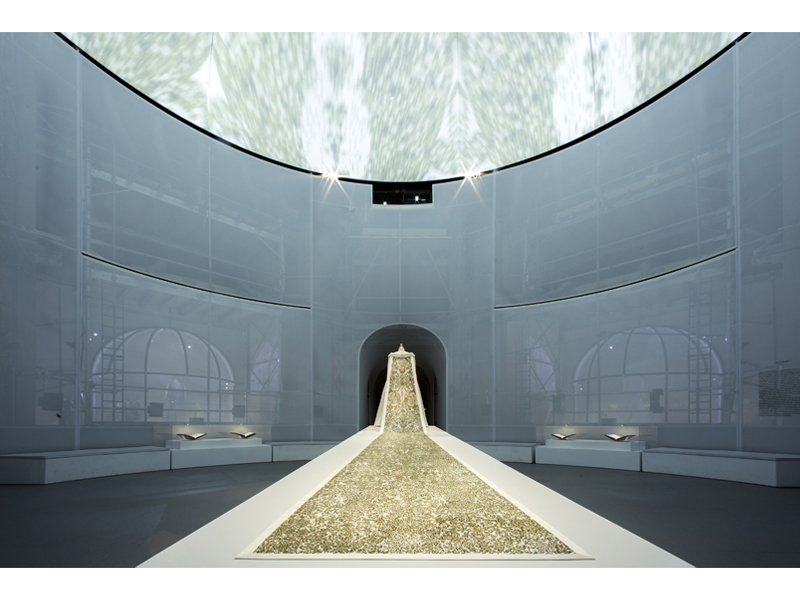 Manus x Machina: Fashion in an Age of Technology, the most recent fashion extravaganza of an exhibition on view at the Costume Institute at The Metropolitan Museum of Art, is a feast for the eyes. With more than 170 ensembles on display, this exhibition reaffirms what we already know: Fashion is an art form. Beyond this, there is also a real message here that defines fashion in the 21st century: The hand and the machine are a team. The x between manus (hand) and machina (machine) is not meant to pit the two against each other. Just the opposite: The x symbolizes hybridity. This idea, that the hand and the machine are equally valuable and valid tools in the fashion world, also carries merit in contemporary jewelry. Today, when artists are increasingly experimenting and successfully producing 3D-printed jewelry, we should not question their use of this machinery but embrace it and accept it as the way of the future.
The idea for this exhibition was borne out of a discovery that Andrew Bolton, curator in charge at the Costume Institute, made while inspecting Yves Saint Laurent's iconic Mondrian dress (1965–1966) from the Met's collection. He was surprised to learn that the dress was entirely machine-made. This alerted Bolton to his own misconception about how haute-couture clothing was made. In the exhibition catalog, Bolton points out that Charles Frederick Worth (1825–1895), "the father of haute couture," used the sewing machine freely to advance his business. It was during Worth's lifetime that Isaac Singer's patent of 1851 (165 years old this past August) introduced the sewing machine to the mass market. Worth, like many of today's fashion designers, embraced new technology, which he considered as primarily a way to speed up production. But it also changed fashion: Introducing technology to a sector built on the handmade helped establish a divide between haute couture—where everything is finished by hand—and ready-to-wear, where everything is machine produced. The exhibition makes the argument that this divide is largely a misconception: Bolton's selection provides us with numerous examples of prêt-à-porter creations that are just as complex as haute couture, and of haute-couture pieces that are machine-made. Proving his point about the use of the machine, and to help educate and eradicate any prejudices toward it, all of the garments in the exhibition are accompanied by didactic wall text that Bolton likens to a hand/machine DNA record. A series of interviews that Bolton conducted with the fashion designers for the exhibition catalog reveals, as Miuccia Prada says, "that mixing the hand and the machine gives the best results."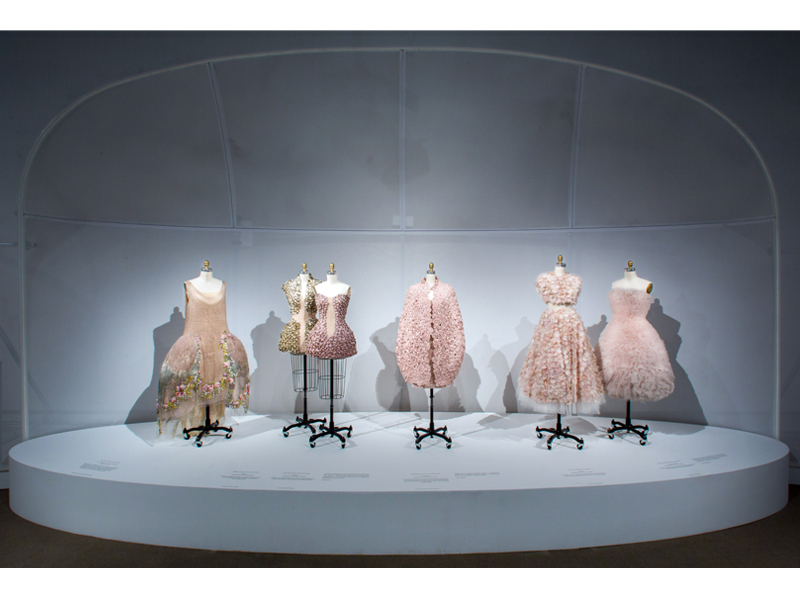 Manus x Machina is organized in six sections, each one relating to the métiers, or trades, of dressmaking as defined by Denis Diderot in his Encyclopédie, ou dictionnaire raisonné des sciences, des arts et des métiers from the mid-18th century. Within each of the sections in the exhibition, contemporary garments are mixed with vintage ones, to argue the case that even in the beginning of the 20th century, machine processes were integrated with hand craftsmanship.
Bolton presents the work of numerous fashion designers such as Miuccia Prada, Proenza Schouler, Karl Lagerfeld, Nicolas Ghesquière for Balenciaga, Christopher Kane, and Sarah Burton for Alexander McQueen, amongst others, who all support the curator's thesis and have embraced the machine for some of their most complex and inventive creations. The machine has become a primary facilitator for the manipulation and output of lace, laser-cut leather and feathers, and the bonding of ultrasonic welded embroidery. It is hard to imagine that some of these processes can be applied to the production of clothing. Using the machine to assist in the creation of a piece is not a shortcut but an opportunity. Bolton puts it this way: "The hand and the machine are creative—rather than contrasting or contradictory—tools that help to refine, perfect, and advance their craft." Sarah Burton, the head designer at Alexander McQueen, told Bolton that "creativity, especially as it relates to fashion, is an organic process that involves change." And yet, the process of creation always starts off in the same way, with a sketch done by hand.
For a designer like Karl Lagerfeld, who on behalf of the House of Chanel has purchased the various ateliers that service the haute-couture industry, the integration of the machine may appear unthinkable. However, the wedding dress that closed Chanel's autumn/winter 2014 haute-couture collection is integral to the curator's vision for Manus x Machina's and to the understanding of the exhibition's thesis. This gown is the perfect mix of the hand and the machine, what Lagerfeld refers to as the "natural evolution."[1] Sculpted from a neoprene-like fabric, the gown has few seams and a train with a pixelated-Baroque pattern. One of the most convincing examples of this hybrid-making process is in the form of Chanel's iconic suits (autumn/winter 2014) that have been 3D printed, with hand embroidery done by Lesage. Responsible for the 3D printing is the Belgian firm Materialise. This company is also credited with producing the first 3D printed dress for Iris van Herpen, undoubtedly the most famous name in 3D-printed fashion.
In 2011, Time magazine named van Herpen's 3D-printed dresses one of the best inventions of the year. Like most artists, van Herpen says that her end goal is to make the ideas in her head become a reality. "The things I have 3D printed I could never do by hand. It would just be impossible. The beauty of handwork is that it's always a bit different and you can never have something totally symmetrical. At the same time, I think that's the beauty of 3-D printing—it is one hundred percent symmetrical in the smallest details, even the printing layers. That's the fingerprints of the technique."[2]
Her first 3D-printed garments appeared in the Crystallization collection during Amsterdam Fashion Week in July 2010. They were inspired "by the transformation of water into crystal, the entire collection explores the opposition between fluid and solid liquids."[3] A dress in collaboration with the London-based architect Daniel Widrig was printed by .MGX by Materialise. On display in Manus x Machina is a white voluminous pleated top from the Crystallization collection that was printed in one piece using a Selective Laser Sintering (SLS) process.[4] Another technique that van Herpen frequently employs is laser cutting, citing acrylic as a material that is suitable for this process. In a quote that could be attributed to a jeweler, the fashion designer admits, "I love using nontraditional materials to evoke traditional techniques."
Van Herpen's concerns about her fashion designs are similar to the ones voiced by contemporary jewelers. Firstly, it is imperative that the artist understands and knows how to make the pieces by hand, and then recognizes that the computer provides her with a tool that cannot be duplicated by hand. Before integrating the computer in her process, van Herpen resisted technology for a long time, often making each piece by hand herself. Secondly, van Herpen—a former dancer—extols the importance of the "movement" of a piece. This, of course, resonates with jewelers. The jewel ultimately belongs on the body: How it catches light, works with the fabric of the garment, and lies on the body are often carefully considered.
In a sign that the times are changing and that technology is being embraced by even the staunchest traditionalists, the Chambre Syndicale de la Haute Couture (the organization that governs and appoints haute-couture houses) invited the designer to become a guest member in 2012, shortly after the premiere of her 3D-printed dresses.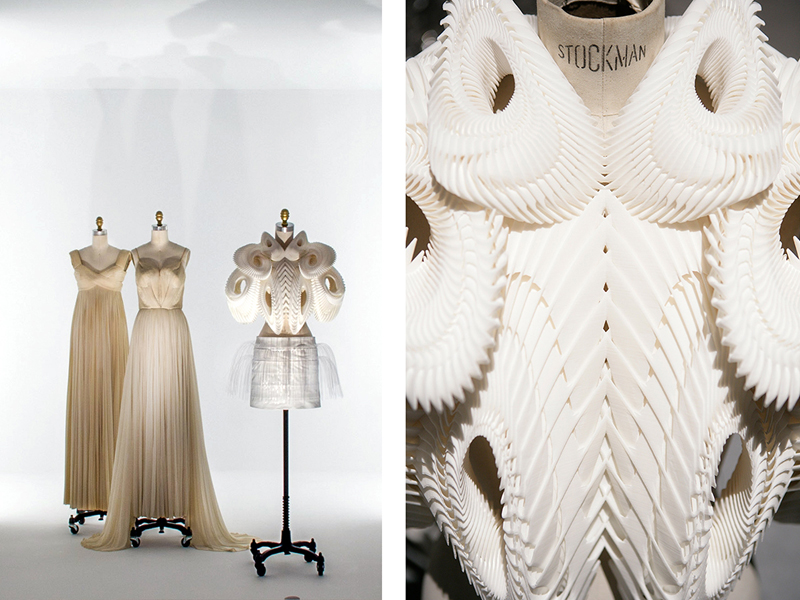 In her interview with Bolton, the designer stated, "I'm not any more or any less attached to a machine than I am to my hands. For me, it's a dialogue. In my process, handwork inspires the pieces that are machined and vice versa. They improve and strengthen one another. I regard machines as tools, just as I regard my hands as tools. I tell my hands what to do, and I tell machines what to do."[5] She claims that the biggest misconception about her work is that it is mostly done by machine. "Between 70 and 90 percent of my work is done by hand—hand cutting, hand stitching. Even when I use the machines, the hand is never absent—a machine needs human hands to operate it."
This statement by van Herpen solidifies and establishes craft in the 21st century—the hand is good but so is the machine. Any preconceived notions that we may carry around with us are outdated. And while certainly we are not all thinking this, it is not uncommon to hear both artists and appreciators argue for core craft values. Looking at van Herpen's creations, it is hard not to think about the advancements, and the similarities in ideologies and practices, that are taking place within 3D-printed jewelry. Specifically the rise of emerging jewelers like Emily Cobb, who is quickly earning a reputation for her 3D-printed necklaces and brooches.
Based in Philadelphia, Cobb received her MFA in metals/jewelry/CAD-CAM from Tyler School of Art in 2012 and works as a part-time goldsmith at Bario Neal, an ethical jewelry boutique in Philadelphia. Since her graduation, the artist has garnered a lot of attention for her jewelry, which embraces both 3D-printed technology and traditional goldsmithing. Cobb says that the program at Tyler is unique in that it "combines computer work with the bench, it evens the playing field so that all tools are equal."[6] She believes that there is a "beauty to the way the hybrid [machine and hand] work together—the digital side can enhance the handmade and vice versa." She believes that using the machine is a way to create something that was not possible before these tools were in place. Cobb's thoughts fully support the argument made by the exhibition.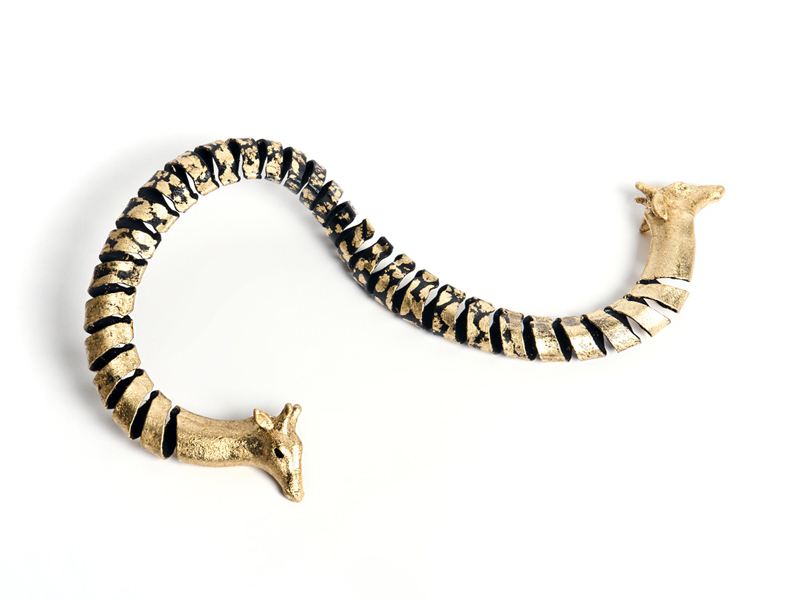 The process that Cobb used to create one of her most recent pieces, a giraffe necklace, is akin to the way that she makes all her pieces. First Cobb sketched a giraffe by hand, making sure the features and the pattern of its hide were recognizable. After this she scanned the sketch into the 3D-modeling program and continued to refine the giraffe's facial features. Once she was satisfied with head and face, she focused her attention on the giraffe's neck. One of Cobb's signature design elements has been the unraveling neck ring, or a ribbon detail. To achieve this, Cobb has to write a series of commands to build the neck in the 3D-modeling program. Like most artists working with 3D printing, Cobb does not own a printer, nor does she need to: She sends the file to be printed by a company called Shapeways. Once in her possession, in this case, she noticed that during the printing process several section of her ribbon had acquired holes which were not part of her file. It is a common misconception—one also addressed in Manus x Machina—that machines never make mistakes, while the hand is prone to imperfection. Some designers program the machine to emulate mistakes that can be done by hand. Other times, the mistakes are a surprise and become part of the DNA of the piece. These mistakes are sometimes fixed and sometimes the mistake is too beautiful. In this case, Cobb fixed the mistake by hand. She also says that "a machine only offers the illusion of perfection and in no way does it eliminate all of the problems."
She epoxies putty to fill the holes and then sands down the putty so it matches the shape of the intended surface. Once she tests the piece to make sure it is sturdy and has enough give to be worn, she cleans it to remove any powder particles that adhered to the piece during the printing process. Pieces can soak for several days, but once they are clean, she is able to apply gold leaf. This is a painstaking process, with each layer applied by hand and given ample time to dry before the next layer can be applied. Once Cobb is done with the gold leaf, she applies a final, even layer of protective coating over the entire neckpiece to seal the leaf in place. Each piece that she works on is different. Like a goldsmith, she has to choose the machines carefully, and these change depending on the materials that she wants to print. Cobb says that she was trained "to consider the digital world and the physical world." Each piece that she makes needs to function, and there is a lot of experimentation involved. She switches from the hand to the machine often, always thinking about the best solution to "achieve a certain look." The processes that she uses are the same ones employed by fashion designers, like SLS, laser cutting, and Computer Numerical Control (CNC) milling.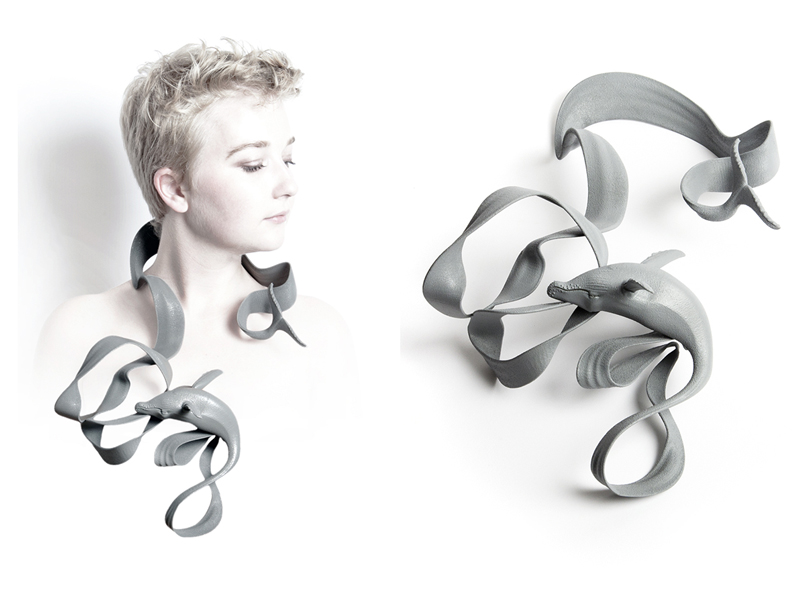 For Cobb, and the fashion designers represented in Manus x Machina, there is no hierarchy when it comes to their tools, and no resistance to the machine, either. The resistance comes from the public. It would be interesting to approach visitors prior to their entering the exhibition and inquire about what they think of when they hear "machine-made clothing." It certainly would not be the elaborate designs on view. Ironically, people are rarely surprised when you tell them that a sewing machine was used to make the T-shirt they are wearing. Cobb says that she can often hear the disappointment in people's voices when she tells them that her work is 3D printed. It is as if the artist has cheated in the production of her work. When it comes to jewelry, there is always a negative preconception that anything that was touched by the machine is soulless, uniform, and flat. This is an outdated argument that originated in the 19th century during the Industrial Revolution that launched the Arts and Crafts movement. And while this may be the case for some, it is not the rule. Let us not forget that a machine is controlled by someone's hand; if that hand is not skilled, the result will be unimaginative or poorly executed, just like a handmade garment or jewel at the hand of someone who is untrained.
Cobb says that conversations are certainly happening more frequently and education is what is needed the most for people to understand the merits of the machine. Therefore the issue lies in education, not of the artist, but of the audience. People want to know how things are made and everyone always assumes that they know. This is why the exhibition Manus x Machine was, in my opinion, so important and exciting. The curator broke it down for you. It made me see the role that technology plays in a new light, as well. Even though I wasn't against technology and I have been having conversations with artists about it for some time, it was fascinating to learn just how vital a tool it is and what it is capable of. And to be reminded that you need skilled hands to operate a machine: we often forget this. The job of the curator is often to bring the audience's attention to an idea or a voice. By showcasing these unbelievable garments and their process, Bolton is pulling back the curtain. While his conversation is not directed toward jewelry specifically, it is vital to our field as well.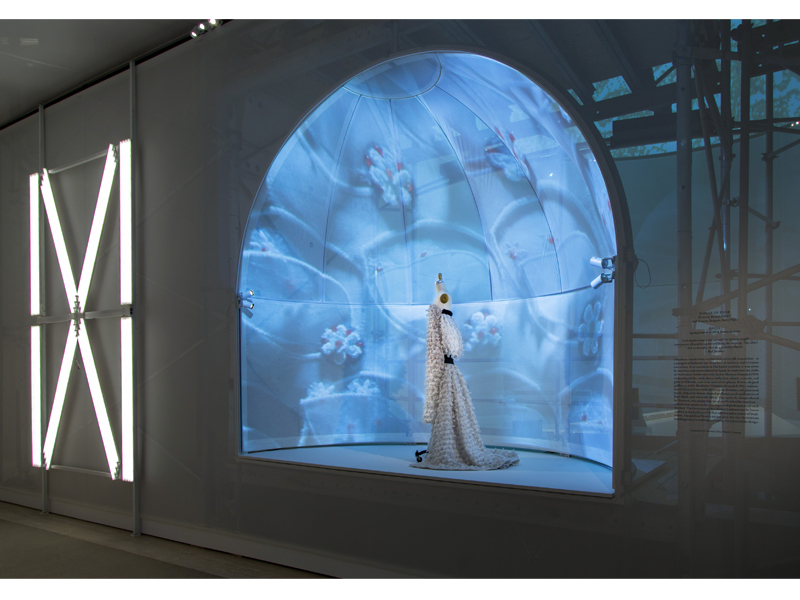 I am someone who often observes people engaging with contemporary jewelry, and the most frequent question is, "was this laser cut or hand cut"? Of course it depends on the piece, but often when something is absolutely perfect, it is assumed that it has been laser cut. Most people, unless they are jewelers, do not consider that even if something was laser cut, often an artist has to "finish" the piece by hand. Recently, I embarked on a discussion about the pros of laser cutting or water jet cutting. For artist Helen Shirk, a consummate perfectionist who is known for hand-cutting all of her sterling and steel pieces, the question of whether to pierce her forms by hand or allow a machine to do it is simple: "allowing the machine to intervene means that [she] has more time to focus on experimentation and produce work that is more elaborate since she is liberated from a repetitive process."[7] In the past, artists would hire assistants to cut the simple forms for them; now we have machines. Either way, it didn't come from one hand. "My hand didn't touch it but my mind did," Shirk says. This is certainly a statement that fashion designers can agree with.
Bolton uses a quote from Paul Valéry's Pieces sur l'Art (1936) to conclude his introductory essay, which sums up the sentiment expressed by all of the designers featured in this exhibition. "In all the arts there is a physical component which can no longer be considered or treated as it used to be, which can not remain unaffected by our modern knowledge or power. … We must expect great innovations to transform the entire technique of the arts, thereby affecting artistic invention itself and perhaps even bringing about an amazing change in our very notion of art."[8]
INDEX IMAGE: Lower level gallery, "Pleating" case study: (from left to right) Madame Grès (Alix Barton), Evening Dress (1968); Madame Grès (Alix Barton), Evening Dress (circa 1935); Iris van Herpen, Ensemble (2010), Manus x Machina: Fashion in an Age of Technology, 2016, photo: The Metropolitan Museum of Art
---
[1] Andrew Bolton, Manus x Machina: Fashion in An Age of Technology (New Haven and London: Yale University Press, 2016), XVII (part of Interviews insert).