The co-founders of Brooklyn Metal Works, Erin Daily and Brian Weissman, teamed up with jewelry artist Steven Holman to curate an exhibition that explores humankind's oscillation between autonomy and spiritual influence. From rabbit feet made from graffiti to bone facsimile composed of wood, Forget Them encompasses wide and intriguing portraits of our struggles, dalliances, and submission to a spiritual realm. In this interview, we also talk about what defines good contemporary jewelry, and the thing that currently haunts the three jurors.
Olivia Shih: Could you share with us a bit about yourselves and how you came together to jury this exhibition?
Steven Holman: In my own practice, I explore the concept of talismans and ritual objects in contemporary hunting and nomadic culture. I was invited by Brian and Erin to participate, presumably because of my interest in the subject matter. Jewelry and small objects naturally lend themselves toward talismanic and memorial applications, and I was very enthusiastic to see what kind of works and proposals we would receive.
Brian Weissman: Erin and I run a projects space as part of Brooklyn Metal Works. The goal is to promote artists and ideas that we feel are important to the art world. Once every year we put on a juried exhibition that is conceived by us or submitted to us through our open call for guest curators. When we began thinking about putting on this show, we immediately thought of Steven.
Steven's work connects to some of the more interesting ideas we wanted to explore with this exhibition. His work is very smart and also sincere in its appreciation and understanding of nature, hunting culture, and jewelry. We felt that he would bring a perspective that is very unique and honest to the theme. We always look to have multiple perspectives represented in our juried calls, and Steven's view was a valuable one to have.
The title of this exhibition, Forget Them, originates from Lucretius, a Roman poet and philosopher whose work influenced thinkers of the Enlightenment era. He advises readers to "forget" angels, demons, and ghosts, and asserts that they do not exist. Why were his words chosen for the exhibition title?
Brian Weissman: While reading the book Swerve, by Stephen Greenblatt, I was immediately struck by this phrase. Forget them—it's simple and to the point and when thinking about it in the context of the amount of time that has passed since Lucretius first penned it—over 2,000 years—it was very intriguing.
Humankind has failed to heed such a precise statement about our system of beliefs, but in some ways that has not been all bad. While religion throughout time has often dictated what art will be allowed, who can make it, and so on, this was an opportunity to connect with people's personal sense of spirituality and the objects they make to celebrate or commemorate their own beliefs.
Lucretius's words are just a jumping-off point, his warning is true yet problematic. Without humankind's persistence in believing in things greater than themselves, we would not have so many objects and pieces of art that we continue to cherish.
Why do you think the struggle between human autonomy and spiritual influence has continued to fascinate us?
Steven Holman: There is an innate human need to connect with one another, with our past, and with the natural world. I think that as humans we can't really help but seek out some sort of spiritual or supernatural connection, whether through small reminders or full-on devotion, with the aim of forming and holding on to these connections. Even if you don't believe in influence beyond your own autonomy, there are still experiences or feelings that no one can really explain rationally. The objects in this show are firmly grounded in those moments, where the line between rationality and the unexplained begins to blur.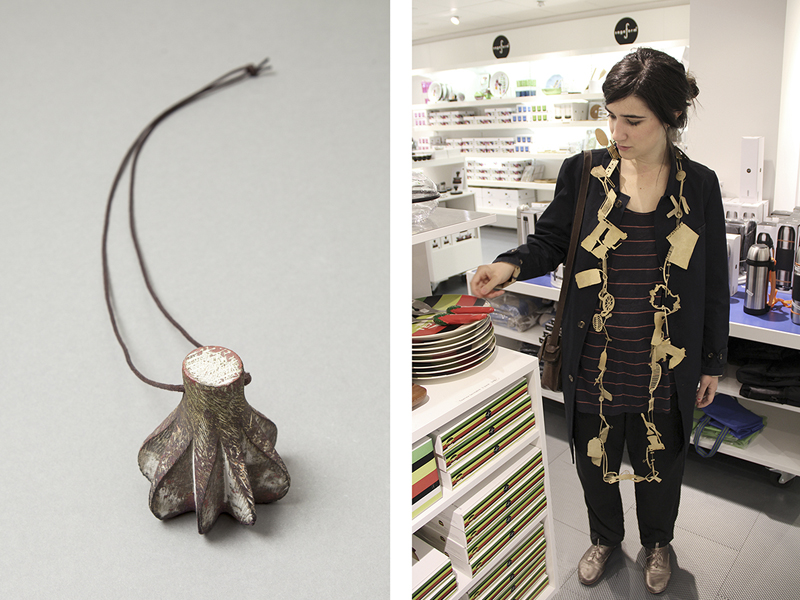 Another way to read the title is as an invitation for viewers to forget the artists—as if the artists themselves were demons, or magicians, or simply invisible creators. Is that double-entendre conscious?
Erin Daily: Divergent thinking is always encouraged, and we intend for our themes to be open to interpretation. The particular consideration that you mention is perfectly acceptable.
Ultimately, though, we do want to honor these makers. There is a long-standing association between artists and understanding the mysteries of the world. Our forebears who knew chemistry when it was called alchemy had access to a powerful knowledge that others could only explain as sorcery. Today many jewelers take pride in this history and tap into it for inspiration. Who wouldn't want to conjure a little magic in their lives?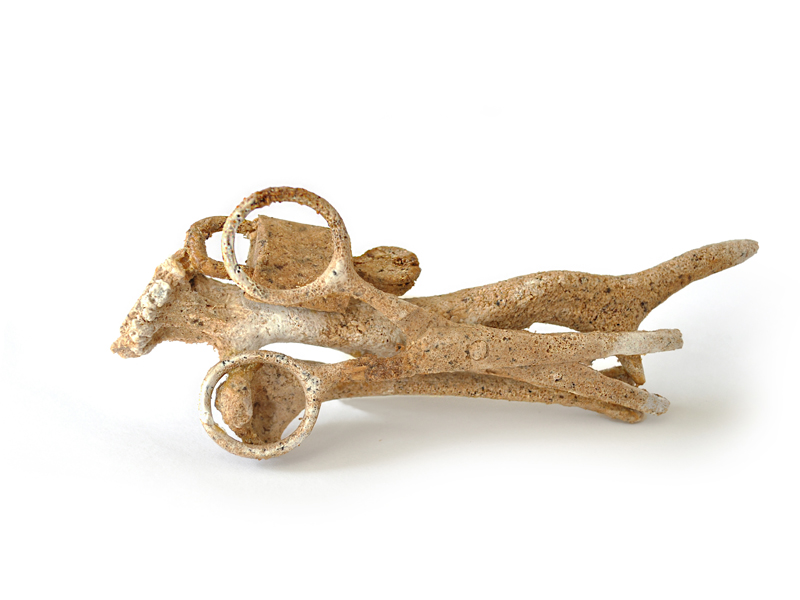 Steven, your own work reinterprets spiritual objects such as amulets and talismans. Why have you chosen to highlight these themes in your own work, and has any piece of work in this exhibition inspired new thoughts on these themes?
Steven Holman: Growing up in the deserts of Utah afforded me the opportunity to experience an almost untouched nature, and the human, still-primitive relationship to it. There are contemporary cultures that are still firmly rooted in cyclical rituals of hunting and gathering, for whom superstition and storytelling through objects still play a significant role.
As far as works that have inspired new thoughts, the "wreath" brooches by Emily Grego and "door" by Maggie Willsey were particularly interesting to me, because they spoke of the ways that our homes and environments become an extension of ourselves and how we use objects to build upon and support those mythologies.
There were also a number of works that were reminiscent of emoji or icons that have become increasingly popular with texting and social media, specifically the works of Andy Lowrie, Julia Walter, and Karen Vanmol. These works sort of oscillated between ancient and contemporary, and I found that iconic relationship fascinating.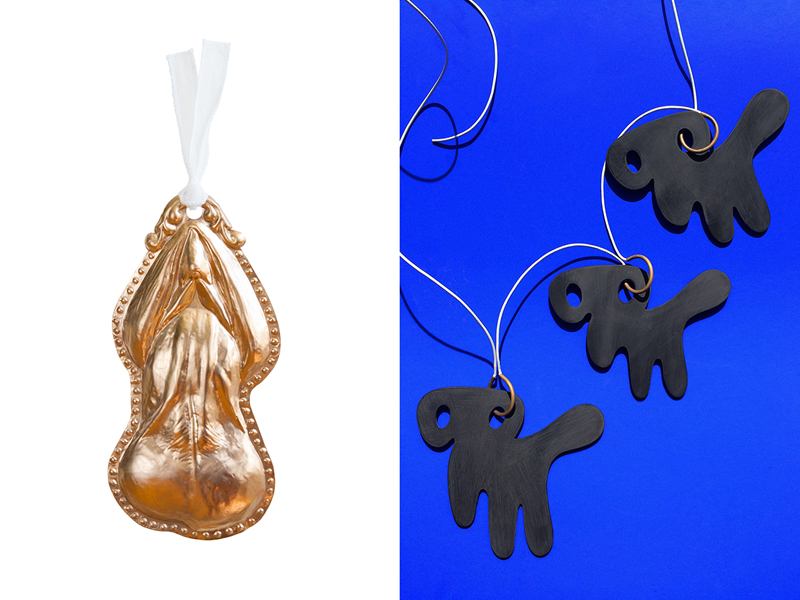 Were there any challenges in selecting work for a strong, cohesive exhibition? What kind of criteria did you use when jurying?
Erin Daily: We had an overwhelming response to this call. Over 150 entries from at least 12 countries. It was so exciting to see the work that was submitted. The main problem was narrowing down the selection of good work that spoke to the theme. We would have included more pieces if we had the space for proper display.
It was also challenging to distance ourselves from some of the subject matter. More than a few pieces were about very personal experiences and it can be hard to not let that cloud your vision. It also made writing the rejection letter a challenge, because so much of the work was very meaningful to the artists.
What defines good work in contemporary jewelry?
Steven Holman: I think work that responds to the artist's personal experience and brings it into a realm of understanding for a wider audience really does something for me… And although people tend to say things like "craft is dead" or whatever, I think it still has to be here. The way in which something is made, and what it is physically made from, can make or break the gravity, concept, and ability to access the work. These elements can easily support or detract from a concept.
Erin Daily: I am always looking for a thoroughness of investigation in an artist's work. This speaks of a commitment to the concept as well as the formal material processes. It will typically take several viewings of multiple pieces by the same artist to gather enough information for me to make this call. But I enjoy the process. If I can walk away from the work still thinking about it, wanting more, then the work is successful.
Brian Weissman: I often use the word sincere when I'm considering if work is good or not. This is not the only criteria I use, but often it's at the base of what I consider to be important. In my mind, when someone dedicates their time to researching a subject, concept, material, technique, etc., you can see the depth of that investigation in the work. The feeling that they are genuinely interested in the subject and are exploring it in earnest will resonate with you.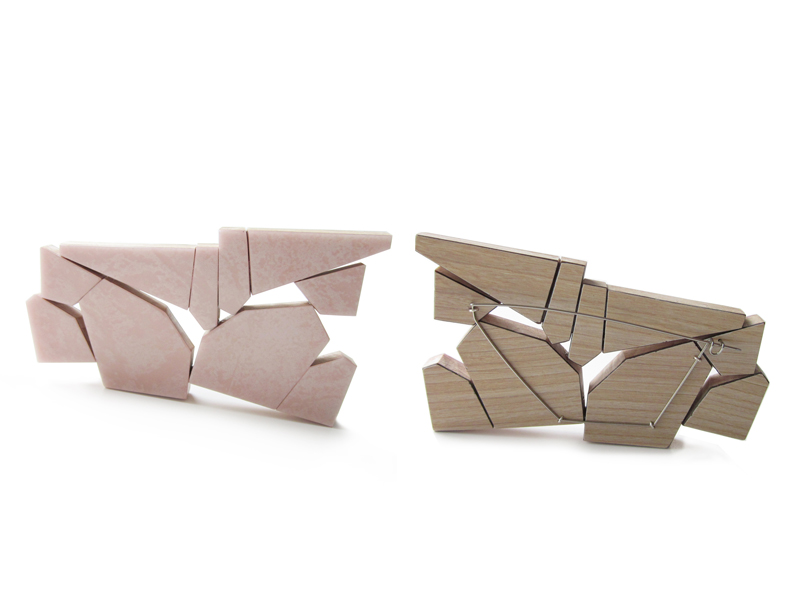 Erin and Brian, you are co-founders of Brooklyn Metal Works, which is a metal art studio that rents space to artists, offers concept-based classes, and includes a gallery space. Why have you chosen to teach concept-based classes as opposed to more technique-based ones?
Erin Daily: We teach technique- and concept-based classes. Our courses range in skill level from beginner to advanced, novice to professional. Our goal is to teach creative problem-solving through process- and technique-based explorations. Courses are designed to stimulate independent growth and learning while increasing critical thinking and technical mastery for metalsmithing and jewelry making.
Does concept-leaning work figure heavily in this exhibition? Why or why not?
Erin Daily: Yes, it most certainly does. The whole point of creating this call was to curate work around a central theme. This idea plays out in various ways in all of the work chosen.
In The Pass and Kourtala, Nicole Polentas "recontextualises Greek literature and poetry which examines notions of death, loss and remembrance. A narrative approach is applied analytically to the construction of artefact, in order to reflect, interpret and reinvent experience. These narratives bring forth an intertextuality of death, presenting the embodied nature of spatial cultural experience. The multiplicity of death, loss and remembrance is reconfigured and reimagined on a visceral level."
In Rabbit's Foot, Raduga Fossil, and Sting, Carina Shoshtary describes herself as a kind of contemporary hunter-gatherer. She makes her jewelry pieces from materials found in her immediate surroundings, such as graffiti paint from city walls and organic materials found while wandering in nature.
Shoshtary considers these materials to "contain a secret tale, which desires investigation. Everyday images, thoughts, dreams and stories are woven in as well as [her] own vision of a parallel imaginary world. [Her] jewellery pieces may appear like artifacts of a past civilization, fossils from another planet or the ornaments of fabled beings."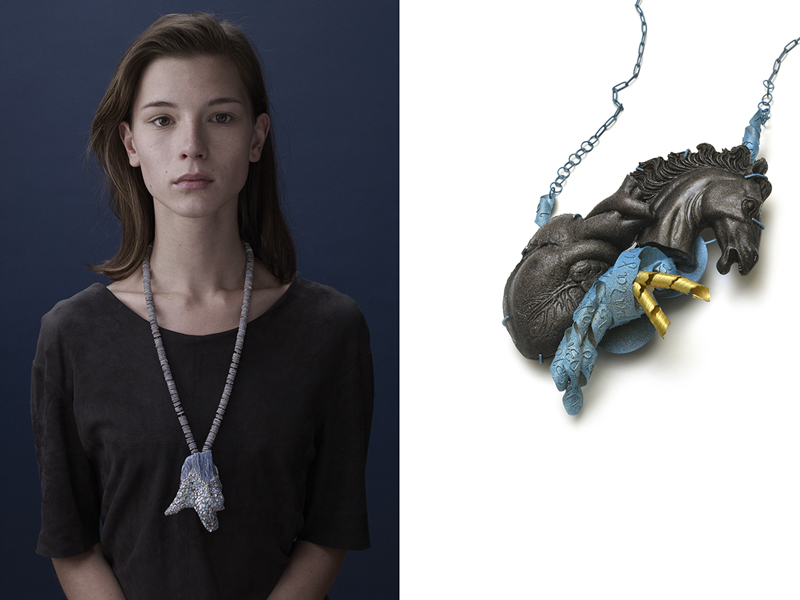 Andy Lowrie's Leaf Demon recaptures the mask-like face of age-old demons, but this face is composed from industrial, manmade fragments. Do you think our spiritual fears and desires will continue to evolve with us as we gravitate toward an increasingly fact- and logic-based world? Do you think that since jewelry pieces can be such intimate and symbolic objects, jewelry is inherently linked to spiritual thinking?
Erin Daily: I believe that is innate to the human condition that we question these larger concerns. Facts and logic do not supersede "faith" as it is precisely this leap from reason that allows belief in the unknown to occur. Even the most empirical among us can succumb to everyday superstitions, or in anxious moments invoke a mystical power for intervention.
Spiritual thinking is an interesting topic to me. I have noticed that many object makers have animistic leanings, jewelers among them. I think it is no coincidence that people who imbue objects with meaning, give shape to something that did not exist before, are interested in the underlying connection to various belief systems. The intimacy of jewelry has a powerful draw, and is interpreted widely throughout history as a lens to explore these ideas.
Brian Weissman: I personally don't see us heading toward a fact-based or logical world—perhaps this past election is ugly proof of the "post-truth" world we now live in. I would hope that our spiritual fears dissolve while our spiritual desires continue to evolve alongside scientific progress and discovery.
I don't think jewelry exists solely as a manifestation of spiritual thinking. It lives a rich life in many realms. While this show looked to highlight art that emphasized "spirituality" or how objects can manifest as a result of yearning to understand things, or an appreciation of not understanding everything, jewelry has always functioned in more than one capacity.
Finally, could you share with us something you have heard, seen, or read that haunts you to this day?
Erin Daily: President Trump.
Steven Holman: Ditto. He really occupies a lot of headspace at the moment … dammit.
Brian Weissman: The rise of the far right around the world.
Thank you.
The pieces in this exhibition range in price from $30 to $13,000.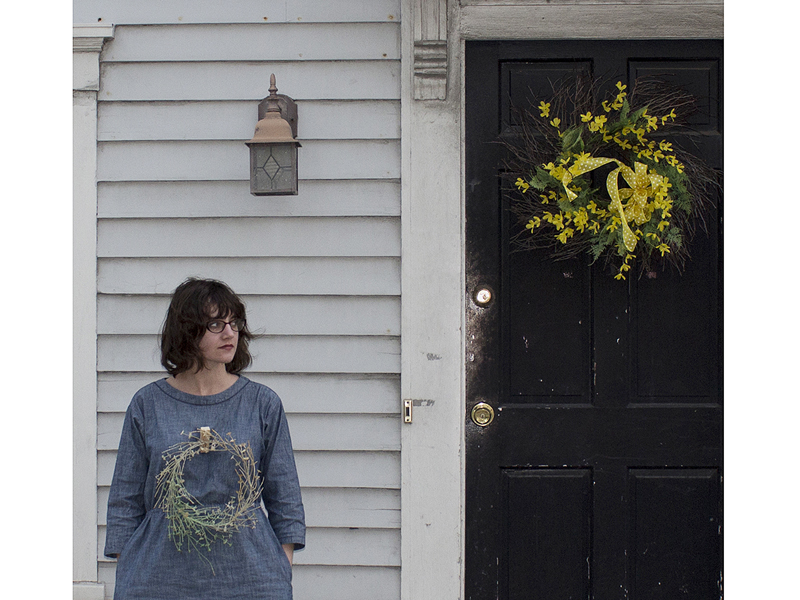 INDEX IMAGE: Brian Weissman, Erin S. Daily & Steven Gordon Holman, photo: Erin S. Daily, Brian Weissman and Katie Rearick