This is a kickoff for a new series on young initiators. Yet the format of this kickoff is different from the format that the series will follow moving forward. There is no good reason for this; many things just grow organically while you are working on something. And so this happened: when Liesbeth den Besten was preparing an interview with Chinese-Dutch Jie Sun, who managed to organize two big jewelry events in two years' time, she became impressed by his energy and ambition, and realized he is not the only young artist who is trying to move things. And so she suggested we start a series about young initiators, people in jewelry who are interested in collaborations, and who want to give contemporary jewelry an impulse by taking new paths. The next Young Initiators issues, as of February 2016, will be short, personal, and motivated. But because Jie Sun was the unknowing instigator of this new series, we shall begin with an extensive interview with him.
–Benjamin Lignel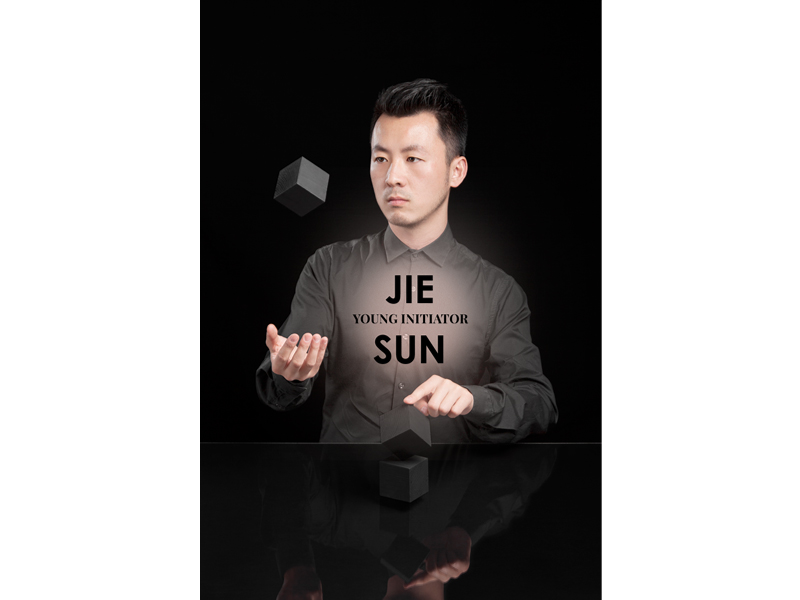 Jie Sun, born in Guiyang, China, earned a BA in jewelry design at the Central Academy of Arts in Beijing, moved to Amsterdam in 2008, and recently started a PhD on men's accessories and jewelry in Copenhagen, Denmark, at the International Creative Centre and the Royal Danish Academy of Fine Arts. In 2014 he organized for the first time Triple Parade, a collaborative project between China and Europe, comprising an exhibition, catalog, conference, and workshops. In 2015 he managed to organize a second edition, in China, Finland, and Belgium, in only half a year's time. His aim is to bring Chinese and European jewelry artists together in dialogue, with the ultimate ambition of stimulating the rapidly growing Chinese jewelry scene. Jie Sun works with a team consisting of a graphic designer and an editor-producer, all based in Beijing.
Liesbeth den Besten: Jie Sun, this year you organized Triple Parade for the second time. Tell me about it—why did you do this, and what is the idea behind it?
Jie Sun: Last year, in 2014, I organized Triple Parade I. It started with a conversation between Gijs Bakker, Lucy Sarneel, and myself. From there I developed this idea of a dialogue across three generations. The second Triple Parade is a dialogue between three countries. Both editions involve a traveling exhibition, publication, conferences, lectures, and workshops. This time, Finland and Antwerp will also organize lectures or a conference, and they will present the exhibition on their own terms.
Triple Parade is my passion. Although it is an incredible amount of work, I don't see it as work. Organizing something like this is a big thing, but where there's a will, there's a way. And for me it worked like an energy bomb, because I have been working together with different parties, cultural institutions in China and abroad, and with different people: artists, curators, writers, historians, photographers, and a graphic designer to make the catalog (one this year and one last year). Most people are only interested in one thing, but I want a broader approach and collaborate with people who have the same open-minded attitude.
What is the magic of the number three? Why three different generations, or three different countries?
Jie Sun: Central to the concept of Triple Parade is to set up a diverse dialogue between three parties. This idea is inspired by the philosophy of Confucius (551 BC–479 BC), China's most famous educator, philosopher, and political theorist, whose ideas have influenced the civilization of East Asia: "Even when walking in a party of just three, I can always be certain of learning from those I am with. There will be good qualities that I can select for imitation and bad ones that will teach me what requires correction in myself."
Based on this concept, the first Triple Parade (2014) created a dialogue across three generations of jewelry designers, and then this dialogue extended to another three designers. I organized traveling exhibitions, lectures, and workshops in China. This year (2015), I changed the content and organizational structure. Triple Parade continues its collaboration with institutes in Europe and China, but the joint partners have their own responsibilities to host and manage their own program. In that sense the second edition indeed has a wider scope than the first one.
You did your MA at the Sandberg Institute in Amsterdam. Since then you have stayed in this city. What does living in Amsterdam bring you?
Jie Sun: I came to the Netherlands because I wanted to get acquainted with another culture. I have been living in the Netherlands for seven years now. Amsterdam has become my second home. My career started here, I found my peers here. But I travel a lot to China, different times a year—especially the last two years while organizing Triple Parade I and II. In China, people think I'm a foreigner, and as a matter of fact I like that. I appreciate not having this cultural frame anymore. It is a new vision of who I am. I can jump in a box when I'm here (Amsterdam) and there. It was confusing at first, but now I feel quite relaxed about it. It's an advantage; I try to make use of it.
There are many people involved in Triple Parade. Explain a bit how it worked and how you organized it.
Jie Sun: This year there are 19 artists, and three countries—China, Finland, and Belgium—involved. I chose the countries and the leaders/curators who were responsible for the choice of the participants. Hilde De Decker, of St Lucas University College of Art and Design Antwerp choose six artists from Belgium, and Eija Tanninen-Komulainen, of Kuopio Academy of Design, chose six Finnish participants. Dongdong Zhuang, founder and chief designer of the Tianjin Academy of Fine Arts (TAFA) Jewelry Workshop, and I chose the Chinese participants. Regarding the catalog, I wanted everyone to appreciate jewelry as a topic, and to be inspired by each other, the writers, photographers, graphic designers; I wanted a true dialogue. My intention is to diversify the field; people who are involved should have the interest to contribute to the content. I see it like this: Triple Parade is providing a promising stage, all the different professionals are the main actors, and I am holding the stage while giving 100% support to encourage everyone to "dance," "sing," and do a good job but also have fun. Of course, I need to be sure I get the right people. Collaboration should be with partners who are on the same level; I think we succeeded quite well. In Finland, where Kuopio Design Academy was its host, the exhibition was officially part of a program to celebrate the 65th anniversary of Finland's diplomatic relations with China—jewelry can be taken as a serious topic.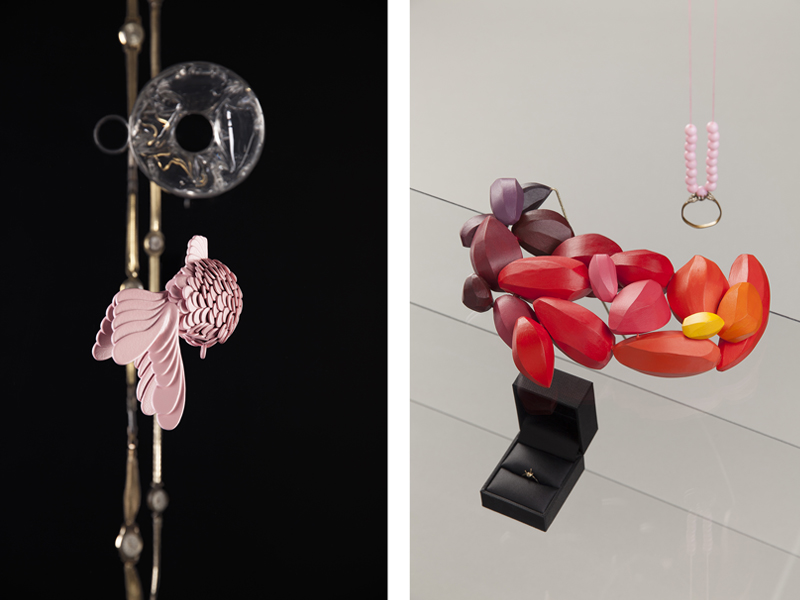 What is the importance of the catalog?
Jie Sun: Getting good essays is quite a thing. I got permission to reprint an interview with Gijs Bakker by a Czech writer, and an essay by Glenn Adamson about curating craft. Besides that, the photography is an essential part of the project. Via a colleague I got in contact with the Dutch photographer Thomas Aangeenbrug, who is especially interested in still life and staged photography. He is young (born in 1985) but mature. I learned a lot from him because he asked so many questions. I can't work with someone who just works for the money. First he had other ideas but then he came up with the idea of using three layers of glass, and different focuses. His photography is completely different from the usual jewelry photography, which is rather boring to my mind. Eventually a Chinese photographer, Kuai Che, took over the job in China. The two photographers have never met each other in person, and so this is another interesting conversation in Triple Parade: both photographers using the same concept but with quite a different result.
Who is your Chinese partner, and what's his role?
Jie Sun: The host of this exhibition was TAFA. When I made my lecture tour in China for the first Triple Parade, I also visited Tianjin. TAFA were very interested, and I managed to convince them that organizing a second TP would be worthwhile. TAFA is our host, and they sponsored this project tremendously. They have a small group of students, but from September 2015 onwards, they will have a jewelry department also thanks to this exhibition. In China people have to deal with an enormous cultural gap, they lost a certain part of their background. Now there is prosperity, economic growth, and an eagerness to know what is going on in the art and design world. You have to find a way to connect, and to bridge the gap. People, and also national government, make a lot of effort; cultural politics is really on the table now.
I made the exhibition design in the Museum of Tianjin Academy of Fine Arts. In Finland and Antwerp it was up to the local participants to decide about the exhibition and what it will look like. The exhibition in Tianjin attracted about 4,000 people in 10 days.
Who do we need to keep an eye on in China?
Jie Sun: If I compare it with what is going on in Europe, I think China has its own different context. I hope the growth of contemporary jewelry in China will involve diversity, and communicate with the rest of world. One example is Yuan Tian and Danyi Zhu, two young female Chinese designers who studied in Birmingham and at the RCA in London. They are busy starting their own brand, which will be launched early next year. They create limited editions, and they got some money from an investor. Therefore they were able to buy new machines in Germany for a special technique. They intend to create a so-called soft luxury brand, based on their own technical innovation and design method. I think they represent a young generation of jewelry designers with the spirit of entrepreneurs. Doing something different is brave, and it is the key to success. They have sensed the demand for jewelry among the rapidly growing well-educated young Chinese middle/high class, who have money and want to wear special items but not French or Italian high-end luxury brands. And they have the advantage of understanding the cultural and market context, plus they have had an international education. I really wish them the best in the future.
Will there be a third Triple Parade?
Jie Sun: Yes, I will continue this spirit in 2016 for sure, starting with a website (bilingual in English and Chinese) to be launched early next year. As an international cultural cooperation project, the third Triple Parade, with a transformation to the third dimension, gets more interesting. Three is the first number to which the meaning "all" was given. It is the Triad; the power of three is universal and is the tripartite nature of the world as heaven, earth, and water. It is human as body, soul, and spirit. Three is birth, life, and death. It is the beginning, middle, and end. Three is a complete cycle in itself. It is past, present, and future. Here, three is a way of making a dialogue and sharing diversity and perspective on the topic of jewelry. However, what kinds of "three" will be considered in Triple Parade 2016? It is still open; let's look forward to it.
All the images reproduced in this article come from the Triple Parade catalog: Fan Zhang, ed., Triple Parade (Tianjin, Kuopio, and Antwerp: Tianjin Academy of Fine Arts, Kuopio Academy of Design, and St Lucas University College of Art and Design, 2015)