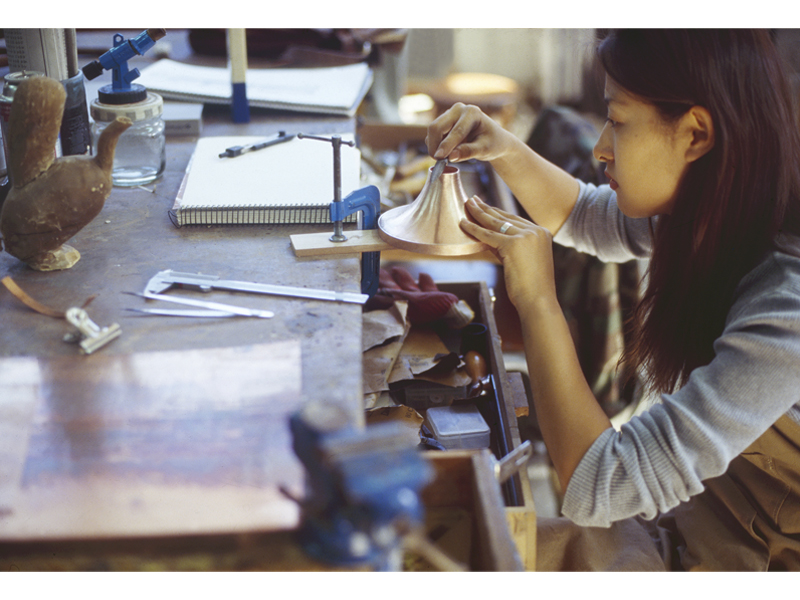 Kookmin University was founded in 1946 in Seoul, Korea. It was the year after Korea's independence from Japanese colonization, and nationalism prevailed. The founder, Ik-hee Shin, was one of the politicians who fought for Korea's independence. The name of the university, Kookmin, which translates to "people" in English, reflects the founding philosophy that it would grow leaders for a country recovering from colonization. Celebrating its 70th anniversary in 2016, Kookmin University has grown to be one of the large collegiate universities in Seoul, which has always been the center of Korean culture. There are currently approximately 18,000 students in 15 colleges, and art programs such as design, fine art, music, and theater are a significant part of the university.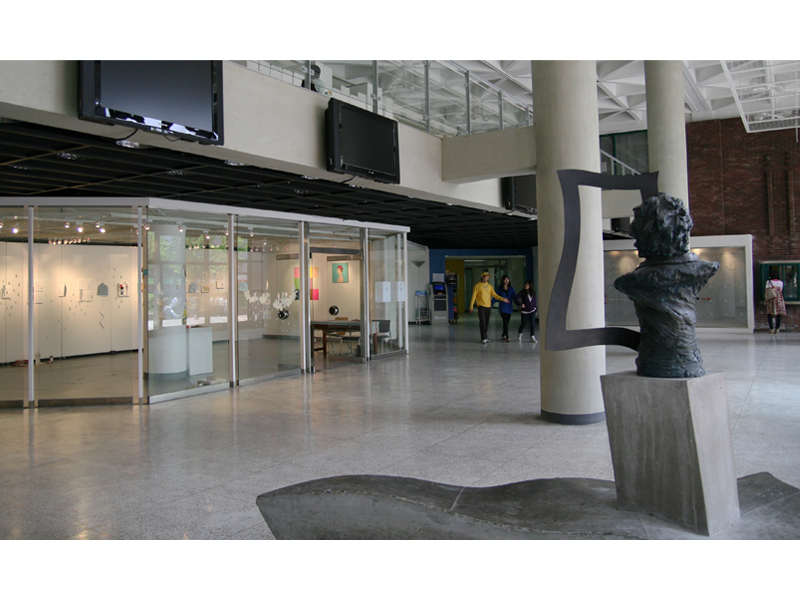 Early Curriculum
Jewelry design became part of the curriculum in 1971. The Department of Living Arts included ceramics and metalwork and jewelry in its curriculum. Along with Architecture, Industrial Design, and Fashion, Living Arts formed part of the College of Architecture and Design in 1976, which was the first case where a college of studio art was structured with a focus on design and craft, not fine art. Early education of metalwork and jewelry was taught by Lizzy Yoo and Seung-hee Kim, who respectively earned their MFAs at Temple University and Indiana University in the USA, and introduced contemporary craft, which was different from the traditional metal craft of Korea. Seung-hee Kim became a full-time professor in 1976, and she focused the curriculum on hollowware and sculpture made by smithing techniques rather than jewelry design. Artists that came during her tenure include Namu Cho in the USA and Joung-mi Do in Australia.
International Exchange Programs
The curriculum became more specialized in metalsmithing and jewelry design in 1978, as the master's program launched. In 1982, Jack da Silva was invited as a visiting professor from the USA, and Stephen Bort from the UK came in 1983. Inviting two foreign professors was unusual in Korea at that time. This was the starting point of very active exchange programs with many universities abroad, which distinguished the Kookmin metals program from other programs in Korea. These active international programs were made possible by two favorable factors. First was that Kookmin University valued the craft and design program and supported the department's invitation of foreign professors, artists, and also student exchange programs. Secondly, Seung-hee Kim and other professors of the Kookmin metals program realized the importance of international exchange and worked together to make this happen. One example of this effort is the Korea-USA Metalwork & Jewelry Workshop held at Kookmin University in 1986. Seven metal artists were invited from the USA, and the workshop was welcomed enthusiastically by Korean artists who were looking for new metal-forming and surface-finishing techniques. In the 1990s, the international exchange extended to universities in Europe; professor Yong-il Jeon from Kookmin and professor Hazel White from Sheffield Hallam University in England exchanged and taught at each other's universities for one year. The most influential exchange program, however, is that of the students. It helps not only students who study abroad but also those at Kookmin who study with foreign students in the studio (there are on average six to seven Korean students going abroad, and three to four foreign students visiting every year).
Since there were more and more emerging artists who graduated from Kookmin in the 1990s, the graduate program of metalwork and jewelry has had many applicants from all over Korea. It accepts up to 20 new students yearly, for a total of 40 students spread over the two-year program (Korean students need to pass an entrance examination to get in, while foreign applicants are admitted through interview). This makes it the biggest metalwork/jewelry graduate program in Korea. Meanwhile, the undergraduate program has 25 students per year and 100 total, which corresponds to the average numbers in Korea for four-year metals program. Finally, the university offers an evening masters program that's two and a half years long, which has 10 students every year (the evening program mainly aims at educating commercial jewelry designers). The metalwork and jewelry program at Kookmin welcomed three more full-time professors by 2000, Nu-ri Gum—who is a sculptor—Yong-jin Chung, and myself, who are both metalsmiths. I make mainly tableware and teach metalsmithing and craft theory. Yong-jin Chung, an alumnus of the department, utilizes CAD and rapid prototyping for his metalwork and adds an industrial design aspect to the department.
Contemporary Jewelry Education and Alumni Artists
The teaching of contemporary jewelry in the department of metalwork and jewelry at Kookmin began in earnest in the mid-2000s, thanks in large part to professor Dongchun Lee, who joined the faculty in 2003. Dongchun Lee studied at Pforzheim University in Germany, and introduced to Kookmin's students the international trend of contemporary jewelry, especially its European representatives, which were less well-known in Korea than American metal artists. The most important aspect of this new trend was the extension of material to nonmetal, mixed media, found objects, etc., and it was then considered as surprising and radical. Yeonmi Kang, who joined the faculty in 2007, pushed the program a step further. Kang had studied at the University of Illinois, Urbana-Champaign, and pioneered the introduction of narrative jewelry in Korea. The efforts of these two professors produced many talented jewelry artists and shifted the focus of the department from metalsmithing to jewelry design. Notable jewelry artists who have graduated from the department over the past 10 years include Hea-lim Shin, Eunmi Chun, Seulgi Kwon, Jimin Kim, Heejoo Kim, Eunjae Baek, Choonsun Moon, Ye-Jee Lee, Junwon Jung, Yeseul Seo, and Heather Bayless. The emergence of successful contemporary jewelry artists in the 2000s can be credited with expanding the jewelry design field, which was hitherto limited to commercial jewelry or fashion accessories. This change was made manifest in 2013, during the first large exhibition of contemporary jewelry at the National Museum of Modern and Contemporary Art, Korea. Forty-four artists were invited to this exhibition, and Kookmin alumni were a major part of it.
Curriculum
Broadly speaking, the curriculum is divided into metalsmithing and jewelry. The undergraduate program also covers a broad range of art foundation courses, while the graduate program focuses on nurturing mature artists. The undergraduate curriculum has five elements: basic forming discipline, metalwork, jewelry, production, and history and theories. Recently, most metals programs in Korea have emphasized design and computer software over practical training, in order to meet the review standards of the government, which considers the alumni employment rate as the most important factor for program evaluation. This means that craft education through hand skills has been diminished. Despite this pressure, actual hand working in the studio is still a very important part of the Kookmin undergraduate curriculum.
At the graduate level, studio work takes the most important role. A greater amount of students, especially female students, are more interested in jewelry than in metalsmithing—two-thirds of the students hope to become jewelry artists. Graduate students take eight classes over the span of four semesters. Two semesters of "material and technology" and "theory and history" are required. For the remaining four courses, students can choose their own theme—which will eventually develop into their thesis—and the professors they will work with. Thesis work is submitted—and has to pass—a preliminary and a final review. The graduate program accepts approximately 15 to 20 new students yearly and 30% of students fail the review. Although the graduate program takes four semesters, most students spend more than six semesters to get their MFA degree. The program usually includes one or two foreign students.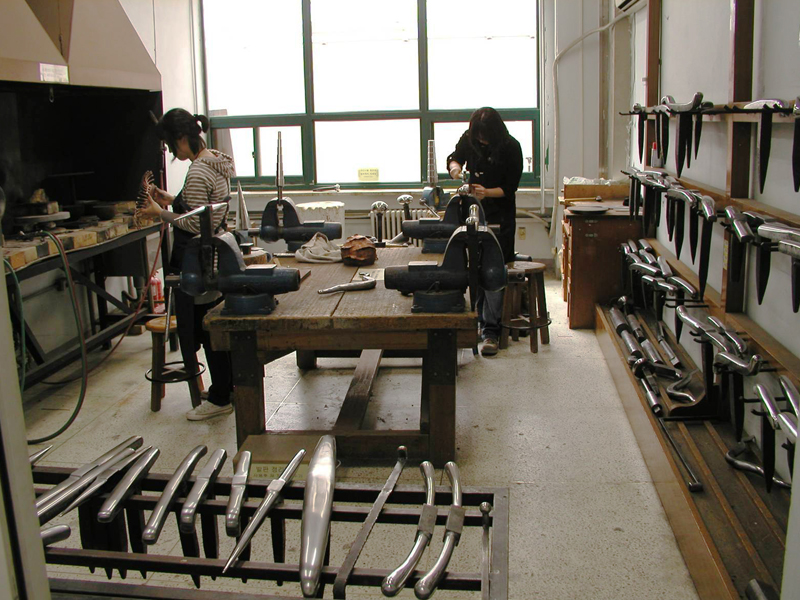 The metalwork and jewelry program at Kookmin has one of the best facilities in Korea and is comparable to other internationally well-known programs (facilities include traditional metalsmithing workshops as well as machines for digital modeling and manufacture). The facilities are well supported by the university and the department and there is a dedicated technician in charge of them, which other universities in Korea don't have.
The Foreign Student Body
Exchange students staying for a semester can choose classes that can be taught in English. However, students earning a degree are required to have basic proficiency in Korean, in order to be able to communicate with their classmates. For accommodation, students usually use the university's dormitory, but some rent an apartment outside campus, which can be costly in Seoul (foreign students coming for a degree are advised to arrange accommodations ahead of time). In spite of some practical problems, the graduate program of metalwork and jewelry at Kookmin offers a high quality of education and the opportunity to experience the cultures of Korea and other neighboring Asian countries. Several foreign graduate students from Canada, the USA, and China have graduated with a master's from Kookmin. Among them, three students (one from Canada and two from the USA) won scholarships—such as Fulbrights—or government support while they studied at Kookmin. Tuition for the graduate program is around US$6,000 for the first semester and $5,200 for the next three semesters; foreign students receive a 50% tuition waiver for the first semester and up to 50% for the remaining semesters, depending on their grades (as a point of comparison, Seoul National University's metal department's graduate program costs $4,200 per semester).
Two Sides of Exchange
One thing that the Kookmin Metals program is missing is interdisciplinary exchange, which in general seems to be a weakness of higher education in Korea. Even though there are disciplines that are closely related to the metals program in the same college, such as product design and fashion, the programs do not seem to be open for collaboration. Insufficient interdisciplinary experience is becoming a weakness of graduating students. Being a versatile designer/artist is more and more critical in Korea, where not every graduating student can become a studio artist, and interdisciplinary education has become the most crucial part of education. Meanwhile, exchange with other metals programs abroad is active. Every year, three or four graduate students study in other countries and their credits can be transferred to Kookmin. The universities that currently have exchange programs with Kookmin are Pforzheim University in Germany, Nova Scotia College of Art and Design in Canada, the University of Edinburgh in Scotland, and the University of Kansas in the USA.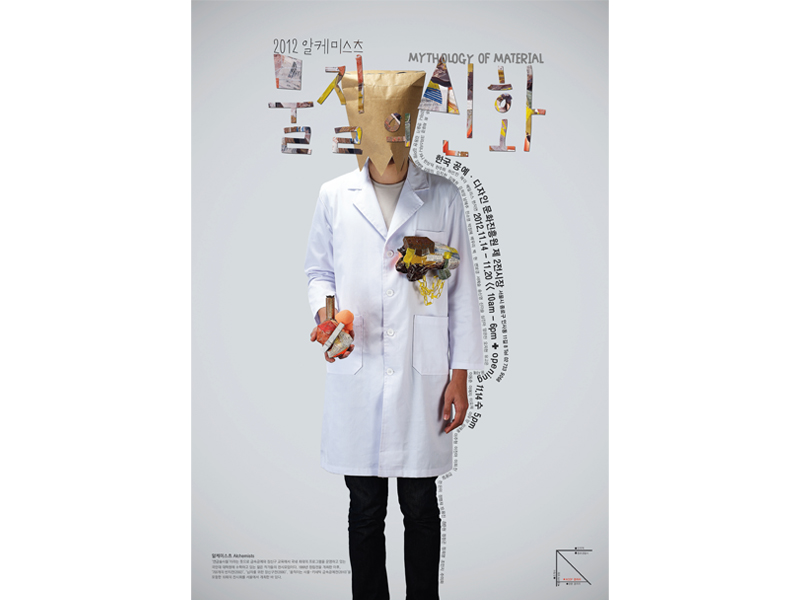 Obstacles and Vision
Professor Seung-hee Kim, who started the department, retired in 2012, and there are currently six faculty members, including newly joined member Ji-yeon Hyun. The 40-year history of the department of metalwork and jewelry at Kookmin University is one of the successful examples of craft/design education in Korea. The fact that so many students enthusiastically want to study in the metals program at Kookmin reflects this success. However, the program faces various obstacles.
Craft education in Korea has been declining since 2010 (PaiChai University recently closed its craft department, and there is word that Cheongju University might do the same). The reduction of high school students causes inevitable downsizing of universities, and craft-related programs are anticipated to be eliminated. Also, while young Korean artists are finding more and more recognition abroad, they are not well recognized in Korea, and the market is quite small. There are not enough craft galleries or art shops, and infrastructure and governmental support for craft or jewelry art are not sufficient. There is a fundamental hierarchy of jobs, and the craft position is usually under fine art or design. This is probably one of the reasons why young Korean jewelry artists have recently been seeking opportunities abroad. All these factors hold back jewelry artists' activities.
It is a significant achievement that the metalwork and jewelry program at Kookmin has grown and produced many excellent artists. These achievements are underpinned by a pragmatic philosophy that students should experience and compete in the market, and by the collaborative efforts of the faculty to run and manage intensive curricula. The department aims to keep this strength and raise the level of the program even higher by adding three new components in the program. First, interdisciplinary exchange will be emphasized through collaboration with the product design, production, furniture, lighting, and fashion departments. Second, students will receive extensive marketing education. A specialized class is in development that will combine studio art and business; this class will help students survive as independent artists after graduation. Third and last, theory and presentation skills will receive increased attention. This will help young artists who have high-level skills and produce strong works but show weakness in identifying themselves in contemporary art and presenting their work efficiently.
Translated by Dukno Yoon