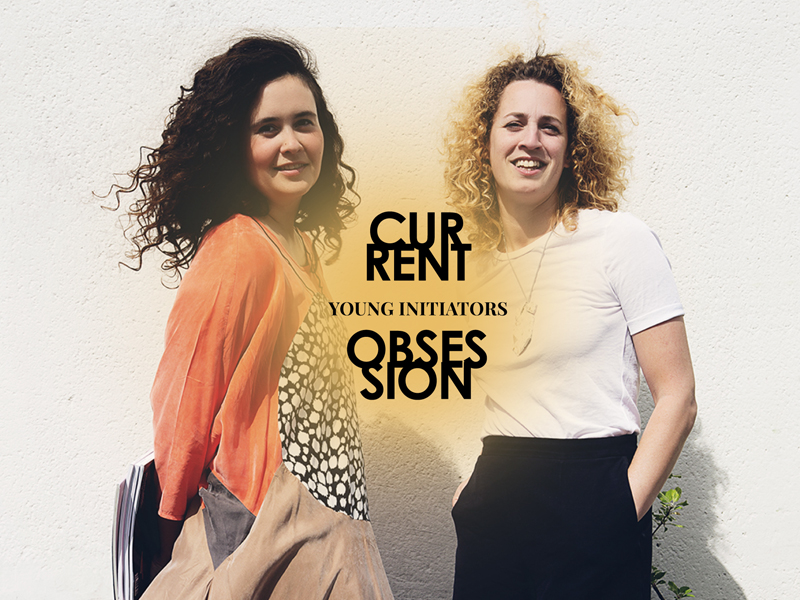 Current Obsession (CO) is a cross-disciplinary platform and independent magazine with a special interest in contemporary jewelry. CO started off as a blog in 2009. It was managed by Marina Elenskaya (Russia), who at that time was a jewelry student at the Rietveld Academy in Amsterdam after studying at Alchimia in Florence. The first printed magazine was launched in spring 2013 by Marina Elenskaya and Sarah Mesritz (Netherlands), who still are the driving force behind the magazine and platform, together with a growing team of young professionals: Anna Hennerdal (Sweden), Linda Beumer (Netherlands), Kellie Riggs (USA), Mariah Tuttle (USA), and Chris van der Kaap (Netherlands).
CO's mission is to place contemporary jewelry in the context of today's visual culture. As they state, CO is "reflective of a need for a flexible platform that deepens the knowledge of contemporary jewelry, creates opportunities for young designers and initiates cross-disciplinary collaboration."[1]
Current Obsession uses different media and strategies: a website with interviews, and featured projects; printed matter—as of now, four magazine issues and three newsprint issues that show a choice of critical content and inspirational visuals; and events, such as performances, presentations, and social gatherings (like Social Club during Munich Jewellery Week 2016). Since 2015 they have also taken the challenge to streamline the collateral exhibitions and events in Munich during Schmuck by making a map, a newspaper, and signs in the city to help the international visitor.
CO is a collaborative undertaking, but Marina and Sarah decided to answer the interview questions individually …
Liesbeth den Besten: What personality trait do you like most about yourself?
Marina Elenskaya: Back in middle school, probably around 8th grade, we had a psychologist come over and give us a "what job suits you best?" kind of test. My whole class took it. A few days later the psychologist came back with the results and said that if our class were a company, I could be a good director. Ha ha! I took it to heart. I think I possess natural communication skills and I enjoy connecting and working together with other people.
What is the most difficult thing you have ever done?
Sarah Mesritz: Learning to juggle all the responsibilities that come with the producing of CO. When we started with the first issue we had no idea about all the complexities that arise when making a publication. What kind of paper to pick, how to distribute, getting it around the world, shipping everything, communication, finding the right partners, there's so much to think about! That's why collaborating is so important: By asking around we gained some knowledge about publishing. So now we can grow in other directions and create more crazy, difficult things for us to do and to learn from.
Marina Elenskaya: I remember a huge crisis in the summer of 2014 with #3 The Fake Issue. We received boxes and boxes of it from the printer and it just looked awful. The printing process we chose was quite complicated, and involved three different entities, because we wanted to achieve the contrast between the "glossy" cover and the newspaper paper on the inside pages. It was quite experimental … And something went wrong. Terribly … I remember opening a box of magazines and almost fainting. They looked so colorless, faded. We were frantically trying to think of ways to make the magazine look prettier, better, to deal with the fact that it would not be as good quality as the previous editions … and then we pulled ourselves together and decided to reprint the whole thing. It was a very hard decision because we hate waste, but we didn't want to compromise the quality of the magazine. We had to be brave and call for a big meeting with the printer. Somehow we managed to prove that the mistake was on them, and persuaded them to reprint …
It was so scary, and so hard, but the feeling was wonderful in the end, when we received the magazines the way we wanted them to be …
Which of your achievements are you most proud of?
Sarah Mesritz: Creating a team! Together with all the collaborators of CO we can do so many unexpected things. It's great to talk to the members of our team, who are based all over the world; in Florence, Stockholm, Honolulu, Berlin, etc. This way we are also a little bit up to date about what's happening on the other side.
If you could unlearn something, what would it be?
Marina Elenskaya: I think whatever happens to us, good or bad, needs to happen. Every experience plays a role in who we are today.
Sarah Mesritz: I agree, you should not unlearn things; who knows what will arise on your path.
After high school I went to study graphic design and commercial scenography, and after four years I was ready to ditch the computer. I thought it was too boring to sit behind the computer all day so I went to the art academy to study something with my hands: jewelry. And now I'm back behind the computer, using all those skills again.
If you could have a conversation with anyone, or thing, living or dead, who/what would you choose, and what would you talk about?
Sarah Mesritz: Gert Jonkers and Jop van Bennekom, who set the bar high in the magazine field with their amazing publications, Fantastic Man and The Gentlewoman, for example. I'm very curious to hear more about how they started and how to be successful as a publication.
Marina Elenskaya: I would really like to talk to people running online and offline platforms, in different disciplines, like architecture, art, and design, to learn about their strategies and see if those scenarios of development could be applicable to jewelry.
What quality do you value most in the people you choose to work with?
Sarah Mesritz: The expertise in their own respective fields, the quality of being open. A part of collaborating is also getting to know one another, testing each other's boundaries and going beyond that. This also takes commitment and a lot of time creating something new.
If you were given 100,000 euros toward a CO-related project, how would you use it?
Marina Elenskaya: Current Obsession is trying to establish itself as a platform. Keeping the magazine at the core of our practice, we would like to essentially become a hub, a place for people, projects, and opportunities to happen. I feel that the logistics of doing events in different locations, however exciting it is to travel, takes away from the concentration on content generation. So I'd definitely spend the 100K on developing and creating (together with others) a real space for new and different kinds of projects. It's about having a "home," a place of belonging if you wish …
Sarah Mesritz: I would make a continuous cross-disciplinary festival that would last for several days, with stuff like exhibitions, artist talks, performances, screenings, social clubs, music, and food. We are actually planning to do it one day!
Where would you like to be in 10 years' time?
Sarah Mesritz: The ideal situation would be that if a company were seeking information on jewelry, they would think about Current Obsession. It would be great to work with big entities and help jewelry artists find the right partners for their work. Connect people.
Marina Elenskaya: Ten years is a long time; if I look back 10 years, I was 22, living in London, working as a waitress, going out every night and spending all my money on clothes! In 10 years I might be doing something completely different, and I would like to maintain that option open, to have the freedom of choice.
What should we watch?
Sarah Mesritz: The online world will grow enormously and I'm excited to see the new technology like virtual reality develop, but I think real-life experiences are very important to the human body and also for our creativity. We've recently visited Milan during Salone del Mobile, and one of the most striking impressions was the Fondazione Prada and the exhibition L'image Volée, superbly curated by Thomas Demand. I would like to see more examples of excellent curation and similar ambition shared by our field. We should be watching for windows of opportunity to take ourselves more seriously.
Marina Elenskaya: I always really enjoy going to open days and graduation shows at art and design academies. But for me it's not so much about whom or what we should watch, but more about how we should watch. Spending time with the work is important, as is maintaining an inextinguishable interest in contemporary culture. I follow the careers of numerous freshly graduated talents and watch them take on unexpected interdisciplinary projects. I highly appreciate the rare ability to channel creativity and make it shine beyond chosen practice, in anything you do.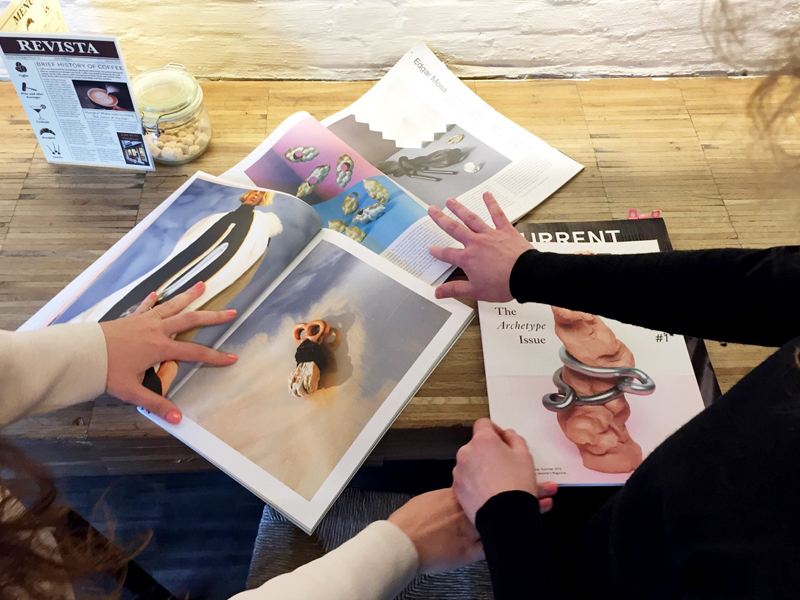 ---
[1] From an email, March 25, 2016.