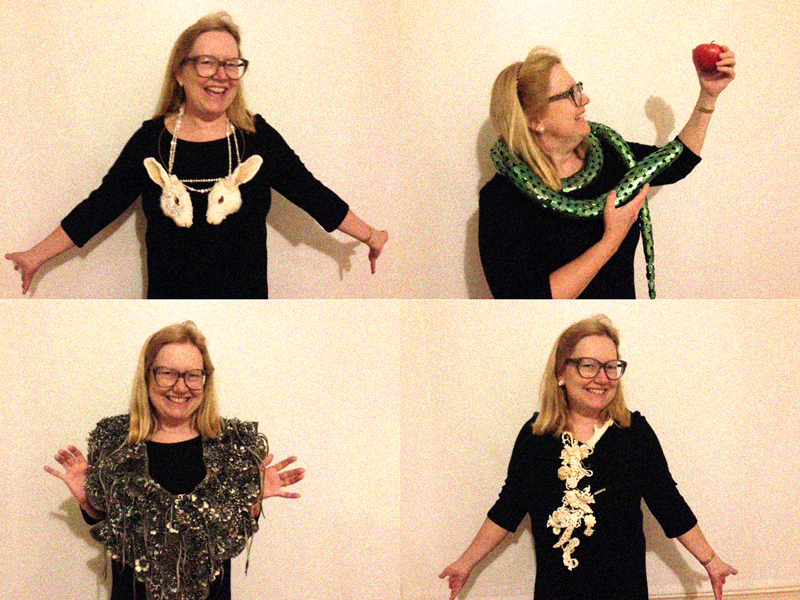 Marion Fulk is an avid and discerning jewelry collector. She happily travels the world from her hometown of Little Rock, Arkansas, in search of new jewelry discoveries. She prefers extensive walking and navigating of public transportation, as happened during AJF's trip to Estonia and Sweden in 2014, where Marion became the group's lively, unofficial city walking guide. She proudly wears pieces from her jewelry collection, and this year she started keeping a daily log of every piece she wears. So far, Marion has had very few days with no jewelry entries, and those were when she hiked in the woods.
We asked Marion about her jewelry collection and her perspective on the jewelry collecting market. She also very kindly agreed to host an impromptu photo session at her home for this interview, which seems to have drawn out her inner Sarah Bernhard…
Adriana G Radulescu: How did you become a jewelry collector? Is there a personal story behind it?
Marion Fulk: I think I have loved jewelry all my life. It must be a recessive gene—no one else in my family is a jewelry fiend, but a number of us are collectors.
Once I found art jewelry, I found my collecting passion. And it took quite a while to find this field: in the early 1990s, when I started looking for art jewelry, I didn't know exactly what it was. Once I found it, I was hooked. In my initial years of collecting, I bought a few pieces at different galleries. Then I met Helen Drutt and visited her home—I was completely captivated and enthralled, and totally felt in love with the field. There was no going back after that.
What is the defining concept for your collection? Do you see jewelry as art?
Marion Fulk: Absolutely I see jewelry as art. I do not want a piece if it isn't a work of art. My criterion for buying any piece of jewelry is very simple: I have to love it. If I shriek when I see a new piece, that's a sign that the work is headed to Little Rock.
How did your collection develop over the years?
Marion Fulk: Piece by piece. Most of us keep learning, and our eyes and tastes keep evolving. I go to museum shows and artist studios as often as possible, and read monographs and books on our field regularly. AJF's website is a wonderful resource—lots of great information and images. I love going to Schmuck show in Germany and seeing so much jewelry. There's more to look at there than even I can stand.
Do you see the value of your pieces as pleasure, investment, both?
Marion Fulk: Ideally, the pieces would go up in value. But I bought them because I loved them, not as investments. I buy stocks to make money; I buy jewelry because it is beautiful, it speaks to me and I want to wear it.
Some collectors are reluctant to wear their jewelry pieces. You frequently wear yours. Do you believe that wearing them gives a true meaning to jewelry as adornment, or does it devaluate them as pieces of art?
Marion Fulk: Jewelry is to be worn. I recognize that wearing the pieces can lead to damage, which leads to devaluation (don't ask how many pieces I've dropped while holding them). But to me, jewelry is art that goes on the body. If it doesn't work on the body, then it's not jewelry. I'm very picky about clasps for that reason. If I can't get a piece on or off, then I can't wear it, so why would I want it? If it can't be worn, it's not jewelry.
There seems to be increased competition among the art jewelry collectors concerning top works by established makers. What do you think about this competitiveness? Does it change your selection and decision-making process in acquiring a piece?
Marion Fulk: I think it's great that people are competing for art jewelry. Why wouldn't we all want the best pieces? Fortunately, the majority of us aren't belligerent … if someone buys the piece I want, I try not to fret too much—as long as she loves it as much as I would have!
If another collector wants to deaccession a work you particularly like, would you consider buying it from them? Do you think the art jewelry market has the infrastructure to support a second market?
Marion Fulk: Yes, and call me first if you have a wonderful piece to sell! Do not hesitate! And yes, I would like to see a strong secondary market … I might part with a few pieces I own to make way for some bigger, better work.
You are a businesswoman. From a business perspective, where do you see the strengths and weaknesses of the jewelry collectors market? How do you see this market developing in the next 20 years?
Marion Fulk: It's a fragmented market … I don't think there is good pricing, especially in resale. I hope in the next 20 years there is a larger, more efficient secondary market. I love the tight spreads of the NY Stock Exchange … a good model.
Is there a piece in your collection that is most significant to you, and why?
Marion Fulk: Yes, a piece made by Jennifer Trask. I call it The Wedding Necklace, because she made it for my wedding, in 2009. (She has another name for it: Allegory.) It is big, and beautiful, and amazing. It's probably one of the two best pieces she has made (and I own the other one, too). So it's the most significant because it's gorgeous, and because I wore it first on an important occasion. The most recent event to which I wore it was Jennifer's own wedding, in June 2015. Maybe I should rename it The Double Wedding Necklace.
How did you find out about Art Jewelry Forum, and what made you join the group?
Marion Fulk: I don't remember how I learned of AJF; maybe at a fair many years ago. Probably Susan Cummins was responsible for roping me in. It's been a wonderful organization to be part of. Thank you, Susan!
You have been part of AJF trips; what have you taken away from them?
Marion Fulk: Hah! Usually a lot of jewelry! I've really enjoyed each trip I've been on. I've made really good friends through AJF, and the trips give me the opportunity to spend time with them, because most live outside of Arkansas. The trips have also been wonderful ways to get to know more artists and different cities around the world. And I have come back from each trip with many new treasures.
Thank you.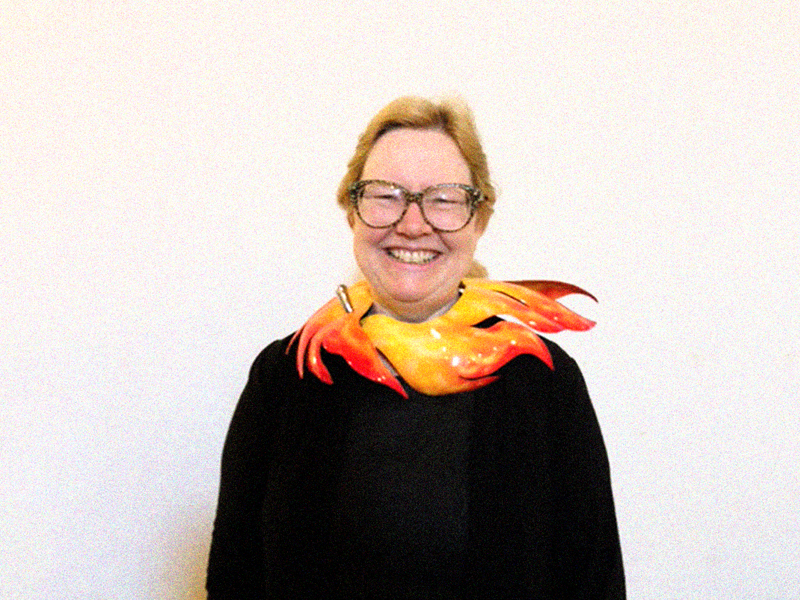 Homepage image: Marion Fulk wearing pieces by Gerd Rothmann, photo: Laura Smoller