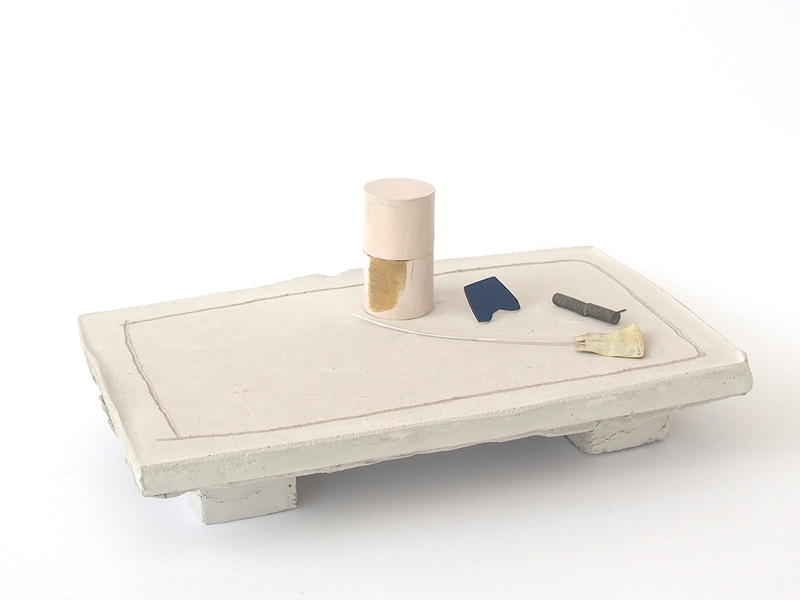 I have admired Vanessa Arthur's work for a while—she is part of New Zealand's New Generation of Jewelers (one hesitates to capitalize, but it does feel like a bulge, if not quite a movement)—but I hadn't had the opportunity to see much of her work or talk with her about her understated palette of smudgy grays and blacks. Spending some time with her in Auckland the day before the opening of her exhibition, Unmonumental Fever, at Masterworks, brought a few answers.
Philip Clarke: You graduated in 2011. Tell us about what drew you to study jewelry, and what has kept you practicing since then.
Vanessa Arthur: I've always been a maker, but I was 28 when I began formal jewelry training at Whitireia New Zealand. I'd sampled various short courses in ceramics and jewelry, but my attitude to jewelry changed when I came across one of Warwick Freeman's Sentences works (City Gallery Wellington, 2008). I was struck by the beauty of his craftsmanship and for the first time realized the potential and "language" of jewelry. Just at that time, I was looking to make some big career decisions and, having had some experience with jewelry, it seemed like the obvious fit.
After starting with a general arts program, I completed a bachelor's of applied arts, majoring in jewelry in a program led by Peter Deckers (Handshake project). Peter, the Whitireia teaching staff, and visiting renowned makers were constantly pushing us to question what we were doing in and with our work. I found that I loved the process of transforming materials through the application of the skills of craftsmanship. And because I was never short of a new idea, I loved the process of acquiring the skills of making so that I could transform "raw" material into something.
In 2012 I was lucky enough to be selected as artist in residence at Toi Pōneke Arts Centre, in Wellington. After having just finished formal study, it was great to have my own workshop, but I also remember thinking, "This is the real start."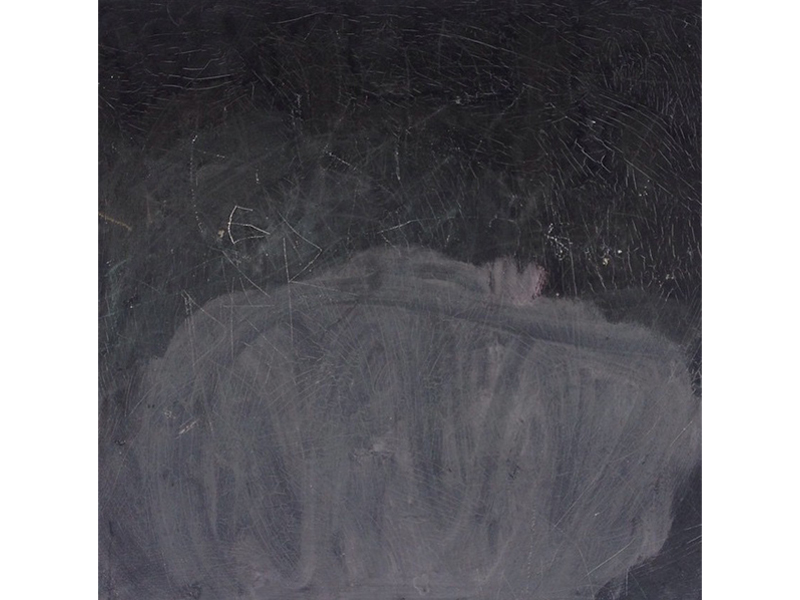 Your work is very "painterly." What is the inspiration for this and other aspects of your practice?
Vanessa Arthur: For years I've been looking at and documenting the built urban environment; it's a constant and ever-changing source of inspiration for me, and my work is a direct response to its transitory nature. I'm attracted to the notion of paint as a material, which is very evident in my own work. I love those painted spaces where life has happened and the paint has become layered and rubbed or buffed off, with then more paint being applied. The paint itself has a great sense of materiality. It's evidence that people have been present but in quite an anonymous way. I just like that sense of changing interfaces of planes of space, color, and surface. I'm still happy exploring this territory, and am excited to learn and apply new techniques and materials as I do. Currently these are heat-set paints, casting concrete, and oxides. At the moment my focus is on experimenting and strengthening these techniques and ideas, and establishing a dynamic practice and collection of work to build upon.
In August 2016 you had your first solo show, Unmonumental Fever, at Masterworks Gallery in Auckland. Tell us about these works.
Vanessa Arthur: The show is the result of my exploration of the unnamed spaces in the city, the spaces beyond "planning." These mundane spaces are "un-monumental" because there is nothing traditionally plinth-worthy about them. I called the show Unmonumental Fever because of my feverish passion for discovering hidden gold amongst the ordinary or un-monumental. In archaeology it is often the ordinary object that is the most eloquent in terms of representing a specific place and time. I think about this archaeological process as an excavation of the everyday. Which is really a description of my practice, rather than a single individual project. My participation in Handshake 2 helped to solidify this approach.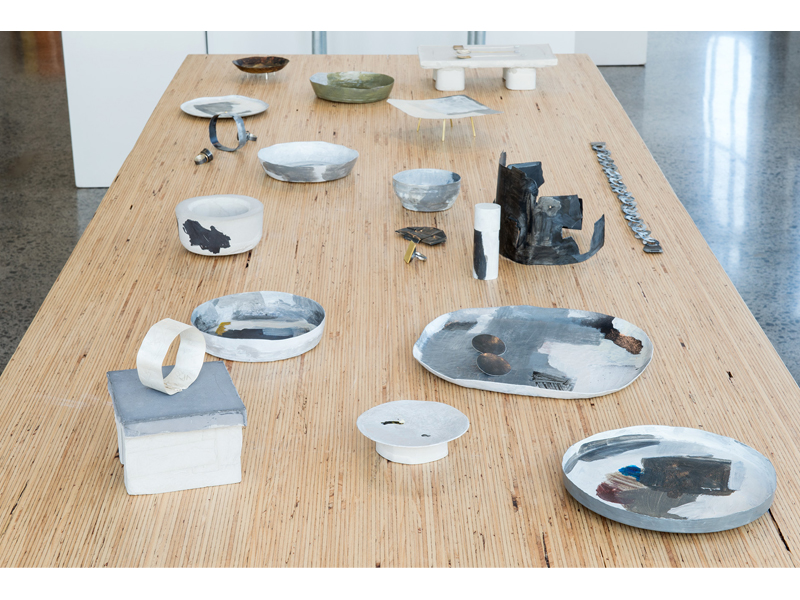 You were selected for the second edition of Handshake, in 2014. How was this for you, and what is its legacy in terms of the works in Unmonumental Fever?
Vanessa Arthur: My mentor in Handshake2 was Australian goldsmith David Neale. I discovered David through his blog. It was his thinking about his practice that was the drawcard. When I discovered his writing in 2013, I was feeling a bit stuck in terms of my own progress. His words served as refreshing, witty, and honest pearls of wisdom to consider or apply to my own making. He also struck me as a consummate craftsman, super knowledgeable about art in general, and as someone with a straightforward approach. So when I applied for Handshake2 I was clear about my aims; I wanted access to a mentor, I wanted to be pushed, I wanted a solid project as a focus that would get me going on exhibiting.
We developed our relationship using Skype and email. Eight months into the project, we were able to meet during a trip to Melbourne, spending time visiting exhibitions and catching up over lunch rather than in the workshop. What David helped me to do was to establish a framework for being a maker and how to move forward in my work. Essentially it is about: strengthening your own making "voice"; concentrating on making—not just thinking about making; not being diverted from what you want to make yourself by thinking about what others are making; keeping focused on quality, not getting caught up in trying to constantly be novel; and making sure that what you are making is really "you" by continually questioning and editing yourself. This has all really worked for me, and now that I'm based in Hawke's Bay, where there isn't really a local contemporary jewelry community, I have to have that sort of conversation with myself rather than with others. And I can and do.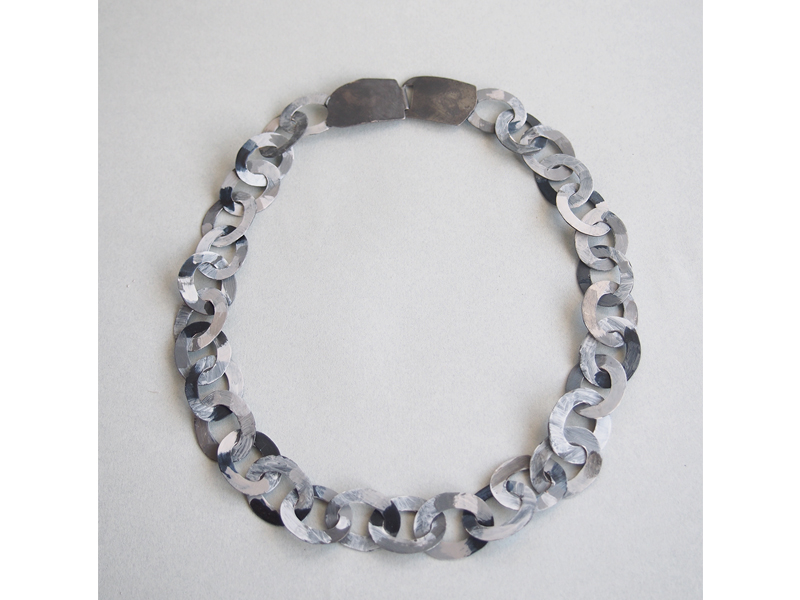 Your practice for some time has comprised jewelry objects and "objects." The latter is unusual in local jewelers. How did this develop?
Vanessa Arthur: I love the interactions between the groupings of larger objects and jewelry. They were the missing ingredient in my work as a whole. Initially I was painting on smaller jewelry pieces, but the scale didn't allow enough of a canvas to really express what I wanted it to. It also allowed me to introduce other materials into my work, such as concrete. I wanted the objects I made to be useful, so I started making and painting metal and concrete trays for the jewelry to sit upon and interact with. I guess the trays can be seen as some sort of expression of those anonymous and "textured" city spaces that inspire me, and therefore can provide a social context for the jewelry even when it is off the body and "resting."
I'm struck by the idea that your work, and practice, quietly but resolutely set out to defy distinction, which in jewelry could be considered an unusual attribute. It seems to me that what is particularly distinctive about your work is the absence of a high sense of uniqueness. They're well-made, sturdy works that in their timelessness and anonymity are very wearable and/or serviceable. Serviceable in the sense that they are in service to the wearer rather than the wearer being in service to the jewelry's own sense of distinctiveness, or any sense of opulence.
It reminds me of Warwick Freeman's rather famous quip in a talk, a line I have always liked: "I wish your brooch would shut up!" What do you think of this observation?
Vanessa Arthur: Yes, I think there are many ways to communicate an idea, you don't have to shout to get your point across. I think this stems from my personality as a maker and my personality in general, and it reflects my interest in anonymous objects/mark-making, and the mystery of their biography.
I want the wearer to—while still having some sense of the jewelry having been made by me—feel like they are putting on a part of their own identity when they wear jewelry I've made, not mine. The Swiss-born New Zealand jeweler Kobi Bosshard touched on this in a recent interview; he mentions that people approach him and say they're wearing one of "his" rings or brooches, and he tells them, "No, you're not wearing 'my' ring, you're wearing a ring I made, but it's your ring." I like that.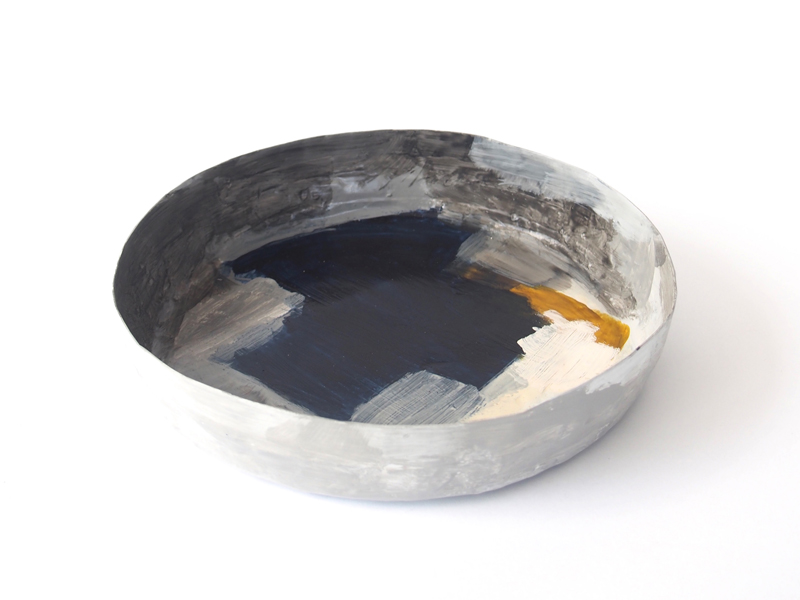 To me there's a very playful and paradoxical dimension to the trays and plinths. They would seem to provide the owner with an opportunity to, in private, "elevate" a work to the point that it possesses some "monumentality" through both the act and ceremony of placing it on its plinth or tray. What I think is compelling about this is that the existence and use of the plinths and trays creates, for the owner, the opportunity to experience the works differently depending on which domain they are in. In the public domain they may be perceived as "un-monumental" and at the service of the owner, whereas when they're in the private realm there is the possibility of experiencing them as elevated and "monumental" and to some extent commanding the attention of the owner.
Vanessa Arthur: Although that wasn't the intention when initially making the trays and concrete plinths, I like that something seemingly mundane can be elevated or viewed in a different light depending on its environment and how someone chooses to interact with and display it. Sometimes there are large ideas waiting to be uncovered in un-monumental things.
You visited and exhibited in Munich earlier in 2016 in the Handshake Alumni show. What was that experience of being immersed in "global world jewelry week" like?
Vanessa Arthur: It made me feel very lucky to be a maker working in New Zealand. A number of people I met, and talked with, made me very aware of the great amount of freedom that practitioners have here. There's a strong, definable, and collegial community, and we have easy access to leading makers and institutions and galleries. All of this means that there are plenty of opportunities for informal professional development. And of course New Zealand was in the limelight this year presenting itself as a great place for jewelry in terms of Moniek Schrijer being awarded a Herbert Hofmann Prize at Schmuck, and Alan Preston and Areta Wilkinson giving the 2016 Sunday Schmuck lecture at the Pinakothek der Moderne.
You're based in Hawke's Bay. What is it like there, slightly outside of the larger visible contemporary jewelry communities?
Vanessa Arthur: We've been in Hastings for just over two years. Moving here has allowed me to establish a workshop and create a lifestyle that supports my making. Yes, I'm away from larger jewelry communities in a physical sense, but that has also given me space to focus on creating works that are "my voice" without too many distractions. Some of these are one-offs and others are multiples, like rings. Now that my time in the Handshake project has finished, the focus is on expanding my repertoire.
Various international visitors to New Zealand have remarked on both the general absence of non-New Zealand work present here and the dynamism of the local scene. How do these realities impact on you and your practice?
Vanessa Arthur: I do feel connected to international practices, but in no way do I feel disadvantaged because I can't see them locally. I think our distance from the rest of the jewelry world (in a physical sense) is the key to such a dynamic local scene—one that is hugely supportive and active.
Is there five- and/or a 10-year plan?
Vanessa Arthur: Yes, and it is the same as the one-year plan! Continuing to develop my own voice as a maker, to extend my work, and to strengthen and acquire new skills along the way, and feeling no need to rush that process.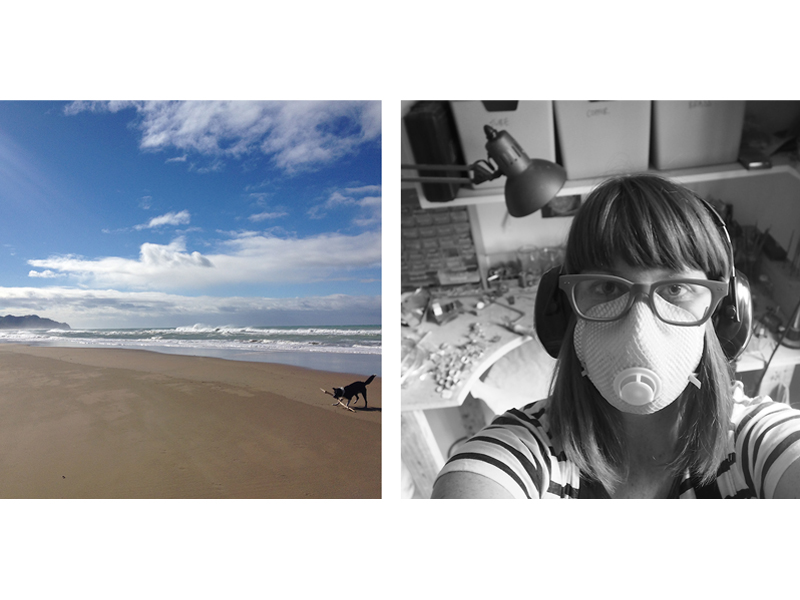 INDEX IMAGE: Vanessa Arthur, One Way Tray, 2016, vessel, concrete, oxide, 85 x 125 x 120 mm; Dent Collector Bracelet, 2016, fine silver, 30 x 70 mm diameter, photo: fotoarte