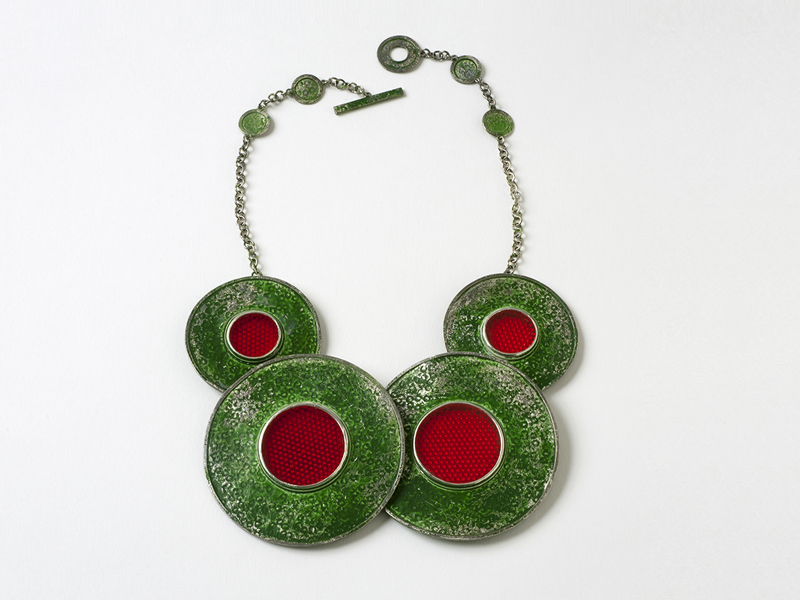 Olga Zobel is the director of Galerie Biró, a gallery that serves as a benchmark in the field. A pivotal player in the establishment of Munich as the European capital of contemporary jewelry, Zobel is also a hyperactive curator: Alongside her long experience as director of Galerie Birò, she has curated numerous exhibitions in Germany and abroad. In a rare interview, Olga takes some time to discuss Munich, Schmuck, and the contemporary art jewelry scene.
Jessica Hughes: To kick off this interview, would you mind telling our readers how you began your contemporary jewelry journey? Which artists did you start with? Has that pool grown or changed a lot over the years?
Olga Zobel: I founded Galerie Biro in 1992 with a focus on plastic art jewelry. Fine art practice has continued to adopt new materials and studio fashion has appropriated nontraditional materials as they have been invented. Although interesting work—particularly by Gijs Bakker and Emmy van Leersum—already existed when I opened my gallery, plastic-based art jewelry was not readily available or reaching the public. The question I asked myself was, "Where can I see good contemporary art jewelry with an emphasis on plastic?" At this time only a very small circle of successful artists were experimenting with plastic jewelry. Artists told me that they worked only for their own satisfaction and for a small group of friends and architects. It was noticeable that the few excellent museums showing nonprecious jewelry in London and Amsterdam had little effect on the public.
The first exhibition at Galerie Biró, in 1993, was the result of a competition challenging young artists to work with plastics. My first catalog was conceived as a historical overview, showing the development of plastic jewelry from 1923 to 1993 (the show, like the catalog, was called Kunststoff Schmuck Kunst 1923–1993).
From the beginning up to the present day, I have worked with Peter Chang, who creates distinctive pieces of plastic. It was like an earthquake in Munich when I initially had the exhibitions.
After plastic was established in art jewelry, my program in the gallery expanded as well. When I first started, I only worked with masters of plastic jewelry; nowadays other benchmarks are crucial. My pool has grown with time, but I would not say it has much changed. I can say we have "ripened" together and that the artists' reputations have become international over the years.
I do believe that I have done pioneering work and encouraged many artists.
What kind of work do you like to show? How do you find the artists … or do they find you?
Olga Zobel: In the beginning, my intention was certainly to say something regarding the current epoch—the time I am living in. It is important that artistic endeavors lift themselves out of the everyday so that they can reflect back something of the time and context in which they were made. "Plastic remains impregnated throughout with this wonder: it is less a thing than the trace of a movement."[1]
An example of one of my gallery projects in Munich in 1998: I had been informed that there was a new plastic material available: Hostaglas. My thoughts went to Otto Roehm, the inventor of acrylic (1911) who gave his material to artists soon after its invention to see what they could do with it. I also wanted to follow this path a little and asked the Deutsches Museum (a massive technical museum) to support my project. This museum is dedicated to science, but they agreed that the relationship between science and art is characteristic of our times, and we were able to conduct the project there (it was called Research commission-jewellery or Forschungsergebnis Schmuck). The Munich-based artists Doris Betz, Karl Fritsch, and Bettina Speckner experimented with the material to make a beautiful exhibition.
From the beginning, it has always been important to know the artists personally, build a trusting relationship, and support their subject and philosophy. My interest is to go along with their artistic progress. Over the years I have been showing this development to the collectors.
What gets you excited about art jewelry?
Olga Zobel: I admire the gorgeous diversity, the effect of a piece on the wearer's personality. I love to see people looking at their own transformation when wearing a piece. The emotions about jewelry bless me.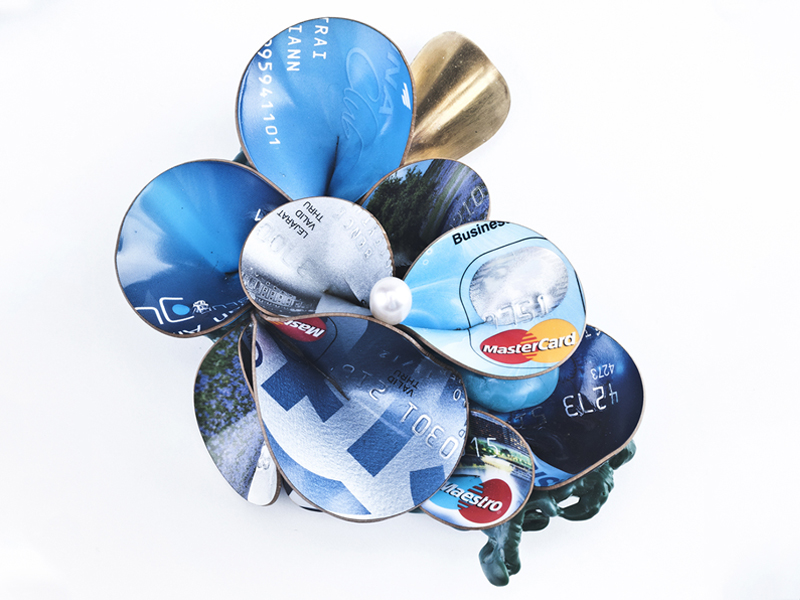 The range of concept behind the work presented at the gallery runs the full gamut—from political to ephemeral, to statement about material, about the function or the history of jewelry itself, to, frankly, no concept at all. How do collectors react to this variety?
Olga Zobel: Our collectors don't ask much about statements. Material does not matter at all: It is a certain evidence that attracts the people here, zeitgeist in art jewelry is of a big importance. In general I can say the more experienced the people are, the more experimental—in a way, open-minded—they become.
Some openings must be more rewarding than others. Can you tell us about a show you curated that you are particularly proud of, and why you were so happy about it?
Olga Zobel: I have curated abroad extensively: These shows are always very exciting and a lot of work. But some exhibitions stir me to this day, such as the one which took place in Sarajevo, 1996, during the war, with the catalog For Sarajevo. It was a miracle that it could materialize at all. In the empty National Gallery, which served as vegetable storage for international soldiers, we created a fantastic exhibition. When preparing, Prof. Hermann Jünger told me—I can still see him sitting in front of his big table—"Olga, you understood the contents of jewelry: hope, love, friendship." People came with red roses to the opening. During the opening speech, my voice was shaking with joy, I was so moved. Art was quite present in Sarajevo: Susan Sontag was active, Domingo had sung in the ruins. We received a lot of anonymous help and some by the Bavarian State.
The exhibition at TarraWarra Museum of Art in Australia also has a very special place in my memory. The beauty of the landscape and of the museum was very impressive. It is the first publicly owned, privately funded museum. The award-winning building was designed by Allan Powell. Here we showed the work of the "amigos" Baines, Fritsch, and Rothmann. It was an "extension" of the Residenz exhibition. The credo for the "amigos" was "Not wearing the jewel is one who has something to lose." I think the quote comes from Robert Baines.
The success in Cagnes-sur-Mer, France, makes me very happy as well. Here, I have done an exceptional job: For more than 15 years, I have organized an exhibition. Over the years, the city has become a center of contemporary jewelry, in a place where no tradition of jewelry existed. The catalogs document the jewelry scenes of many different countries, like for example Regard sur l'Italie.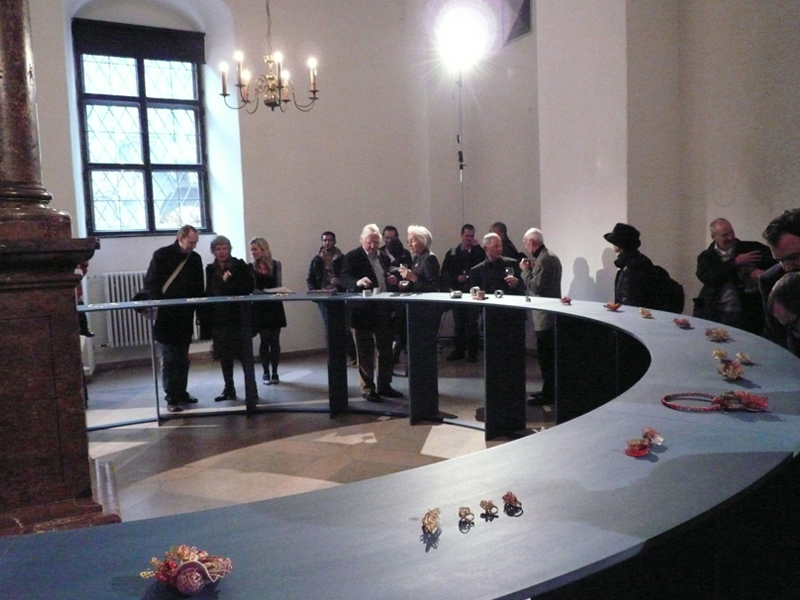 What advice could you give for artists trying to find representation?
Olga Zobel: Catch your soul! The wonderful secret is the individual artistic transformation, the statement of the artist who makes us all wonder.
You are famous for not liking "design," which you have occasionally described as the opposite of author jewelry: Why is that, and why do you think they are so incompatible?
Olga Zobel: Thank you for this question.
I need to correct your statement: I love design, but I also love, as a historian, to clarify terms. The jewelry that we are talking about does not belong to design (at least not in German terms). Here we make a big difference between art jewelry and design (it might be different within the cultural context and language, but it is important to be mindful of the German context).
For us in Germany, art jewelry has no purpose.
We distinguish between author jewelry and design jewelry (and fashion jewelry), which are mainly produced for the industry—always in mass production. They might be good, as designs. But design must always function: the table must be set, the lamp should light, etc.—"form follows function." Not so in art jewelry, which is the focus of our conversation.
The expression "design jewelry" is mainly applied in northern Europe, less so in the south. Germany is in the center, so there is sometimes a linguistic mess.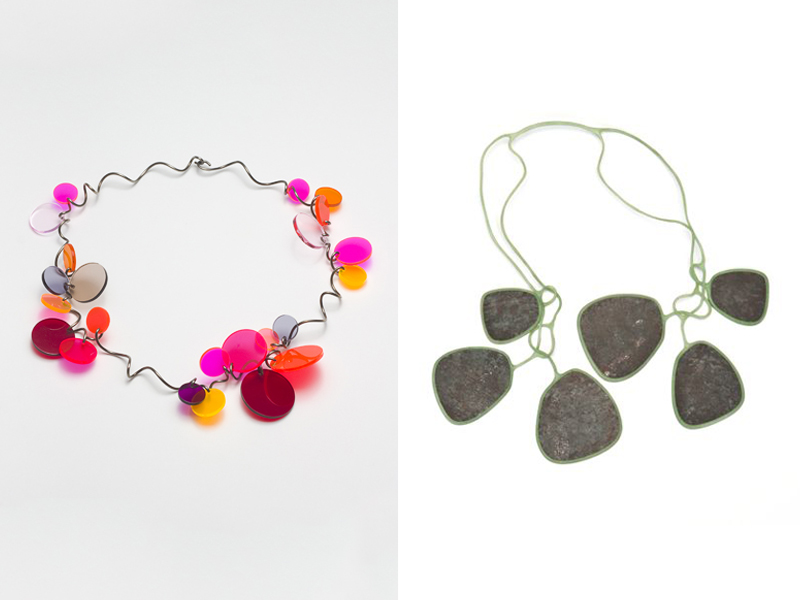 You have been involved in the field of art jewelry for a long time. How has your job, as a dealer, changed over time? How has the field changed, and where do you see it going?
Olga Zobel: There is continuity; my experience with the artist and the collector has grown with time. It is very personal, sensitive work that I love very passionately. The information from the Internet inundates us, but that, in my opinion, has not changed the scene. A good conversation in a gallery, a good exhibition, these still provide superior experiences of jewelry. I am very reluctant to use the new media. Jewelry is something special, intimate, it is about the dignity of a human being, and here personal dialogue is desirable.
Is there a Zobel contemporary jewelry collection? If so, can you tell me of three works that for you describe its essence, and tell me the story of how you saw them and acquired them?
Olga Zobel: There is no way to talk about a collection. I focus more on my work in the gallery. But I do have some favorite pieces. I'll never forget how I bought my first ring from Karl Fritsch. It was tall, uncomfortable, moving back and forth, but I had to have it. Even the Necklace by Daniel Kruger has a beautiful story. Valuable old porcelain cups from my parents had broken. In my dream, my mother told me I should take the shards to Daniel. He actually created a wonderful necklace of transparent silicone balls inside of which you can see the fragments.
Let's talk about Schmuck. A lot of jewelry artists see this as the end-all, be-all for exposure in the field. How important is this week for you, actually? How long in advance do you prepare for it? What do you consider a "successful" Jewelry Week? What do you hate most about it?
Olga Zobel: This week is very important for me, and to prepare for it, I need one year (I work slowly). I have many meetings with the artists whom I am planning to exhibit. Usually, my daughter, Kinga, and I will put together three to four exhibitions during that week. I am very pleased to speak to the visitors, to organize enjoyable encounters.
Visitors who run through and only take photographs, without looking at the work properly, make me sad. Unfortunately, such visits are becoming more common. Schmuck is getting more and more superficial. But let's be optimistic!
Munich has always seemed like a pretty current, exciting place in the world of art jewelry, but there are a lot of other cities and countries that are definitely making a name in the field. Is Munich still the "it" place? What defines Munich's art scene?
Olga Zobel: Munich is an important place for art jewelry, because it was a forerunner and carved a well-deserved place for jewelry in society. Three components explain the success of Munich: the Academy, the museum Die Neue Sammlung, and Schmuck. These are circumstances you can hardly find elsewhere. I think there is also a "genius loci" in this baroque city.
However, it runs wild, and that's not good: It harms the jewelry and sets confusion among visitors.
But "where good jewelry is, there are good discussions" (Gerd Rothmann) and good exhibitions.
What trends have you been seeing emerging in the field?
Olga Zobel: There are certainly trends, but to figure them out is the duty of the younger generation. This part of our gallery work is being done by Kinga Zobel. I look at how she wants to implement new ideas. She knows a lot about our kind, not only because she has grown up in the gallery, but also because of her studies of ethnology. I'm very excited about what the future will bring. There is still a lot more to do together.
Do you have any advice for emerging jewelry artists?
Olga Zobel: Being an artist is a big challenge and hard work. One should check whether one is equipped for this.
It is an ethical profession with great responsibility. I wish every creator had this in mind to avoid disappointments.
Somewhere I read the following sentence: "Talking about art runs parallel to art, but without feet."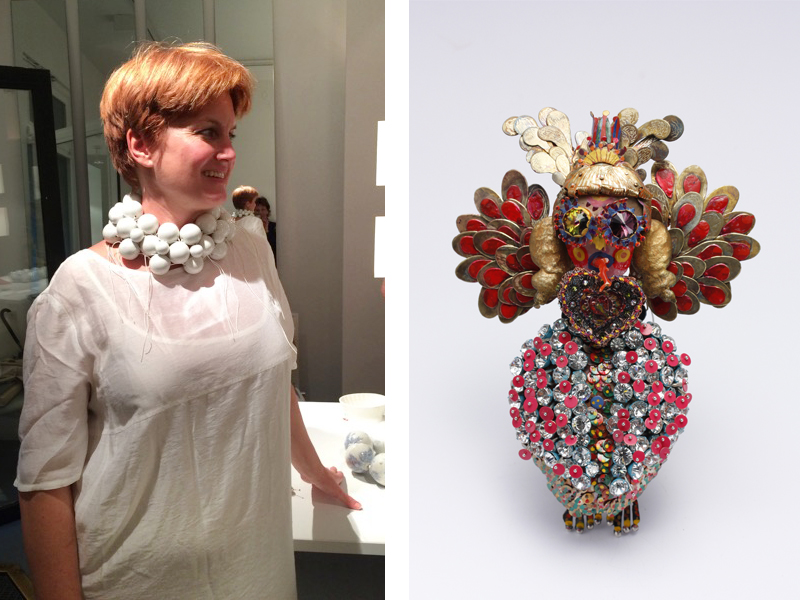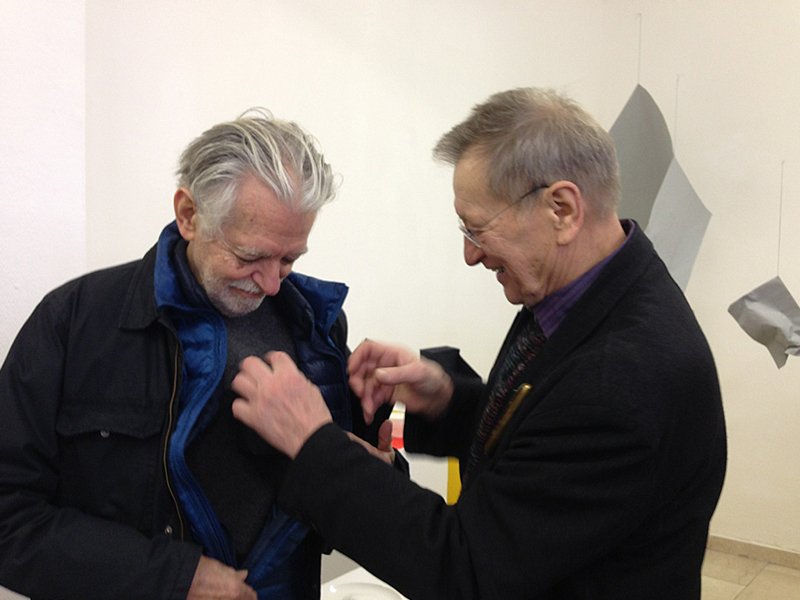 ---
[1] Roland Barthes: Mythologies.