Taboo Studio, in the Mission Hills neighborhood of San Diego, has been selling contemporary jewelry for 27 years. Gallery partners/owners Jane Groover Maydahl and Joanna Rhoades met while undertaking graduate studies in jewelry and metalwork at San Diego State University. In this interview, Jane reveals their passionate love for what they do, and offers insights into how maintaining a successful gallery over time requires time, money, and attention to detail.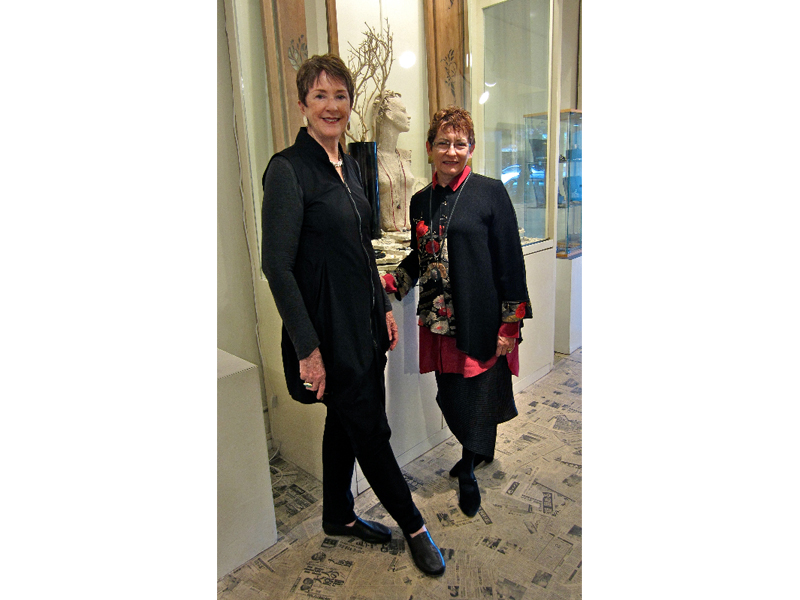 Vicki Mason: You're coming up on nearly 30 years in the business. How do you stay fresh and interested in the field?
Jane Groover Maydahl: There are many things that keep things fresh for us, including publications, the Internet, jewelry exhibitions, ACC shows, and the Tucson gem shows. Art Jewelry Forum, not surprisingly, has become a valuable resource for exhibition reviews, interviews, and articles, all pertaining to contemporary jewelry. We are also in touch with many jewelers who teach jewelry and metals in universities. This allows us to see what kind of work is coming out of these dynamic programs and to follow the students after graduation. We have included the work of many of these graduates in some of our group exhibitions. We also give a financial award of excellence to a jewelry student at San Diego State University every year, which keeps us involved in the vital program that Sondra Sherman heads there.
Since both of you design custom rings and other items, how do you keep a balance between making your work and running a gallery, holding exhibitions, talking to other artists, and selling work to your clients?
Jane Groover Maydahl: There never seems to be enough time in the studio, but that is one of the sacrifices of running a gallery. Sometimes things are just not balanced. If there's a lot of custom work to do and repairs to manage and someone is on vacation, it can get crazy. We have three part-time people who help us manage the details, and that's how we're able to attend to the many tasks that make up the work week. We could never make jewelry, have exhibitions, and focus on artists and sales without help.
Have you ever considered making or designing full time?
Jane Groover Maydahl: Joanna and I both had private studios for several years before we opened Taboo Studio. We did the ACC fairs and other regional fairs with production lines, and saw clients for custom work in those studios, but that came to an end when Taboo opened.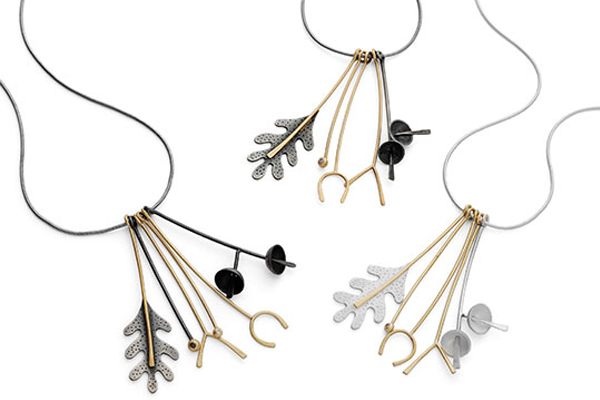 Is your client base most interested in collecting or in wearing the jewelry you sell, or both?
Jane Groover Maydahl: Our client base is most interested in wearing the jewelry we sell. We do have a few collectors who shop for designers whose work is in museum collections, but they are the minority.
Some work sits in a gallery for a long time without selling. How do you deal with this?
Jane Groover Maydahl: If things sit for too long, we usually have a conversation with the artist to encourage them to try the work at another gallery. Sales are important for all of us, so it's not a difficult conversation. If something we make sits too long, we retire it or make changes in the design and then reintroduce it into the inventory. This can involve removing stones or adding stones or changing a neck wire or chain.
There is a lot of diplomacy involved in being a gallerist. Sometimes you have to reject jewelers whose work would not be successful in your gallery, or deal with clients who are unreasonable, or make repairs on faulty work, etc. Please share your strategies for managing this aspect of the job.
Jane Groover Maydahl: When we reject a jeweler's work, it's usually because we don't think the aesthetic is right for us or for our customers, and we are always very forthcoming about that. We're also quick to point out craftsmanship that isn't to our standards. We try not to be harsh in our rejection, but we also think that it is important to be honest on both counts. We rarely have a client who is unhappy with a repair or workmanship. We have a long history of working with excellent repair people who know what we expect. On the rare occasion that someone is unhappy with something, we do everything we can to remedy the problem. Keeping calm solves a lot of problems.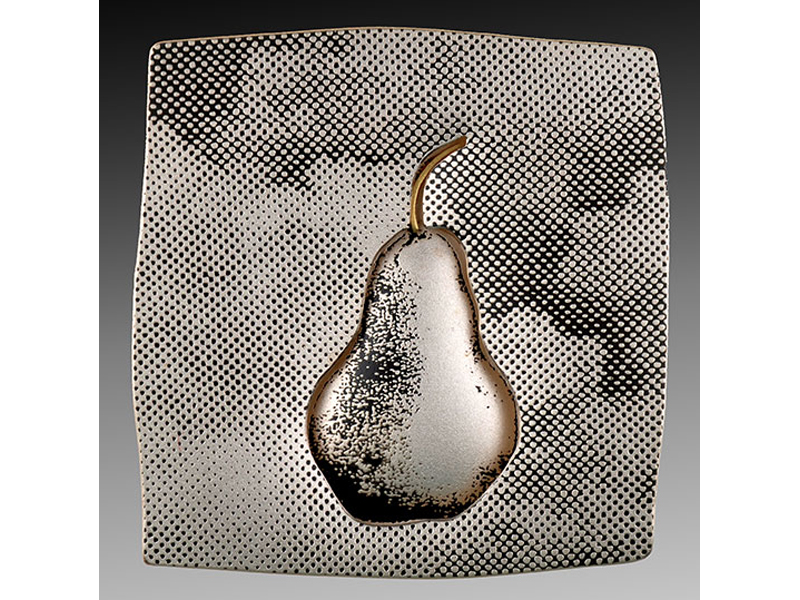 What's the best part of being a dealer, and what's the most challenging?
Jane Groover Maydahl: The best part of doing what we do is that we really love doing it. We still like making jewelry, dealing with our loyal clients, and selling to new ones. Sharing the enthusiasm of a new exhibition is still exciting and it keeps all of us informed and focused on our mission. The most challenging part is the continual search for new and innovative jewelry that works for our gallery. We spend a lot of hours researching and looking at new jewelry.
We are moving into a more environmentally conscious age. Do your clients ask you about the sustainability of the jewelry materials? How do you think this will develop in the future?
Jane Groover Maydahl: The majority of our clients do not ask about the sustainability of the jewelry materials. In the work we make, we try to be conscious of this, but it's not always possible. It's easy now to buy recycled metal, but gemstones are more challenging. Sources for recycled diamonds have become more plentiful, and younger clients especially are asking for them more frequently than in the past. I think there will always be a demand for jewelry made from precious materials, but the focus on sustainability will undoubtedly continue to grow. People are definitely becoming more conscious and educated about the perils of gold mining and gemstone mining on the environment and on the health of the miners.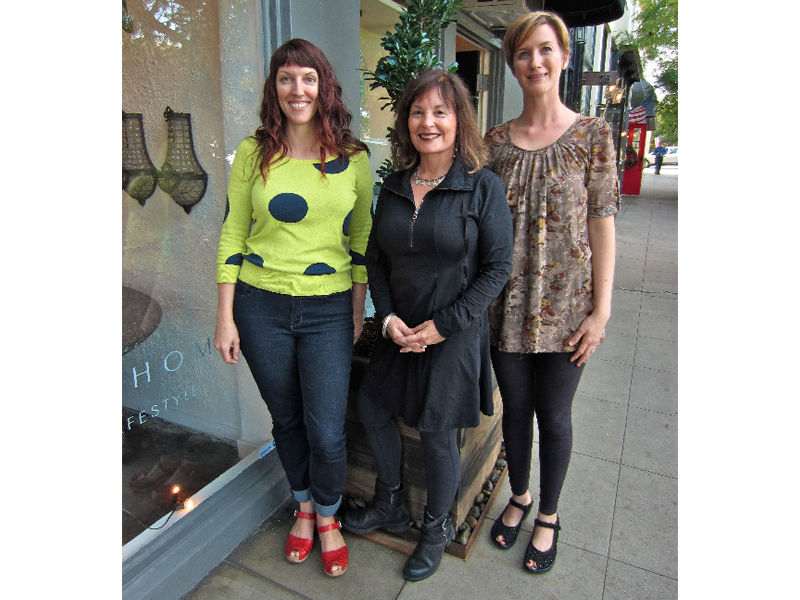 Who makes up your staff? What are their assigned tasks? What keeps you all working together?
Jane Groover Maydahl: Christina Seebold has worked for us for 17 years and helps organize exhibitions by keeping in touch with the artists and handling the myriad paperwork involved in putting on our sometimes complicated exhibitions. She does the layout for the postcards and deals with the print company. She helps with inventory, shipping, answering emails, sales, and keeping the mailing list current. In addition to all of this, she finds time to make jewelry, tend a spectacular garden, and be a grandmother and a good friend.
Marilyn Brogan, who is also a jeweler, has worked for us part-time for three years. Her job also includes inventory, shipping, sales, and some custom work. We sell her work in the gallery, and her enthusiasm for her work and the gallery have made her a great addition to our staff.
Casey Miller has worked for us on and off for many years. She is a jeweler with a young daughter so she fills in when she can. She knows the drill here, and many of our customers, so she can easily fall into the tasks at hand.
What keeps us all working together is the thrill of making, exhibiting, and selling jewelry. We're passionate about it and share in our efforts to make Taboo Studio one of the most beautiful and exciting places to see and purchase contemporary jewelry. We like each other and enjoy each other's company and are flexible, which makes the work easier.
Can you elucidate the strategies and tools that have enabled you to be so successful over the long term?
Jane Groover Maydahl: From the beginning, we knew that in addition to exhibiting our own jewelry, we wanted to exhibit the work of a large range of jewelers. We believe that our success is a result of exhibiting beautiful work and paying attention to the taste of our customers. We have made sure that our gallery is unlike any other jewelry venue in San Diego county, and we have dramatic cases and displays of jewelry that are admired by our clients and visitors from around the world. We continually refresh the cases, add new jewelers, and keep things visually stimulating. We strive to pay attention to detail, keep careful books, pay artists promptly, and remember to be kind to our amazing employees.
Do you both manage to have some sort of life outside of work?
Jane Groover Maydahl: I think the fact that Joanna and I have raised families while running the gallery keeps things in perspective. We divide up the work week and neither one of us is at the gallery every day. We alternate working Saturdays, we both travel, and we spend time with our families. We both like to cook and entertain, and we like to keep up with our local art community. We're old enough to know how important it is to have a life outside the gallery.
Is there any advice you can give to someone thinking about opening a gallery? Are there any good books about it?
Jane Groover Maydahl: It will always take more time and money than you think it will. Assuming the passion is there to not give up the dream, make certain that you find out exactly what your monthly costs will be so that there are no surprises. Include rent, remodeling, utilities, air conditioning and heat, computer and printer, display cases, packaging, business cards and stationary, credit card processing, bank account and checks, an alarm system, a safe, insurance, payroll taxes, sales tax, and a bookkeeper. I'm sure I've left something out, but these numbers can be daunting. It's important to know that you have the resources to fund a bad month or two. It happens. Taking risks can be very exciting and rewarding, and there are definitely risks in running an art gallery/business. Are you in a neighborhood that can support what you do? We were in downtown San Diego for 10 years and it was not the right neighborhood. I'm not aware of any books about running a gallery because I read fiction when I have the time to be taken away.
Thank you.