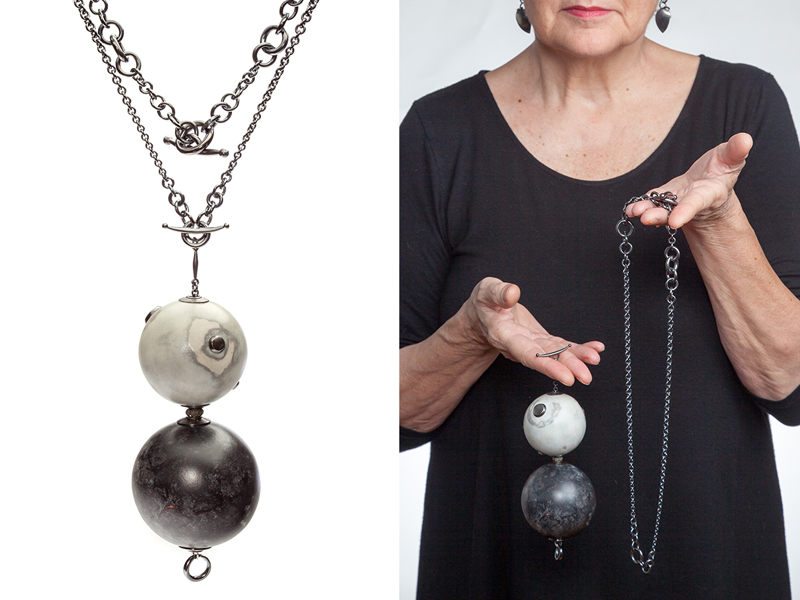 My first encounter with Sharon Church's elegantly carved, diamond-dappled jewelry came in 2001, as one of her students in the Craft + Material Studies program at Philadelphia's University of the Arts. Fifteen years later, I remain awestruck by her poetic compositions that balance, through scale and materials, visual heft with sensitive forms. In this conversation, Sharon shares the particulars of her creative process, her ongoing curiosity and reverence for nature, and details about the works currently on view in Queen Bee, at Sienna Patti.
Adriane Dalton: You somewhat recently retired after 35 years as a professor in the Craft + Material Studies department at the University of the Arts. Is Queen Bee your first solo exhibition post-retirement?
Sharon Church: Queen Bee is my first solo show since I had a baby—almost 28 years ago! So, yes, this is my first solo exhibition since retirement. In late 2015, I participated in a larger group exhibition of various artists who had been given the distinction of "Master of American Craft" by the American Craft Council. The exhibition was held at various venues throughout Philadelphia; I was one of several artists who showed at the Center for Art in Wood. The show was comprised of work made from undergraduate school through grad school and up to the present. Only one piece from that show, Immanence, also went to the show at Sienna Patti.
Several of the works on view, such as Immanence and Tardigrade and Clan, are dated with a span of two years. How much time was spent in preparation for the show, and how long do you typically spend on the most complex works?
Sharon Church: I believe there are a total of 14 pieces in the show; one piece is the drawing that became the announcement for the show. As I drew, I became aware of its significance to my goal as a studio jeweler—to be surrounded by nature and to use nature as my model. I signed 20 giclée prints made from that drawing that are for sale, as well.
It takes a lifetime to make a piece, because each one reflects back on my life's experience. It is important to note that each piece is the culmination of my thinking, sketching, and making. I probably spent a year and a half pulling these pieces together for exhibition. Some works have been revisited in order to amend them; others were made from start to finish, and each work takes as long as I have to work before the show. There are pieces that I started to work on as long as six years ago and finished in anticipation of this exhibition.
A piece is complete when I am no longer bothered by any part of it. I have it out on my counter, so that I see it every morning. If it bothers me, I change it. Because I work intuitively, I feel that I can go back into a piece and work on it between shows, or before a show is ready for installation.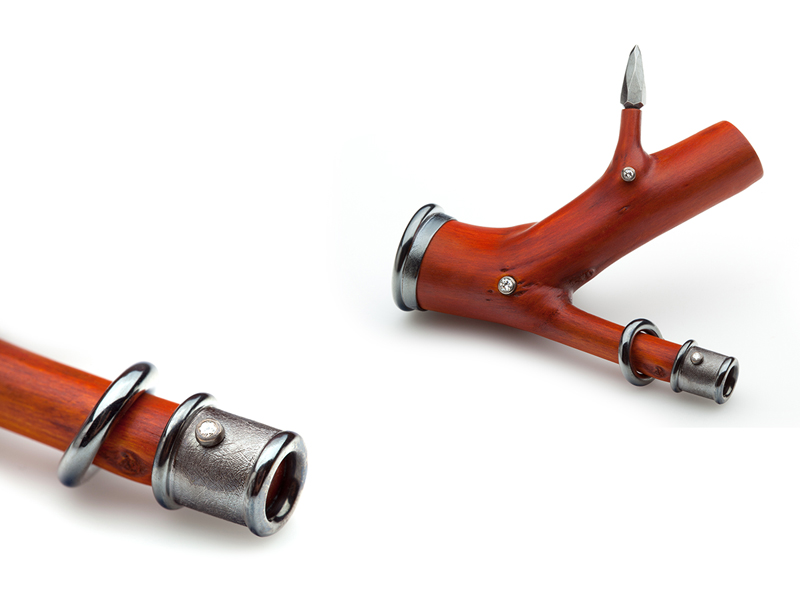 Nature provides much of the materials used in your work and also informs your aesthetics. How did your affinity for the natural world begin, and how did it find its way into your jewelry?
Sharon Church: I have loved nature—at a distance—since I was a child. There are aspects of nature that I find dangerous, or threatening, but on a nice sunny day I love taking a walk in the woods with a friend.
I have also worked in wood since I took my first course in jewelry at Skidmore College. Earl Pardon encouraged me, and so my love affair with wood began. I became a carver in graduate school, where I was encouraged to work subtractively. Carving was my means to form.
But it was the death of my first husband, Andy, that unleashed my connection with nature that has characterized my making ever since. I found that nature offered up metaphors for what I was experiencing, in ways that were beautiful. Beauty is very important, and while I don't think one can consciously make a beautiful piece of jewelry, I try in each work to elicit the beauty response.
The works in Queen Bee can be read as an ode to the sophistication of des Esseintes, the hero of the symbolist novel À Rebours, by Joris-Karl Huysmans (from 1884, and called Against Nature in English). Among other eccentricities, he has a tortoise pavé-set in precious gems, to afford himself the contemplative pleasure of seeing the animal's slow and scintillating progress across his Persian carpet. If "nature" is part of that philosophy, it is a nature transformed, decanted, pruned, reassembled, and spiced expensively. Is your relationship to nature that … cultured?
Sharon Church: I have not read À Rebours, but I choose to deal with nature through the looking glass of civilization. I want to be surrounded by the natural world, and thus I live in a part of the world that offers plenty of dappled light and magnificent plantings. I grow things in pots but I am afraid of some forms of nature, especially things that crawl along on the ground, violent storms, the threat of hurricanes, etc. I find that I protect myself from nature, too, so my relationship is cultured. I would never set a tortoise with precious gems, but I like the idea of all that bling against the tortoise shell. As a human being who lives in the contemporary world, I think it is important to preserve nature.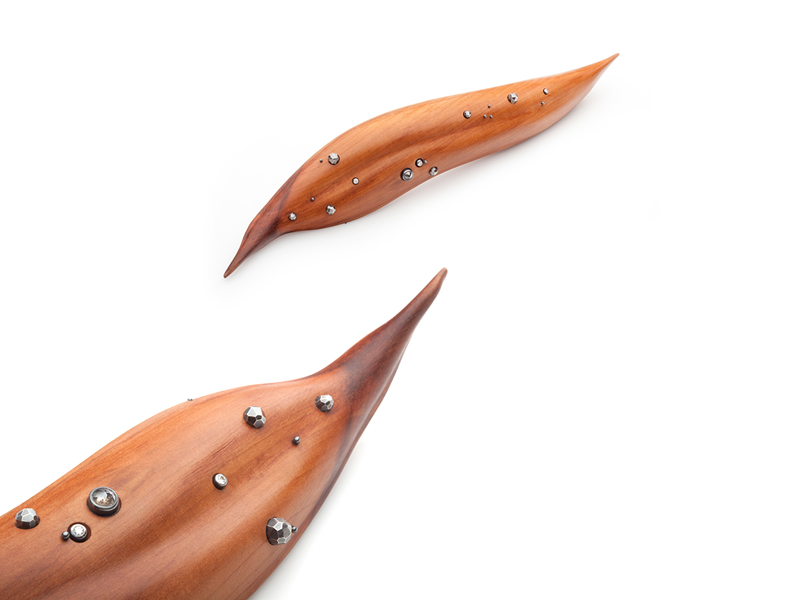 What other sources of inspiration do you draw from for your work?
Sharon Church: Beauty and Art. I look at painting, sculpture, and jewelry, both contemporary and old, all the time, and allow myself to be swept away by music.
You mention working "intuitively with your materials," which seems somewhat contradictory given the sumptuous and carefully planned craftsmanship evidenced in the work. What do you mean by "intuitive," and can you elaborate on how you select raw materials, and then set about transforming them?
Sharon Church: What do I mean by intuitive? I respond to what is happening before me. I do not plan things from the beginning; rather, I begin with an idea, then discovery and invention take over. I am constantly challenged, which means that I try processes or techniques in materials that test my problem-solving abilities. Each work combines my knowledge of work with my discovery or development of technique. I try everything I know to resolve a piece, and some of those ideas are not good. At that point, I must refocus and try again.
I use plaster to hold things together when I solder, and I use lavish amounts of yellow ochre to keep old seams from flowing. I like to use diamonds because, covered in boric acid and alcohol, they can take the heat of continued soldering. And so I keep working until I feel that a piece is complete.
I wish I were a better designer, then things might not take me so long to make. I work to delight myself with the unknown and to solicit from myself a beauty response. How can I know, in advance, what that will be? I have plenty of work that did not live up to my expectations, and those pieces sit in a drawer until I throw them away. If they have precious metal in them, I will reclaim them.
I work in wood, but mostly Castello boxwood, which takes dye very well, and ebony. I work with familiar woods, because each wood has its peculiarities that must be considered. Primarily, I work with Castello boxwood because I have become familiar with it.
What is the meaning behind the title Queen Bee?
Sharon Church: I think I unwittingly became a "Queen Bee" as I taught. So many of our students have gone on to make remarkable contributions to the field. As we thrashed around for an appropriate title, Sienna suggested "Queen Bee" and I approved. At the opening, I thought—this room is FULL of Queen Bees, so I hope Sienna made a lot of those title signs!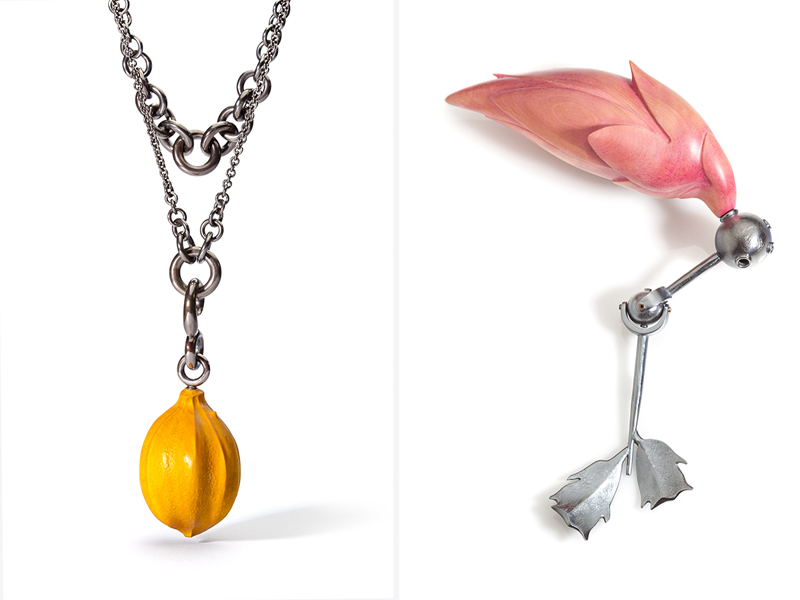 The Tardigrade and Clan necklace lists among the materials peppercorns and spices. How were these used as materials in the work?
Sharon Church: Often my kitchen becomes an extension of my studio, and I used cooking techniques as metaphors when I taught. As I was experimenting with paper clay, I grabbed jars of spices to make the clay look and feel more exciting. Not all of my additions work, but the peppercorns were fabulous to see as I filed through them, and the tarragon and basil were relatively simple additions to make. I now feel free to add mica, acrylic color, and all kinds of things that can be filed and sanded to the paper clay, which is very adhesive and wonderfully simple to work with. The great challenge is in keeping the spheres as round as possible when filing, then drilling through the center!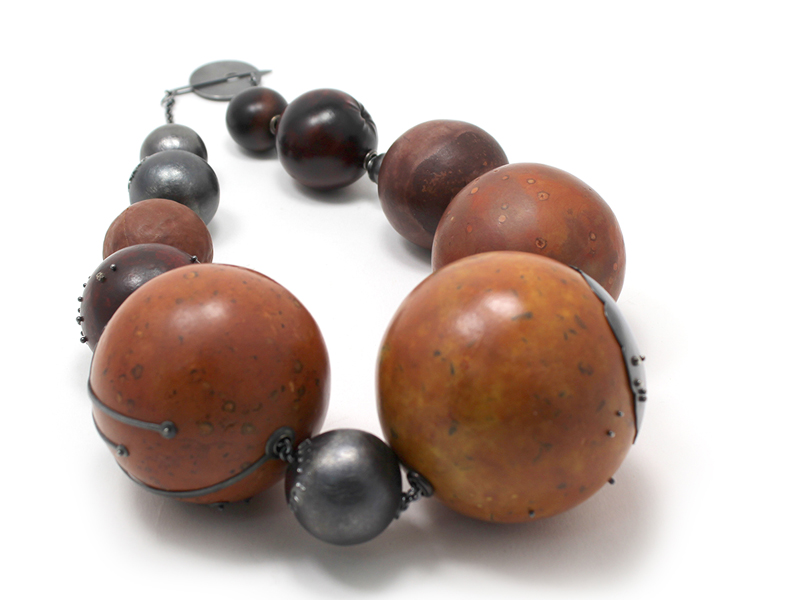 As one of your former students, I distinctly recall you placing emphasis on drawing or sketching as deeply important to a creative practice. That said, I was somewhat surprised that the exhibition announcement for Queen Bee features a drawing rather than a piece of jewelry. What compelled this choice, and how does drawing fit into your jewelry practice?
Sharon Church: The drawing, Round-Up, is about my life as a jeweler. It is a metaphor for my lifetime of making and extends into my future. I want to carve those forms; some have already been carved.
I have a drawer that is full of the natural world; findings that I pick up from the street or while I walk in a natural setting. I used them as models for that drawing because drawing is a way in, my first encounter with form. I draw to closely observe and prepare to carve, then I put the drawing away and carve freely, responding to what is happening before my very eyes.
I believe that my drawings are my most intimate and private first attempts at form. I love to draw and consider myself to be a "renderer." I render to figure out how a piece can exist, what findings I might need, how it will go together. Then I make dimensional models. Sometimes I reject the idea. All in all, it is a lengthy process.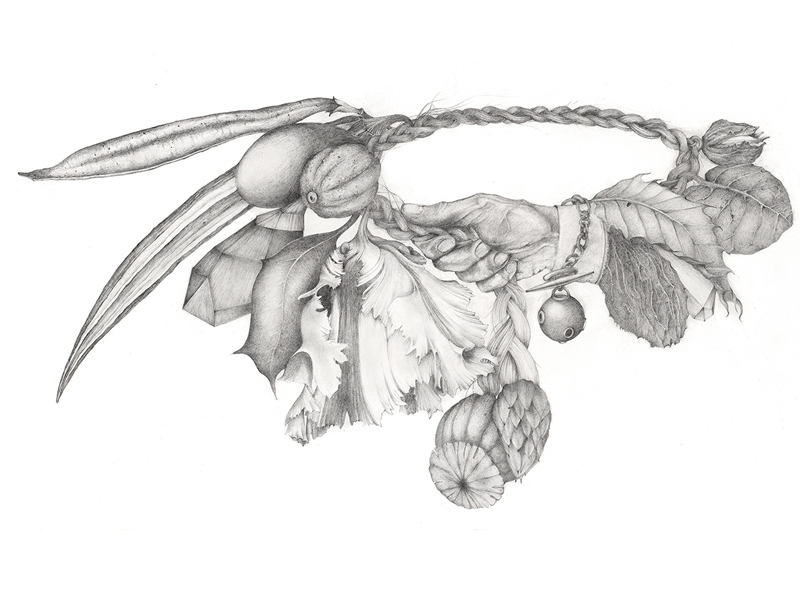 Are the Her Cultivar brooch and the His Cultivar lapel pin meant to be a matching set or companion pieces? Were they made with specific people in mind?
Sharon Church: First I made Cultivar in response to my friend's cancer.
It was a wonderful brooch, one that Sienna loved, but on the coldest day of the year it literally leapt out of my arms and onto a Philadelphia sidewalk. It broke. Unbelievably, my friend was declared cancer-free THAT DAY! So my challenge was to make the two pieces into two brooches that were fabulous. So, yes, the two brooches, His Cultivar and Her Cultivar are related.
I worked on Her Cultivar first. After all, this was the part of the piece that had originally contained my thinking about my friend's cancer. I kept the earthy surface that I had developed by using paint and dye, set some diamonds, and fixed the piece into a brooch that elicited that beauty response.
At the same time, I had been suffering from a frozen shoulder, which is quite painful and takes a long time to heal. Finally, I felt good, so one morning I went down to the studio and made that forged wire top to His Cultivar.
I consider each piece to be a wonderful piece of jewelry for similar but different reasons, and they are strongly related to one another.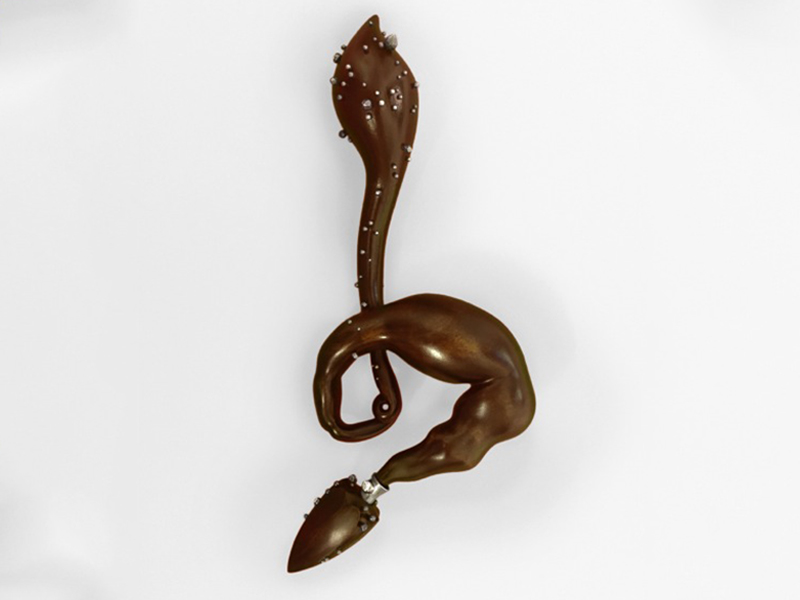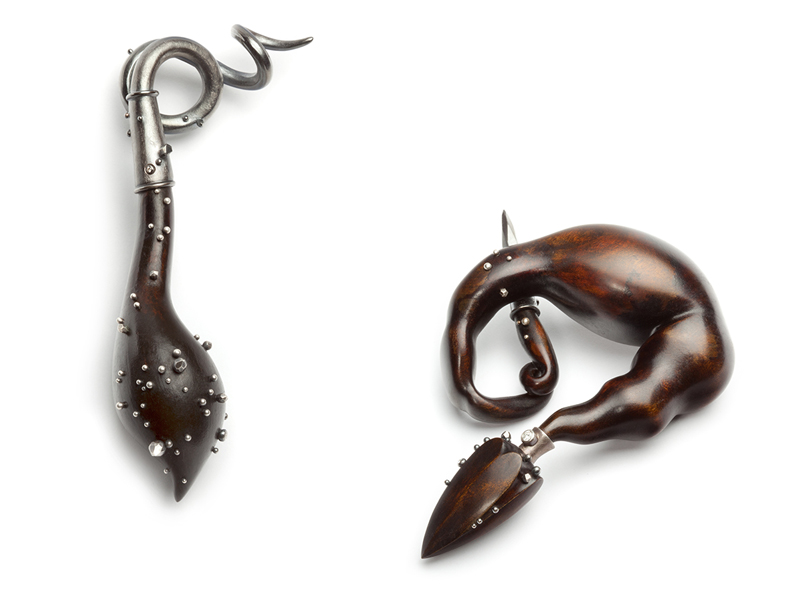 I am intrigued by the piece entitled Pocket Nut. Jewelry is carried around on the body or attached to clothing, but this object, still precious in scale and materials, is designed to be carried with someone. What is the story behind this piece? Are there other pocket objects or nontraditional jewelry forms in the show?
Sharon Church: I have always been interested in making work that wants to be touched, and that is precious. What better place to enjoy a piece of jewelry than in your pocket, where you can privately feel, investigate, and enjoy a form? My father used to jiggle the coins in his pocket, and he carried a silver dollar that was minted in the year of his birth. I was fascinated when he emptied his pocket at the end of the day. I made Pocket Nut to be similarly enjoyed.
Immanence is a piece to be laid on a surface and picked up and held, but it is not to be worn. I think it is important to ornament things that are to be held and touched, but not necessarily to be worn.
Have you enjoyed any noteworthy books, poems, films, or other media lately?
Sharon Church: I read books and novels, especially mysteries, and I go to films regularly. I hope that as an artist I reflect the culture in which I live, and movies are very much a product of our culture. We just saw Hunt for the Wilderpeople, which reminded me of Moonrise Kingdom, both of which I loved.
Music: When I work, the radio plays classical music. I love Saint Saëns, especially Africa. Recently, I have also been enjoying Mahler's Resurrection Symphony; Seal's Amazing, Eric Whitacre's works for chorus, and pieces by Philadelphian Jennifer Higdon.
Whose work do you admire, both in the field of jewelry and beyond, and why?
Sharon Church: I look at lots of art. Below are those artists who leap to mind:
René Lalique, because he is the father of modern jewelry. I like his rich use of materials, his renderings, and the fact that he lived in a place that was inspirational to him. He insisted that his work be valued for its art and not for its materials.
Karl Blossfeldt, through his close-up photography of plants, demonstrates that amazing forms exist in my backyard; one simply has to look carefully.
Walton Ford, because he uses animals as his models and creates situations that are both fanciful and real.
Ernst Haeckel, whose philosophy of art and spirituality closely matches my own, and his drawings of natural forms show a similar geometry of life that I have discovered, as well.
Lee Bontecou is a model artist. She is bold and unafraid of expressing herself. I think her work is profound, but, more than that, she found a way to be productive in her studio despite her growing success. She turned her back on New York, bought a farm, raised her child, continued as a family, and developed her relationship with the land.
Is there any advice you would offer early career practitioners and those who are just beginning to delve into art jewelry?
Sharon Church: Be an artist first. Work hard. Express who you are, because that is the value that you have to our culture. Be brave, and learn to be poor.
The work in Queen Bee ranges in price from US$5,000 to $15,000, with the exception of several giclée prints made of Round-Up.
INDEX IMAGE: Sharon Church, Cicada Brooch, 2015, carved and dyed Castello boxwood, auto-body spray paint, Renaissance Wax, small diamonds, rubellite tourmaline, oxidized sterling silver, nickel silver findings, 117 x 35 x 38 mm, photo: Ken Yanoviak