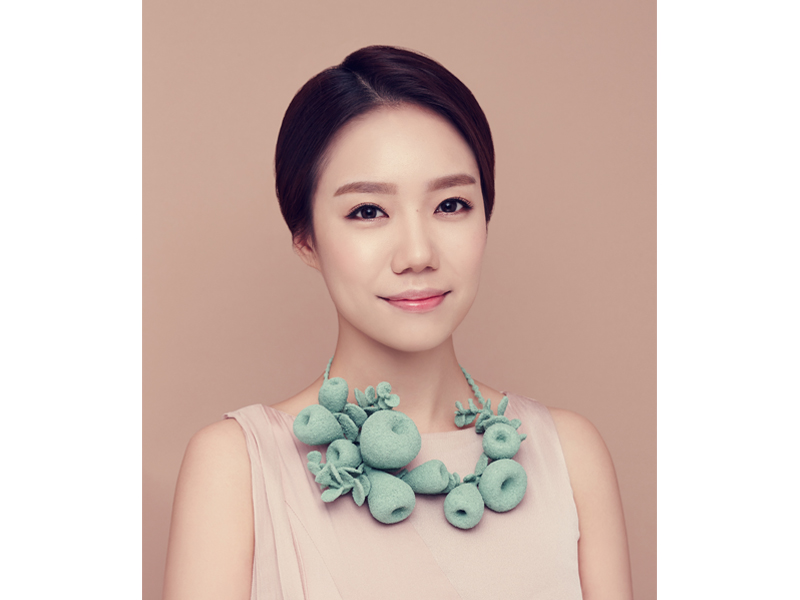 Seulgi Kwon was the Artist Award winner in 2014, and I have to say she has made very good use of this award by participating in numerous exhibitions and events. In fact, I can't believe she isn't staying up all night every night with all her obligations! This is just what we hope happens to all our award winners … not the lack of sleep, but the many opportunities! See what she has done, is doing, and thinks about it all.
The AJF artist award also had four other finalists: Attai Chen, Benedikt Fischer, Lauren Kalman, and Heejoo Kim. They were all interviewed last year after they were recognized as finalists. It was a great group of young and very promising jewelers.
Susan Cummins: Congratulations on getting the Art Jewelry Forum Artist Award last year! It has been quite a year for you. Can you tell us about all the shows and events you have participated in?
Seulgi Kwon: Although I participated in several shows earlier this year with Platina gallery at Schmuck and with a pop-up space during SNAG in Boston, I thought I would just list my upcoming activities. Currently 23 pieces of my work are on display in my first US solo exhibition, titled Tender Moments and held at the Reinstein|Ross Gallery in New York. The show was extended through October 17. Also, two of my pieces are on display in the Korea Now exhibition at the Musée des Arts Décoratifs in Paris. This show will remain on view through January 16, 2016. Other shows that I have coming up include The New Textiles: Transformed at Mobilia Gallery in Massachusetts (opening October 24), and a Christmas Exhibition at Tereza Seabra–Joias de Auto in Lisbon, Portugal (opening November 28). I will also participate in SOFA Chicago with Galerie Noel Guyomarc'h and the SIERAAD Art Fair in Amsterdam, Netherlands; the stand number is 45.
How did the winning of the award affect you? How did it make you feel? Did it change your work in any way?
Seulgi Kwon: Awards are a way of encouraging the artist. The experience of winning an award serves as an opportunity to expand their work. It affects them not only financially, but also emotionally, because it gives them "courage," which inspires the idea of being an artist.
An honor like this also helps to formulate an artist's identity and provides positive energy and motivates an artist's work. The various opportunities afterward, beyond just providing the means to promote the artwork, can become an important milestone in the artist's life. In that sense, my first solo exhibition at R|R Gallery is a starting point to form the first milestone of my identity as an artist and an opportunity for branching out. Once again, I would like to express my gratitude to the jury and board of AJF.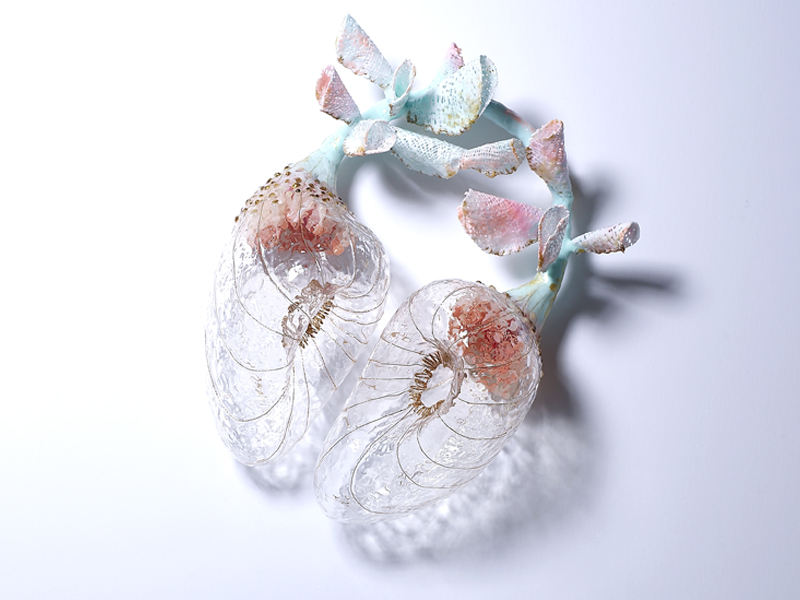 Can you tell us something about your school—Kookmin University, in Seoul, Korea?
Seulgi Kwon: We were provided with the physical environment as well as emotional support so that we could immerse ourselves in our work. For instance, we could attend the various special lectures presented by renowned artists, which inspired us and enhanced our creativity. Most of these special lectures provided me with fresh air. Much of what I stumbled into was by following my curiosity and intuition, which turned out to be priceless later on. Furthermore, open and honest communication with professors played an important role in navigating our careers in the right direction.
How did you come to be interested in studying jewelry?
Seulgi Kwon: I primarily made objects while I was a student. But objects are limited to a particular place. Therefore I started to interact with other types of works. I started wearing the objects and in this way I started to make jewelry, which was a very simple and easy way to share my story with people.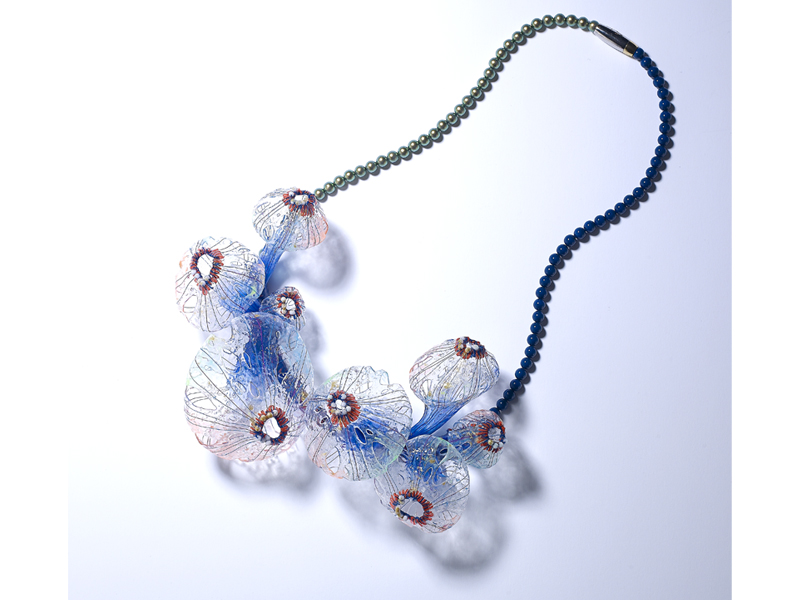 What is happening now in the Korean contemporary jewelry scene?
Seulgi Kwon: A wide variety of materials and forms are used in the area of metalwork, without being limited to the material of metal. We are occasionally see outstanding pieces by metal and jewelry artists, displaying their own artwork. The area of metalwork is breaking out of its own traditional paradigm as art jewelry. It is coming face to face with the radically changing fashion industry and is looking for ways to have the public value it as contemporary art. Korea has long been seen as a culture where fashion is deeply related to personal identity and people enjoy fashion. Metalwork artists are capable of promoting their own works and the time is ripe for the modern jewelry field to develop under these circumstances.
You just had a show at R|R Gallery in New York. As part of that show, you are exhibiting drawings. How do you use these drawings in your process? Your work is a big surprise to everyone who gets a chance to feel it. It looks like glass but is a kind of silicone and soft to the touch. Can you describe how you make it? Do you blow the silicone as you would glass? Do you use molds, and if so, what are they made from? How do you add color?
Seulgi Kwon: The process begins with my imagination, thinking about nature, and expressing my ideas on the paper with plenty of free-style drawings. It takes me almost two to three days to conceptualize the design. Once I know what the form will look like, I make a three-dimensional structure. The rest of the process includes molding, cooling, washing, and drying. Then the artist in me comes up with intricate ways to give life and meaning to the form by adding colors, by mixing pigments and adding beads, fabric, paper, thread, and other materials to make it alive and extraordinary. Using silicone as the base material is very important, because silicone is simple, soft, and flexible. These properties have helped to make the jewelry a unique work of art with individual character, elegance, and meaning. It is a multistep process to make the brooches and necklaces.
People are fascinated by your forms, often trying to figure out if they are meant to be flowers, marine life, or human organs. Can you tell me more about your forms? What do you intend for them to be?
Seulgi Kwon: Some people recognize in my artwork different motifs, like that of a cell, a human organ, a marine creature, a plant, or a flower. I like that all of these are living, fluid, and dynamic forms. An artist's concept is to connect art with nature and life. Nature is at the root of many artists' subject matter and has provided us with infinite possibilities for creation. Many artworks are based on the continuous study and experience of nature.
In trying to create a living organism, I chose silicone because it is flexible, moves freely, and is light and transparent. In the process of making the jewelry, the concept has evolved and transformed into organic movements of plants and flowers with their mysterious colors and constantly changing forms, thus creating a unique, simple texture that corresponds to the artist's story. I try to show beauty as a sophisticated well-crafted brooch or necklace with rich colors and unique shapes.
Images of plants and flowers have always successfully conveyed an artist's concept and memories of daily human life. Plants change their forms at each stage of creation, from seeding, sprouting, spreading, and blooming; these stages provide insight into unpredictable organisms and organic forms. Taking this into consideration, Tender Moments shows jewelry that is large enough to reveal the hidden inner beauty of the soft, transparent yet colorful shapes.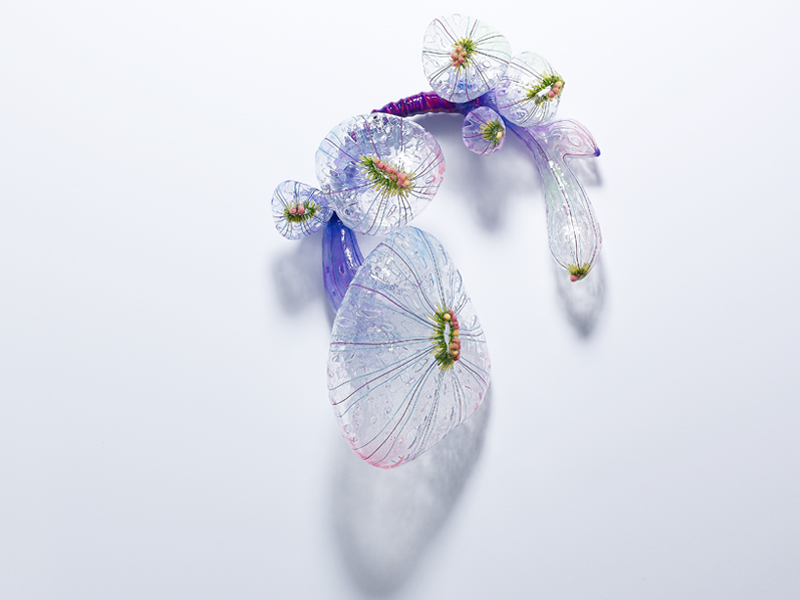 What are your inspirations?
Seulgi Kwon: I was inspired to make this work because it allows me to consider my past and think about some of the negative events and reassure myself that things will be better. For example, one of my most treasured pieces, Last Winter, the Sky Torn Apart Poured Down between Dead Twigs reminded me of my father, who had an unexpected relapse and died when I started making this piece. In this way, the abrupt changes in my life have influenced me deeply, like the tree that casts a long shadow over the lake.
What do you expect the future to hold for you?
Seulgi Kwon: I find the process of preparing an exhibition really motivating. An exhibition is not just a means of promoting the artworks, but a critical milestone in an artist's life. Motivated by my recent shows, I'm planning solo exhibitions in Korea and Europe. I want to show a wide spectrum of my work and also that that I am an artist whose boundaries have been widened through meeting with various artists and students.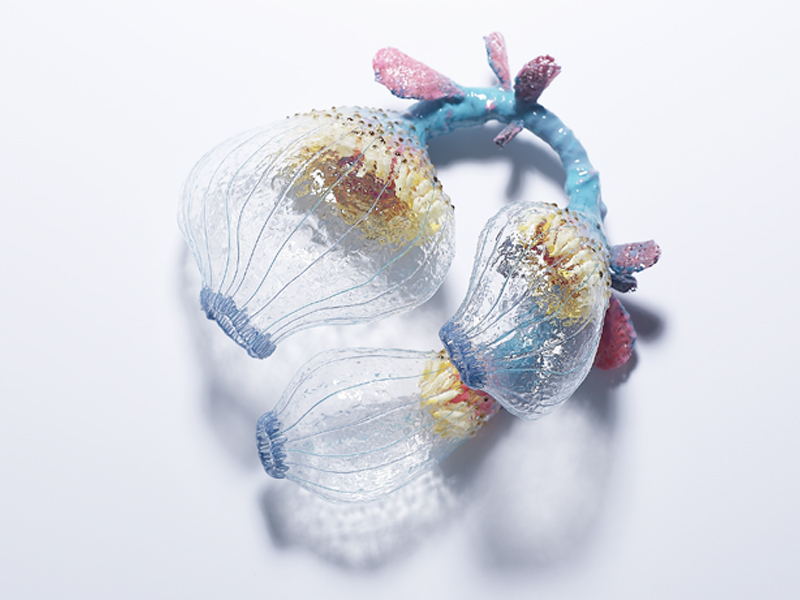 What are you reading, seeing, or hearing that you can recommend?
Seulgi Kwon: The blooming and wilting process of flowers is very similar to people's lives. Just as people get old after reaching their peak at youth, magnificent flowers that grabbed everyone's attention, too, quietly face the end of their cycle by themselves. I saw an old film recently that I would like to recommend. The film Cherry Blossoms (2008) inverts this process and presents the following question: "Is it possible to be most beautiful at the moment of facing one's death?" It is the story of an old couple on the surface, which in fact tells about the cruelty and regrets of love from the viewpoint of Rudy, the widower who traces back his wife's life.
Rudy is on top of Mount Fuji wearing his wife's clothes to cherish her memories; he performs Butoh dance against the background of cherry blossom petals falling all over the mountain. The dance is so poignantly calm and serene.
Cherry blossoms are so splendid that the Japanese have "floral festival" (Hanami) every year. The way the cherry blossoms wilt is quite a sight as the very thin petals fall one by one, looking like drops of flowers coming down. The cherry blossom flowers bloom so quickly, with such gorgeous color, and then, in no time, only the green leaves remain after the spring rain. It is like the brevity felt at the moment of the utmost beauty that is gone in the blink of an eye. Perhaps the ephemerality and splendidness is why they become an unforgettable memory in our hearts.
Thank you.