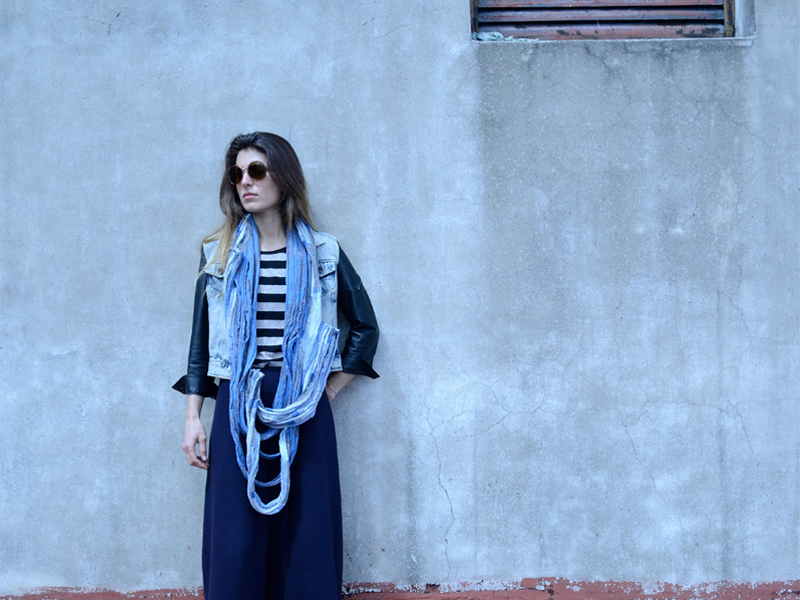 Sabina Tiemroth's exhibit, It Self, at Jewelers'Werk Galerie, showcases textile work that blurs the line between apparel and jewelry. Deeply reflective, and heavily inspired by her experiences of living in Argentina, Tiemroth's work is a personal exploration of her past and present through process and material.
Kamal Nassif: Tell me a bit about your background and how you came to jewelry as your artistic mode of expression.
Sabina Tiemroth: I grew up in the Patagonian Upper Valley area, surrounded by lots of nature, green and arid landscapes, until I moved to the city of Buenos Aires to study fashion design. While I was in the last years of my studies, I researched Argentine contemporary jewelry. That was my first contact with jewelry, a world at that time unknown to me. After that, in my design thesis I developed a brand that was characterized by natural and autochthonous fibers combined with knits and Mapuche (South Aborigine) silverware. This experience led me to be even more interested in how to work the metal, so later I started taking classes in contemporary jewelry with Jorge Castañón.
I began a more personal and integrative search and continued with the idea of working with the textile but in another format and scale. I understood that in my fabricating contemporary jewelry, I was expressing feelings, telling some of my story, and working with materials and different techniques. In a way, I felt I was gathering knowledge and experiences, and at the same time creating a piece.
Fortunately, this road began to open up and be reaffirmed by presentations on displays and international contemporary jewelry competitions in which I had the opportunity to participate.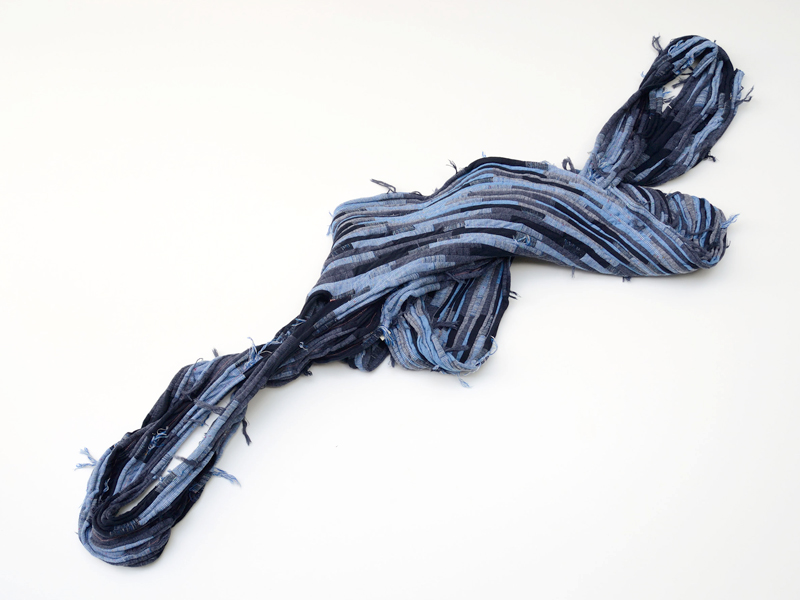 How has your work evolved?
Sabina Tiemroth: My work has been evolving as I was incorporating new knowledge and tools from fashion design, textiles, and then jewelry. Participating in related events and different individual and collective projects also shifted my work.
Diving into the depths of myself, traveling, meeting and opening up to other cultures, observing and gathering scattered inspiring elements of my life—all continue to impact my work.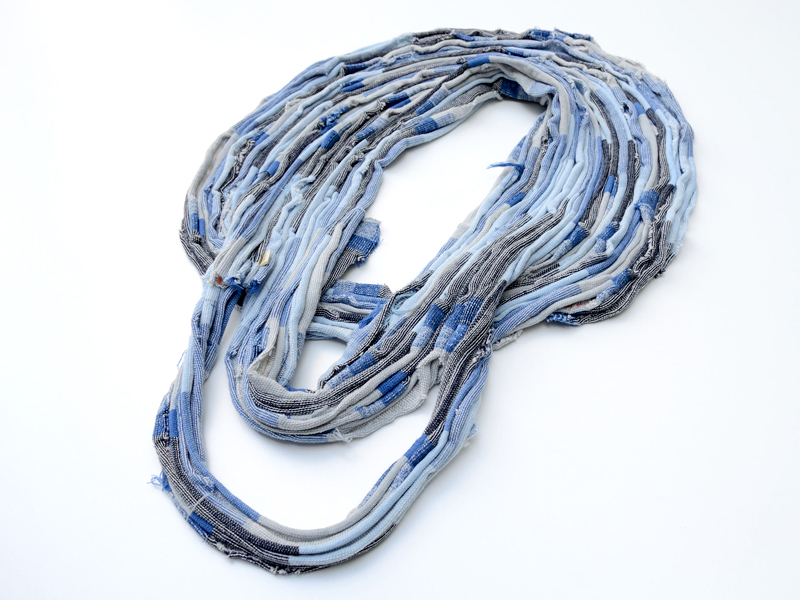 Where do you find inspiration for your color palette?
Sabina Tiemroth: Most of the time the inspirations for my color palette come from different reasons related to what I want to transmit—emotions, landscapes, and memories. Sometimes in the process of designing, all become one, the material inspires the color, and the color inspires shape.
In the latest collection, blue is the predominant color. I like to link it to the waters of rivers and lakes in the south, sacred, sky, into the depths, the unconscious, and memories of my favorite color.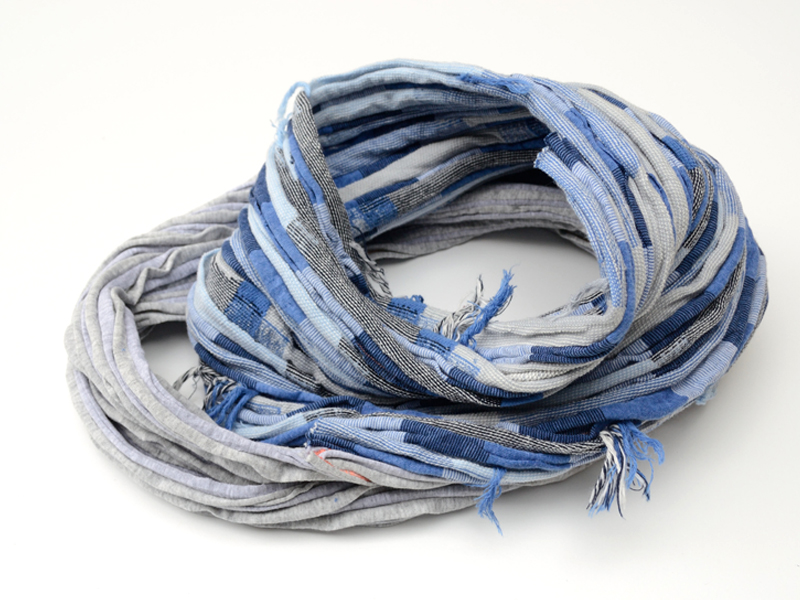 Have you always been working with textiles? How did you come to use this as your primary material for this exhibit?
Sabina Tiemroth: Yes, I have always been working and exploring with textiles and with others materials, too, at other times.
Something very special happens to me with the materiality of textiles—the visual, smell and touch, I marvel at the ability to generate textures by weaving and sewing, and sensations that can transmit emotions to others.
I am interested in experimenting and work with threads of natural fibers (wool, silk, cotton) because of their nobility, purity, and color; and at the same time I love working with textile industry scrap, like the remnants of fabric selvage thread, which are irregular and colorful. It was a big surprise when I realized that it was the same material of my memories.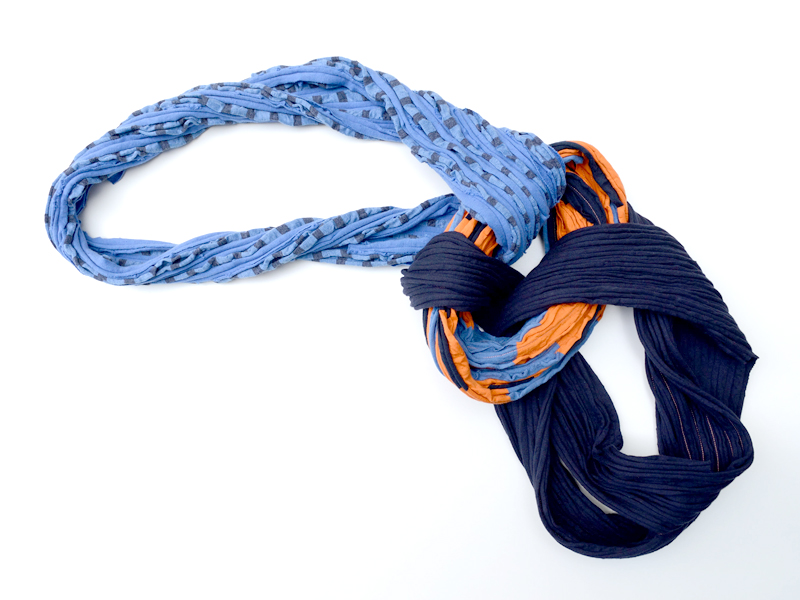 How do you perceive the past, present, and future of the intersection between contemporary jewelry and apparel?
Sabina Tiemroth: My perception of contemporary jewelry and apparel in all the different times has remained constant. Ancient civilizations gave jewels a symbolic, functional, and social value for adaptation and survival. Some jewelry denoted power and prestige, other adornments were protective amulets, ritualistic, and religious.
Nowadays, the same social signifiers are applied to apparel. We incorporate new technologies, new ways of perceiving the world and humanity, and everything is reflected in contemporary jewelry and apparel. We are always communicating values and identities in all aspects of our lives, how we dress, how we live and eat.
Today … we can be more conscious about our humanity and how our actions can affect us, others, and the world. Maybe that is why we need to express and develop our individuality, and share it with the community through a network of connectivity.
Thinking about the future … really I don't know what could happen … in a good way, we are going through paradigm and technology transitions … so actually everything could be possible! The creativity is infinite … I would like to imagine that we are going to be more conscious of what we are.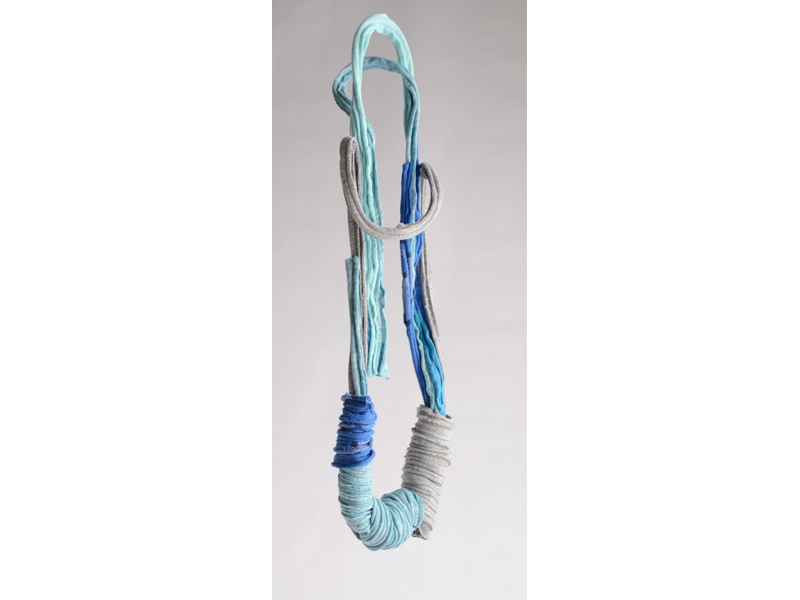 How would you articulate the difference, if any, between apparel and jewelry?
Sabina Tiemroth: I think we should first consider the simple action of dress … What does it mean? … Which leads me to reflect on how primitive civilizations got dressed and decorated. Throughout history, diverse cultures did it in different ways and with different notions of the body. So, I think that from a symbolic conception of dressing there is no difference between apparel and jewelry, both are articulated through needs and cultural patterns, marking social values, prestige, power, and identity.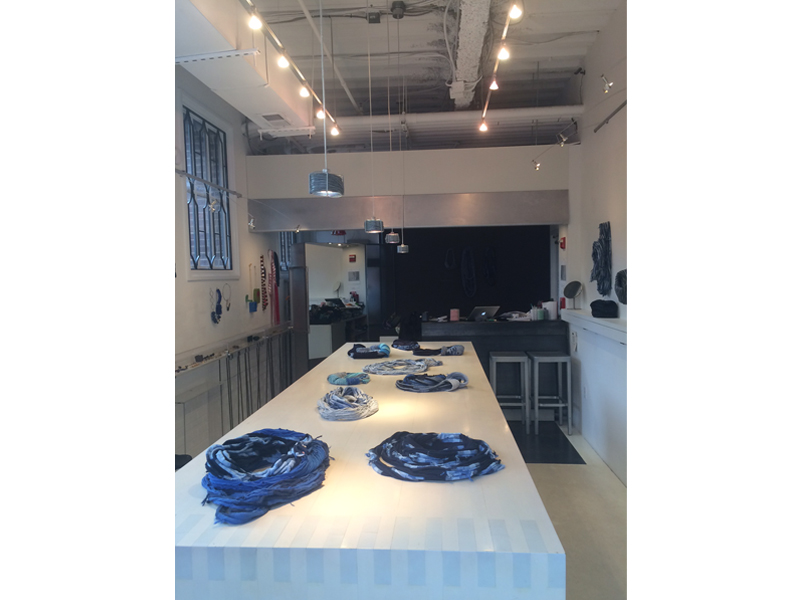 How does the sentiment of nostalgia relate to the materiality of your work?
Sabina Tiemroth: The sentiment of nostalgia has a strong relationship to what I learned in my childhood, memories that had been dormant and come back to the present … Today I can gather, materialize, and transform them from elsewhere.
The nostalgia and longing for moments, feelings, and materials that have textures and colors captures my attention. Wool and knitted sweaters made by my mother, remnants of fabric, salvaged threads used in the farms to shore up the fruit plants. I remember play, making clothes for dolls, seeing my neighbors weaving. I remember that for a birthday present I got a toy sewing machine. I remember traveling from village to village and always watching the landscape through the window.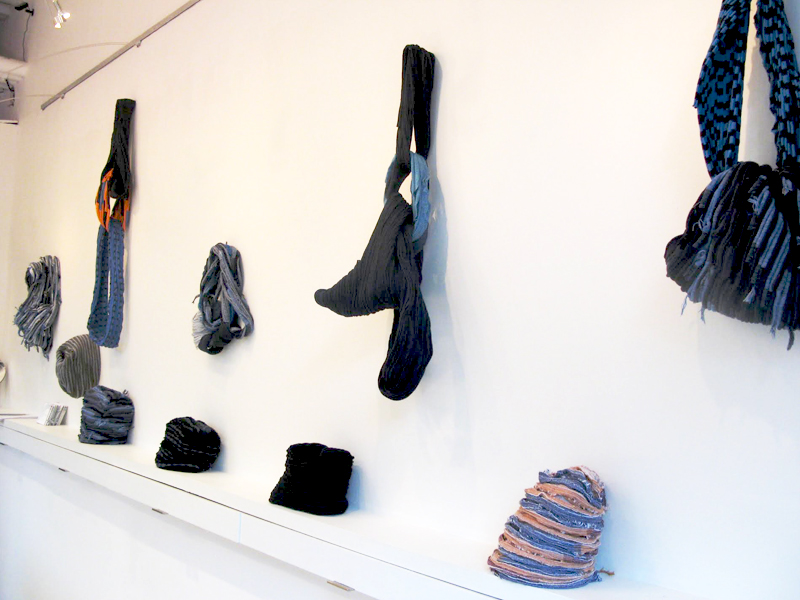 Who do you imagine is wearing this jewelry?
Sabina Tiemroth: I think that my versatile jewelry collection is dedicated to anyone who feels they can identify with the design of a piece, appreciate textures, comfort, my inspiration, colors and feelings that the piece can evoke. Anyone who is looking for more than a jewel!
Thank you.
AJF has decided to begin posting the prices of pieces in the gallery shows we are highlighting each month. For this show, the price range is between $300 and $1,300.