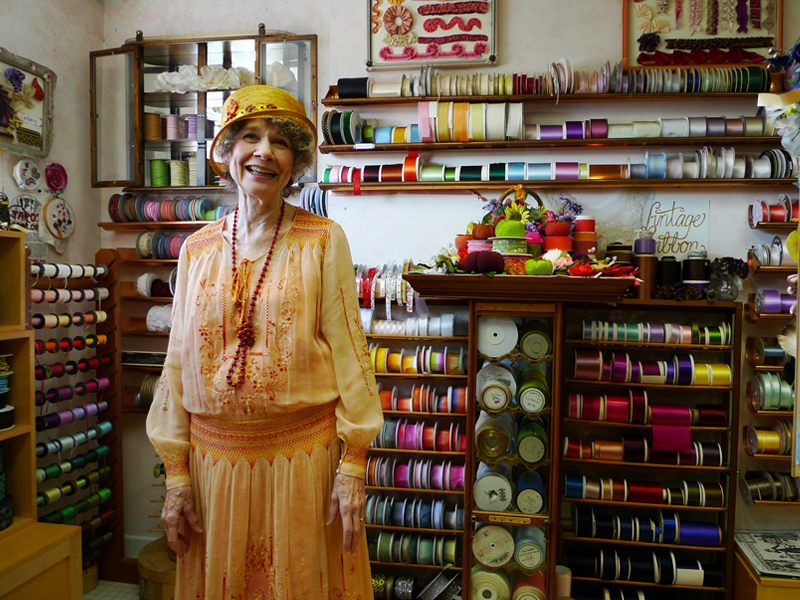 Susan Pasco, keeper of The Ribbon Room, Nancy's Sewing Basket, Seattle, Washington, 2015
There are places that the International Jewelry Elite know of by reputation, and frequent when travels allow. Tokyu Hands. Karl Fischer GmbH. Metalliferous. Insert-your-local-treasure-map-here. Like them, this room is the stuff of legend. I found out from several locals—people born and bred in the Pacific Northwest are hard to find but happy to share—about Nancy's Sewing Basket and, more importantly, The Ribbon Room. As it turns out, I had already frequented it before I realized its significance.
The keeper of The Ribbon Room at Nancy's Sewing Basket is Susan, whose array of vintage attire is personal adornment par excellence. Some of her pieces, she explains with hand-to-shaking-head mock shame, are period pieces she has owned since the period's inception. One-owner vintage. The envy of car enthusiasts. Others she makes, with 1920s fashion being a favorite. One time, because of a leg cast that finished at her knee, she was unable to get all her seasonal wear into her downstairs storage. She lost 30 pieces to moths that year—19 skirts and 11 tailored jackets. Her wistful longing for those old friends strongly indicates that it won't happen again. This year's summer-to-winter wardrobe turnover will happen soon, but her current priority is to finish works for her solo costume exhibition in November. Aptly, it's being held in the Penthouse Theatre, an Art Deco-inspired theater-in-the-round, opened in the year of her birth, 1940.