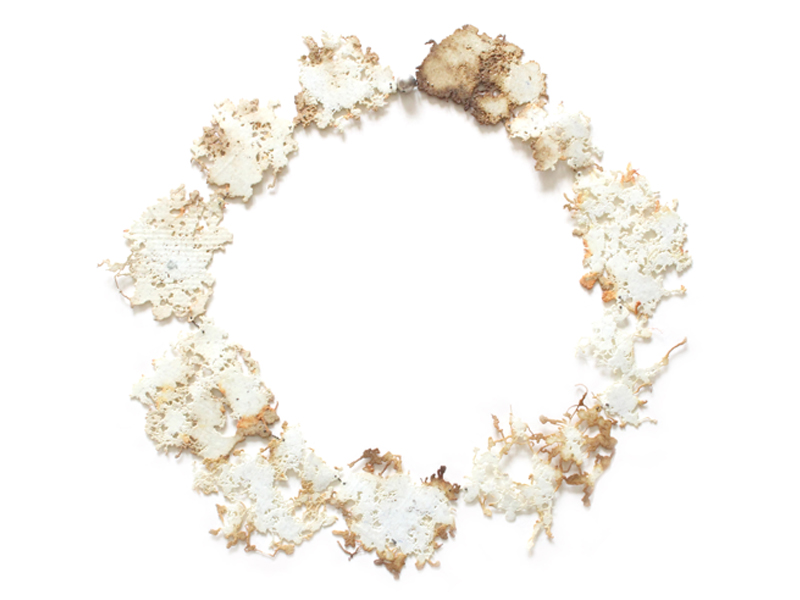 Sayumi Yokouchi is a jewelry artist based in New York, known for her nuanced and innovative handling of material. Through jewelry, Yokouchi elevates commonplace materials into ethereal artwork, especially in Landscape: Absence Is Present, her ongoing exhibition at Brooklyn Metal Works.
Olivia Shih: You currently teach at the 92nd Street Y and at New York University, while creating new collections of work. How do you balance your role as instructor and artist? Does one feed into the other?
Sayumi Yokouchi: It is not always easy to balance life between my studio and the classroom. If there are 15 students in a room, there will be 15 different makers and thinkers. Many different opinions in one classroom can be exciting, stimulating, and simultaneously challenging. This can get quite chaotic, both physically and emotionally. Essentially, I try to put the same quality into teaching as I put into my art making to keep a balance between the two. If I can inspire students with my experiences, it makes me happy.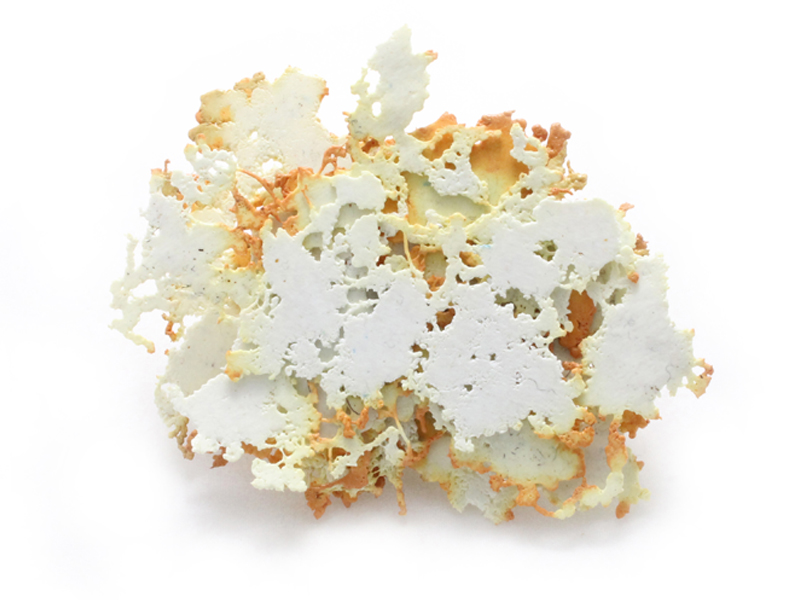 Born and raised in Japan, you earned your BFA at the California College of the Arts and your MFA from State University of New York at New Paltz. How have your background and education influenced your jewelry?
Sayumi Yokouchi: Time at both CCA and SUNY New Paltz was much about the exploration of ideas and materials. I remember that every day was filled with questions like "What shapes my ideas?" "What drives my interest?" "What is it that I'm making?" I became more aware of possibilities in different methods and materials around my practice. It felt almost like learning multiple languages all at once. It certainly influenced my way of working and allowed me to look at this field with diversity. As a result, I discovered a place where traditional approaches meet contemporary meanings in jewelry making, but it was much later that I felt more comfortable with this place—pushing the boundaries and questioning conventional aspects, yet maintaining a sense of the wearable.
Could you tell us what a day in the studio is like for you? Perhaps share your working process?
Sayumi Yokouchi: My approach to making starts with a continuous journey of material sketches. These are ambiguous in the beginning, and the thrill of handling materials makes me nervous and confused without having a clear direction. There is no beginning or ending in this process, but through a long yet humbling roller coaster ride of material exploration, hidden spaces between myself and materials are slowly revealed and new forms reveal themselves. I normally work on several pieces simultaneously as a small group. At this stage, there are many small groups on the table. Sometimes I have to stay away to distance myself from one group, so I move to another group. Pieces get reworked, destroyed, reconstructed—I go through many changes during this process, and suddenly, an answer to each piece happens between the transitions and changes. John Cage said, "Nothing is a mistake. There is no win and no fail. There is only make."
Landscape: Absence Is Present is filled with delicate floral and crystalline webs made with white thermoplastic. What inspired you to investigate the intersection between the organic and manmade?
Sayumi Yokouchi: Influenced by my urban Japanese upbringing, where manmade constructed nature was prevalent, this body of work explores "natural" as a theme both conceptually and physically. As nature effortlessly coexists in modern-day life for the Japanese, I cultivated my curiosity for the natural world. It is probably without my intention that this unique balance between real and artificial shaped my fascination toward designing something tangible and unusual in small wearable objects.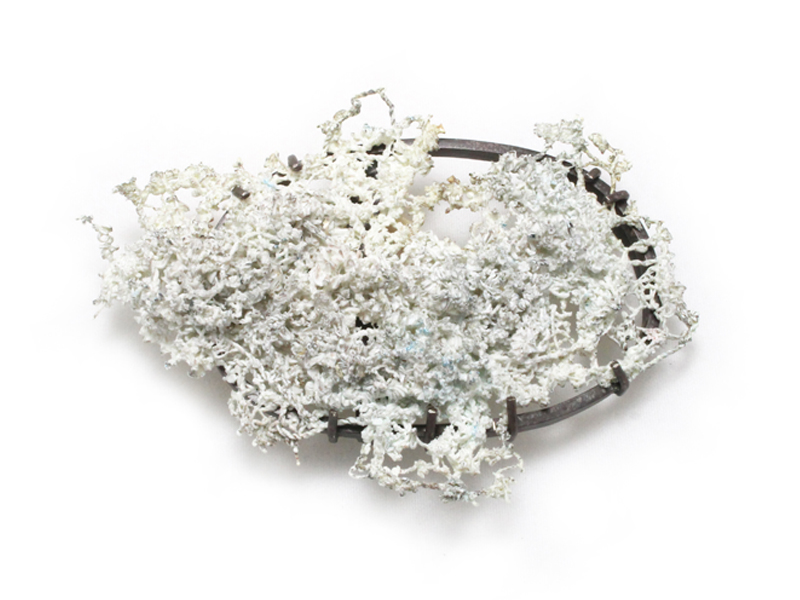 Your work often pays close attention to texture. Could you talk about your interest in texture?
Sayumi Yokouchi: Texture is an important element in my work. It acts like a bridge between the maker and wearer. When I see an artwork with a tactile quality, I'd like to touch it, of course. And through touching or observing the piece, it takes me closer to the artist. Such experience opens to new curiosity, imagination, sensibility, labor, the hand, and personality.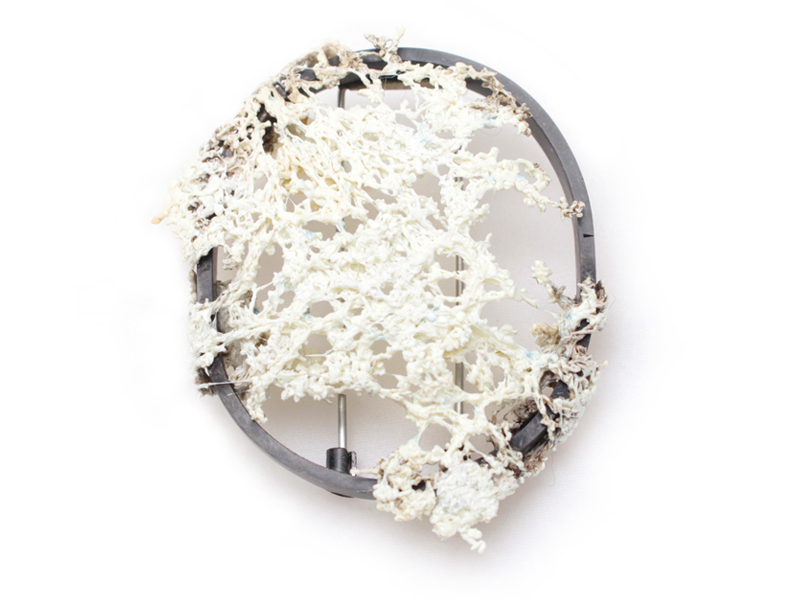 Many of the pieces in this exhibition are a curious combination of pure whiteness and discolored or burnt edges. How did you select this particular color palette?
Sayumi Yokouchi: The color white simply comes from the original color of the material. Choice of material is a choice of palette. This nontoxic synthetic organic substance is pliable or moldable above a specific temperature and it retains its shape and structure upon cooling. Seemingly rigid and persistent, yet quite delicate and sensitive to handle. During the process, very mild heat is applied to the surface, then it is molded or pressed into shapes. Difference in thickness and density of this material results in shades of unexpected natural beauty from artificial beauty.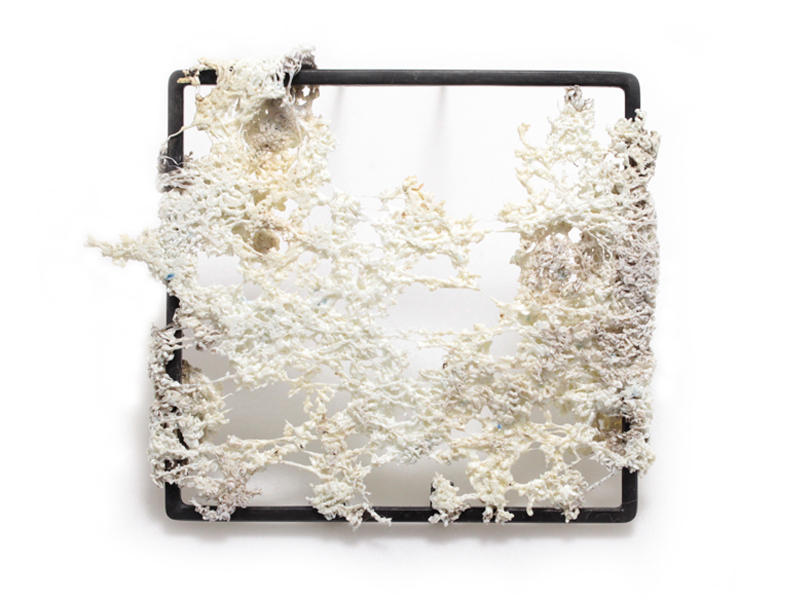 Have you heard, seen, or read anything of interest lately?
Sayumi Yokouchi: An exhibition of installation and sculptural work by Sarah Sze.
Thank you.
The work in Landscape: Absence Is Present ranges in price from $500 to $2,600