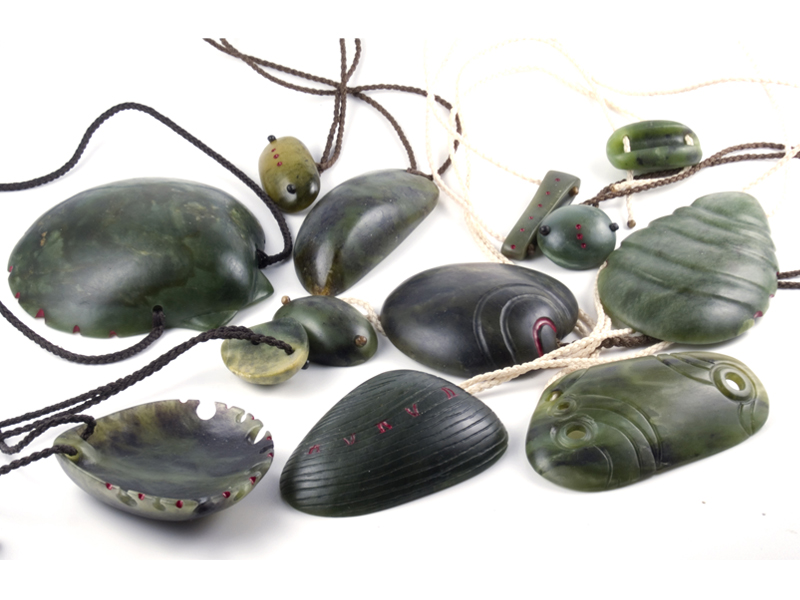 The smooth surfaces of Māori artist Neke Moa's sculptural stone necklaces are etched with undulating lines and embellished with red enamel. Moa's highlighted details give the impression that a red-hot vitality flows below the surface of her placid forms. On the occasion of her solo exhibition at Quoil, Moa shares the spiritual and ancestral connections that are intrinsic to her practice and her fascination with her chosen material: pounamu (Aotearoa jade).
Adriane: Where are you from, and where do you currently reside?
Neke Moa: Ko Takitimu te Waka (Takitimu is my canoe). Ko Heipipi te Maunga (Heipipi is my mountain). Ko Waiohinganga te Awa (Waiohinganga is my river). Ko Kahungunu te Iwi Matua (Kahungunu is my main tribe). Ko Ngati Matepuu, Ngati Whakaari, Ngai Te Ruruku nga hapuu (these are my sub-tribes), Kai Tahu, Tuwharetoa, Ngati Porou nga iwi katoa (all of my tribes). Ko Te Awakairangi ki Aotearoa taku kainga noho (Upper Hutt, New Zealand, is where I live).
You studied at Te Wananga-o-Raukawa and later Whitireia Polytechnic. What compelled you to pursue jewelry making as an area of study?
Neke Moa: I have been interested in body adornment since a young age, learning bone carving and collecting shells and stones as inspiration. My study at Te Wananga-o-Raukawa was a valuable time for uplifting my Maoritanga (Māori culture) through learning traditional art forms, Te Reo Maori (Māori language), Tikanga (cultural and spiritual beliefs) with Iwi (tribe) and Hapuu (sub-tribe) studies. Throughout this period, I discovered materials, developed design methodologies, and extended my creativity toward the body as my main focus of inspiration.
Whitireia was the stepping-stone toward my career and passion for the contemporary jewelry world. There, I was able to consolidate my skills and realize my dream of working with pounamu (New Zealand nephrite jade) and metal, and increase my skill as a jewelry maker.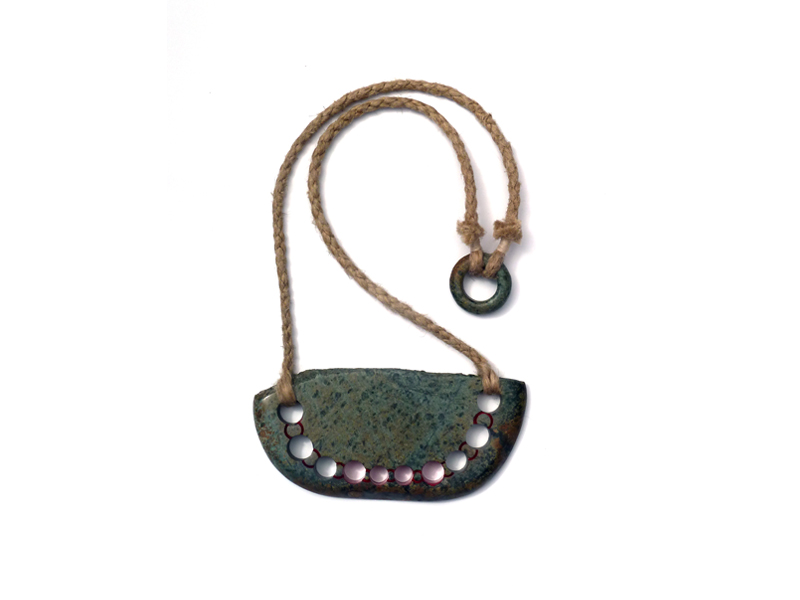 Your primary material is pounamu, a stone indigenous to New Zealand and which you describe in your artist statement as "culturally charged." Can you contextualize the cultural significance of this material and your use of it for our readers?
Neke Moa: As with many jade cultures around the world, the discovery of jade was a significant evolutionary step in the development of the indigenous culture here in Aotearoa (New Zealand). Before the arrival of the whalers, settlers, and colonists, pounamu was the most highly prized possession for the Māori people. It took the form of tools, weapons, and adornment, and was used as a trade item.
There is so much history and so many stories surrounding the stone. My use of pounamu comes from a spiritual and cultural connection and also a physical/metaphysical connection. I believe I am drawn to the material because of my whakapapa (genealogy) being affiliated to the Iwi (tribe) Kai Tahu—the Kaitiaki (guardian) of the pounamu resource. I am constantly intrigued and inspired, compelled, and perhaps slightly obsessed with the material. When I think I should stop and move on to another material, it draws me back and reminds me there is so much more to learn and discover.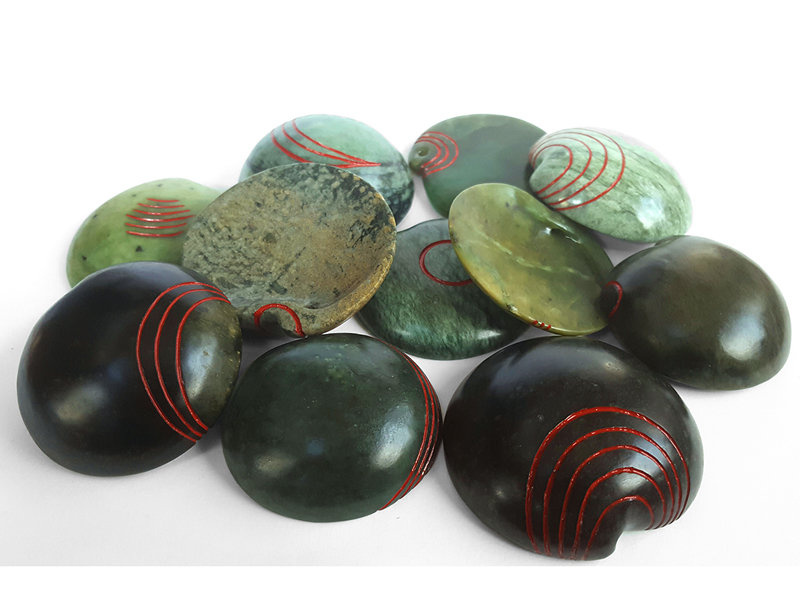 In what ways does the physicality of the material inform the work? How do your forms develop from the raw material to the finished product?
Neke Moa: It is only through working a material that you can discover its attributes and qualities. There are many types of pounamu, with different hardness, color, and quality. I am constantly inspired. My designs and concepts are often driven by the rock I choose. The stones I get are generally off-cuts from carvers, or pieces that carvers wouldn't necessarily use. I often work intuitively, but also at times work with a concept or design. I lean toward strong sculptural forms, using as much of the stone as possible. There is importance in how the piece feels and sits in the hand and on the body.
It is my understanding that stone carving is a traditional mode of Māori cultural expression. Does this factor into your practice or your forms?
Neke Moa: My techniques for carving have some traditional elements with design, symbolism, and using hoanga (hand-held grinding stones). I do however use electric machinery and diamond tools—therefore a less labor-intensive and traditional way of working! I want my forms to uplift the stone and the wearer and give a sense of belonging and connection to Aotearoa.
The negative spaces in your work are often highlighted by bright red enamel paint. Is there significance to this color? Why have you selected it?
Neke Moa: There are a few aspects to the color red and its use in my work. Looking back at some of the traditional Māori uses, for example, Hei Tiki Pounamu (Tiki pendants) had red paint in their eyes and later red sealing wax, a symbol of fierceness. These pendants are highly prized and traded as a commodity. Māori wooden carvings used red clay and shark oil. There have been other stone carvers who have used red and color in their work, so my inspirations have been many. I enjoy the contrast of red with the greens as a design element. I see the red as a connection to the earth and as my blood connection to Aotearoa as Tangata Whenua (indigenous). It also represents life force, ardor, and effort. The application of color is the final step; it energizes and brings the piece to life.
Some of the works, such as Nohu Puku and Tai timu tai pari, appear to be sculptural rather than wearable. What proportion of the displayed work is sculptural? How do you intend these objects to be used or displayed?
Neke Moa: I think the juxtaposition of shapes en masse is interesting. Although these pieces appear to be sculptural, they are all totally wearable, but often the suspension hole is unseen so they come across more as objects. It is up to the owner in the end whether he or she wears the piece, keeps it as an object, or does both.
That is what I like about making this style of work. Having a sculptural element to the work allows it to be displayed in multiple ways. If someone desires the piece to be worn as jewelry, a cord can be added and it then talks to the body. With my recent work at Quoil and Platina, I have experimented with displaying the stone as an object in a landscape, to highlight its origin as a river-stone. It is the interaction of people—holding, fondling, and contemplating the piece—that ultimately changes its role, purpose, and view.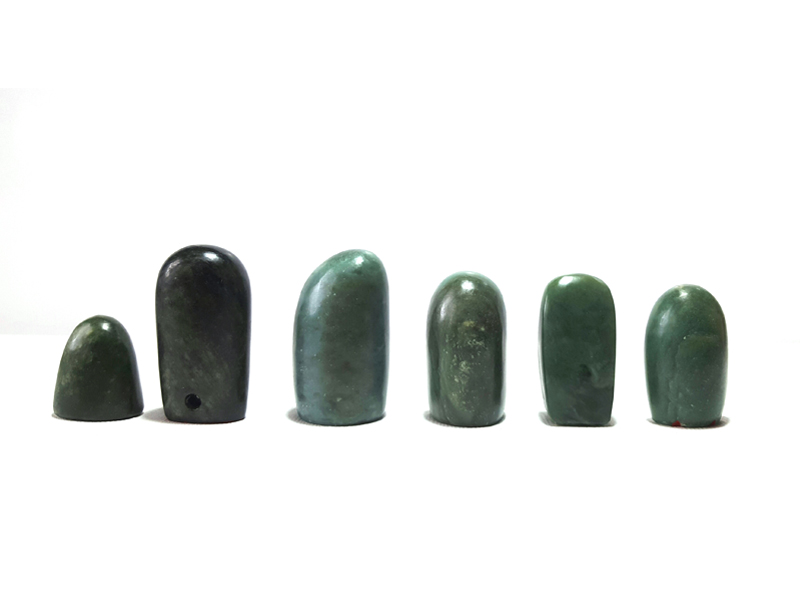 Our international readership may be relatively unfamiliar both with contemporary Māori culture and the history preceding the present moment. Is there pressure from visitors or non-indigenous New Zealanders to explain your iconography? Is a sense of Māori history and culture necessary for viewing your work? What do you hope audiences both in New Zealand and abroad will glean from viewing your work?
Neke Moa: If people are really interested in Māori culture, I believe they will do their own research as there are many perspectives in the history of Aotearoa. My work tells its own story and can be read without prior knowledge or depth of Māori culture or iconography. Being Tangata whenua (native) informs and influences my work. I draw knowledge and spirit from my ancestors. I want my pieces to be available for all people to contemplate and wear. The piece quite often chooses its owner and connects on an energetic and spiritual level. At the same time, my work is very much a journey, an exploration of ideas and stories within a contemporary context. It is an expression of my identity as Wahine Maori (Māori woman).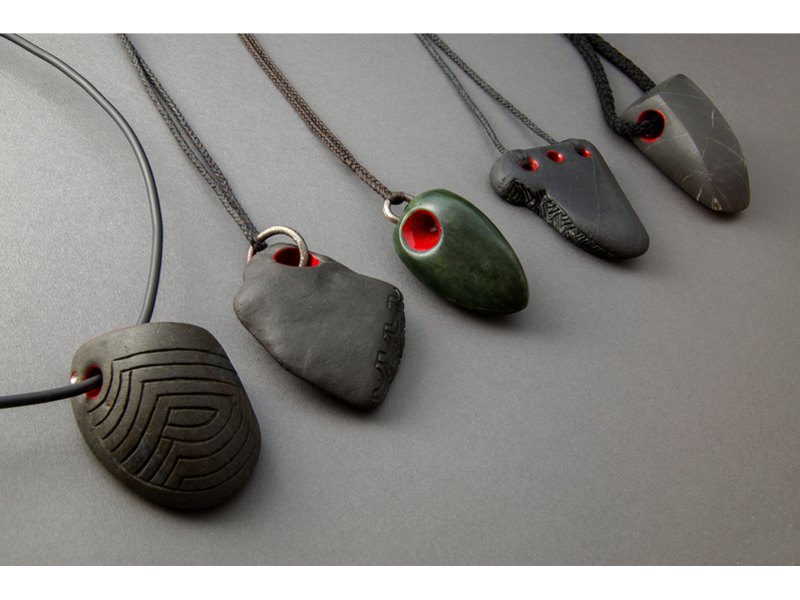 The titles for these pieces, written in both Māori and English, are rather poetic and evoke themes that are personal, such as Kainga (Home) and Hikoitanga (The Journey), and reference nature, such as in Tai timu tai pari (High Tide, Low Tide). Can you elaborate on the meanings and references of your titles?
Neke Moa: Titles reference stories, moments in time, places, ideas, feelings everyone can relate to on some level. It is part of my art practice to incorporate a sense of how I saw the work at that moment, how the stone transformed and developed its name. There are many levels that draw people to a piece: shape, form, feel, design, color, title, and story. Each stone and design is individual, but I will often work on a group if it is for an exhibition. I am inspired through my everyday, my environment, culture, people, language, political and social issues … anything that is current and I feel needs exploring.
In 2010 you were one of the selected mentees for Handshake 1, an inaugural mentorship program facilitated by Peter Deckers, and you chose to be paired with German-born, New Zealand-based artist Karl Fritsch. Why did you select Fritsch, and what impact did this experience have on your practice?
Neke Moa: I met Karl whilst I was studying at Whitireia NZ in 2004. He taught a casting class. I really enjoyed his creative and humorous energy. He allowed us to be free, make mistakes, and appreciate the ugly, blobby, weird, and unwearable. It undid my preconceptions of what jewelry was and how I should make and develop work.
So six years later he was on my short list of people I wanted to work with as my mentor for Handshake 1. We have become firm friends and the mentorship was a reciprocal adventure: working and learning together. He has given me the impetus to keep pushing and growing and developing work with fun and vigor. Luckily, he agreed to go the next round and do Handshake 3, which we are in the midst of now and which will be finished in August 2017 at the Dowse Art Museum in Lower Hutt, New Zealand.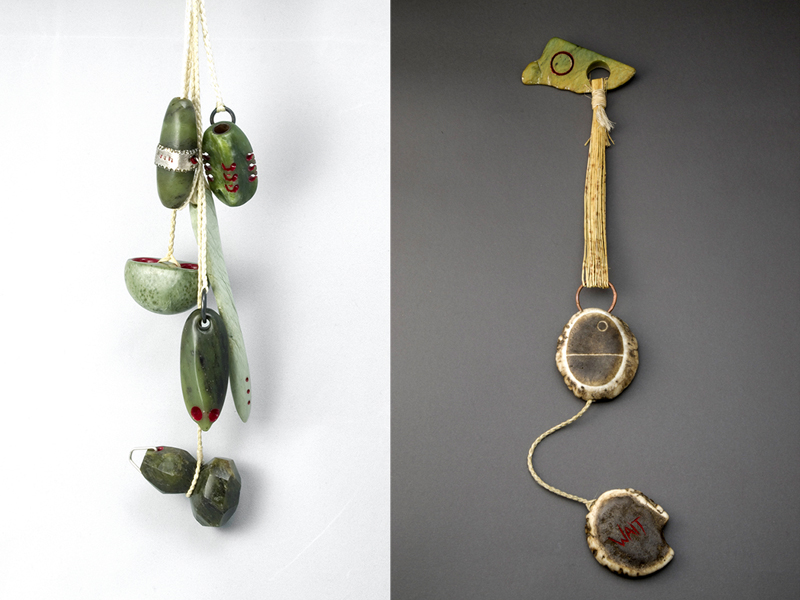 Who are some artists whose works you admire both within the field of jewelry and beyond?
Neke Moa: There are many, and for multitudes of reasons! Areta Wilkinson, staunch and passionate, a great female Māori role model. Kohai Grace, a skillful weaver and advocate for traditional Māori weaving. Tiki Taane, a singer and artist, he is entrepreneurial and talented, hard-working, with strong beliefs, and committed to doing his own thing outside of the mainstream.
What are you reading?
Neke Moa: The local newspaper. I like to know what's going on in the local community!
Works in the show range in price from NZ$600 to NZ$1,100.
INDEX IMAGE: Neke Moa, Kei hea te Komako e ko? (Where Will the Bell Bird Sing?), 2014, rings, pounamu (New Zealand nephrite jade), paint, 80 x 40 x 20 mm, photo: Spring Rees