AJF asked this year's five young 2016 Artist Award finalists to tell us a bit about their backgrounds and their thoughts on the future of the art jewelry field. Their work represents a group of outstanding pieces of contemporary jewelry. This is the fourth of five interviews.
For this, the 15th annual AJF Artist Award, the jurors were Philip Clarke of New Zealand, inaugural director of Objectspace; 2014 Artist Award winner Seulgi Kwon, from South Korea; and AJF board member and collector Susan Kempin, who is from the United States. The jurors met in December and selected the following five finalists for the 2016 AJF Artist Award: Lynn Batchelder, Seth Papac, Carina Shoshtary, Aric Verrastro, and Timothy Veske-McMahon. The choices were based on originality, depth of concept, and quality of craftsmanship. These artists were all under the age of 35 at the time of the application deadline.
There will be an exhibition of the five finalists' work at Platina's booth in the International Trade Fair hall in Munich, in the Frame area surrounding Schmuck.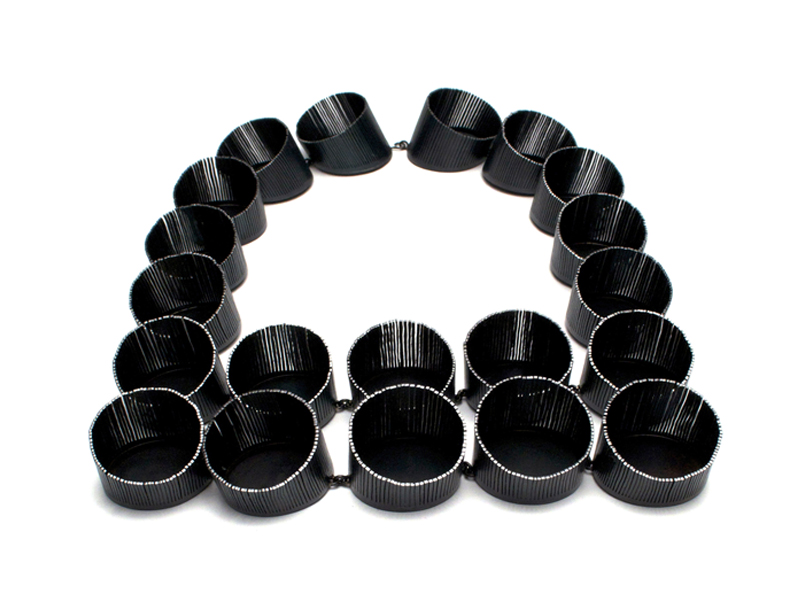 Bonnie Levine: Congratulations on being one of the five finalists of the 2016 Artist Award competition—that's quite an accomplishment! How did you become interested in jewelry, and what inspires your work?
Lynn Batchelder: When I took my first jewelry course as an undergraduate student, I had a natural tendency toward repetition, scale, and the permanence of the material, metal. I was immediately prompted to question what exactly jewelry could be, and when I broadened the definition, endless possibilities seemed to come to light. Of course this is a space I am still digging through. I also learned quite a lot about the power of jewelry through creating it and intimately learning the techniques by which it has been traditionally crafted.
The ability to make something precise and perfect initially drew me in, yet challenging this control has become a question in my current work. I am inspired by processes through metalsmithing and drawing that create limitations to challenge logic and control. I am intrigued by the relationship between two-dimensional drawing and the possibilities and curiosities that emerge when it is translated into three dimensions.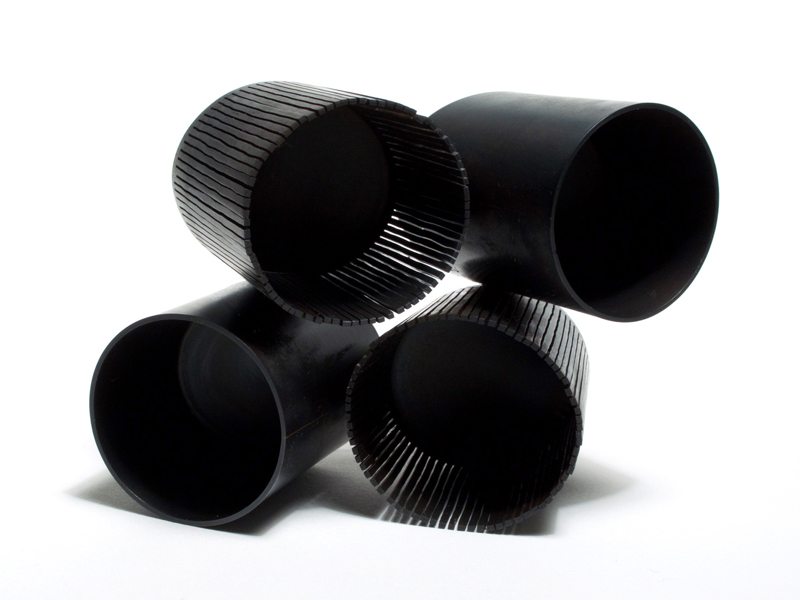 What does being a finalist mean for you? Do you think it will influence you in any way?
Lynn Batchelder: I've been taught to be an artist who creates work without expectations of recognition or success. I often create work that does not beg to be seen; it is subtle, small, and a bit quiet. With that said, being a finalist for this award is an unexpected honor and I am quite happy to have this spotlight on my work.
I am particularly delighted to be exhibiting among the other finalists with Platina Gallery during Munich Jewelry Week. This platform will certainly further the visibility of my work and open communication with an international audience.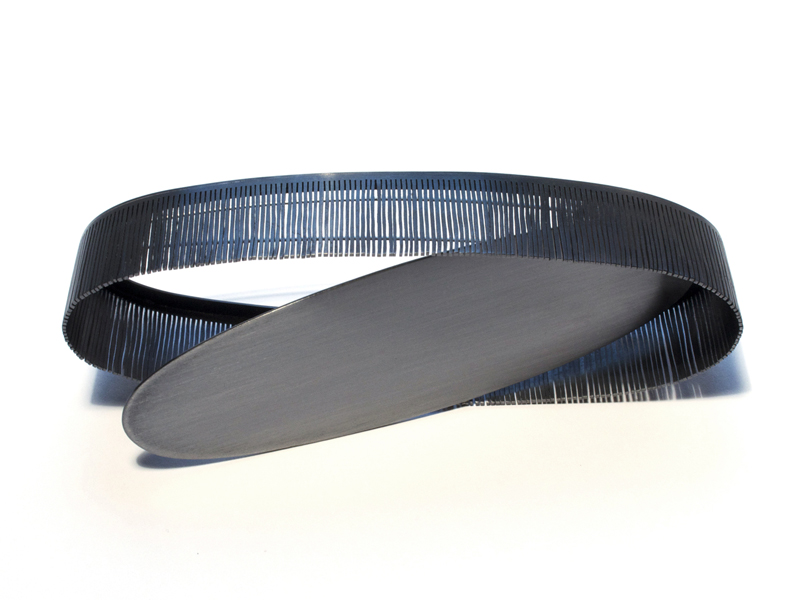 Where do you think the art jewelry field is going?
Lynn Batchelder: The jewelry field is certainly becoming broader. Those getting a degree in jewelry pursue projects and opportunities extending beyond the body. I think the way we contextualize and exhibit jewelry work is becoming increasingly more important and more deeply considered.
What excites you about the art jewelry field?
Lynn Batchelder: During my time in the field I have seen it expand in many ways: through new materials and processes, forms of documentation and exhibition display, a growth in critical writing and publications, etc. Due to this rapid change, the field of contemporary jewelry continues to feel fresh and new.
There is something exciting about the open-mindedness of our field. When the field is in flux, there is opportunity to actually contribute to the direction of that movement. In this way it feels accessible, which is especially important for emerging artists and students who want to be a part of the current conversation surrounding art jewelry.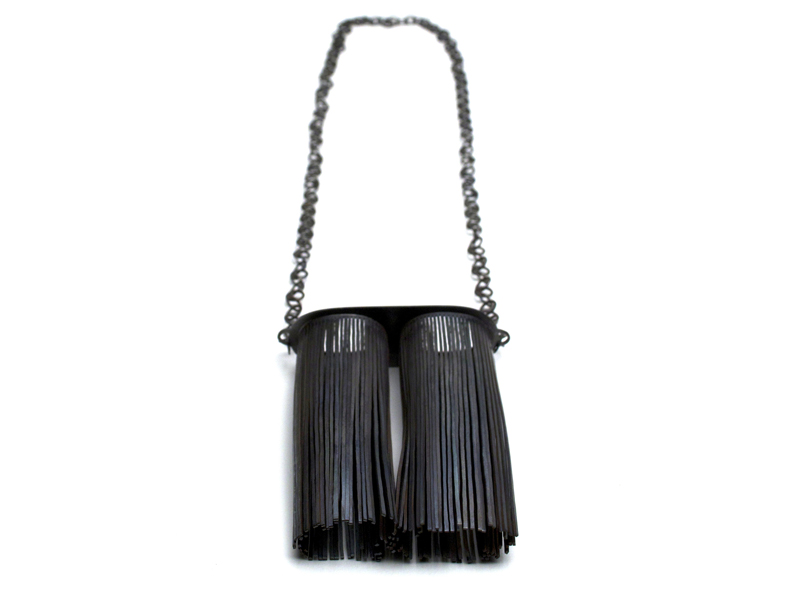 What frustrates you about it?
Lynn Batchelder: We often interact with contemporary jewelry as an image. I envision the piece as it will be viewed at a distance, in exhibition or through photographic documentation on the screen. I am always taking a step back to make sure I am clearly considering the body. There is a lot of deep conversation revolving around wearing and jewelry's unique ability to interact with the wearer. Writing on art jewelry tends to speculate that someone will be physically engaging with the work, yet much of the work being made is not really being worn. Of course this is a frustration that is also rooted in the art jewelry market. Who is wearing this work? Will it ever live the life we intended?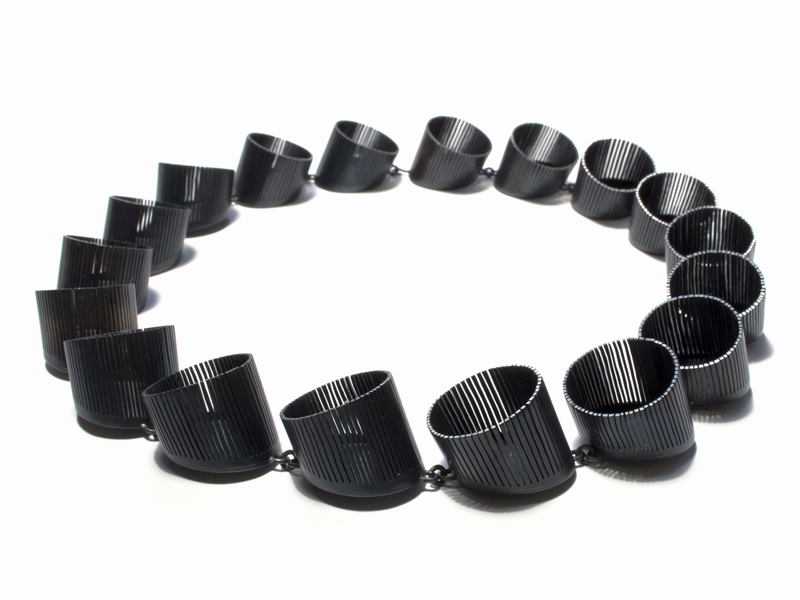 What do you think your direction will be five years from now?
Lynn Batchelder: It is important for me to make pieces that can be worn but are created and understood within a larger context, in this case, the drawing page. The two-dimensional aspect of my work will continue to be a source of investigation, process, and content, and I intend to find new ways to develop this relationship going forward.
Thank you very much.