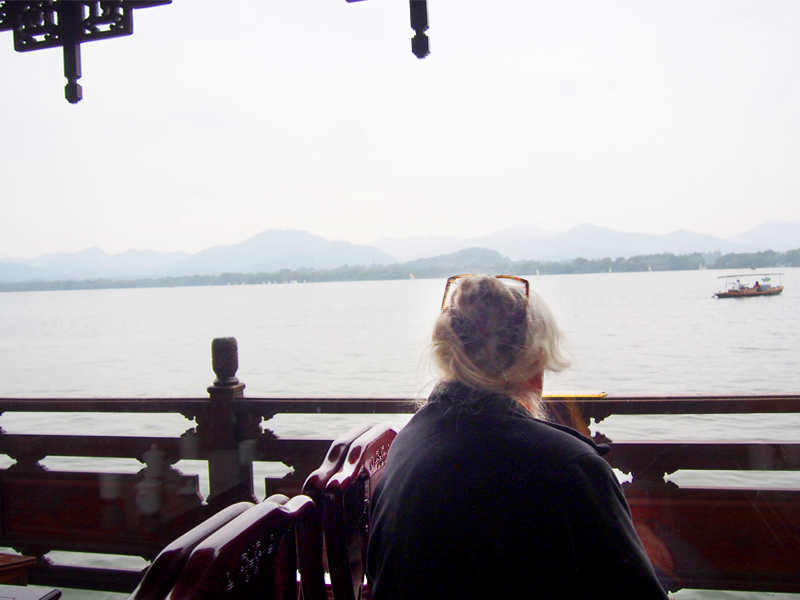 Photos by Kellie Riggs, taken during the Hangzhou Contemporary International Jewelry and Metal Arts Triennial 2015—China Academy of Art
Mary Lee Hu is one of the first American goldsmiths most jewelry makers learn about. She was for me, anyway, and being from Seattle like her, it was strange and wonderful to meet for the first time in China, halfway across the world. But China is not new to Hu. As we sat together on a group boat ride on Hangzhou's scenic Westlake, she told me of her many adventures to Asia. They started in the 1970s with a two-year trip to Taiwan after her marriage to Tah-Kai Hu, who was born in Chunking. Though he sadly died suddenly shortly thereafter, Hu studied the language, culture, and cuisine of China. Then, in 1973, traveling westward from Asia with her father, she saw 15 countries during the course of three months. And a year and a half later they were off on another trip, this time to Bhutan in tow of a tour guide who not only had climbed Mount Everest, but was old friends with a very important person in a small country nearby, just north of India. "Under a beautiful embroidered tent behind the palace, sitting at low carved and brightly painted tables, we had beer and potato chips with the king of Sikkim. It was only about a month later that India marched into Sikkim, put the king under house arrest and annexed Sikkim." Had they not gone when they did, she never would have had this rare experience. This story is an example she often uses with her students when speaking of opportunities that one should simply take. Like in the story, these open windows often close quickly.
And that's the attitude she's kept ever since, as made apparent in her more recent trips to Chiang Mai, Thailand, to find Miao silver jewelry, for example; to Kaili, Guizhou, to visit village craftsmen; to Taipei, Beijing, Shanghai, and Hangzhou to lecture and give workshops. It seems there's always something bringing her back to China again and again. Mary does not let windows close.