Lawrence Woodford's show, Way Finding at the L. A. Pai Gallery in Ottawa is an expression of his poetic love of nature and the stones that represent it. Held in place with a jewelers prong these rough rocks depict his ideas of utopia.
Susan Cummins: Lawrence, in your statement about this show, you say it is about your "endless search for paradise on earth." Can you describe what would constitute paradise for you? How would it look, sound, smell, and feel?
Lawrence Woodford: It would be wide-open spaces, wild valleys of trees, fragrant flowers, lakes, and rivers, with mountains, rocks, and caves. It is silent, but not, where an orchestra of birds and wildlife intermingle with whistling winds. That being said, paradise is a place that allows you to see what can be. Where you focus your energy, where you put roots down and transform your surroundings and space into what works for you. After much travel, research, and my endless seeking of a far-off utopia, I would surmise that paradise is anywhere and everywhere—you just need to have vision to see it and make it. Similarly, a place can be hell if you let it.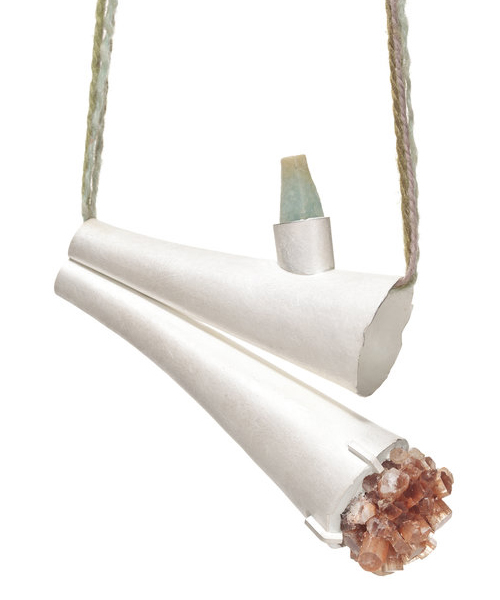 The title of your show, Way Finding, would indicate that you are very interested in geography as some kind of metaphor. Have you ever studied it formally?
Lawrence Woodford: I have never studied geography, although I have lived in and traveled to many places around the world. Many pieces in this body of work use places as titles. The reverie that these locales incites permits the viewer to travel. Wanderlust is the metaphor for the geographical influence. The idea of farsickness, the opposite of homesickness, has always had a special draw for me.
Besides being interested in geography, you have expressed interest in ecological concerns of recycling. How has this issue played itself out in your work?
Lawrence Woodford: I have been interested in nontraditional media for several years now, and during my MFA worked with someone I like to call "The Queen of Alternative Materials," Rebecca Hannon, as my studio advisor. She was very generous with her knowledge; this allowed me to develop techniques that convert a variety of materials that I collected and began to experiment with. Wood laminates, composite materials, and raw slabs of gemstones were (and are) main areas of focus for me. Transforming these materials establishes a new value system, one that is more elusive than intrinsic monetary worth and examines visual tropes and artifice.
One of my assignments during my MFA from Rebecca was that I was forbidden to use anything other than paper, tape, glue, and staples to complete a study of 100 samples. As someone who adores metalwork and fabrication, this restrictive framework pushed me creatively into new realms while deepening my exploration of a sole material.
The stones you are using in this series are very large and chunky and for the most part seem to be in their natural state. Why are you using stones this way?
Lawrence Woodford: A huge love of mine is geology, and the subtle nuances and gradient shades of color found on the surface and edges of the disparate slabs I incorporate are a kind of diagrammatic maquette. Using them this way, in a compilation/collage, illustrates an improvisational quality and characteristic of this work. This collection of stones, composite materials, and ethically sourced metals is like aerial views of landscapes or cartography. The lines, colors, and imperfections reference the roads traveled. Fabricating metal structures and integrating them with these large map-like materials, according to color, pattern, and shape, introduces an aesthetic I call "Future Primitive."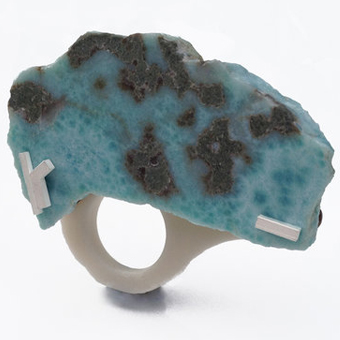 Who inspires this work?
Lawrence Woodford: The inspiration for this work is more of a "what" inspires this work, as opposed to who. The trajectory of Way Finding comes from books by Kerouac, Steinbeck, and Birnbaum that address concerns of place. It also stemmed from three pieces entitled Found Object Series, which were the genesis for Way Finding. When I was invited as a guest artist/lecturer at the Sydney College of the Arts, I was introduced to other artists who were sourcing materials from Reverse Garbage, an environmental cooperative that promotes sustainability and the reuse of industrial discards. I would add that I always responded to the work of Iris Bodemer, Karl Fritsch, and Luzia Vogt.
What is the story behind how you became a jeweler?
Lawrence Woodford: Before doing my college degree, I spent the years from age 17 to 21 studying to become a Vaishnava Brahmin priest in India, something that makes up a huge part of who I am even today. And I hold all the traditions, ritual, and custom from that time very dear. That is another interview in itself… At any rate, I had the chance to watch and learn from metalsmiths in India and Nepal, as I was always interested in adornment and any kind of ornamentation, really. I wanted to make jewelry, and learn about craft history, and so when I moved back to Canada and went back to school, I knew I wanted to go into jewelry and metalsmithing. I completed my degree and had the good fortune of winning a substantial award, receiving my first research grant from the Quebec Council of Arts and Literature, getting a teaching gig, and getting gallery representation from Galerie Noel Guyomarc'h, all within my first year of graduating. I went on to continue exhibiting and getting published for the next few years before going back to school to complete my MFA so that I could eventually teach at the university level.
What are you reading, seeing, or hearing that you would like to recommend?
Lawrence Woodford: Oh gosh, so many things to choose from! I love reading; I always recommend anything by Jack Kerouac. I recently picked up Walt Whitman's Leaves of Grass at a secondhand bookstore and love the imagery of his writing. The Spell of the Sensuous by David Abram. My tastes are incredibly variegated and I enjoy the philosophical musings of Alphonso Lingis as well as reading ancient Sanskrit texts from my tradition.
As for listening, it ranges from electronica to folk and bluegrass, jam bands as well as kirtan. I was introduced to the music of Appalachia when I taught last summer at Penland School of Crafts in North Carolina, and was incredibly moved by this genre of music. The instruments and sounds are very arresting. Although it's entirely different from the devotional music of India, it evokes the same reaction in me and brings me back to that type of music, which I have heard throughout my life.
Thank you very much!