AJF is pleased to publish a discussion of gifts and loans with Kelly L'Ecuyer. Kelly is responsible for moving the gift of Daphne Farago's jewelry collection into the care of the Museum of Fine Arts, Boston, and holds the title of the Ellyn McColgan Assistant Curator of Decorative Arts and Sculpture, Art of the Americas. She was interviewed by AJF founding member Susan Cummins in 2007.
Susan Cummins: Kelly, can you tell us the story of how Daphne decided to put together a jewelry collection?
Kelly L'Ecuyer: Daphne collected American folk art for many years before turning her attention to studio craft and especially studio jewelry. She has always loved things that are handmade and that reveal the individuality of the maker. So, in a way, the transition from folk art to contemporary studio craft was a natural progression in her collecting. She has told me that she began collecting artist-made contemporary jewelry in about 1989, beginning gradually with the work of a few artists, like Bruce Metcalf or Mary Lee Hu, whose work strongly appealed to her. As she continued to learn about the field, looking at new work, visiting galleries and museums, always looking for the best quality works, she broadened her reach until her collection comprised more than 700 objects by well over 200 artists.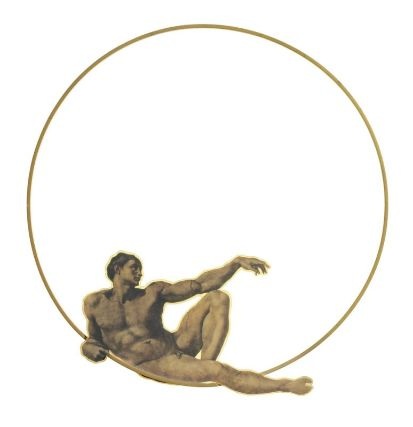 She has always sought excellence and works that give her 'joy.' I think that sense of pleasure and personal connection to the work has always been her foremost criteria, in part because she really wears this jewelry on a daily basis. She feels that it is the collector's role not only to buy the works of living artists, but to help carry their ideas and their message to the world by wearing this art in daily life. This idea of wearing jewelry to make it a kind of public art guided her collecting in that she tended to acquire works that could actually be worn, at least for short periods and that relate to the body in a meaningful way. She generally avoided works that veered into performance art, like some of the more radical experiments of the late 1970s. This is not to say she avoided provocative jewelry
– she collected daring pieces like Jan Yager's crack vial necklace
– but the basic relationship of jewelry to the wearer was important to her.
Daphne is a true collector with an extraordinary eye for quality. She sought out works that represent the best of a particular jeweler's production. In other words, she didn't buy a lot of minor works in order to collect important 'names.' So many artists I've spoken to have said to me in more or less these words: 'Daphne only wanted our best work.'
Did she know she was putting together a 'museum-quality' collection from the beginning? Did she seek advice from curators?
Quite early on in the process of building the collection, Daphne decided that she wanted to form a collection that a museum would want. I am most impressed at how thoroughly she educated herself: by looking at jewelry, by reading, by talking to curators and dealers and jewelers. She was incredibly active in this regard, always curious and engaged and fascinated with the field. She took advice from a number of dealers and curators who helped put her in touch with jewelers and helped her evaluate works for acquisition. She knew how to seek help from trusted advisors so that she could make good decisions.
She really did her homework and this is evidenced by the tremendous library of jewelry books and catalogs she amassed and gave to the MFA along with her collection. There are a couple hundred publications, mostly museum exhibition catalogs and rare, out-of-print gallery publications and they are all marked up with her notes about pieces she purchased or considered purchasing. They are a librarian's nightmare because they are full of post-it notes and marks in the margins, but they are a curator's dream.
Along with all these publications, she kept meticulous files on each artist and work of art in her collection, with all her invoices, receipts, correspondence and magazine clippings. Again, this kind of record-keeping is a curator's dream and it shows her thoughtful and intelligent approach to forming a museum-quality collection. If there is such a thing as a professional collector, Daphne would be it.
What are your plans for the Farago collection in the future?
The exhibition was organized quickly, in museum terms, opening just about a year after we acquired the collection. We are in the unusual position of opening the exhibition sooner and publishing the catalog later, so that we have more time to do research for the catalog, which will be published in 2010. The book will place this jewelry in a broader art historical context and trace the history of studio jewelry in the twentieth century. In the meantime, the MFA's entire collection, including the Farago jewelry collection, is accessible on the Museum's website. You can go to 'collections/advanced search' and put in an artist's last name to see our cataloging records at any time. Not all the images are available yet, but they are published on the web as quickly as objects are photographed and our rights and licensing department can get permission from the artists and copyright-holders.
The jewelry from the collection will be displayed in the future in several different ways. The MFA is building a new American Wing, to open in 2010 and selections of modernist jewelry will appear in our gallery of art of the 1940s and 1950s. This will put the work of jewelers Betty Cooke, Paul Lobel, Art Smith and others in a gallery with abstract paintings and sculpture, Eames chairs and other art and design from the period.
An exciting development occurred last fall, several months after we acquired the Farago collection, when one of our trustees, AJF member Susan Kaplan, endowed a jewelry curatorship. Yvonne Markowitz, who has been with the MFA for many years in the ancient Egyptian department, was appointed curator of jewelry. She has general oversight of jewelry across all departments of the museum and in 2011, when the MFA's west wing is renovated, she will install a new gallery devoted to jewelry from all cultures and time periods. Some of the Farago collection will be featured in that gallery along with jewelry from other areas of our collection.
With the current exhibition and its extensive brochure, our website, the Farago lecture series and the future gallery installations, we feel that we are presenting studio jewelry to the widest possible audience
– and that is what Daphne has wanted all along.