Homer, Alaska, is a fishing and art community near Bristol Bay. The vast and breathtakingly beautiful Bristol Bay ecosystem is home to immense fisheries, the world's largest concentration of brown bears, massive herds of caribou and countless species of migratory birds. Homer is where jeweler and conservation advocate Rika Mouw lives. As Rika ends her term on the AJF board in 2007, we invited her to share with us her thoughts about collecting and images of her favorite pieces. Rika was interviewed, via email, by Sally von Bargen.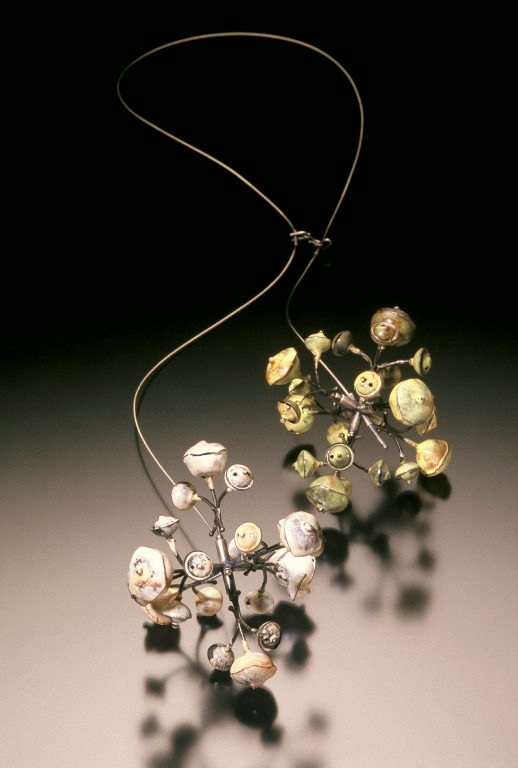 Rika Mouw: I first learned about AJF in 1999 through a notice in Ornament magazine about an upcoming art-jewelry collector's trip in San Francisco. I contacted the then president, Sharon Campbell, about the trip. It was exciting to learn there was actually a group of people who sought out art jewelry, were serious about learning more about it and collecting it. I felt like the trip was planned just for me. Being a member of AJF has been enormously enriching for me on many levels. I have gained meaningful friendships, met interesting, wonderful people who share my passion. The yearly trips have broadened my experience of the art-jewelry field and taught me more than I could have imagined. Not only about art jewelry, but its support network of universities, museums, galleries, collectors and dealers. I have been exposed to art in different parts of the world that wouldn't have been possible otherwise.
Art jewelry lovers often have an 'aha-moment,' a specific recollection about how they discovered it. Will you share yours?
I first became aware of art jewelry in the mid-1980s when I attended the New Art Forms Expo before it became SOFA. I was drawn to the Susan Cummins Gallery booth where I experienced an 'aha-moment' right then and there. I remember seeing Pat Flynn's work with his use of rusted steel set with diamonds. From that experience I viewed jewelry as an art form and have been drawn to it ever since. Thank you, Susan, for being there and opening up this world to me!
What do you enjoy most about art jewelry?
I am a hopeless art addict. What I love about art jewelry is that its scale allows me to wear it as well as display more of it than most other art forms. I love that I can wear art and make a statement. I often wear particular pieces for specific occasions in order to create dialogue. I particularly enjoy that art jewelry has a 'voice' and I love using it in that sense.
Tell us about your collection and how it developed.
As a maker, I started purchasing old ethnic jewelry and rare beads about 20 years ago. I purchased pieces that caught my design sense, but it never occurred to me to 'collect' per se. During my first AJF trip in 1999, the idea of 'collecting' materialized for me. My collection has developed and changed through my exposure to the AJF trips over the years. It has grown quite a bit and somewhat eclectically. It is a collection that is now primarily contemporary work that includes pieces by well-recognized artists, as well as emerging jewelers from all over the world. I am intrigued with the inventive uses of organic materials, so I have many pieces made with wood, paper, plant materials and fibers. Most pieces have a 'voice' that resonates with me. Others works are pieces made by artists I know and admire, making them important to me to have in my possession. It is not a particularly large collection, perhaps 50 pieces, but each one has special meaning to me.
Do have a long term plan for your collection?
Because my collection is as eclectic as it is, I do not see it as one that will stay intact. Several pieces I intend to be given to appropriate jewelry collecting museums. Other pieces will likely go to other private collections. Several pieces are promised to friends.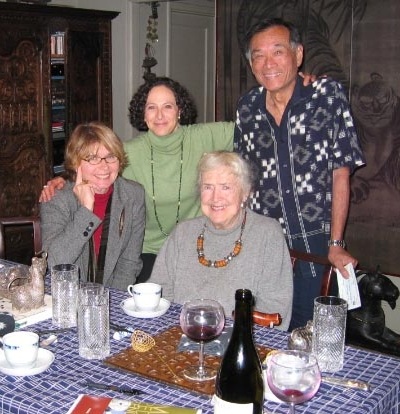 As with anything, I think the more informed you are about your subject matter, the better choices you will make and the more you will gain out of the experience. Collecting is educational and it is truly enjoyable. It is a journey, actually. No matter the size of one's collection, I think it is a good idea to keep as much information about each piece as possible. A file with this information will always be helpful either to yourself or whoever your pieces will be passed on to. Have fun with it. I just have to say that for any art jewelry collector, AJF is a great place from which to learn, share and interact with others who have this passion. Art jewelry 'speaks' and I guess I love the sense of voice it projects, wearing it connects me with the maker and my 'art tribe.'
Tell me about this photograph you sent us.
The picture was taken in March of 2005 when Nancy Warden had her fabulous solo show at the William Travers Gallery. I was in Seattle for the opening. Ramona Solberg had recently gotten out of the hospital from her heart surgery and was able to socialize on a limited basis. She very much wanted to attend Nancy's opening but was not strong enough for that, but we decided to get together for a special dinner at Ron Ho's house. It was a very special time. Ramona even made the dessert. If my memory serves me right, it was her famous strawberry cream pie. Ron and Ramona have a long history together and of course, Nancy has a long connection with Ramona as well.
A memory worth sharing. Thank you.