Art Jewelry Forum's Young Artist Award (YAA) is an opportunity for jewelers under the age of 35 to win recognition for their work and receive support from AJF's community. Along with the unrestricted $7,500 prize, the winner's work will be shown at the 2020 edition of Schmuck, and the other four finalists will have the same opportunity to show in Munich, exposing their work to a more global audience. The deadline to apply is looming! Applications are being accepted until January 12, 2020. Get guidelines and information.
Jorunn Veiteberg is one of the three jurors for the award. She's a powerhouse in the contemporary jewelry field, having effortlessly traversed roles such as a curator, professor, art historian, head of exhibitions, writer, and more. Veiteberg has also worked as the head of arts at Norwegian Broadcasting/Television and was a member of Arts Council Norway for many years. The author or editor of more than 20 books, Veiteberg is currently working on a new book, The Jewellery Box, which is about her jewelry collection and covers 50 years of her life, from 1969 to 2019. The book is slated for publication by Arnoldsche in 2021.
Olivia Shih: What will you look for when jurying the AJF Young Artist Award? Do you have specific criteria in mind?
Jorunn Veiteberg: No, I will try to be as open-minded as possible.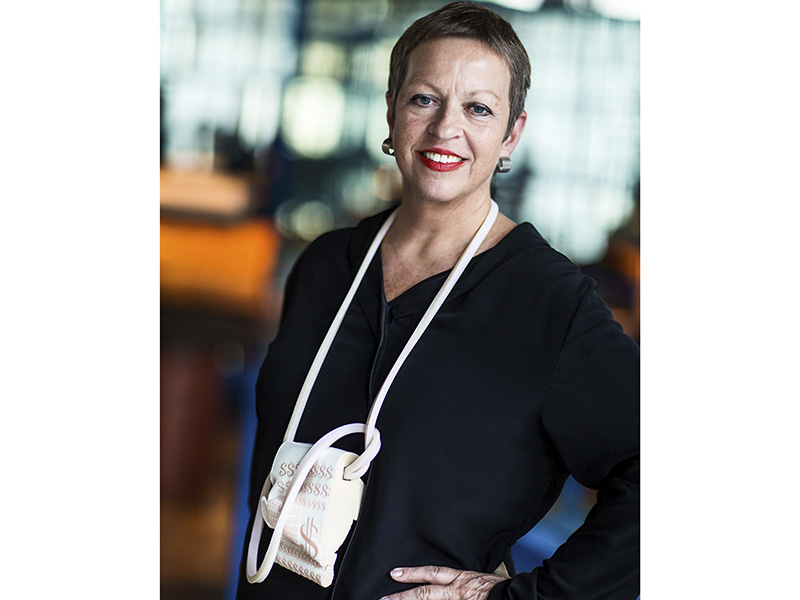 RELATED: Jorunn Veiteberg as Juror for Schmuck 2014
RELATED: The Widespread Liberation of Jewelry, a Video Lecture by Jorunn Veiteberg
RELATED: Jorunn Veiteberg on these are a few of her favorite things
Your private art jewelry collection was showcased in an exhibition, these are a few of her favorite things, at the Nordenfjeldske Kunstindustrimuseum, in Norway, in 2018. What do you look for when collecting jewelry for yourself?
Jorunn Veiteberg: I don't have any fixed criteria or a plan. I buy what I fall in love with or feel challenged by. Sometimes I buy jewelry to cheer me up, other times I'm intrigued by a conceptual piece that stimulates me intellectually. Photos and objects about jewelry are just as interesting as wearable pieces. But humor is always a plus.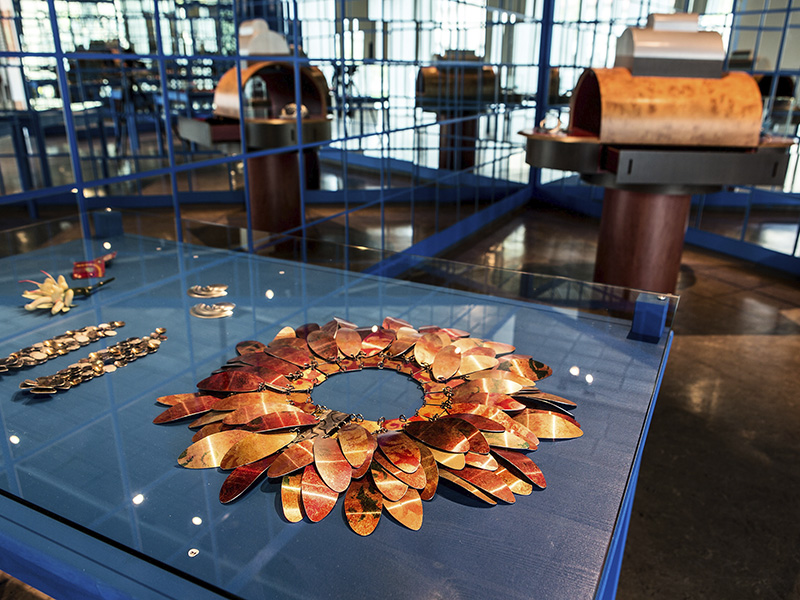 The art jewelry world can appear insular and exclusive at times, and you've worked hard to promote the field as an educator, writer, and even as the chair of the board of Norwegian Crafts. What methods have you found to be the most fruitful in introducing art jewelry to a wider audience?
Jorunn Veiteberg: The most important method is to actually wear the jewelry. I always get a lot of questions and comments from all kinds of people. Jewelry works perfectly as a conversation piece. Exhibitions are very important for building the field, attracting media attention, and selling. To reach a wider audience is, however, a hard job for everyone working with contemporary art. Perhaps exhibition makers should more often mix old and new jewelry, cultural stuff and art jewelry? This was done in the Medusa exhibition at the Musée d'Art Moderne de la Ville de Paris in 2017. It attracted a much bigger audience than the usual fine art exhibitions held in the same institution.
As a mover and shaker in the art jewelry field, what drew you to this art form in the first place? In your experience, what differentiates jewelry from other types of art?
Jorunn Veiteberg: In the 1980s I worked as a curator at Hordaland Kunstsenter in Bergen, Norway. My responsibility was contemporary fine art, but in January 1986 the gallery showed an exhibition with almost 100 pieces of art jewelry from the collection of the Nordenfjeldske Kunstindustrimuseum. This was one of the first exhibitions of international art jewelry in Scandinavia, and it included works by Otto Künzli, Paul Derrez, Emmy van Leersum, and Marjorie Schick, to mention a few. The exhibition got a great response in the media and from our visitors, and to me it was an eye-opener. The playfulness in choice of materials and the will to question traditional values especially appealed to me. But there was also another aspect that spoke to me, which hopefully is also an answer to the second part of your question: As an art historian I was at that time especially concerned with visual culture in a broad sense—advertising, photography, posters, and other typical images spread via mass communication. In art jewelry I discovered an avant-garde art form with the potential to become part of people's daily lives. By using the jewelry, the wearer moves across the divide between private and public spheres and brings the jewelry around to different environments. I loved the term "wearable art," which Susanna Heron came up with in the early 1980s.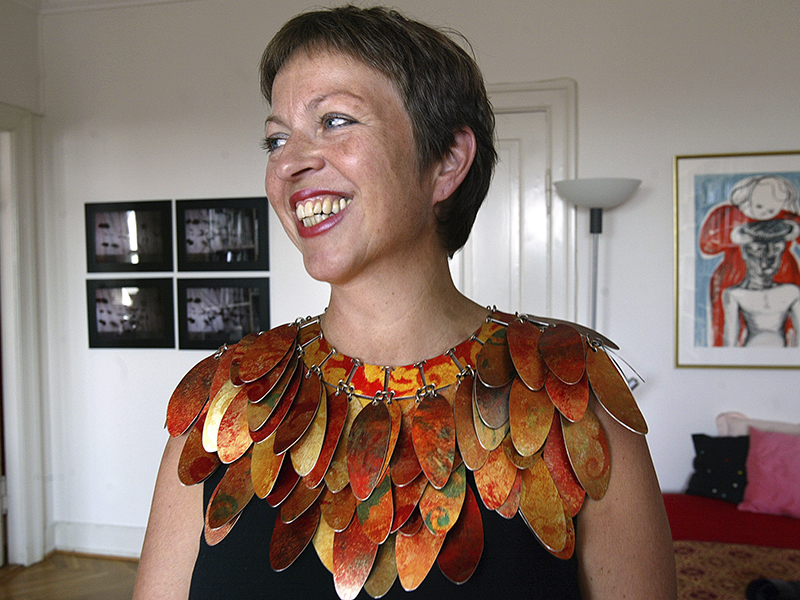 For your Magister Artium (a degree equivalent to a PhD) in art history from the University of Bergen, you wrote a thesis titled Kunst og kvinnekamp (Art and Feminism). Do you find jewelry to be a good platform for political and feminist issues? Why, or why not?
Jorunn Veiteberg: Lots of conventional jewelry confirms stereotypical gender roles, but art jewelry offers a different approach by subverting conventions and asking critical questions. Lots of art jewelry works as a statement for individuality and freedom. Many wearers feel empowered by their jewelry, and that goes for me, too. So, yes, jewelry can be a good platform for feminist issues, but it can also be the opposite.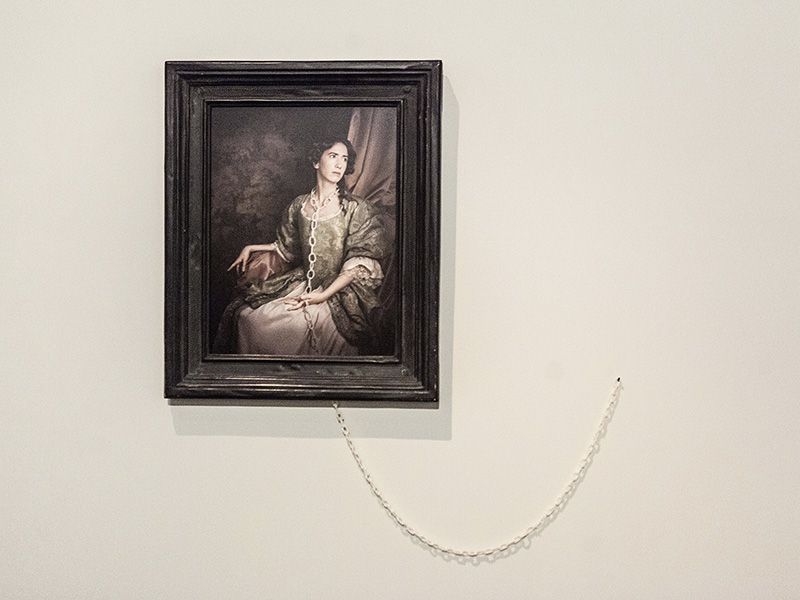 Art historian, professor, editor-in-chief, writer, curator, collector, and ardent supporter of art jewelry. These are a few of the roles you've played in your storied career. Has one role risen to the top in recent years? Do you identify most with one role?
Jorunn Veiteberg: Today I define myself as an independent writer and researcher.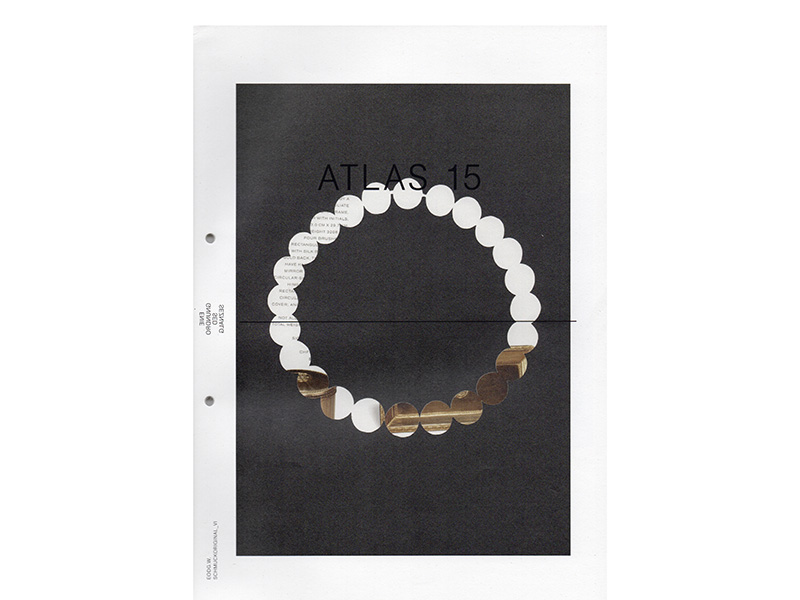 After moving to Denmark from Norway, you sought out and became friends with Kim Buck. Can you share with us how your friendship started and flourished?
Jorunn Veiteberg: He has a studio and shop centrally located in Copenhagen, so it was very easy to just drop by and chat. He's very curious when it comes to new technologies. It was in his studio that I first became familiar with the laser cutter and 3D printer, so I learn a lot from him. Early on, he commissioned me to write texts for catalogs or press releases, and later a book. Through our many conversations, we gradually became close friends. He's good company. It's as simple as that.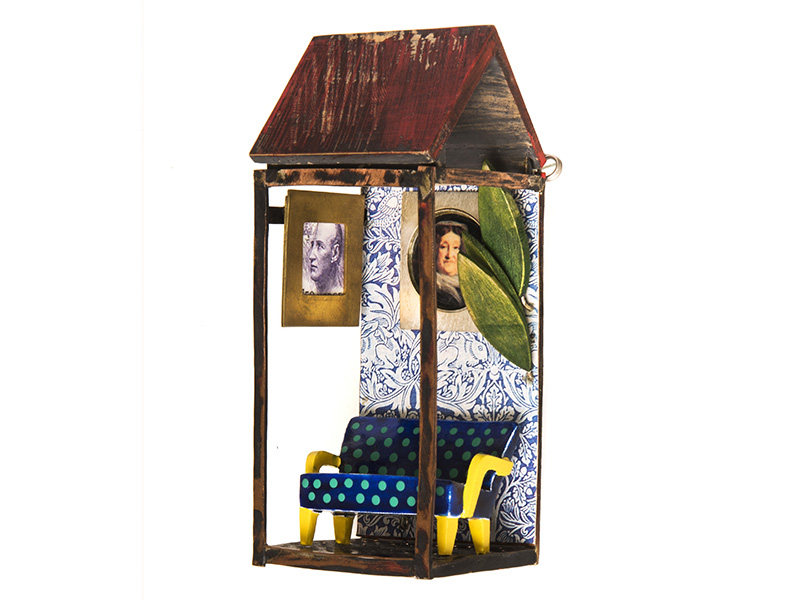 Finally, have you read or seen anything thought-provoking recently?
Jorunn Veiteberg: At the moment, the Australian jewelry artist Su san Cohn is touring in Denmark with her performance Meaning(less)ness, which is a response to Danish legislation from 2016 that allowed authorities to seize jewelry from refugees. I will see the performance this week, and my expectation is that it will be a very thought-provoking experience.
Thank you!