It's always exciting to see a new gallery emerge in the art jewelry field. Ombré Gallery opened this past fall and already has an exciting roster of artists. Jenna Shaifer, the gallery's founder and director, introduces us to her gallery and discusses what excites her about the field of art jewelry.
Jessica Hughes: Tell us about your background and how you got interested in art jewelry.
Jenna Shaifer: My career began with a BFA in Fashion Merchandising from Virginia Commonwealth University and I worked in New York in the fashion industry for over 12 years in production and product development for designers and fashion companies including FILA, Isaac Mizrahi, Polo Ralph Lauren, Ann Taylor, and Talbots.
After 9/11, I wanted to find a creative outlet, so I started taking jewelry design classes at various schools such as the 92nd Street Y, The New School, and the Fashion Institute of Technology, where I was accepted into the jewelry design program. I took many courses over the years. At this time, I didn't know anything about the field of contemporary art jewelry.
In 2006, my husband finished law school and accepted a job offer in Washington, D.C. I was accepted into the Smithsonian/Corcoran College of Art + Design's program for a master's in the history of the decorative arts. I thought my focus would be in textiles or costume. However, I had always had a strong interest in craft. I accepted a graduate internship position with the Renwick Gallery. There, I worked with Jane Milosch in the curatorial department, who helped bring in the traveling exhibition Ornament As Art: Avant-Garde Jewelry from the Helen Williams Drutt Collection. It was the first time I really became aware of contemporary art jewelry in theory and practice. The exhibition contained over 300 objects (including 275 pieces of jewelry) made between 1963 and 2006. I met artists, collectors, and educators from around the world. It was love at first sight! I had the wonderful opportunity to help organize the exhibition symposium and tours. Additionally, it was my first connection to working with craft interest groups such as the James Renwick Alliance. My brief conversations with Helen Drutt Willliams and Cindi Strauss, as well as with artists Robert Baines, Claus Bury, and Gijs Bakker, sparked a genuine interest in the field of contemporary art jewelry. This exhibition was a pivotal moment in my career. This is also roughly when I was introduced to Ellen Reiben and began working at Jewelers'werk.
After completing all my course requirements, I received a Windgate Fellowship from the Center for Craft, Creativity & Design and worked on a joint exhibition with the Oakland Museum of California (OMCA) and the Museum of Art and Design (MAD) in New York about mid-century Modernist jeweler Margaret De Patta, working with curators Julie Muniz (OMCA) and Ursula Neuman (MAD). This work was pertinent because at the time I was conducting research on my master's thesis on the Metal Arts Guild of San Francisco (MAG). One of their founding members happened to be Margaret De Patta.
I completed my MFA in the history of the decorative arts in 2011 with my thesis Metal Rising: The Forming of the Metal Arts Guild, San Francisco (1929-1964). Part of my research and work on Margaret De Patta can be found in the Timeline and Selected Exhibition History published exhibition catalog, Space, Light, Structure: The Jewelry of Margaret De Patta.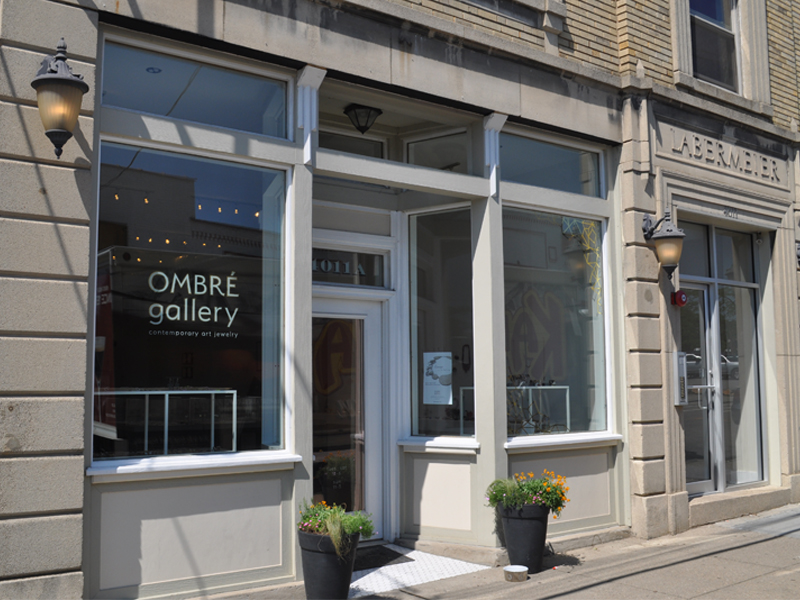 What challenges have you discovered opening a new gallery? Have there been any surprises?
Jenna Shaifer: Opening a new gallery has many challenges. There are those you can predict, such as having to market your new business and connect to your community. And others that you don't foresee. Having just moved here from New York City, I found Cincinnati has a completely different pace and energy, from how people get around the city in terms of transportation to how weather determines if people walk in the neighborhood and slow down traffic outside your store front. These are all details I'm still tracking as I go through my first year in business. What I find universal, no matter the city, is that it's all about building trust and relationships with the clientele.
What role do you want Ombré Gallery to play in the art jewelry field?
Jenna Shaifer: While the vision is still unfolding, I see the gallery connecting the areas of art and design to people who appreciate the significance of something made by an artist. Of course, there are nuances to that statement. A collector is able to distinguish between the categories fairly easy, but in the marketplace, in retail, many customers who are seeing contemporary art jewelry for the first time just like it! I want them to cross that bridge and have the accessibility to production/limited edition work, and eventually to one-of-a kind. I see myself as an educator for the field and an access point where anyone can learn about contemporary art jewelry.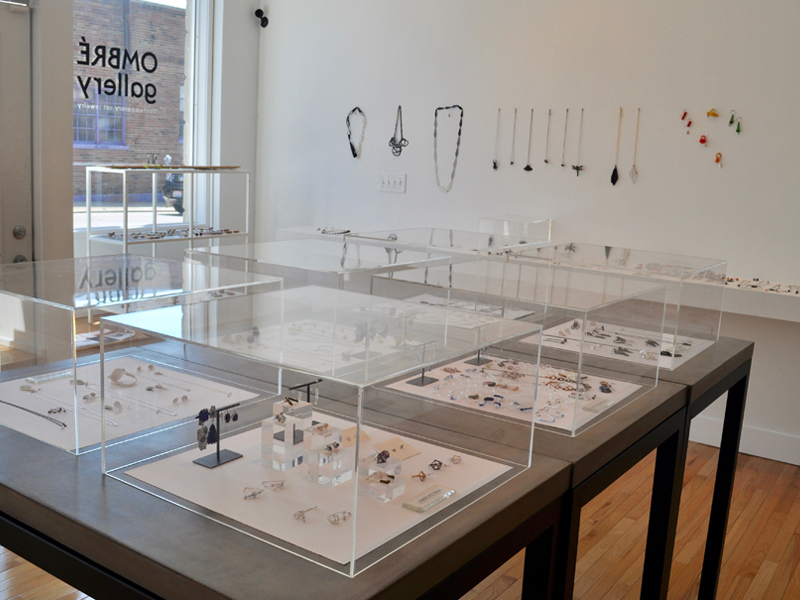 What's the art scene like in Cincinnati? How has the reception been for art jewelry?
Jenna Shaifer: The art scene is lively! We have the Cincinnati Art Museum, Contemporary Art Center, Taft Museum, Artworks, and many art studio centers focused onmusic, ballet, fine arts, glass, and ceramics. There are major art schools and, within a few hours of Cincinnati, the metal programs of Kent State University and Miami University of Oxford, Ohio. Art jewelry has been well received.
Have there been any challenging or interesting customer interactions?
Jenna Shaifer: I haven't had difficult customer interactions. My mission is to make every person who walks in feel comfortable and at ease in the gallery, to bring down any walls. I serve as a conduit for the artists and their work.
Often, a customer who has never seen art jewelry can be overwhelmed. So I give them some space to absorb the surroundings and take it in. When I see them making a connection, I give them additional narrative about the artist or the materials used in the piece, etc., so they can leave with some understanding. I find people are returning two to three times with friends and family. It's very exciting to see the enthusiasm for the gallery and the work!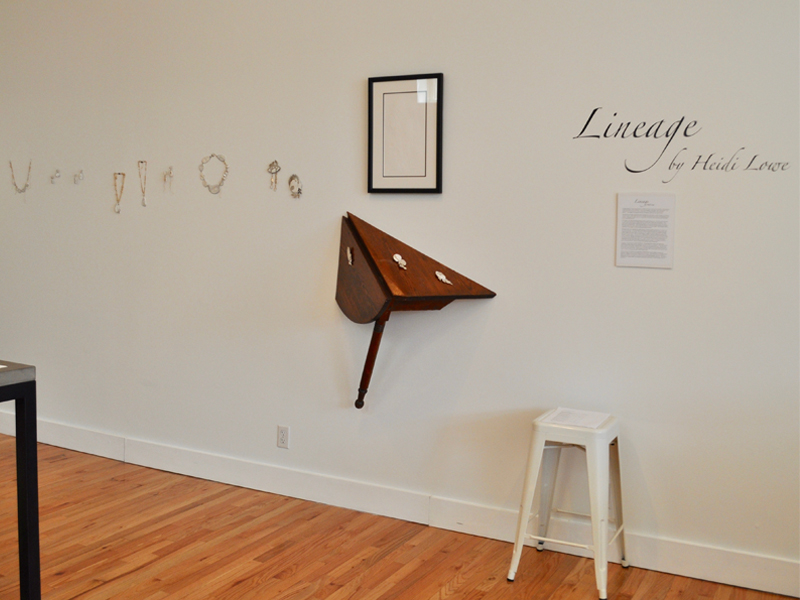 What's a typical day like for you at the gallery?
Jenna Shaifer: Every day is different. I interact daily with artists and clients. I work on developing out space and am currently training new staff. I used to call myself a one-woman show, but a few weeks ago I hired a paid-intern from the University of Cincinnati Design Architecture Art Planning program. This has helped get me out of the gallery to advance my relationships with the community and art organizations within Cincinnati. We're working on getting on calendars, building our website presence, and being more than just a brick-and-mortar location; all this work goes on behind the scenes to run a gallery.
We're developing marketing material for the community, such as maps for the neighborhood and cross-promotional opportunities with other businesses. Usually, we're preparing for neighborhood events like Oakley After Hours, street fairs that run down our street, or private events in the gallery.
Can you describe your curatorial process?
Jenna Shaifer: It's both visceral and methodical. I often have a gut reaction to work. At the same time, I'm a big believer in showing work that's critically important to the field. Often, work that I'm not drawn to may receive critical praise, or work I'm drawn to receives criticism. What's important is to give my clientele the breadth of the field, but using my critical eye and instinct. In the end, as is often taught in fashion merchandising, it's up to the client, who has the ultimate decision to purchase a piece. Art is all subjective.
I'm building the gallery, slowly balancing bringing in artists as I manage growth.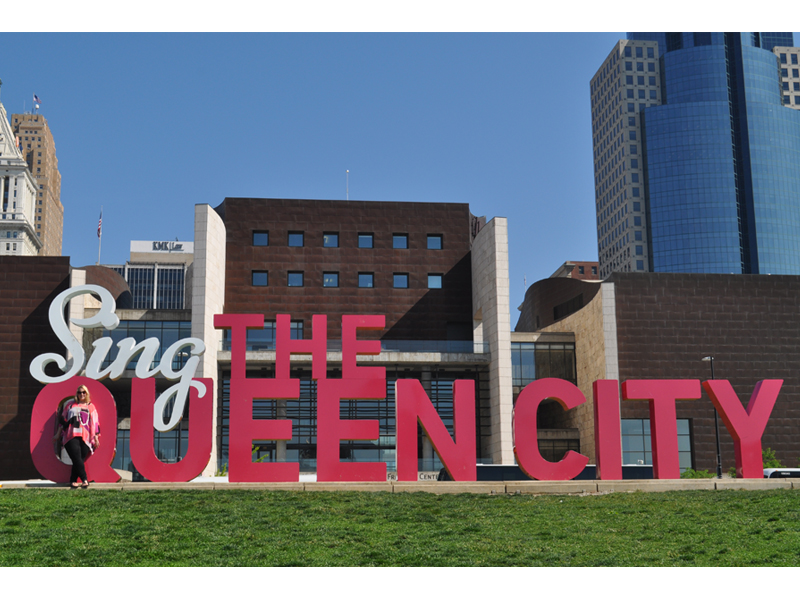 What advice would you give to artists trying to get representation from a gallery?
Jenna Shaifer: To me, it's most important for the work to stand for itself. I want to see quality work that's consistent. Artists need to be responsive to a gallery's needs and it's equally important for artists to be ethical in their business practices. This is something I strive for in my daily business policy.
What would be a dream exhibition for your gallery?
Jenna Shaifer: I have something up my sleeve, but I'm keeping this close to my chest for now. I am a big believer, from experience, that some dreams are best not shared too soon. They need to be incubated, nurtured, and when the time is right, you start working on them. Right now, I've realized my dream of launching a contemporary art jewelry gallery. There's a lot of work that lies ahead. Opening Ombré Gallery isn't something I decided to do overnight, it has been a vision and plan since graduate school. It had some stops and starts along the way, but someone once told me to write my destination in pen and my journey in pencil. Thank goodness for pencils and erasers!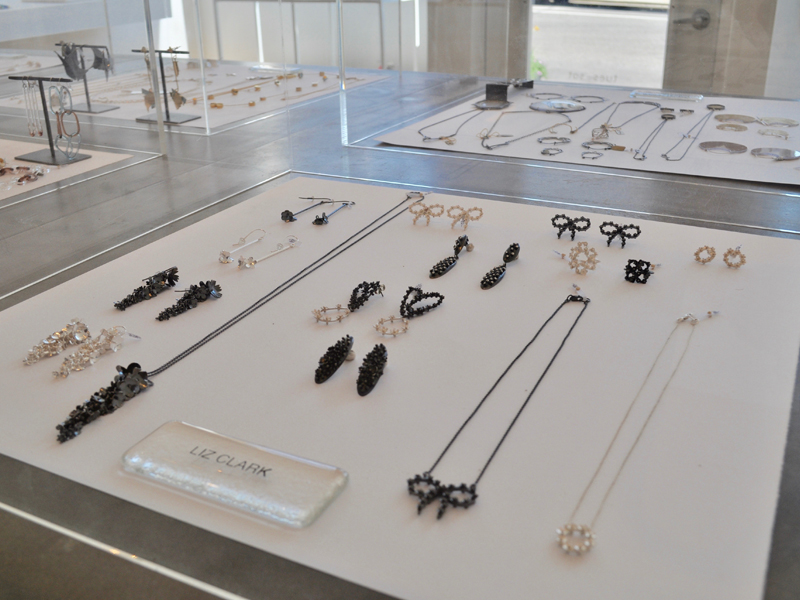 What are you seeing that you find exciting/intriguing about the current art jewelry field? Is there any work in particular that you're interested in?
Jenna Shaifer: As an emerging gallery on the scene, I've been really focusing in on some of the emerging and mid-career talent.
I'm excited by work that tells a story through the use of materials. I currently have an exhibition of Nikki Couppee's work entitled Lucent in the gallery. Her use of material questions the intrinsic value of jewelry. Katja Toporski is experimenting with materials like eggshell powder and polyurethane resins. Her pieces are really giving a new dimension to materials.
It will be interesting to see where the use of three-dimensional technology in work takes the field. Also, I've seen a few artists recycle rare/high-tech parts found in phones in their jewelry. It's inevitable that technology is part of our sphere.
Additionally, I appreciate seeing artists who have the courage to speak out with their work. Whether or not we agree with their stance, art gives us a chance to contemplate and make commentary during our time. CNN recently published an online article called How Artists Are Marking Trump's 100th Day In Office, by Shachar Peled. Harriette Estel Berman's Alternative Bracelet is mentioned. How exciting to have contemporary art jewelry discussed among other works of art!
Is there anything you've seen or read recently that would be interesting to AJF's readers?
Jenna Shaifer: I'm currently reading a book called In the Company of Women: Inspiration and Advice from Over 100 Makers, Artists, and Entrepreneurs, by Grace Booney. I've been reading so much about how the brick and mortar storefront is dead! Is this for mall locations? Does this pertain to the gallery? I think it's important that galleries look to the future to see how we can keep up in this digital world and reach our customers beyond our front door. So I'm conducting research on the subject matter to see what and where to take Ombré Gallery. To be continued…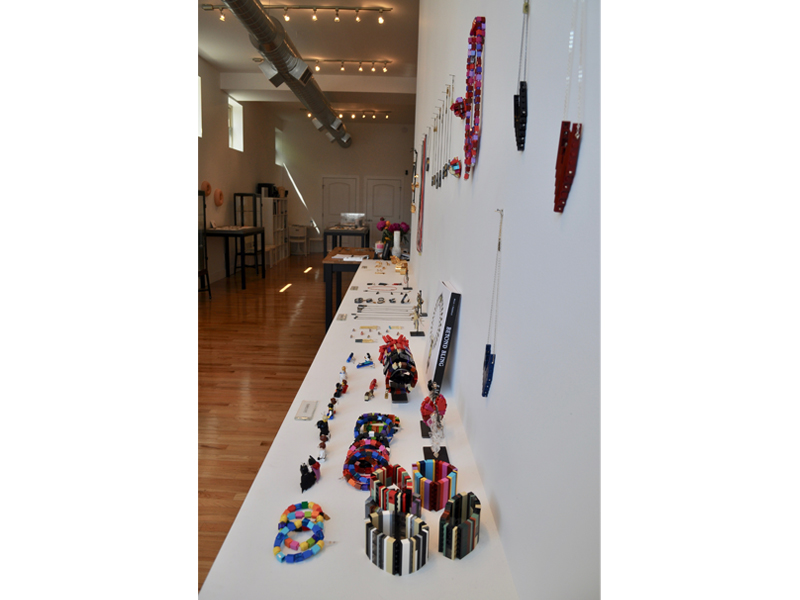 That's a really interesting point, and something that's discussed in the retail sphere a lot. Are you pairing your physical space with an online presence? Or is there a different approach to the traditional store front gallery? How do you think art fairs and events like Schmuck and SNAG play a role in reaching out to clients/audiences?
I'm currently working on an online gallery presence to sell work, because I have the demand. It's a challenge to get the balance right. At first it wasn't my priority, because I wanted to focus on my physical space. However, I found many clients through social media posts and website queries. These days the expression for online shopping is "retail's last mile." It's vital to every business. While we may debate online versus gallery shopping experiences, I think the informational outreach is vital for our field to grow. Let me be clear, I won't be able to show all work in a traditional online shop platform, but where I can, it's good to experiment and see what works.
As for art fairs and events like Schmuck and SNAG, they're a great place of connection for artists, curators, and established and emerging collectors. I believe reporting such events in AJF, Metalsmith magazine, etc., is vital. I know when I participate in such events my clients are interested in what's happening.