Art Jewelry Forum's network of
gallery supporters
has increased to more than 60 international galleries focused on featuring art jewelry. On Offer is a monthly series that allows AJF galleries to showcase a piece that they've personally selected to tempt and inspire you. Please contact the gallery directly for inquiries. Enjoy!
MUSEUM WORTHY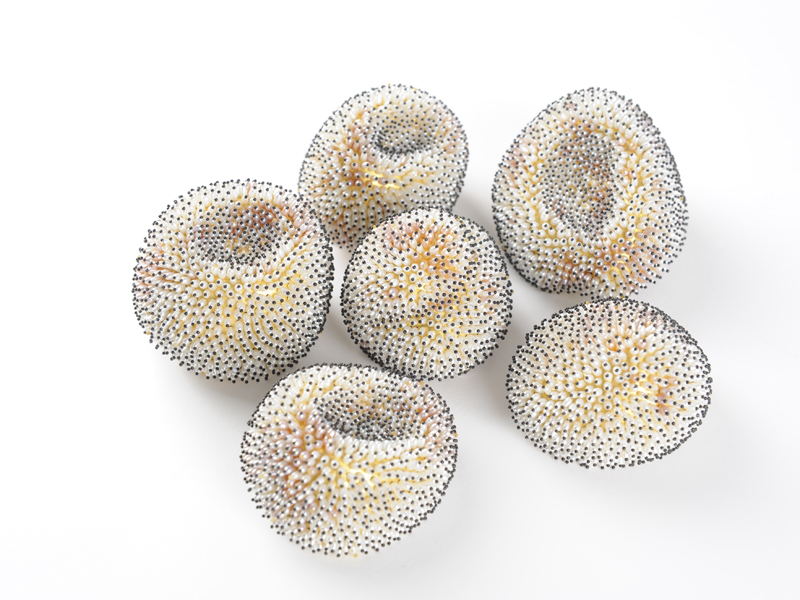 Galerie Ra—These brooches by Sam Tho Duong are fascinating and very beautiful.
RETAIL: Between €1,990 and €3,100
CONTACT: Paul Derrez
---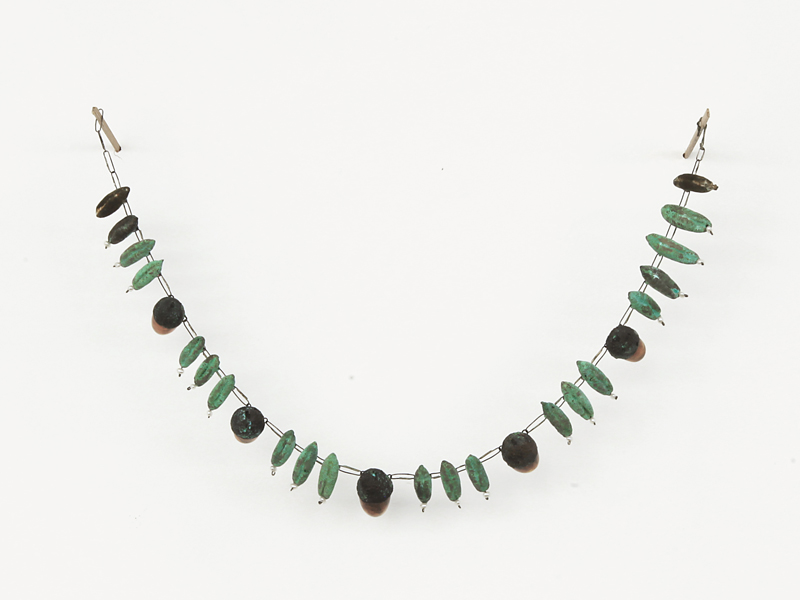 Gallery S O—Bernstein Bronze Necklace was part of Bernhard Schobinger's solo show at Gallery S O, After Nature, which was on display until June 25. The works in the show were all recent pieces, incorporating in different ways the natural and the handmade.
Little pearls were mounted on the tip of date seeds cast in bronze and then patinated. Then they were joined by a fine cobalt wire to form a chain together with acorns made of amber. The piece is simply exquisite: It's an extremely wearable and subtle necklace that on a closer look reveals rich formal references to female anatomy and the theme of fertility.
The piece is the work of a master of contemporary jewelry and definitely a joy to wear.
RETAIL: Price upon request
CONTACT: Felix Flury
---
Slavik Gallery—The materials used in this necklace are part of Annamaria Zanella's relentless search for poor materials to transform into a jewel through her will and her magic hands. The combination of these contrasting materials and the lightness of the necklace is fascinating, a piece of heaven on earth.
RETAIL: €8,400
CONTACT: Renate Slavik
---
ESTABLISHED ARTIST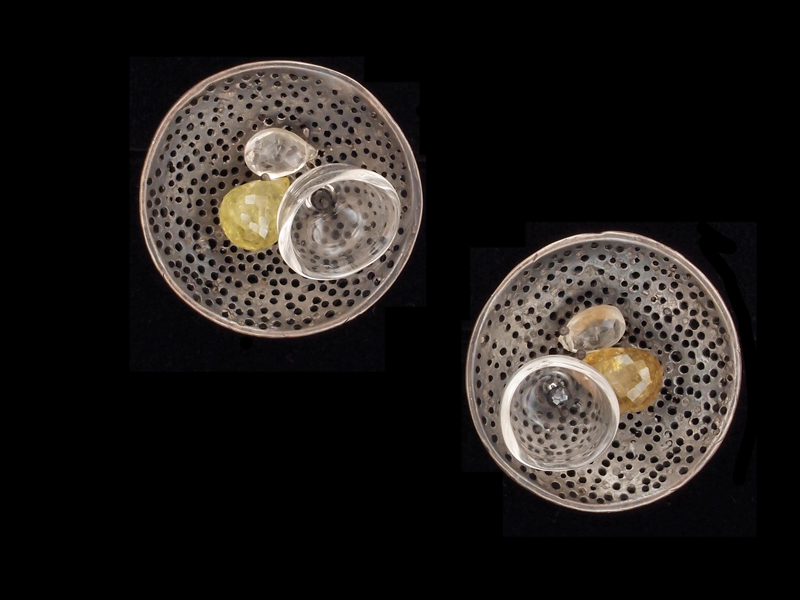 De Novo Fine Contemporary Jewelry—These wonderful cup-shaped earrings by Karen Gilbert hold clusters of garnets and hand-blown glass. Gilbert is known for the use of hand-blown glass in her jewelry, and we like how the glass elements echo the shapes of the pierced metal cups in these earrings.
RETAIL: US$280
CONTACT: Cherry LeBrun
---
Galerie Noel Guyomarc'h—Influenced by and reinterpreting ancient traditions, Kazumi Nagano uses weaving techniques with gold or silver wire, as well as silk, nylon, or linen paper threads. With strong skills, her pieces are very delicate. The artist succeeds in giving unexpected effects by making woven material into three-dimensional shapes and by the play of colors and of light and shade. Very intuitive, her work is poetic and vibrant. Born in Japan in 1946, she came to jewelry in 1996 after having studied under Minato Nakamura. Her work can be found in many museums and private collections.
RETAIL: €500
CONTACT: Noel Guyomarc'h
---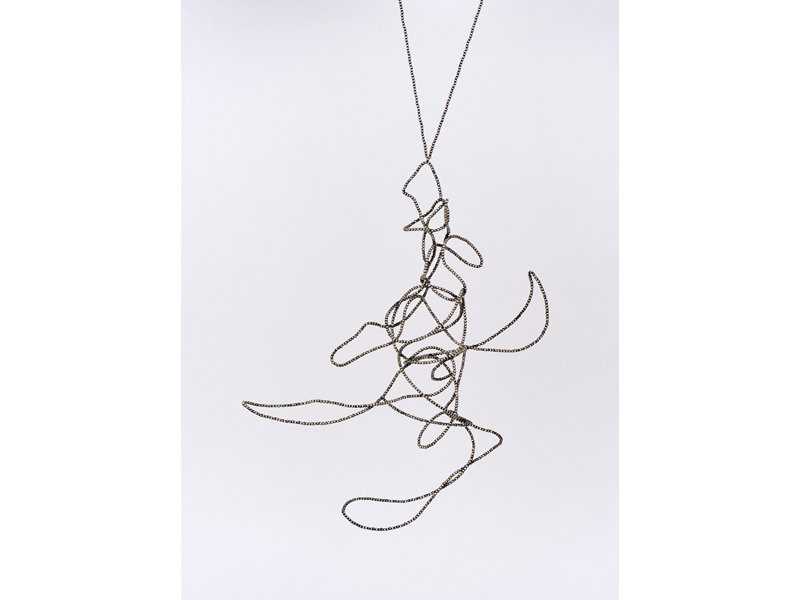 Gallery Loupe—This neckpiece is included in Doris Betz's new publication, Doris Betz: Jewellery and Drawing, which was published in conjunction with her recent exhibition in Munich. It is a presentation of Betz's jewelry and drawings from 2009 to 2016.
In the artist's words:
"Lines move rapidly through space.
Out of their motion grow three-dimensional webs,
surprising shapes, maverick pendants.
Soft, pliant and elastic,
vigorous creatures that turn and whirl
on bodies—as bodies,
taking up each movement,
carrying on the motion in their own rhythm and letting it fade away …"
Betz was the recipient of both the Herbert Hofmann and Bavarian State prizes.
RETAIL: US$3,000
CONTACT: Eileen David
---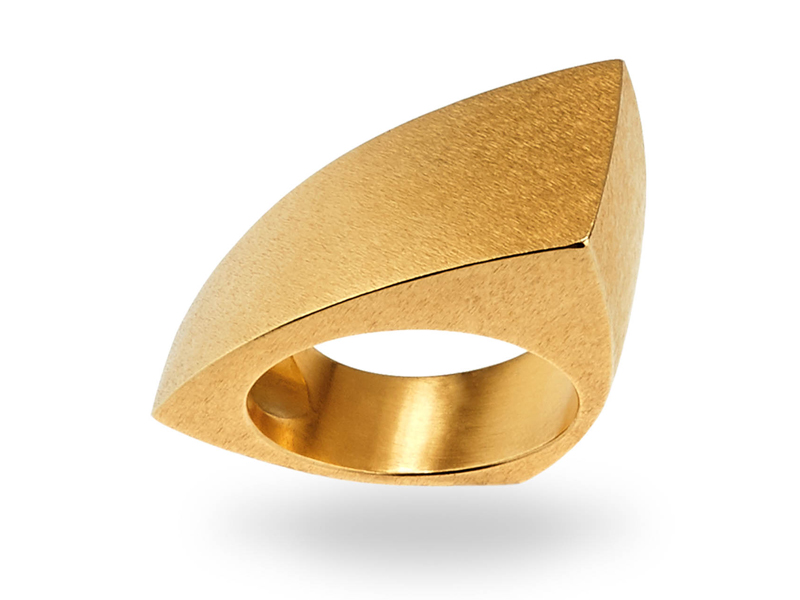 Patina Gallery—French maker Claude Chavent toys with perception by burnishing gold to catch light and create dimension of surprising depth and richness. Chavent's one-of-a-kind ring is part of Crafted Visions: The Tension of Opposites, a July exhibition at Patina featuring the jewelry of 13 artists. The makers' intent is—as computer genius Steve Jobs urged—"to put a ding in the universe." From repurposed road signs to 3D printing, and from refined metal work to laser-cutting, the exhibition features breakthrough technologies, materials, and methods. It comes together around jewelry that arouses the spirit of revolution and has the properties of the latest must-have high-tech device—sexy to the touch.
RETAIL: US$4,115
CONTACT: Linda Childers
---
Quoil Gallery—Kath Inglis, from Adelaide, Australia, makes these beautiful bangles out of lightweight, flexible PVC. She colors the material then hand cuts and stitches it. They're very comfortable to wear, with a range of colors and patterns available.
RETAIL: NZ$220
CONTACT: Hortense Rothery
---
MID-CAREER ARTIST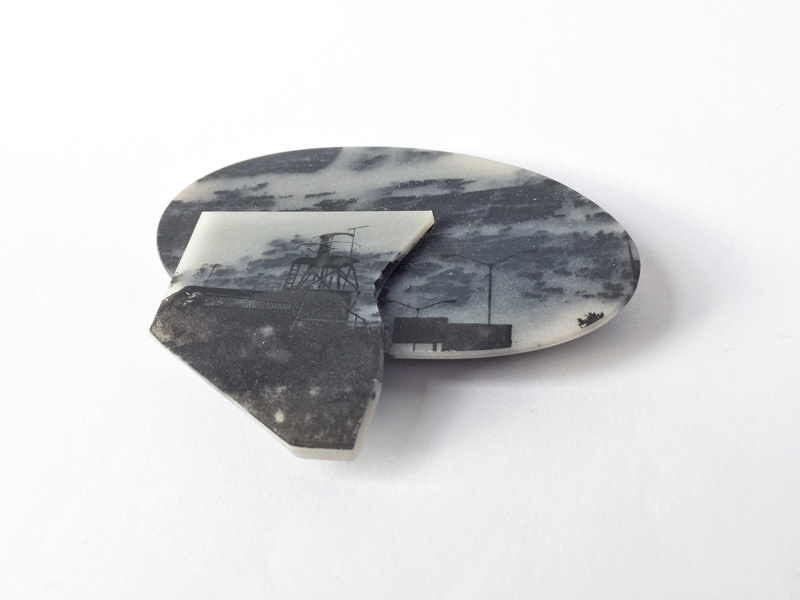 Galerie Beyond—"I see my pieces as a reflection of thoughts that are floating in my mind; while I picture some stories, my work emerges organically, and intuitively, and my process does not have a formal narrative." —Alejandra Solar
RETAIL: €1,400
CONTACT: René Darmont
---
EMERGING ARTIST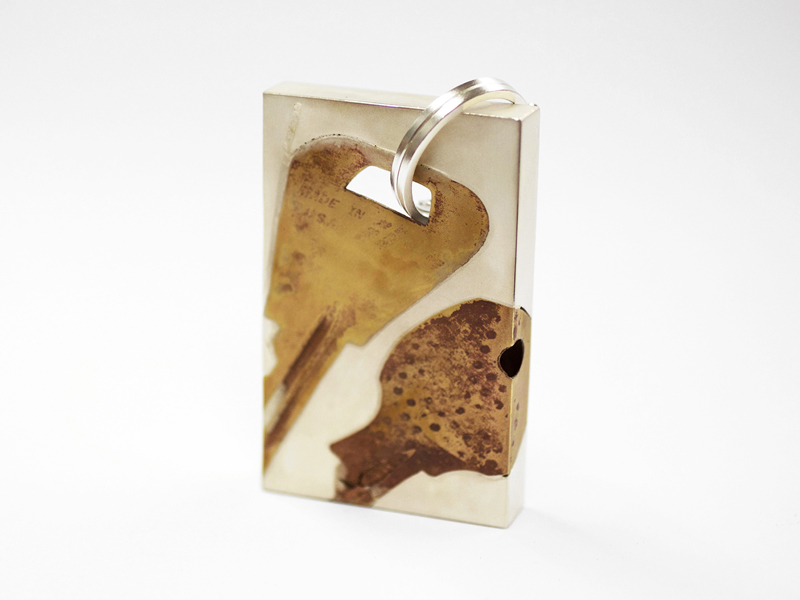 Brooklyn Metal Works—MJ Tyson works with objects taken from their roles in the world. She destroys and reworks the captured objects into transmissions that tell of multiple generations.
"House Keys is a brooch from a collection of objects made of everyday material left behind by my grandfather. These things are not precious and not waste, so I've been treating them as a material inheritance and reconfiguring them in my jewelry. Other pieces in this series incorporate metal objects such as spare change, promotional pins, and paper clips." —MJ Tyson
Tyson is one of seven artists featured in the exhibition Taken, which highlights the immersive processes that are the origins of their jewelry. This work was produced at the RISD jewelry + metalsmithing graduate department.
RETAIL: US$800
CONTACT: Brian Weissman
---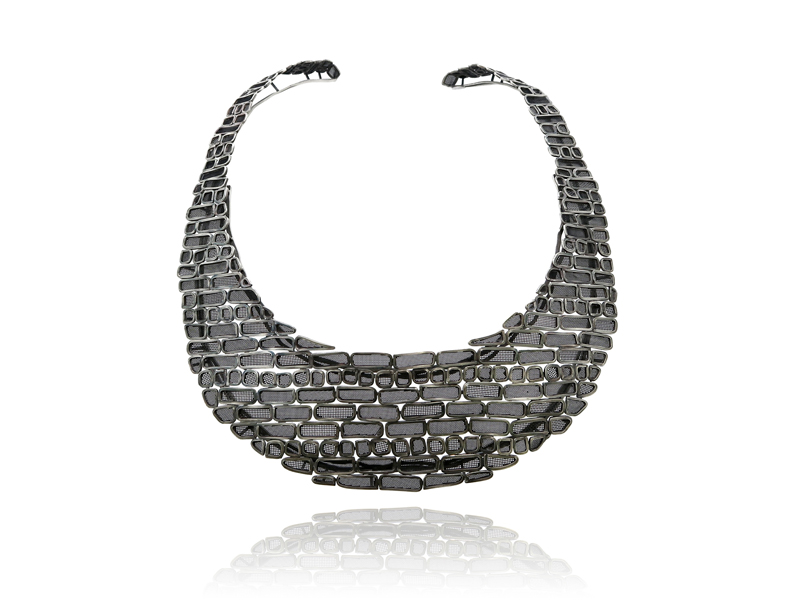 Facèré Jewelry Art Gallery—Caitie Sellers is an accomplished emerging artist in jewelry and small sculpture. Her work is influenced by the many US cities she has called home, as well as Xela, Guatemala. Urbanization, infrastructure, and architecture are her main themes. This collar necklace is reflective of brick walls and pathways. Its open cell structure filled with copper mesh gives a sense of light and movement, and results in a highly wearable piece. Caitie was chosen to speak at the 2012 Society of North American Goldsmiths conference as a Spotlight Emerging Artist and was a finalist for the Society for Contemporary Craft's LEAP Award. She is currently collaborating with three Richmond, Virginia, artists to open The Elevator Collective, a multidiscipline craft studio in a former elevator components factory.
RETAIL: US$2,365
CONTACT: Madeline Courtney
---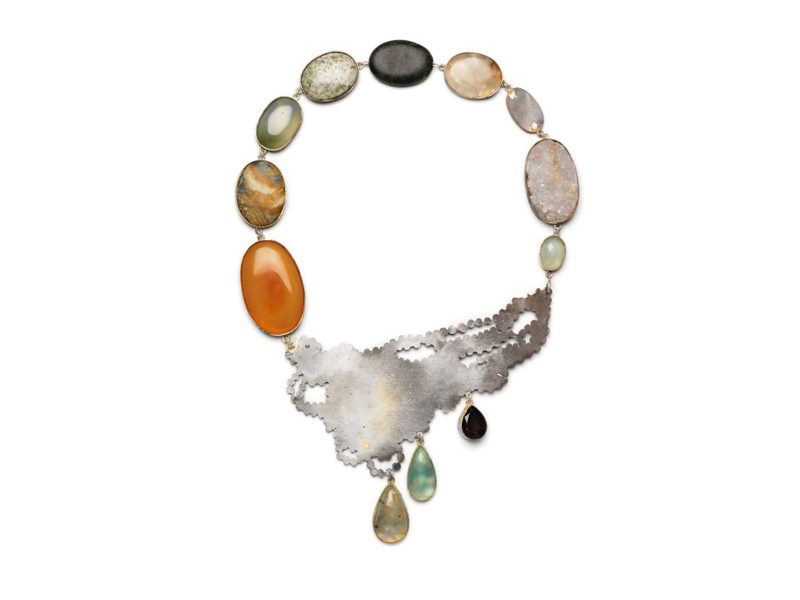 The Gallery at Reinstein Ross—This necklace is part of Åsa Lockner's Crown Jewels series. In the series, Lockner starts with traditional materials and shapes, but she stretches the boundaries of how material is perceived. How can the soft qualities of silver be brought forward, as opposed to the more traditional impulse to highlight its hardness? Design elements and materials are examined again and again. Ovals, teardrops, stones, and cutouts serve as puzzle pieces to help Lockner explore what makes a necklace balanced.
Her work seeks to balance the asymmetric and distorted with the harmonious and beautiful. It requires a broad range of material samples, designs, and ideas. Teardrops and V's are recurring shapes, but there is a discrepancy between what you think you see and what you actually do see. Agates are enhanced to the same level as gemstones. Silver components are dressed in silk. Silk thread, stitched stones, or holes may represent luxury. Despite the lack of value in the material, the necklaces, like those in the Royal Crown jewels, possess a quality of splendor in their quest for beauty. Missing stones are all formed as though there had once been a stone that has been removed. Something has been destroyed and scraped off.
The decorative effect that a piece of jewelry adds is worth as much as its content. Lockner's necklaces make a clear reference to the classic heritage of art jewelry, to crown jewels, and to precious collars. However, the material has been treated with a different aesthetic both in production and in the final result.
Crown Jewels is from a larger series of necklaces called Body Armor, a tightly connected family of works reflecting the artist's belief in jewelry and its capacity to empower. Body Armor was shown at the Armory in the Royal Palace in Stockholm, a fitting venue for a collection that not only protects but strengthens its wearer.
RETAIL: US$2,420
CONTACT: Bella Neyman
---
L.A. Pai Gallery—Futur Composé is the solo exhibition of jewelry and sculptural works by Anne-Sophie Vallée, the winner of the 2016 annual National Jewellery Student Competition. The exhibition runs June 29 to July 19.
RETAIL: CAN$320
CONTACT: Lisa Pai or Brenda Dunn
---
GALLERY CHOICE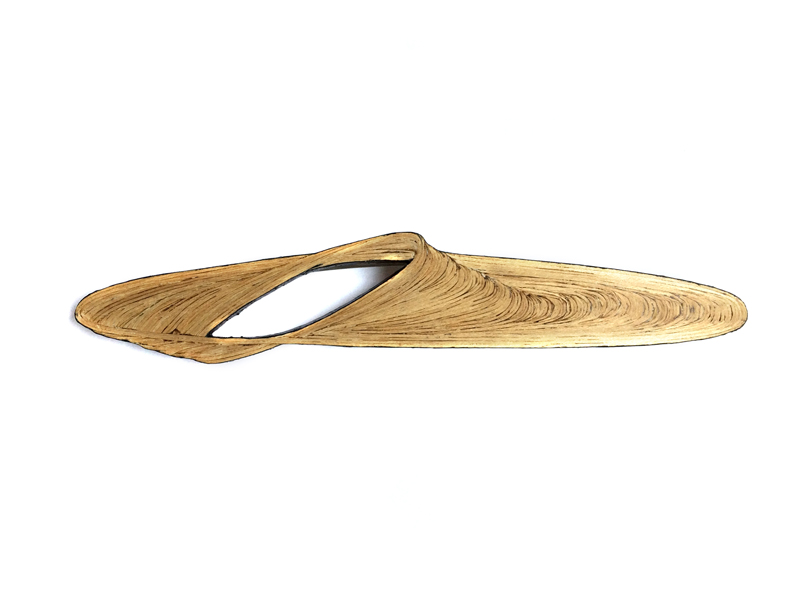 Four—Mathematics, physics, and chemistry are always present in the studio of a jeweler, but they can also be a source of inspiration. This piece by Åsa Christensson is colored by the aesthetics of science, a world where old discoveries are challenged by new ideas, where the present rapidly transforms into history, and where the future moves closer every second.
RETAIL: 10,000 SEK
CONTACT: Karin Roy Andersson
---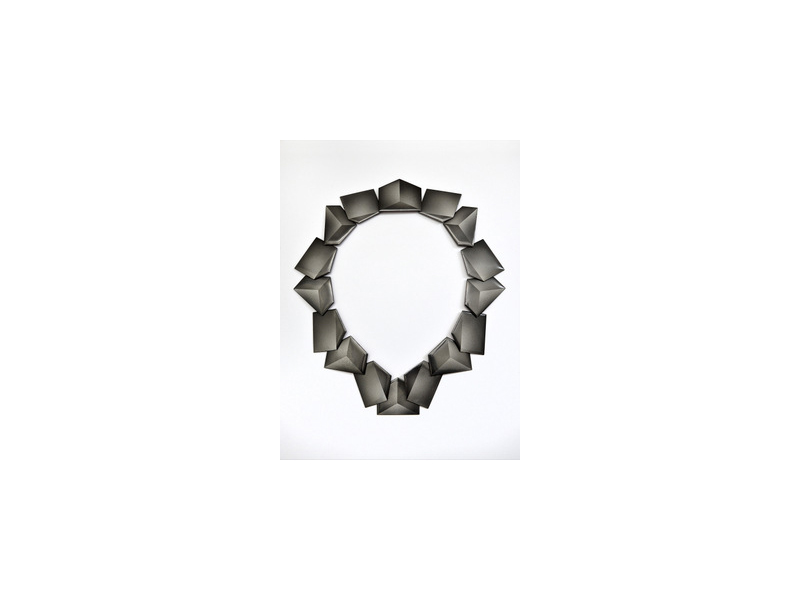 Hedone Gallery—German jeweler Christoph Straube experiments with perspective, dimension, and overlapping geometric elements to create enamel jewelry that is fun, fresh, unique, and beautifully made. His jewelry pieces are reminiscent of geometric watercolor drawings by means of finely painted black enamel lines and shadings on a white background coating onto which three-dimensional space is created. Subtle color changes and enamel dust allow each piece to maintain its hand-drawn character, and overlapping parts play with a three-dimensionality that lies between the drawing and the real object.
RETAIL: US$1,875
CONTACT: Bonnie Levine
---
Lillstreet Gallery—Aurélie Guillaume, current metals resident artist at Lillstreet Art Center, is transforming Lillstreet's glass and enameling department with exciting new programming. She inspires the Lillstreet community daily with her fresh and fun aesthetic and remarkable technique. These enamel and underglaze earrings, set in a copper and powder-coat frame, depict two of Aurélie's favorite motifs: the Naked Cowboy and the Angry Flower. She envisions a fantasy world in which cowboys run naked through fields of angry flowers. The Angry Flower challenges typical notions of femininity, such as passivity and tenderness. Aurélie developed the caricature of the Naked Cowboy to make vulnerable the typically tough and carefree male subject.
RETAIL: US$260
CONTACT: Nora McCarthy
---
OONA Gallery—"… the moment before the sun is covered by the moon while an eclipse is taking place …" —Marc Monzó
This universal incidence holds a metaphoric meaning for human beings. The artist Marc Monzó transforms it into a small object—a beautiful piece of jewelry. This bracelet again shows Monzó's great ability to filter out the essence of his mind and turn it into jewelry with excellent craftsmanship.
RETAIL: €3,300
CONTACT: Anna Schetelich
---
Velvet da Vinci—"The body of work titled Limena uses commercially made ceramic decals made from photographs I have taken that describe liminal spaces or the spaces that exist in between. Many of the images are of construction (deconstruction) sites that are common in the changing landscape of the post-industrial Midwest. These threshold spaces serve as metaphors for transformation—a crossing over from one state to the next. By incorporating these images into my jewelry, they serve to commemorate the transitional nature of all things." —Kathleen Browne
RETAIL: US$750
CONTACT: Mike Holmes
---