The 2022 Young Artist Award offers a prize of US$7,500 for the winner and US$1,000 for each of the four finalists, as well as an exhibition at Schmuck in March 2022. Past recipients of the award say it took their careers to the next level! If you're a jewelry artist age 35 and under, you should apply for this biennial competition. Don't put it off—the deadline is this Sunday, January 9, 2022! Guidelines can be found here. Apply here.
The three distinguished jurors are collector and gallerist Karen Rotenberg (read our interview with Rotenberg here), curator Chequita Nahar (read her interview here), and 2020 Young Artist Award winner MJ Tyson.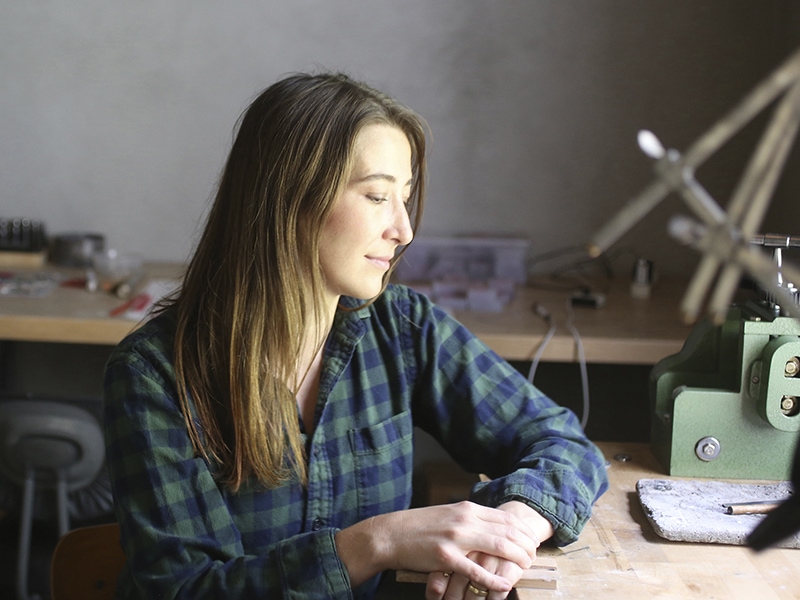 Tyson lives in New Jersey, US. She makes jewelry, sculpture, and objects from reconstituted and melted metal. Tyson received her BFA from the Jewelry + Metalsmithing Department at Rhode Island School of Design in 2008, and returned to earn her MFA in 2017. Her work is centered on the relationship between people and their possessions.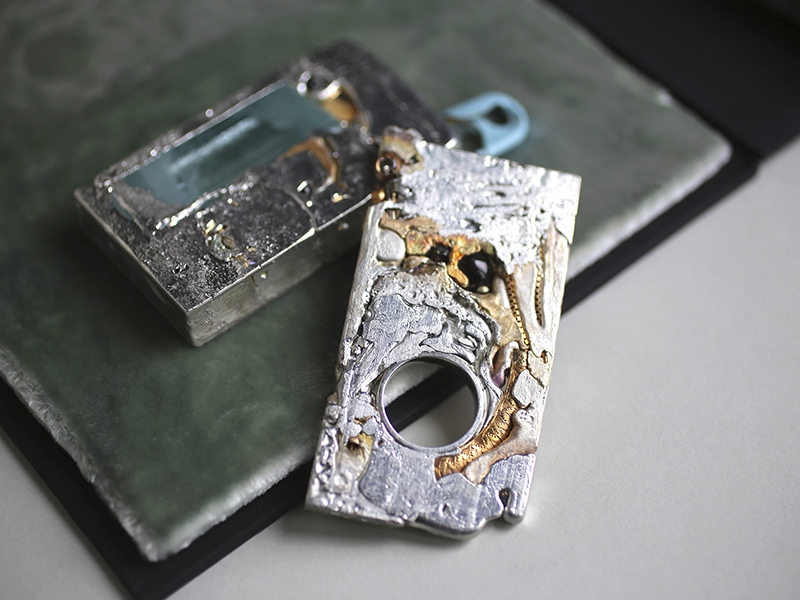 Carrie Yodanis: Throughout 2020, you and your work received so much attention and praise. Congratulations! What was that experience like, and how did it impact your work?
MJ Tyson: Thank you. It's challenging to isolate any one facet of 2020, so excuse my ramble. I experienced a new level of recognition for my work at the same time that everything in my personal and our collective lives began changing. I tried to take a lesson from my own process about keeping a loose grip on the way things used to be.
I really do believe in using the past as fuel for the future, rather than preserving it. In 2020 we all saw how old systems must be destroyed in order to build a new world. Over the past two years my family experienced the passing of many matriarchs and the start of a new generation. You really can't have one without the other, can you? Through these experiences I thought about how tradition, deference, and inherited patterns can tie us up. Letting go is an important step in creating our own present.
I'm grateful for the new opportunities that came in 2020, beginning with the AJF Young Artist Award. Like all artists, what I want most is to share my work. Speaking with Yvonne Montoya for AJF Live was a real highlight, as was my exhibition Inheritance, at Sienna Patti. Many opportunities were postponed, including Schmuck 2021, so there is still a lot of this wave to look forward to. I'm hoping the next few years will be a time of reconnection.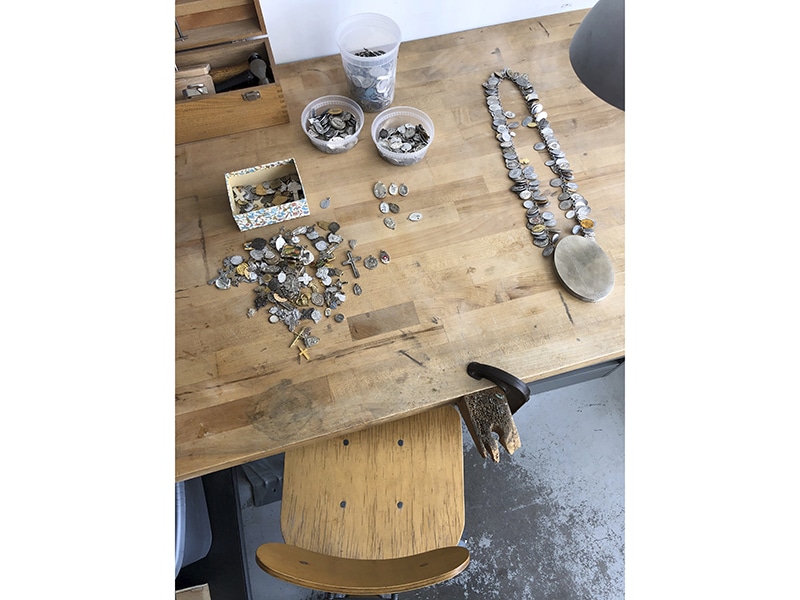 With success often comes a responsibility to help others get their careers off the ground. How do you see your role as a mentor to new jewelers—including now, as a juror for AJF's 2022 Young Artist Award?
MJ Tyson: I've been looking forward to being a juror for the past two years! I can't wait to see the submissions and discuss work with the other jurors. It's a great honor to help select the next group of finalists.
Many people have helped me along my own path. I appreciate when people have made introductions, offered encouragement, and engaged in conversation about my work. I try to do these same things for my students and peers. I don't know if that is mentorship exactly. I think of it more as being an active participant in the community.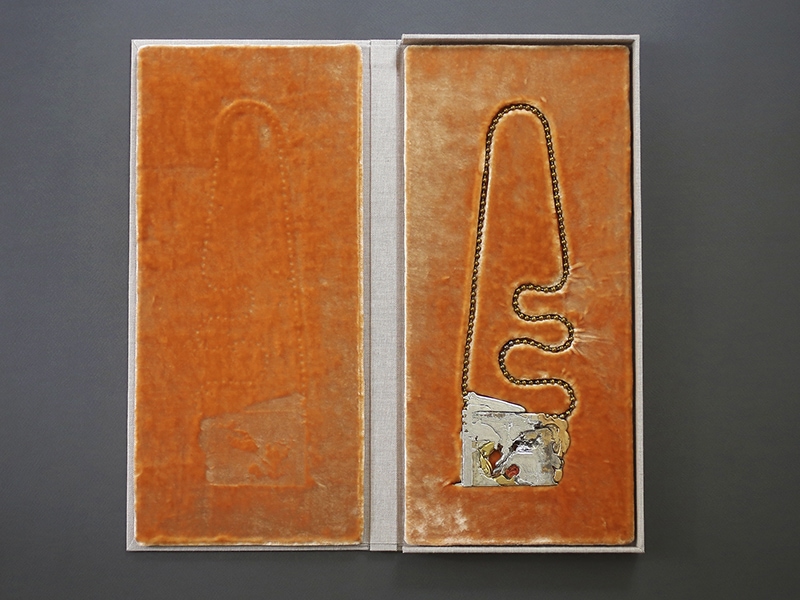 We often think of jewelry as being worn. But in your work, you pay a lot of attention to the beautiful boxes that hold your pieces when they are not being worn. Do you wear your own work? Why or why not?
MJ Tyson: I don't wear most of my own work. I do wear a ring that's made from gold given by my family and friends. Its contents include someone's gold tooth, a charm from my best friend, and bits from each of my grandparents. Those things are unrecognizable now, but I know they're in there. Other than that, I don't wear much. I do love jewelry, own jewelry, and treasure what I have. The way I make jewelry now reflects how I experience it.
So much jewelry spends its life tucked away for safekeeping. It carries stories and significance even if it is rarely worn. I noticed that some of these unworn and precious objects live in special boxes. I make boxes like this to complete the work in my Inheritance series, indicating that they are objects meant to be kept.
In an interview last year, you asked a question that I love. You said, "What do we think we are doing, accumulating like we'll never die, when in reality most of our possessions will outlive us?" What do you think we are doing?
MJ Tyson: I think we're trying to extend ourselves. We're building a sort of nest of material around our lives. The stuff lives with us, we live with it. It builds us up and reminds us of who we are. We don't worry about what will happen to it next because we're trying not to die.
I'm a great fan of stuff and I don't want to live in an austere world, but I do think there is a point where our behavior indicates a break with reality. How we feel about our possessions reflects the way that we feel about ourselves, in my opinion. Anti-aging, embalming, consumerism, and nostalgia are all symptoms of the same disorder. I have all four of these tendencies—each is about striving for immortality—on my mind while I work. I do my best to move in opposition to them. Working in reaction to something always incorporates a little bit of that thing, so preservation, entombing, commerce, and sentimentality are all present alongside decay, destruction, consolidation, and release.
Your work is focused on the significance of objects in people's lives, even after they've died. Of all of your pieces, have you made the one you believe will best represent you and your work once you have passed away, or do you think that one has yet to be made?
MJ Tyson: I'd like to be known for my process. I hope that everything I make is recast into something new, whether by me or by someone else.