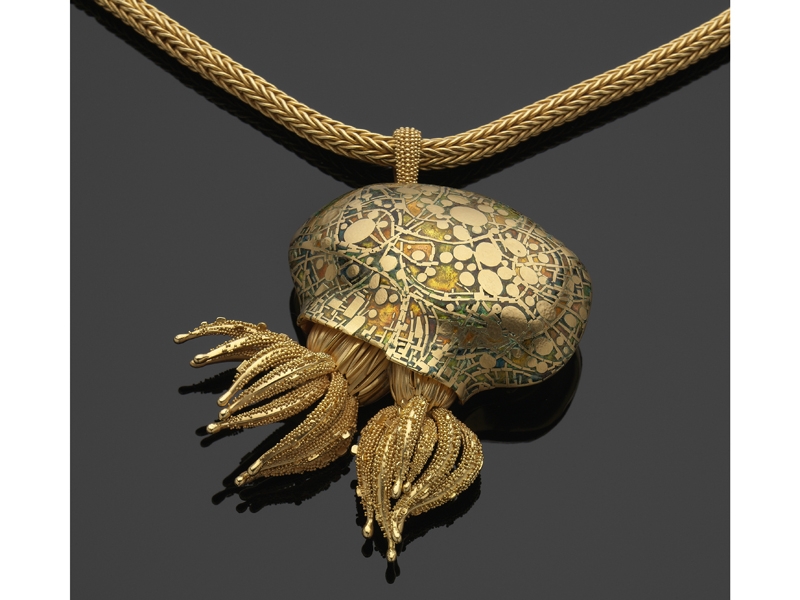 In this interview, Emily Stoehrer explains how she came to her career as a curator and describes some of her approach to the exhibit Past Is Present: Revival Jewelry. On display through August 19, 2018, Past Is Present presents not only jewelry from the collection of the Museum of Fine Arts, Boston, but also paintings, sculpture, and fashion, showing how jewelry relates to larger art movements and also how historical jewelry inspires later ornaments.
Roberta Bernabei: As the Rita J. Kaplan and Susan B. Kaplan Curator of Jewelry at the Museum of Fine Arts, Boston, could you talk about the museum as a major institution and your role there?
Emily Stoehrer: The Museum of Fine Arts, Boston (MFA) has long been committed to the collection of jewelry. In fact, some of our earliest acquisitions, in the 1870s, were objects of adornment. Over the last hundred-plus years, the various departments have collected jewelry and there are some areas, like our ancient and contemporary collections, where we have tremendous depth. More recently, in 2006, the museum created the Rita J. Kaplan and Susan B. Kaplan Curator of Jewelry position. In that role, working with colleagues in seven departments, the curator of jewelry oversees the museum's entire jewelry program. In 2010, a gallery dedicated to showcasing our collection opened. This space hosts rotating exhibitions drawn primarily from the museum's collection. Past Is Present: Revival Jewelry (on exhibit until August 19, 2018) is the third jewelry exhibition to be held in this space. In addition to this gallery, there is also a gallery dedicated to gems and jewelry from the Ancient Mediterranean world, and hundreds of jewelry objects on view in other galleries alongside paintings, drawings, and other decorative arts.
It's extremely exciting to work in an institution that values jewelry in the way that the MFA does. As the only American fine art museum that has a curator of jewelry, we have become a leader in the collection, exhibition, and publication of jewelry.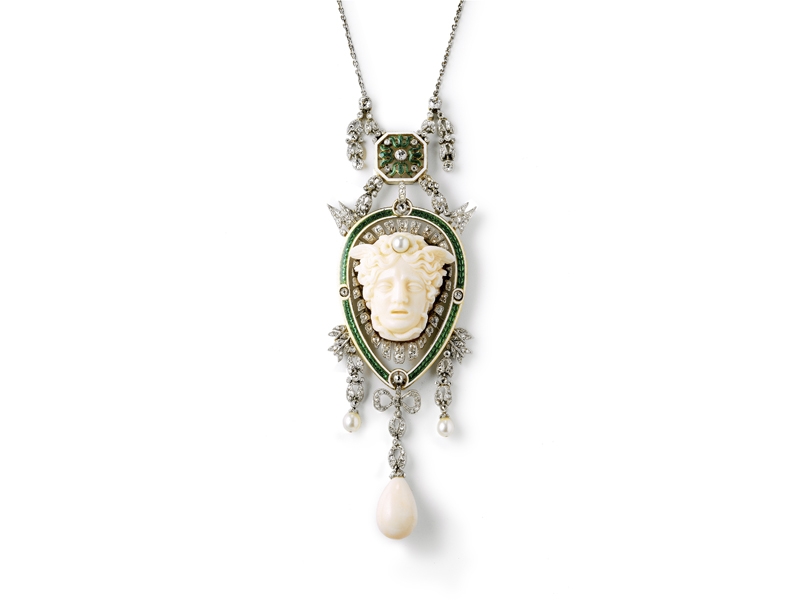 What initially drew you to jewelry and curating, and how did you start your career?
Emily Stoehrer: As a graduate student studying fashion and textile history, I completed my formal internship at the MFA and was lucky to be offered a job after I graduated. I had hoped to focus my career on fashion, until Yvonne Markowitz—the MFA's first curator of jewelry—encouraged me to consider a future in jewelry. It's interesting because the fields of jewelry and of fashion obviously overlap, but academically and curatorially the two fields don't have the exchange that you might expect. At that point I didn't know much about jewelry, but I was interested in thinking more about how jewelry functions as part of the sartorial language.
In 2008, Yvonne hired me to work as her assistant, and she taught me about the ways to study and write about jewelry, how to look at and think about these small precious objects, and how to exhibit jewelry (because it can be a challenge). I learned a great deal about jewelry and about the MFA's collection during those years, and Yvonne encouraged me to pursue a PhD that allowed me to study jewelry history more deeply, so in 2010 I entered a doctoral program that allowed me to study jewelry and identity from a humanities perspective.
Could you please expand on the challenges you have faced when exhibiting jewelry?
Emily Stoehrer: Key to a successful jewelry exhibition is the exchange that happens between the curator, the exhibition designer, and the mount maker. How do you get visitors excited about objects that are so small? If you're trying to talk to 20 people about an earring that measures 25 x 25 mm, there are challenges to that. Thinking about scale and the way people approach the jewelry in the gallery affects everything from how we conceive of an exhibition to how I give a tour.
The Past Is Present exhibition takes a "less is more" approach, with just over 70 jewelry objects in the 590-square-foot jewelry gallery. Larger objects, or suites of jewelry, have a greater visual impact, and there are a number of strong examples of oversized and complete sets in this exhibition—and in nearly all the MFA's jewelry exhibitions to date.
The current exhibition design has brilliantly included a central table case. I don't think either the exhibition designer or I realized how important this part of the installation would be, but it has allowed a central gathering point with just four objects. It's the perfect place for groups to gather as I introduce visitors to the themes of the exhibition.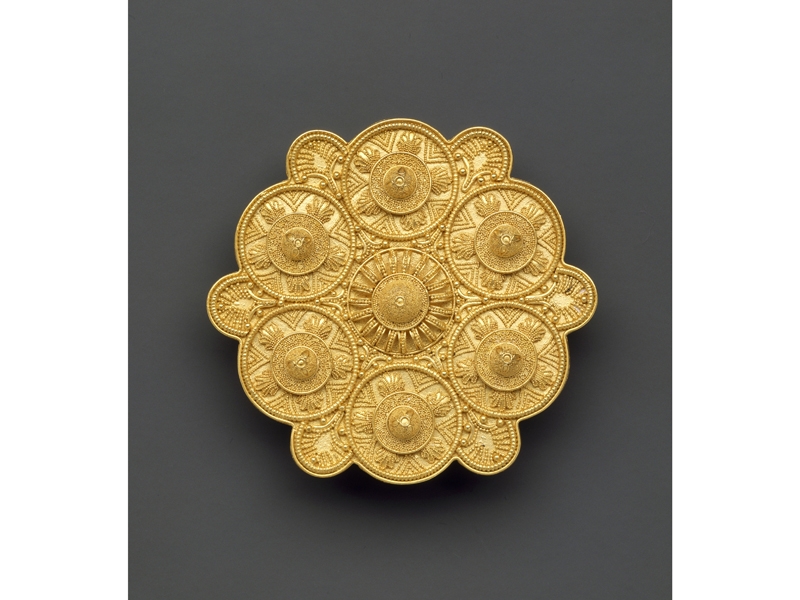 How does a jewelry exhibition fit into the wider museum program?
Emily Stoehrer: Jewelry is everywhere at the MFA. The jewelry gallery greets visitors just as they enter our main Huntington Avenue entrance and they encounter it in many of the museum's other galleries.
As an institution, we think about jewelry and adornment as one of many types of art forms. Jewelers have never worked in a vacuum, and it's important to consider jewelry on its own, but also to show how it relates to larger art movements and how it fits in among the larger collections. Even in the jewelry gallery, jewelry is contextualized by bringing in paintings, sculpture, and fashion.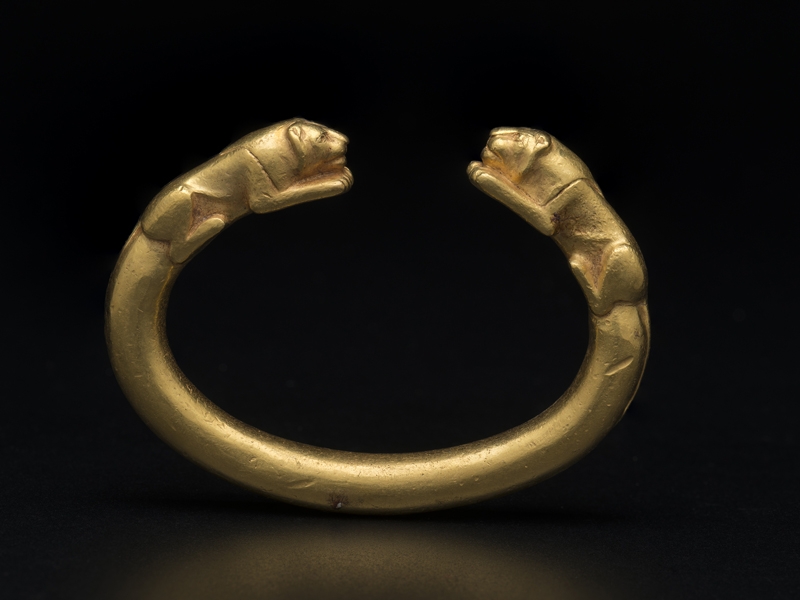 How did you design Past Is Present: Revival Jewelry and choose the title?
Emily Stoehrer: Our European department has an extraordinary holding of works by 19th-century revivalist jewelers—jewelers whose work was inspired by the past. I was interested in highlighting these objects in an exhibition, but also in demonstrating how artistic interest in historical objects existed before the 19th century and even continues today. I felt it was possible to showcase the depth and breadth of the collection in this way. Because we have a very important collection of ancient jewelry, I was able to show the objects that inspired the later ornaments, and also pull from our contemporary jewelry collection to show how some themes have continued to resonate for thousands of years.
The oldest object in the exhibition is a solid gold bracelet with two lions facing each other. It dates to 2000 BC and its design inspired similar bracelets by Cartier, David Webb, and even the costume jeweler Kenneth Jay Lane. The purple titanium python necklace by David Bielander from 2011 is the most recent work in the exhibition. It's exhibited on a 1930s-inspired dress by Alexander McQueen and has been a focal point of the exhibition. Paired with snakes from antiquity and from the 20th century, it shows how serpents have continually been seen in jewelry. Together, the bracelet and the necklace aid in showing 4,000 years of jewelry history.
I'm lucky to work with an extraordinary team that includes a conservator, an exhibition designer, and mount makers. We worked out the flow and organization of the exhibition together, refined the themes (memory, technology, and design), and repeatedly mocked up each case. Custom mounts are made for each object, so that the jewelry appears to be floating in the cases. In exhibiting jewelry at the MFA, Yvonne and I have always worked hard not to crowd the cases. We want people to confront the objects as they would any other work of art, and for there to be room to consider each object individually, and mock-ups are an important part of this process.
As I was working to finalize the object checklist, I came across an editorial for T magazine titled "Past Is Present," and I thought, "Yes, this is exactly the point I'm trying to make in my exhibition."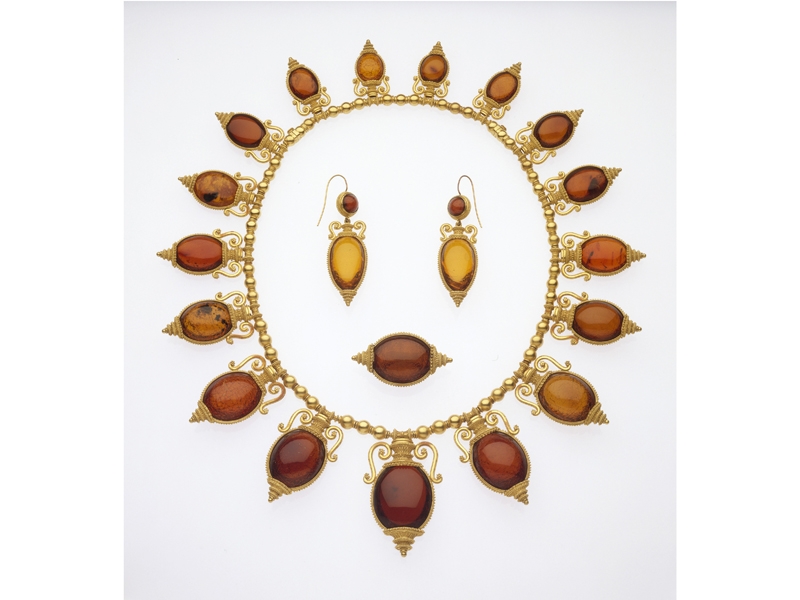 I read your statement in Vogue's article on Castellani's jewelry as a political intervention in Italy's historical situation during Mazzini's Roman Republic. Is there politically embedded jewelry in this exhibition?
Emily Stoehrer: There are a lot of political themes that resonate among the works in this exhibition. For example, there is an 18th-century pendant by Wedgwood called the "Slave in Chains" medallion. It was created by Josiah Wedgwood and distributed to members of the British Society for the Abolition of the Slave Trade. Made from black-and-white jasperware, it shows a manacled slave on bended knee below the words "Am I Not a Man and a Brother?" Set into women's jewelry or men's accessories, like watch fobs or snuffboxes, the mass-produced medallion was a highly visible indicator of one's support for the abolitionist movement.
There was a wave of nationalism that swept through Europe in the 19th century, and during that time jewelry was fabricated that aimed to share the collective consciousness as new countries were being established or sought independence. The best example of this is a masterful necklace containing a central micromosaic pendant featuring the profile of Julius Caesar. In seeking unification of Italy, 19th-century Romans were clearly looking to their glorious past, and this necklace would have functioned, like the Wedgwood pendant, as a very public indicator of the wearer's political beliefs.
I think there are many connections that visitors can make between objects like these and the way that jewelry can and does function politically today.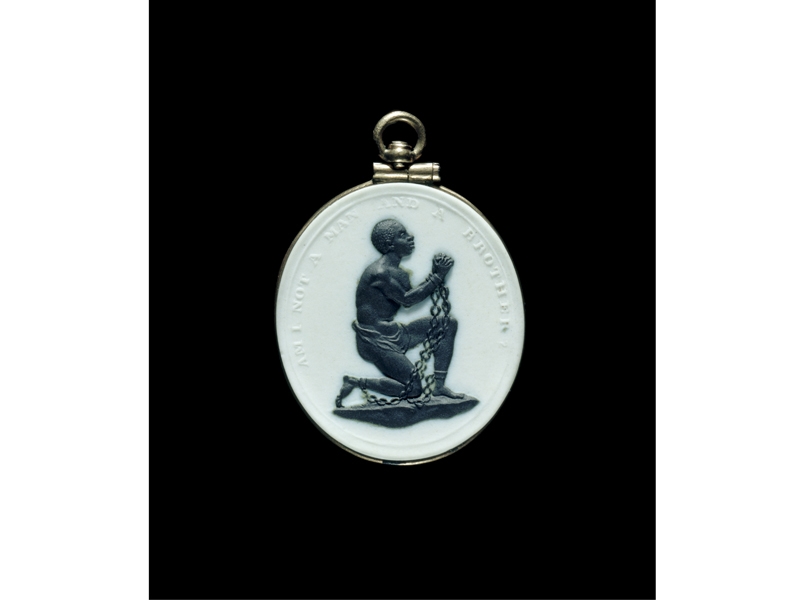 How do you consider the interaction of the audience with the exhibition (and jewelry) when you plan a show?
Emily Stoehrer: Many times, jewelry exhibitions are crowded with objects. I find this overwhelming—I don't know where to look first—and I think visitors do, too. As hard as those choices are, limiting the amount of jewelry in an exhibition heightens its impact. Visitors can focus their attention and look at each object in the way that they would a painting hung on the wall. So, giving space is primary. We also have small cases that encourage thematic groupings, and I think this also helps visitors understand how the objects relate and why they're being shown together.
It's funny, I put so much thought into the organization of this space but it's hard to predict what visitors will be drawn to. The David Bielander necklace is the final object in the small square gallery, but it's so dramatically displayed on the Alexander McQueen dress from the 1990s that visitors are immediately attracted to it and inevitably go through the exhibition backward.
What, in your opinion, is the key aspect that this jewelry exhibition brings to the contemporary curatorial discourse?
Emily Stoehrer: I would really love to see more metals and art history programs in the United States incorporating a class on jewelry history into their curriculum. With this exhibition, I aim to show the way jewelers have engaged, and continue to, with an ongoing narrative. Sometimes this is intentional, but sometimes it's unintentional, and I think a tremendous amount of creativity and scholarship could result from increased academic study of jewelry history.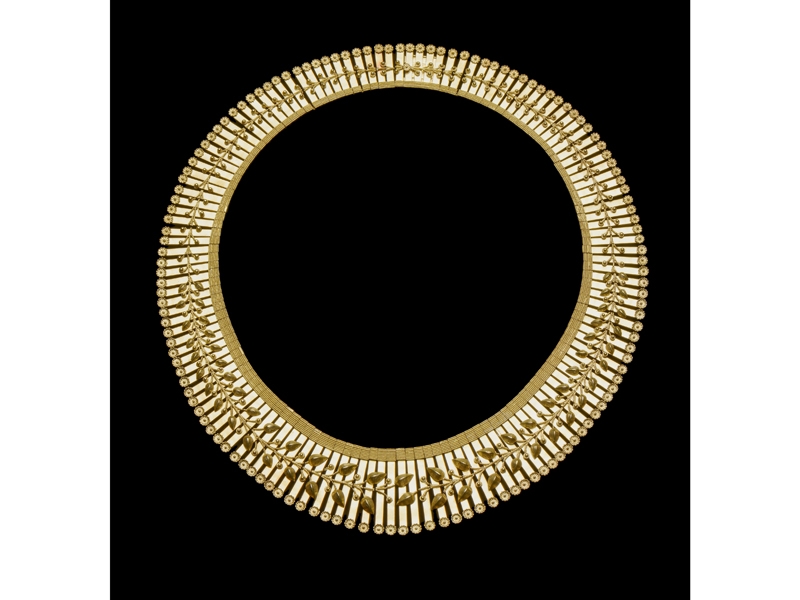 What do you see as the future of jewelry as one of the disciplines within museums, new galleries for contemporary art, and social and learning spaces?
Emily Stoehrer: Simultaneously, my predecessor and I have worked to build a jewelry study center that can be used as a resource for scholars, students, and makers. With that in mind, as we continue to build our collection of jewelry objects we have also sought to acquire jewelry drawings and archival material, and to add to our holdings of jewelry publications both old and new. Our hope is that having these resources will help deepen the field's understanding of the various aspects of the jewelry industry and encourage expanded discourse in the field of jewelry studies.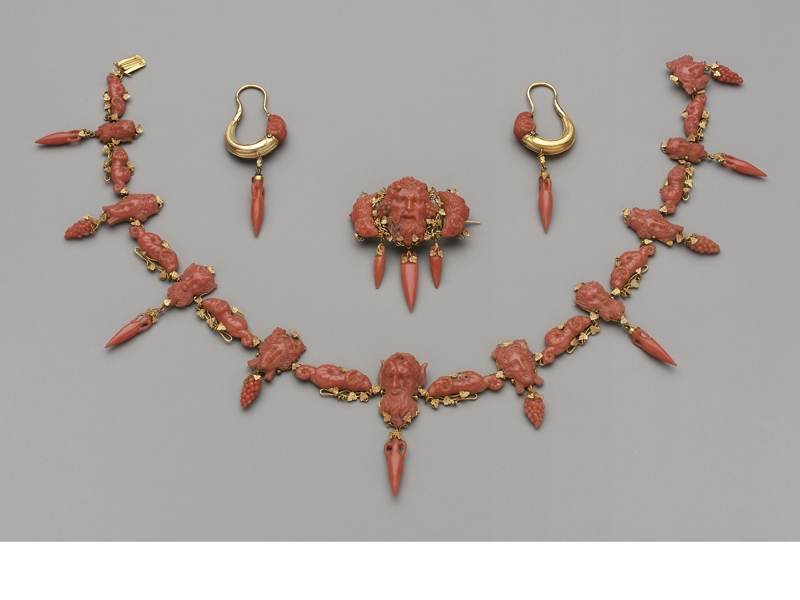 What insights have you acquired through your experience as a curator that you would spread/reveal to anyone interested in jewelry curation?
Emily Stoehrer: There are few other (if any) fields that have such a supportive network of artists, educators, writers, curators, and collectors. The study of jewelry remains a really fertile subject area with lots of uncharted territory. It's exciting to think of all the books yet to be written and exhibits yet to be installed.
Thank you very much.