Art Jewelry Forum's extensive network of international
gallery supporters
is dedicated to celebrating and showing art jewelry. On Offer is a monthly series that allows AJF galleries to showcase a piece that they've personally selected to tempt and inspire you. Please contact the gallery directly for inquiries. Enjoy!
MUSEUM WORTHY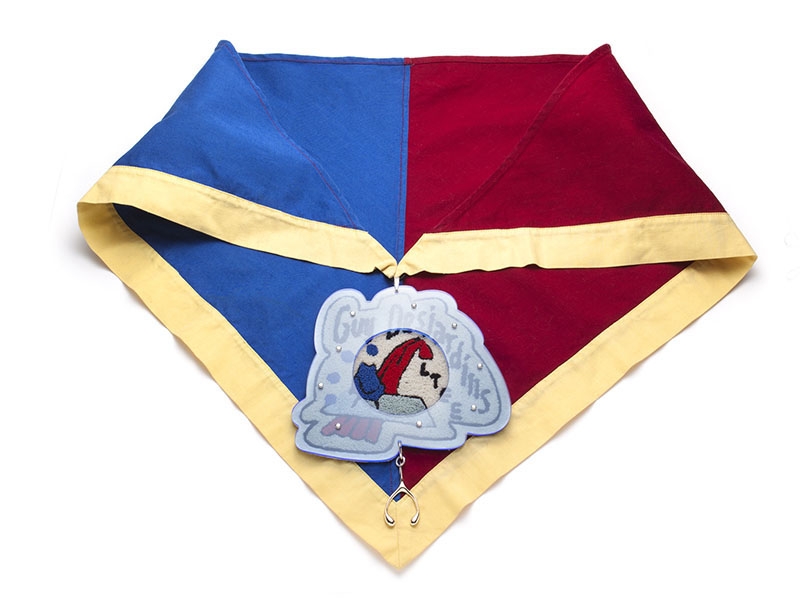 L. A. Pai Gallery—For her solo exhibition, My Mother's Dress and My Father's Pipes, Josée Desjardins celebrates her 35 years as an artist by incorporating family objects into brooches and neckpieces. Guy Desjardins Limitée is a large-scale neckpiece comprised of her father's boy scout kerchief and a promotional patch he later had made for his furniture business. His lucky wishbone charm dangles from the reversible pendant, which has vintage linoleum on the other side.
RETAIL: CAN$1,200
CONTACT: Lisa A. Pai
ESTABLISHED ARTIST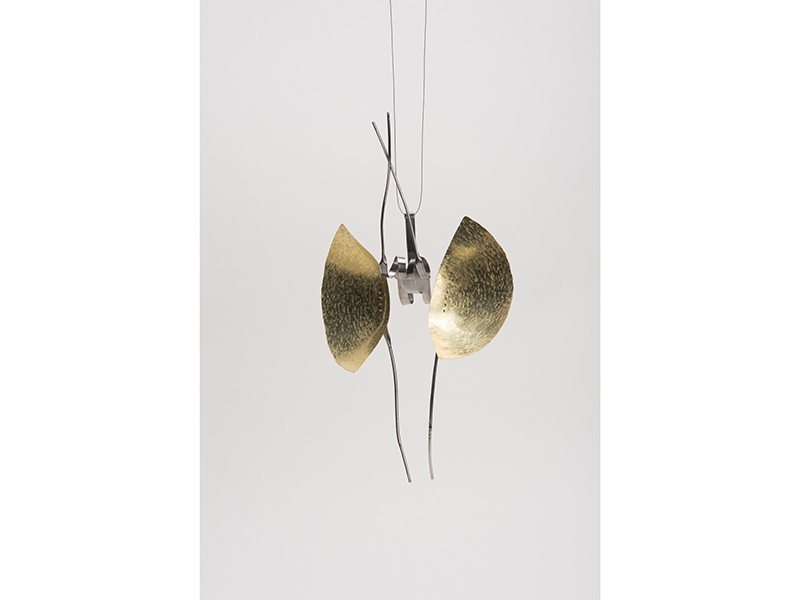 Galerie Marzee—This breathtaking pendant from Andrea Wippermann is inspired by a butterfly, with its beautiful shape, movement, and elegance. Not only was the morphology of insects her starting point, but also the metamorphosis of technological parts to insect-like creatures and the play of proportion, balance, and materiality.
RETAIL: €4,600
CONTACT: Marie-José van den Hout
ESTABLISHED ARTIST
Patina Gallery—With this belt, your pants have never looked as stylish. Master silversmith Michael Jerry presents this dynamic, contemporary belt buckle from his new collection of innovative designs, all buckles made of brushed sterling silver. Function is at the heart of Jerry's handmade works. "I consider the human form for the jewelry," he says. His edgy buckles are among the brilliant pieces in New Discoveries for Spring at Patina. Jerry was a longtime faculty member at Syracuse University, where he was mentor to two generations of jewelry makers. At one time, he concentrated his work on iron before choosing to work almost exclusively in traditional metals like gold and silver.
RETAIL: US$500
CONTACT: Linda Childers
ESTABLISHED ARTIST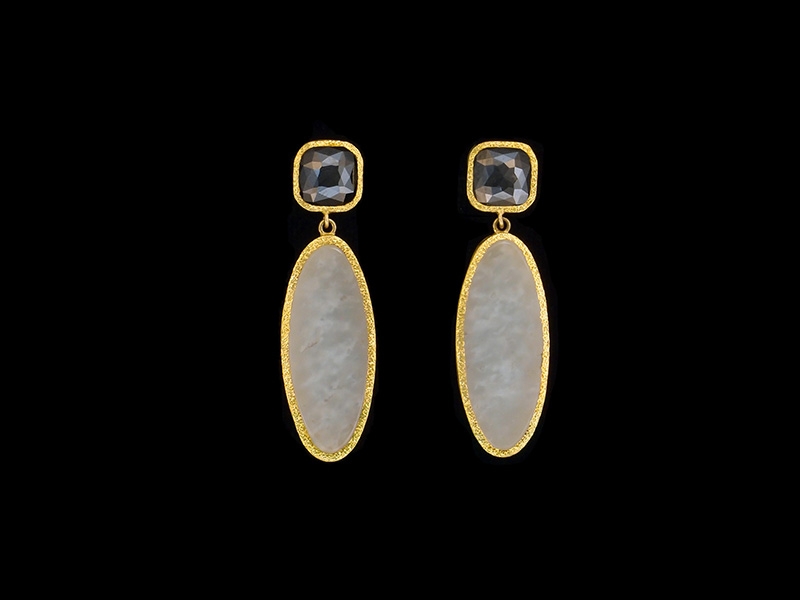 De Novo Fine Contemporary Jewelry—Pure elegance is what we think of when we look at these stunning earrings by Devta Doolan. Made of 22-karat gold, black diamonds, and white jade, they are a perfect balance of shapes, understated color, and refined textures.
RETAIL: US$5,400
CONTACT: Cherry LeBrun
ESTABLISHED ARTIST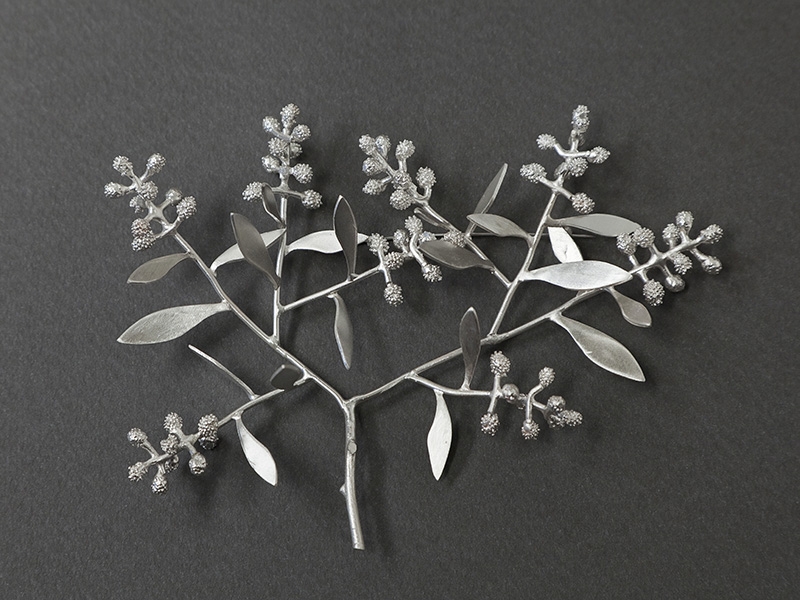 Gallery Funaki—With intimate detail, Marian Hosking captures the confounding beauty of the Australian natural landscape, at once rugged and fragile. The Crest brooch employs the tradition of floral motif as adornment and depicts a budding wattle branch, its thick wayward leaves and knobbly buds in place of soft petals. A fragment of landscape for the body, this piece is imbued with a tangible sense of place for the wearer to enjoy, no matter where that person may be.
RETAIL: AUS$1,300
CONTACT: Katie Scott
ESTABLISHED ARTIST
Four—Is there something hiding under these layers of hand drawings? Could you read something in the patterns? You have to get closer, you have to look carefully—you might have to get lost in unexplained wilderness. Sofia Björkman told a friend that she finds it difficult to make something that looks wild and he replied, "I went out to look for horns, and when I came back I found everything in a mess. I wonder what the bird has done." Afterwards, she made a group of jewelry pieces and showed them to a photographer. The photographer asked, "What have you done?" Sofia answered, "I wonder what the bird has done. Can you tell me?"
RETAIL: 4,800 SEK (Swedish kronor)
CONTACT: Karin Roy Andersson
ESTABLISHED ARTIST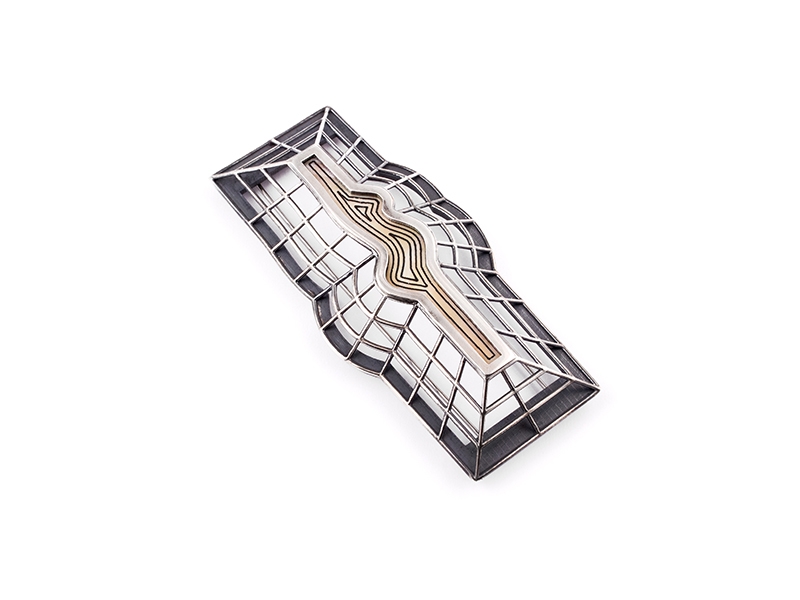 Baltimore Jewelry Center—Maria Eife works with CAD and 3D printing to create vibrant and geometric pieces. Lady Brooch is a piece from her newest body of work, which utilizes 3D printing, casting, and laser engraving. The center of Lady Brooch, made of laser-engraved mother-of-pearl, is a silhouette of the female form, which appears in various other pieces of jewelry in Maria's latest collection. However, each rendering of the form is unique in shape and size, echoing the diversity of women's bodies.
RETAIL: US$1,200
CONTACT: Shane Prada
ESTABLISHED ARTIST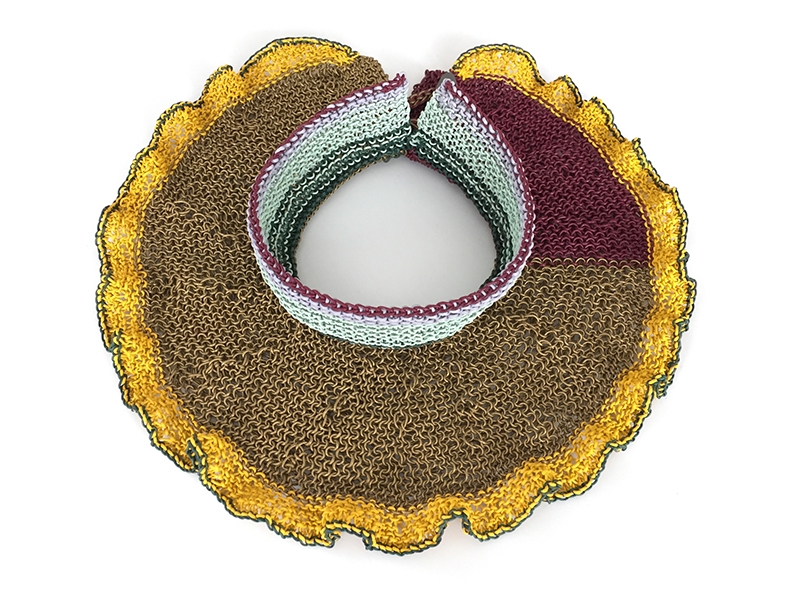 Velvet da Vinci—Brooke Marks-Swanson continues her exploration of the knit form and her interest in the landscapes of her Midwest home. "Through knitting fine leather, I have discovered a familiar vocabulary of the rigid construction common in metal fabrication," she says. "Born from the human need to protect ourselves from the elements, knitting quickly became a common thread throughout Europe and the Middle East early in the common era. To me, it represents the human need, artistry in its variations, and a universal language. Fantastical and surreal landscapes emerge through wistful color combinations describing visceral feelings of season, change, and uncertainty. The tended and wild materializes to describe the vastness and flatness of my beloved landscape but one that proves universal to us all."
RETAIL: US$3,200
CONTACT: Mike Holmes
ESTABLISHED ARTIST
PLATINA—Karin Johansson is an artist living and working in Gothenburg, Sweden. Since 2007, she has been the head of the jewelry art department at HDK Academy of Design and Crafts Gothenburg University, and a professor there. Her work is exhibited around the world and featured in several private and public collections. She is the recipient of several major grants and awards, among them the 10-year working grant of the Swedish Arts Grants Committee. In her work, she expresses what comes across in her life, new things, new ideas. She said earlier this year that she makes a lot of sketches now, and then she sent this piece with the title Black Sketches.
RETAIL: US$1,600
CONTACT: Sofia Björkman
MID-CAREER ARTIST
Tinsel Gallery—This brooch forms part of a collection that was recently on display at Tinsel Gallery in the exhibition Object Identified, where Eric Loubser explored everyday, mass-produced items and reimagined them as precious, handmade, one-of-a-kind pieces of jewelry.
RETAIL: US$680
CONTACT: Geraldine Fenn
MID-CAREER ARTIST
OONA Galerie—This bracelet by Noon Passama has the quality of a sculpture. It seems to hide a kind of signification under its shiny polished surface. The shape could indicate a special meaning and gives the piece the character of an amulet. Due to its smooth shape and quite light weight, it can become a frequently worn attendant.
RETAIL: €900
CONTACT: Anna Schetelich
EMERGING ARTIST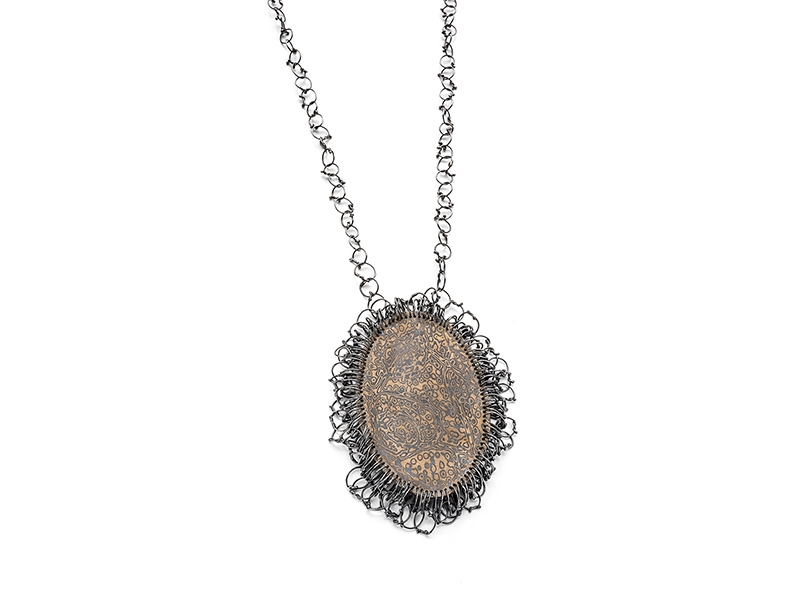 ohmyblue—Francesca Urciuoli defines her works as small-scale armor and at the same time as talismans, or amulets. ohmyblue has collaborated with her since the gallery opened in 2013. What is striking in her work is the way she approaches the Japanese technique of mokume gane (used in the 17th century to adorn swords). She uses its ancient alphabet to form new and different phrases.
RETAIL: Price upon request
CONTACT: Elena Rizzi
EMERGING ARTIST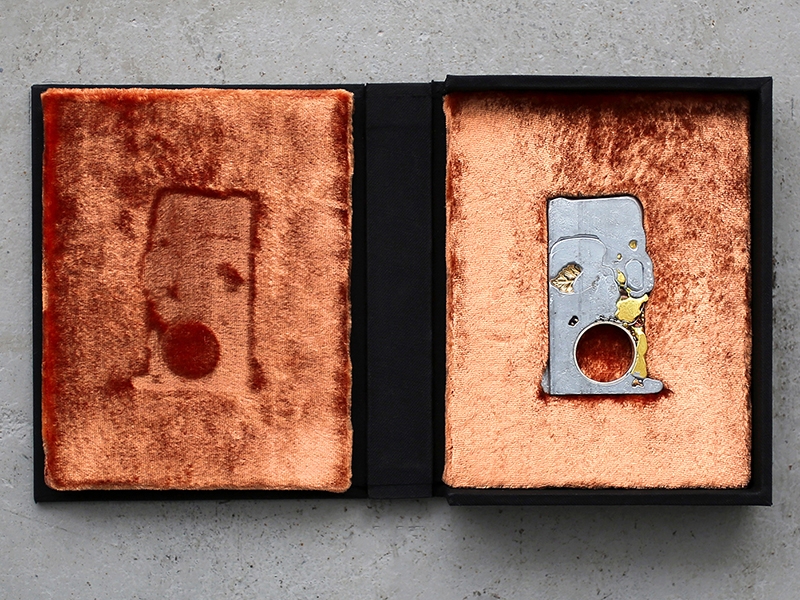 In the Gallery at Brooklyn Metal Works—MJ Tyson's work is centered on the relationship between people and their possessions. These objects are made using unconventional casting techniques and balance between the ideas of reusing materials and record keeping. The work Dust to Dust is comprised of personal objects, left behind by a deceased person, which Tyson then gives new life to by reconfiguring and joining these mementos into a contemporary piece of jewelry. The resulting object maintains a glimpse of its past and offers viewers the opportunity to reconstruct narratives with the remnants.
MJ Tyson is an artist and jeweler from New Jersey. She received her BFA from the jewelry and metalsmithing department at Rhode Island School of Design in 2008 and returned to earn her MFA in 2017. Interests in value and material culture have led her to the worlds of art appraisal and museum conservation. Research in these outside disciplines informs her studio work. Dust to Dust is part of the exhibition The Last Objects, by MJ Tyson, and will be on view May 5 to June 29, 2018. The opening reception takes place May 5 from 7–9 p.m.; an artist talk will be held June 10 at 2 p.m.
RETAIL: US$800
CONTACT: Brian Weissman
GALLERY CHOICE
Lillstreet Gallery—Susanne Henry received her BFA in industrial design from Rhode Island School of Design and developed her metalsmithing skills at Lillstreet Art Center in Chicago. Her jewelry has been shown at the Columbus Museum of Art and Design, and she has been a featured artist with Chicago-based fashion designer Maria Pinto. Henry has been represented by Lillstreet Gallery since 2014. In her Black Chain collection, she works with steel and gold to create bold pieces that explore structure and form, movement, geometry, and flow. "This series is the latest edition of a collection of work that explores chain and its elements, using steel and gold," says Henry. "The challenge in creating chain is that the design of the individual links is determined simultaneously with that of the overall structure, in order to realize the finished concept. This interdependence is essential to achieving the flow, movement, geometry, and form desired in a finished piece, in order to create something powerful and intelligent."
RETAIL: US$1,500
CONTACT: Nora McCarthy
GALLERY CHOICE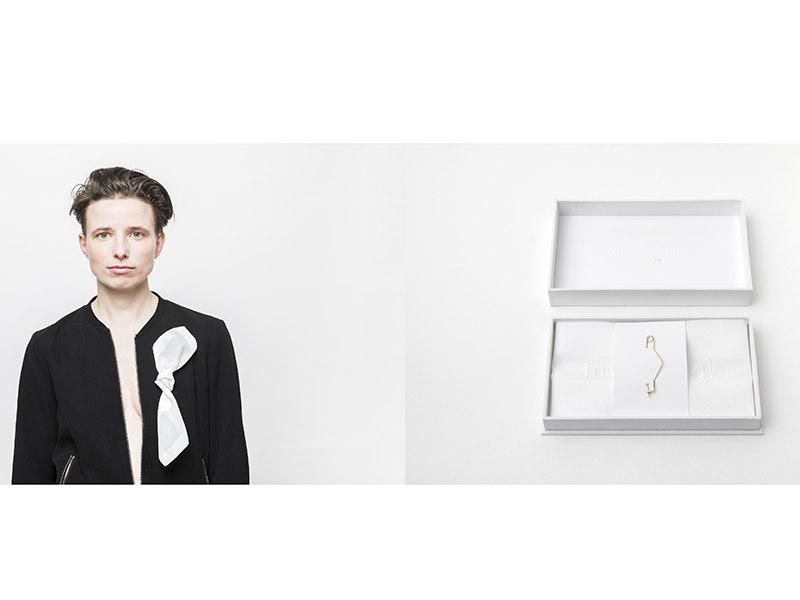 Gallery Loupe—With this work, Bernhard Elsässer asks, how do you remember important things? The knot in a handkerchief is a subtle reminder without words. The "thought" is knotted, with a performative gesture, into the hand-rolled cotton cloth, then attached to the body with a gold brooch. It is the artist's intention to turn an unspoken reminder into a simple and delicate adornment.
RETAIL: US$575
CONTACT: Eileen David
GALLERY CHOICE
Gioielli in Fermento Master Collection—The Terroirs necklace, by Sébastien Carré, follows the pathway of previous works he created for Gioielli in Fermento. Carré (b. 1989, France – Gioielli in Fermento Award 2015, Young Creation Award Ateliers d'Art F 2015, Finalist 2015 Talente, WCC-Bf Mons, Cominelli I and FAD Enjoia't 2016) has kept working on the changes of scales enhancing the differences between different points of view on the piece. When you look at the necklace while wearing it, you can feel as if you are part of the landscape and vineyards … while the observer looking at you may clearly see the actual vegetation growing on you.
Terroirs is a way to express the way human nature brings special flavor to any kind of production. Using mineral, vegetal, and animal material to produce the piece allows Carré to reveal how much everything is as intertwined as grapes can actually be. A big part of vineyard production is only possible because of the richness of the ground where the grapes grow, even limestone sediments made of thousands of years of decomposition of sea life. The Gioielli in Fermento collection is "a wine tale" made through jewelry inspired by the Mediterranean context and traditions, starting from a typical Italian landscape. In this still life, Carré's Terroirs necklace dialogues with a tasty artwork by Michelin-starred chef Isa Mazzocchi (from GiF – The Dinner 2017, Piacenza, Italy).
RETAIL: US$1,235
CONTACT: Eliana Negroni
GALLERY CHOICE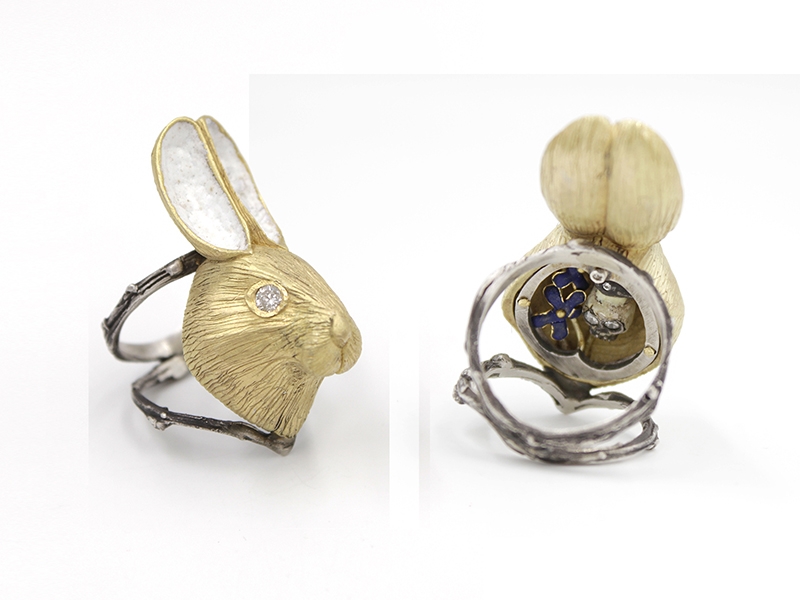 Facèré Jewelry Art Gallery—Melinda Risk's work plays off hidden stories, worlds, and memento mori. Her Spirit Rabbit Ring contains an enameled and bejeweled underworld featuring iconic imagery, including a skull, bird, and flowers. Risk's work offers a unique sense of style, story, and character.
RETAIL: US$2,580
CONTACT: Madeline
GALLERY CHOICE
Myday-Byday—In between weaving imaginaries. "My creation is part of a work of re-significance in the traditional technique of microweaving in horsehair," says Rita Soto Ventura. "The collections correspond to a feminine, organic language; volumes, containers, shelters, organs, viscera. Forms constructed from the overflowing skin tissue, generating a delicate, vulnerable body language that stimulates the senses, seducing and provoking them. Folds that contract and expand, that wrap up to the point of suffocation, in a slow limitless process, that builds and deconstructs the fabric, marking the passage of time between the fingers. I create unique pieces that stimulate dialogue between materials, technique, history, identity, sensitivity, and everyday stories, capturing a corporeal, intimate, and memorable experience."
RETAIL: €250
CONTACT: Laura Helena Aureli
GALLERY CHOICE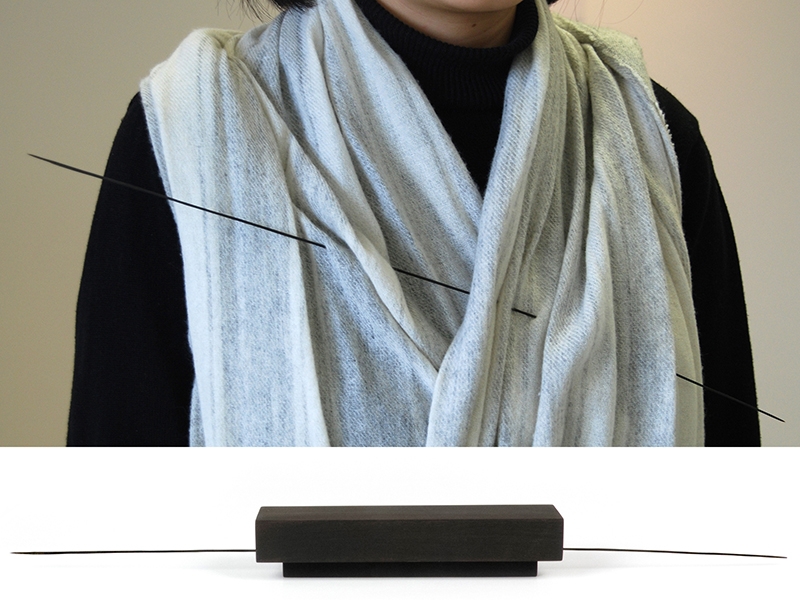 Galerie Door—Kun Zhang finished her MFA in January 2018 at the department of gemstone and jewelry design of Hochschule Trier at Idar-Oberstein, Germany. Kun Zhang cuts extremely thin pins out of ebony wood. This type of wood is characterized by a high density, which makes it hard to model. Still, Zhang's pieces are all handmade. This beautiful untitled piece, made out of ebony and chacate preto, consists of three components and functions as both an object and a brooch. The base is a small rectangular ebony block, carved with one horizontal line, like a small gutter. On top you see a larger rectangular wooden block made of chacate preto. This part functions as a lit. It partly covers the smaller ebony rectangle and it also holds an ebony pin 48 centimeters long with a diameter of 1 millimeter. The abstract form of the whole object makes its appearance minimalistic: life reduced to lines. At the same time, the sharp pointed pin warns us to be careful.
RETAIL: €2,875
CONTACT: Doreen Timmers
Hedone Gallery—Inspired by ancient chain mail patterns, Edinburgh-based artist Joanne Thompson experiments with scale, weight, form, and texture to create sculptural forms that are voluminous yet light, tactile, and extremely durable. She is fascinated by unit construction techniques, enjoying the way hard precious metals can become soft, sensuous forms which flow and stir on the body. Every ring in each unique handcrafted piece is formed, soldered, and finished by the artist.
RETAIL: US$2,350
CONTACT: Bonnie Levine
GALLERY CHOICE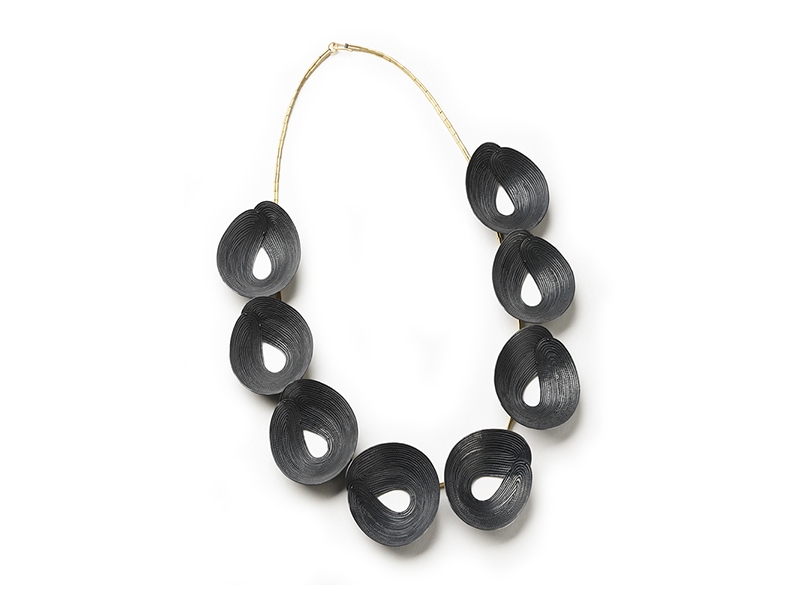 Galerie Noel Guyomarc'h—Julie Blyfield is a South Australian artist renowned for her work inspired by collected botanical specimens and forms. Using the traditional metalsmithing techniques of chasing and repoussé, Blyfield creates intricately textured pieces that capture the essence of the Australian natural landscape. Strongly poetic and refined, her work shares her unconditional passion for her environment. "My jewellery and vessel work is inspired by collections of botanical specimens and historic collections of embroidery which include floral motifs in their design. I see my work as an extension of the 19th-century Australian gold and silversmithing tradition in which our natural history became the subject of elaborate tableware and jewellery." Blyfield is part of Aurora Australis, an exhibition gathering 17 Australian artists, curated with Katie Scott from Gallery Funaki, on display at Galerie Noel Guyomarc'h in June.
RETAIL: CAN$4,900
CONTACT: Noel Guyomarc'h
GALLERY CHOICE
Galerie LA Joaillerie par Mazlo—The Buttonhole brooch is part of the latest body of works titled Rationed, created by English jewelry artist Jo Pond. Stirred by a collection of diaries, bequeathed alongside hand-me-down stories, words, and trinkets from a generation before, Pond draws on evocative World War II artefacts to craft her own heirlooms. Domestic bakeware and biscuit and medicine tins serve as visual references for the feminine domestic role of the wartime wife and mother. Leather from old wallets and worn bone tokens reference "worth" in the pre-decimal sense. Materials which no longer hold value beyond their collectability are reframed to provide the narrative: They become objects with which to tell the stories of wartime women.
RETAIL: Price upon request
CONTACT: Céline Robin
GALLERY CHOICE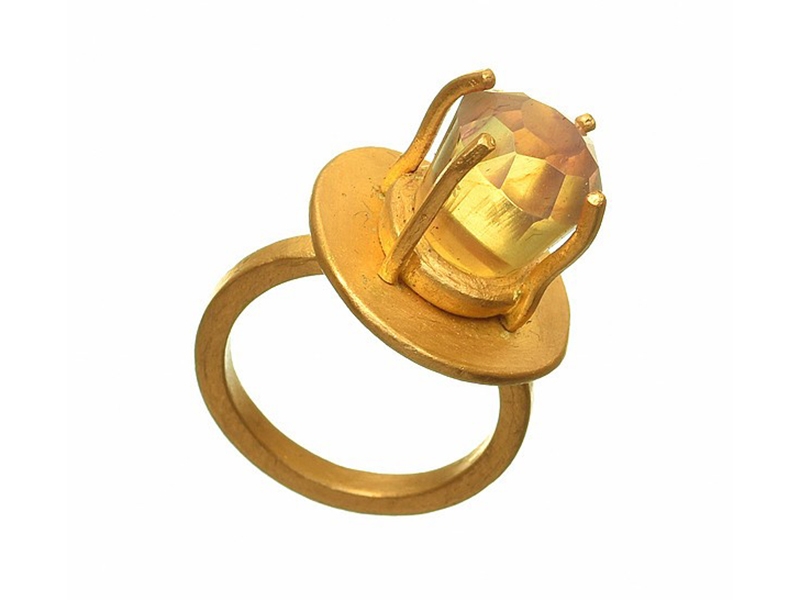 Fingers Gallery—Neil Adcock graduated from the Wellington School of Design in 1979. He exhibited some of his early works in the National Art Gallery in Wellington and spent many years as a creative director in advertising. Four years ago he bought some jewelry-making tools, set up a workshop, and with a little help from YouTube taught himself all the skills he needed to make his unique style of jewelry, quickly gaining a dedicated and continually growing fan base.
This piece uses exquisitely rare New Zealand amber found by chance in 2014 at a depth of 150 meters underground. Its pristine beauty was first exposed to the world by accident when the machinery of a fortunate miner broke down and in his efforts to fix it he observed a glint in the raw earth. This glint, upon further investigation, unearthed a small quantity of prized amber untouched since its formation during the Cretaceous and Tertiary period some 30–70 million years ago. Now, for the first time in eons, we can gaze upon and appreciate its pure and unparalleled beauty. Certified in 2016 by the Gemological Institute of America as amber.
RETAIL: NZ$5,950
CONTACT: Lisa Higgins
GALLERY CHOICE
galerie beyond— Karin Gyllerfelt describes her work thus: "The silk garment has its own specific way of falling, softly flowing through the air. Time passes slowly while the material shapes itself. It folds and unfolds during its extended journey toward the floor. By the use of photography and etching technique, I have been able to transfer pictures of momentary textile shapes—created by chance—onto the surface of the silver sheet. To me there is a strong connection between the image of the fallen cloth and my own bodily existence. Silver has an ability to transform itself into the shape or appearance of another material. It is as if the precious metal remembers and captures the essence of the other material through it own transformation. It becomes a carrier of a long lost material message."
RETAIL: €780
CONTACT: René Darmont
GALLERY CHOICE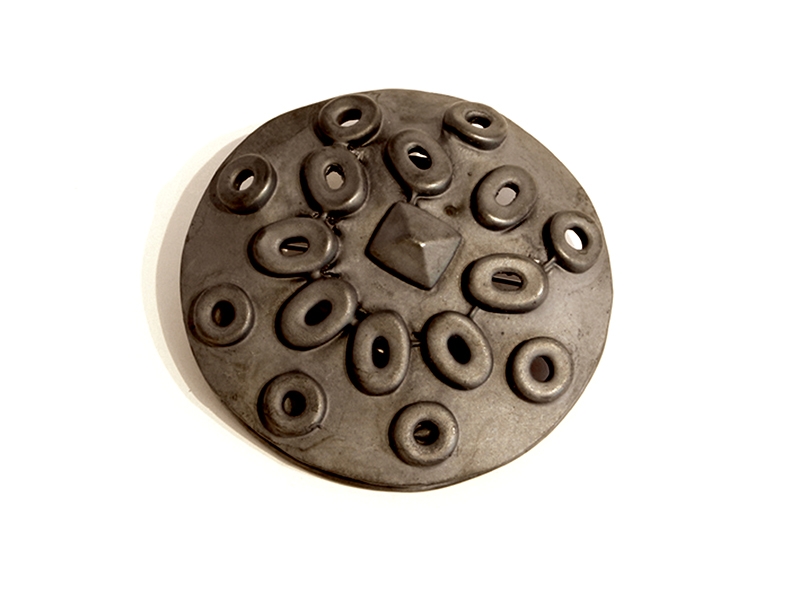 Galerie Spektrum—Winfried Krüger is one of the important artists and teachers from the "older" generation in Germany.
RETAIL: €1,430
CONTACT: Juergen Eickhoff