Art Jewelry Forum is pleased to share the news that members of our community find noteworthy. Providing a place to share interesting news is one way AJF is celebrating our 20th anniversary. Is something missing? The success of this compilation of compelling events, exhibitions, and items of interest to the jewelry community depends on YOUR participation.
If you're a member of AJF, you can add news and ideas to the monthly report by going here. If you aren't a member, but would like to become one, join AJF by making a donation.
ANNOUNCEMENT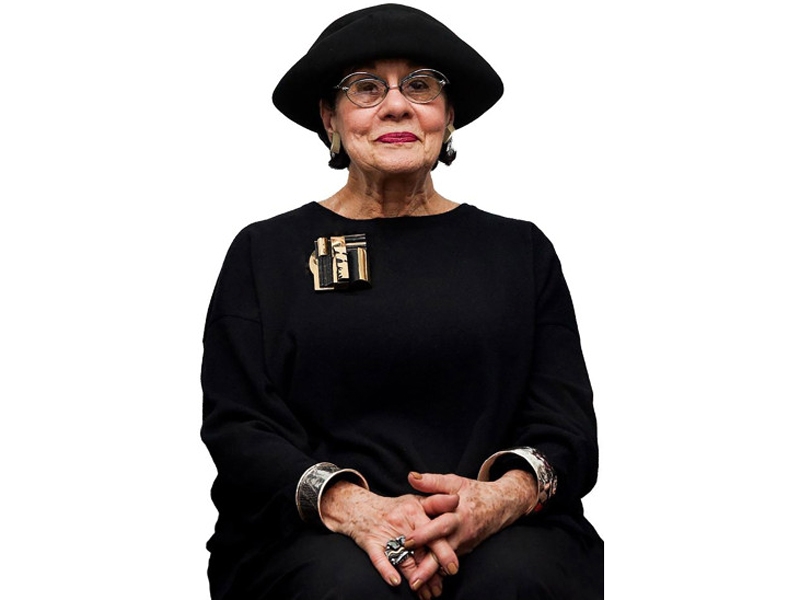 The inimitable Helen Drutt English was recently honored as a Distinguished Educator by the James Renwick Alliance, along with Sonya Clark, Andrea Gill, John Gill, and Albert LeCoff. If you aren't familiar with Helen Drutt English, be sure to take a look at her bio–she's a force in the jewelry world.
ANNOUNCEMENT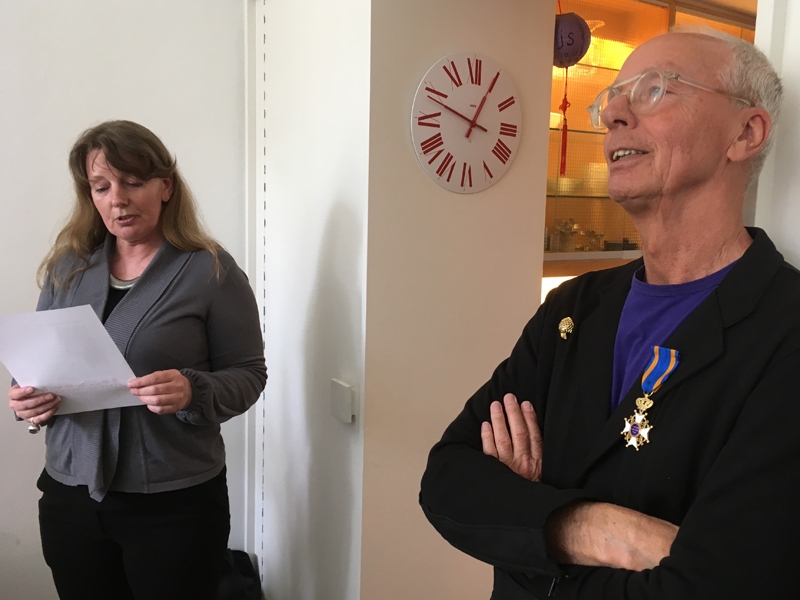 On April 26, 2018, Gijs Bakker was appointed Knight in the Order of the Dutch Lion, a high royal decoration. It was granted to him because of his long years as an educator, as one of the founders of Droog Design, which launched a new generation of Dutch designers, and for his outstanding work as a designer. Every year, on the day before King's Day, these ribbons of honor, together with an impressive medallion and an official document, are awarded to people who excel either because of their dedicated work as volunteers for the benefit of society, or because of their artistic, scientific, and athletic achievements. It's quite exceptional for this high order to be awarded to someone from the world of art and design.
ANNOUNCEMENT
92nd Street Y is pleased to announce the selection of the Jewelry Center's second annual artist in residence, Ineke Heerkens. Heerkens is an Amsterdam-based jeweler working in metal, textile, and ceramics. The residency begins August 22 through September 23 and culminates with two full-day workshops, September 22 and 23, led by Heerkens. "Ineke was selected by the jury for her incredible work in jewelry, and her compelling interdisciplinary project proposal to collaborate with the ceramics, painting, and dance centers at 92Y, in addition to jewelry," said Jonathan Wahl, 92Y Jewelry Center director.
Applications were received from jewelry artists in 29 countries, and the jury also named two semifinalists: Jessica Anderson and Maral Mamaghanizadeh. Anderson uses found materials, including plastic bags, and the process of electroforming to create large jewelry pieces. She is concerned with the effect of objects, and defined notions of waste in relation to ideas of collection. Mamaghanizadeh draws on her roots as an Iranian woman and her interest in feminism to inspire her work. Her latest collection explores the issue of the hijab by creating a series of brooches with her own and friends' hair.
ANNOUNCEMENT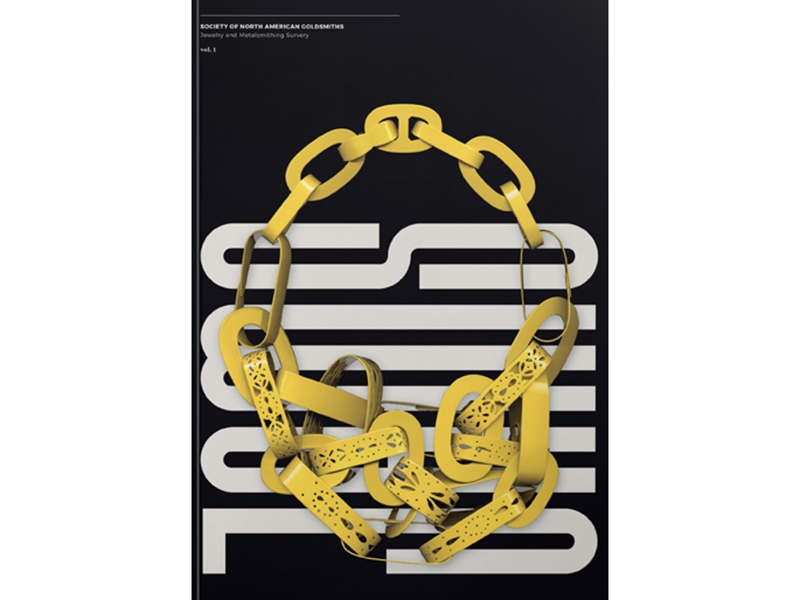 The Society of North American Goldsmiths (SNAG) has published its first annual Jewelry and Metals Survey (JaMS). The publication highlights the best new work being made in the international field of jewelry and metals. The result is a beautiful soft-cover book of over 200 objects made by 159 artists from 20 different countries. The book is available for purchase from SNAG.
ANNOUNCEMENT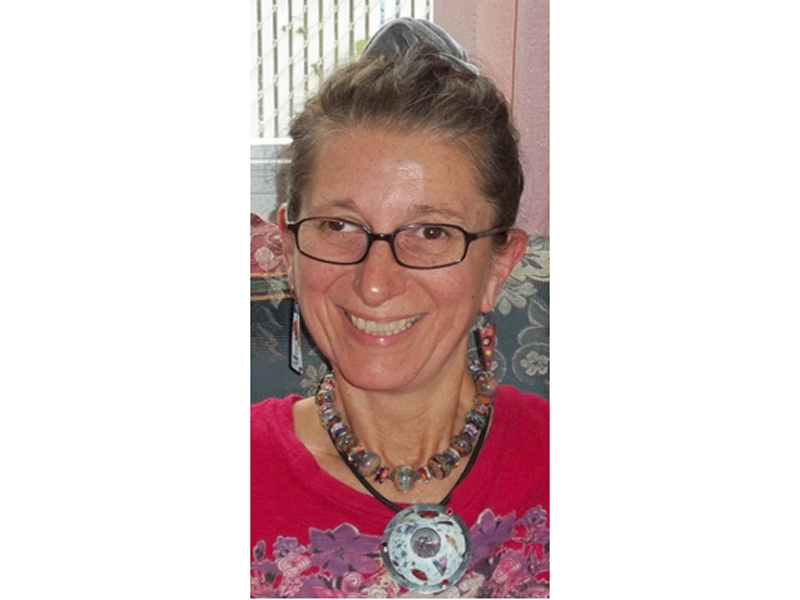 The Society of North American Goldsmiths (SNAG) is pleased to announce that its 2018 Volunteer Recognition Award recipient is Anne Havel. Havel has served on SNAG's board of directors since 2011. She has been SNAG's treasurer during those years. She will be given her award during the Membership Meeting at SNAG's 2018 MADE conference in Portland, Oregon, in May 2018.
MUSEUM EXHIBITION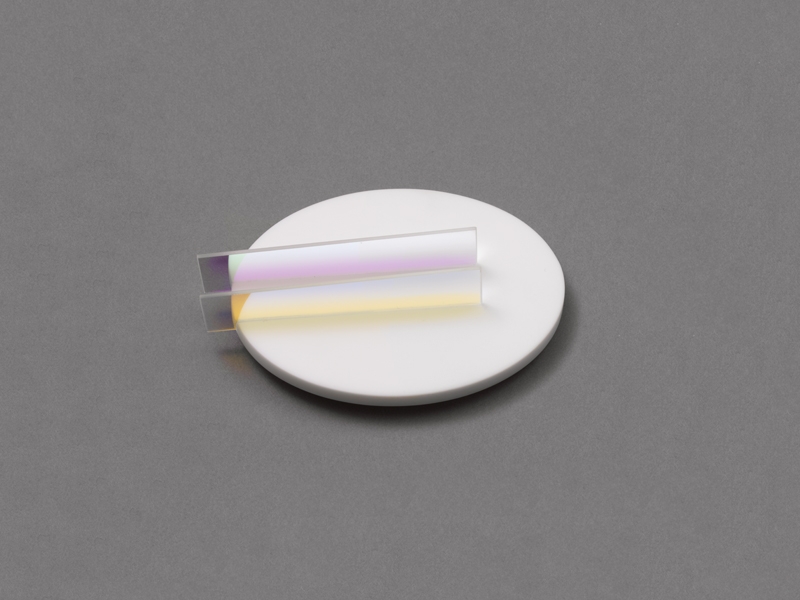 For curator Ursula Neuman, "materials or techniques are simply the means to an end, which is to convey the intent and concepts that motivated the artist." A great example is a 3-D printed necklace by Doug Bucci, and this brooch by Jiro Kamata, both on view until May 28, 2018 as part of 150 pieces on show in the Susan Grant Lewin collection at the Cooper Hewitt. Read more on how these pieces became part of her collection.
MUSEUM EXHIBITION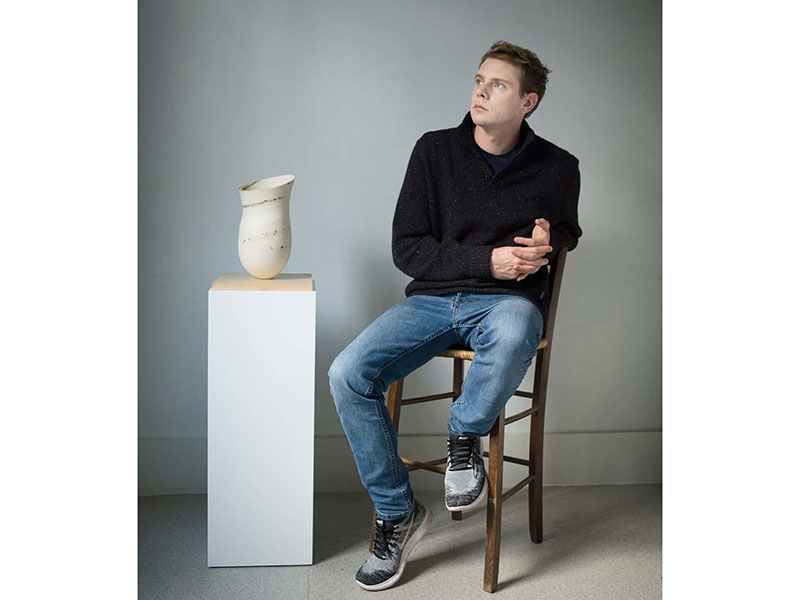 The Loewe's Craft Prize is a significant recognition and sizable prize for an artist working in the crafts. Learn more about the thinking behind the prize from creative director Jonathan Anderson. The winner will be announced on May 3, 2018. The Loewe Craft Prize exhibition will be on show at the Design Museum, London, May 4 to June 17.
SYMPOSIUM / CONFERENCE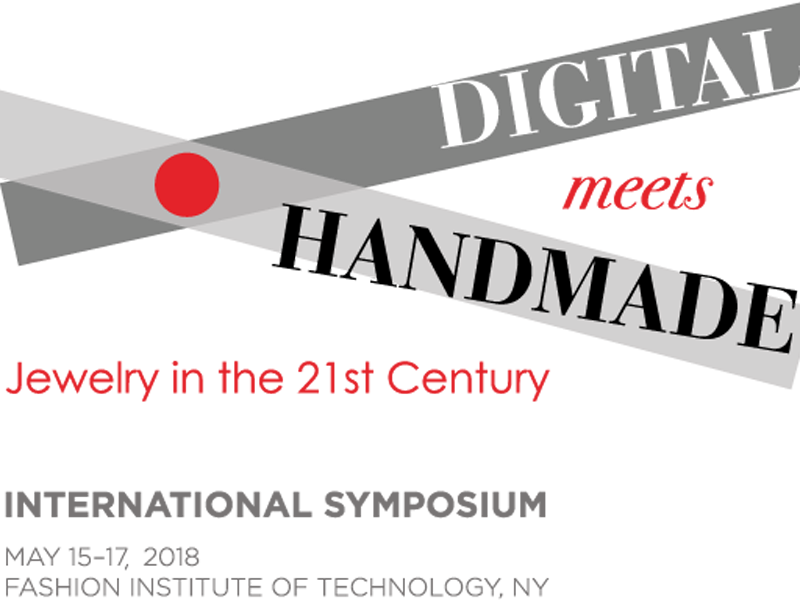 FIT hosts the international symposium "Digital Meets Handmade: Jewelry in the 21st Century" on May 15-17, 2018, for three days of discussion surrounding jewelry design and manufacturing. There has been a seismic shift in jewelry design and manufacturing in recent years. As digital design and model-making have sped up the process, they have proven themselves invaluable as tools of the trade. But every tool—hand held or digital—leaves its mark. This symposium will provide an arena for debate on how digital technology and making by hand duel for influence in the aesthetics, the use, and the cultural contexts of jewelry as both a manufactured product and an applied art form.
CALL FOR ENTRY—GRANTS
This is a long shot for art jewelry writers, but give it a look and apply. The Arts Writers grant supports both emerging and established writers who are writing about contemporary visual art. Ranging from $15,000 to $50,000 in four categories—articles, blogs, books, and short-form writing—these grants support projects addressing both general and specialized art audiences, from scholarly studies to self-published blogs. The organization also supports art writing that engages criticism through interdisciplinary methods or experiments with literary styles. Any writers that meet the eligibility and publishing requirements can apply. Deadline: May 21, 2018.
CALL FOR ENTRY—EXHIBITION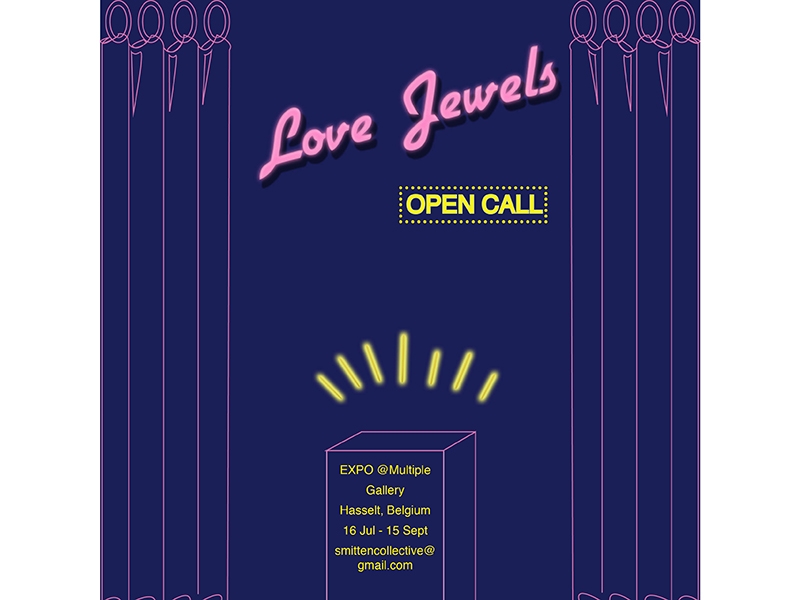 Love Jewels will be a show about love, sex, fertility, passion, fetish, nudity … Although sexuality has been depicted for ages, there's still a taboo around it, as well as a strong attraction toward it. Looking at images of sexuality brings up different, sometimes contrasting emotions such as shame, arousal, repulsion, and confusion. The depiction of sexuality evolves together with ever-changing societal and social structures. Smitten Collective seeks jewelry artists who portray the subject of sexuality. The term is broad and includes so many aspects: LGBTQ, gender, abuse, monogamy, lust, and so on. Deadline for entry: May 6, 2018. Exhibition: July 16–September 15, 2018, at Multiple Gallery (Hasselt, Belgium).
CALL FOR ENTRY—ARTIST RESIDENCY
Spend time in Amsterdam and work as artist in residence! The Francoise van den Bosch Foundation is now open til September 15, 2018, to receive application entries for 2019.
CALL FOR ENTRY—AWARD
Gallery Funaki is pleased to announce the 2018 Mari Funaki Award for Contemporary Jewellery. Artists at all stages of their practice are encouraged to apply. The award was established in 2014 to celebrate the life of founder Mari Funaki, and to recognize the talents of emerging and established artists worldwide. Prizes are offered in two categories: an acquisitive established artist prize of AUS$8,000, with the winning piece entering the collection of the National Gallery of Victoria, and a non-acquisitive emerging artist prize of AUS$2,000.
The selected work will be exhibited at Gallery Funaki in a major exhibition in August and September 2018. The deadline to apply has been extended to May 18, 2018. Full details can be found at marifunakiaward.com.
CALL FOR ENTRY—COMPETITION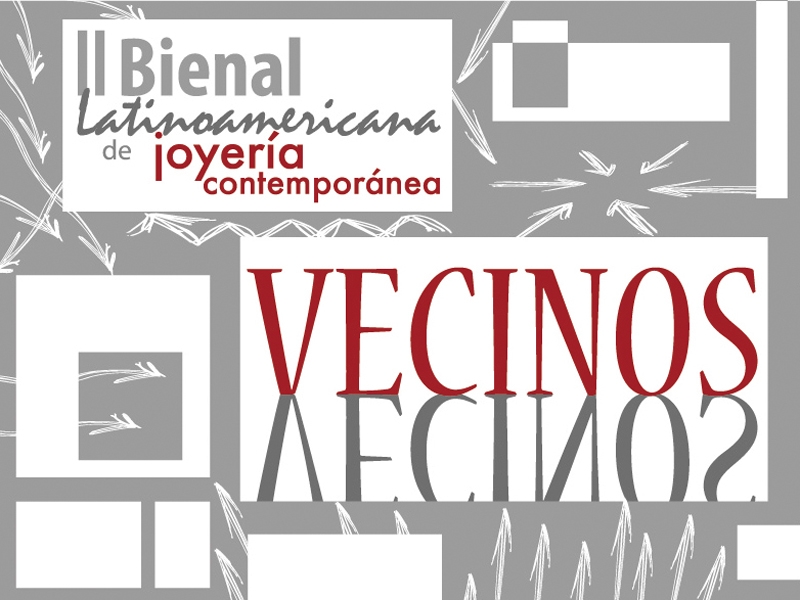 Celebrate Latin American contemporary jewelry from September 14 to November 4, 2018 during the Second Latin American Contemporary Jewelry Biennial, generated by Joyeros Argentinos and Museo de Arte Popular José Hernández. It will give place to a number of activities associated with contemporary jewelry in Buenos Aires and different points in cities of the suburbs and provinces of Argentina.
The central focus of the month of contemporary jewelry in Latin America will be the contest that in this edition invites you to work on the theme "Neighbours." This call for entry is open to all creators of contemporary jewelry, Latin American professionals or students, without restrictions on place of residence, or foreigners with more than three years of residence in Latin America. Access the call through this link.
JEWELRY IN THE NEWS
In a project called Meaningless, Su san Cohn, one of the jurors of the 2018 AJF Artist Award and an artist herself, is getting attention for making art against a recent Danish law that confiscates jewelry from asylum seekers. "This reducing of the value of jewellery to an asset is contemptuous and ignorant of the crucial role jewellery plays in people's lives," says Cohn, "especially people fleeing from war and trauma."
JEWELRY IN THE NEWS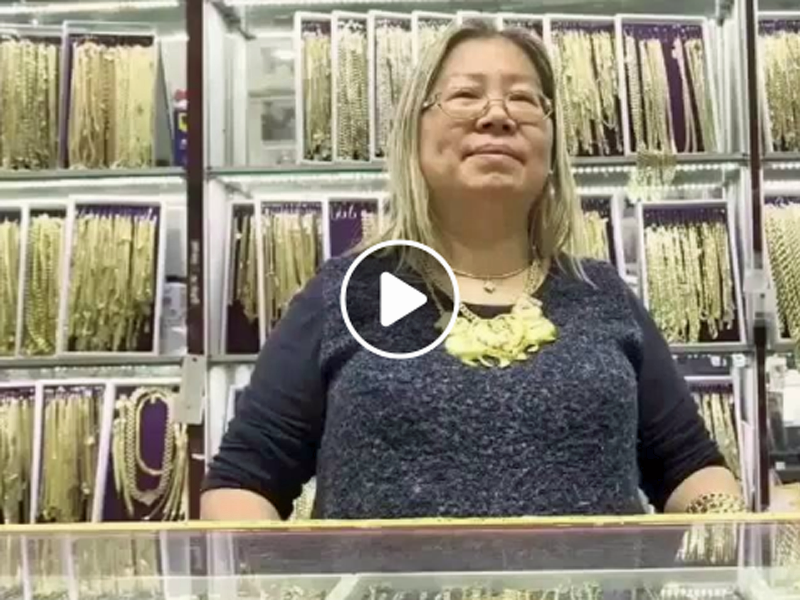 A$AP Eva Popular Jewelry on Canal Street is behind some of the most recognizable looks of artists such as A$AP Rocky, CeeLo Green, and Wu-Tang Clan's Cappadonna. Check out this video, from STYLE INSIDER, on NYC Jewelry Week's page, to learn more about where pop and hip-hop's biggest stars go to get their jewelry.
JEWELRY IN THE NEWS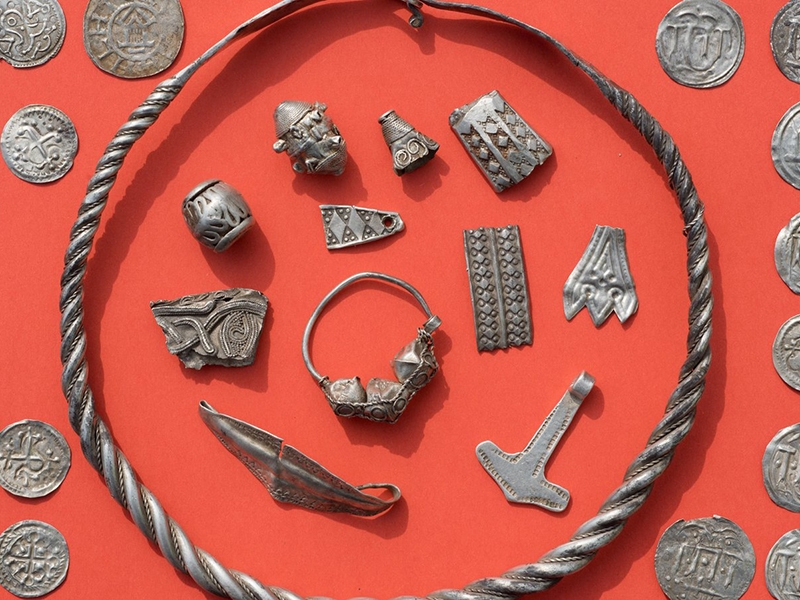 NPR reports that an amateur archaeologist and a 13-year-old have uncovered a stash of thousand-year-old coins, rings, and pearls on an island in the Baltic Sea in northern Germany, including items that may be tied to Harald Bluetooth, the king who united Denmark. What a discovery! And how interesting that there's a connection to modern technology, at least in the king's surname.
JEWELRY IN THE NEWS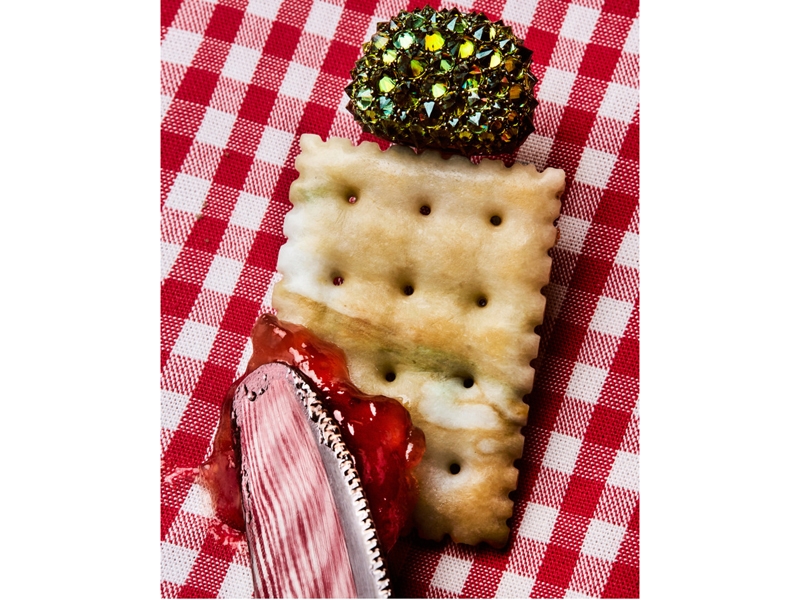 The Cut features jewelry that looks like dessert.
JEWELRY IN THE NEWS
This New Yorker article about amateur sleuths who find lost jewelry is a couple of years old, but won't you be glad to know their services exist if your favorite piece of metal art jewelry disappears?
JEWELRY IN THE NEWS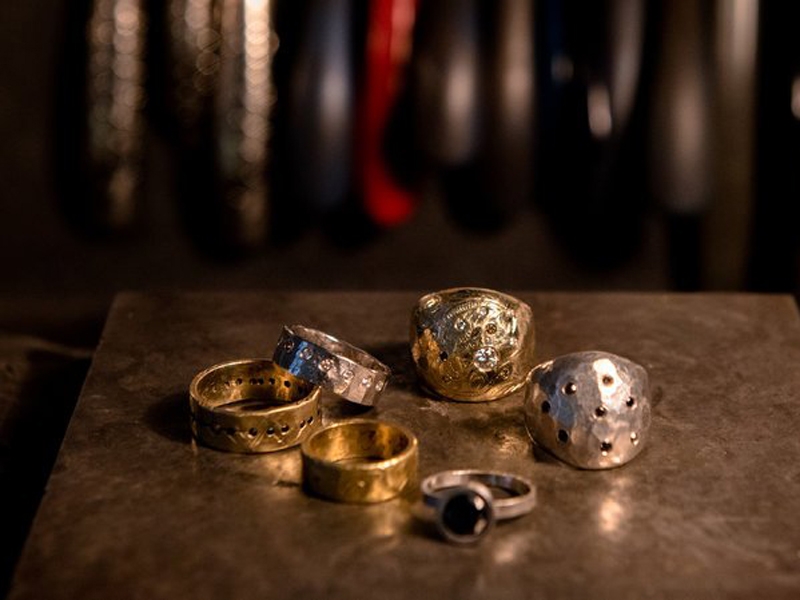 The New York Times reports on jewelry that crosses gender barriers.
JEWELRY IN THE NEWS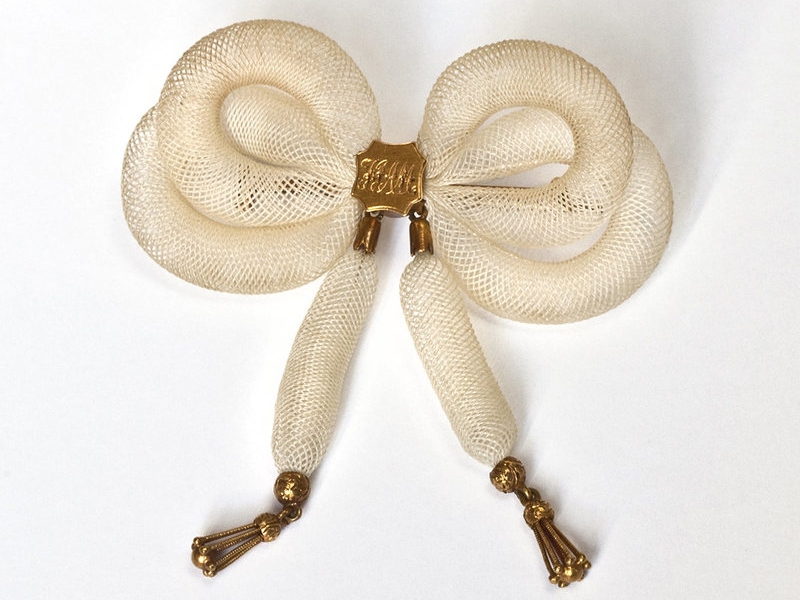 Things are getting hairy! Atlas Obscura reports on jewelry and art made from human locks. Because they're probably not familiar with current jewelers, the article focuses on Victorian items. Shall we clue them in to contemporary examples?
JEWELRY IN THE NEWS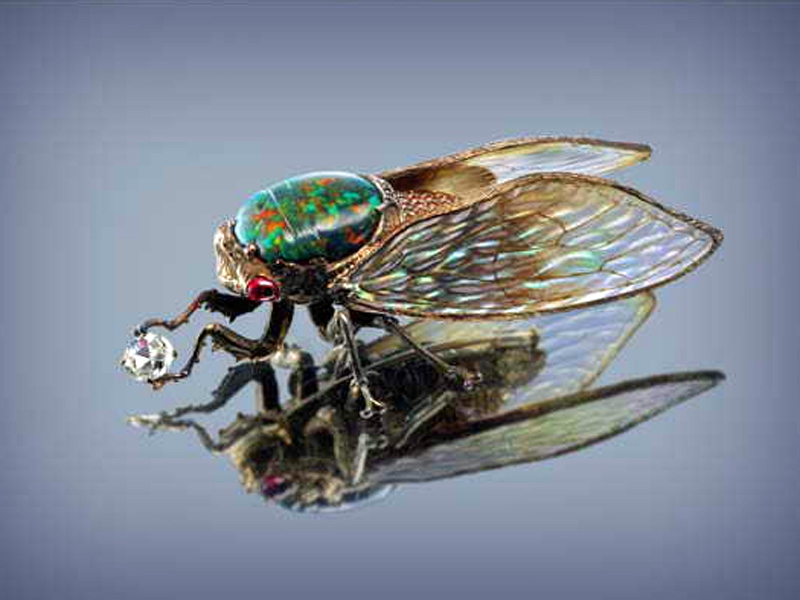 WWD interviews Chinese jeweler Wallace Chan about his views on technology's effect on the art of jewelry making, and why no high-jewelry brand has yet emerged from China.