Susan Cummins: How would you define your collection? Did you start out to fulfill that definition? If not what did you originally think you were doing?
Helen Williams Drutt English: The MFAH: Helen Williams Drutt Collection documents a segment in the history of our field. It was not my intention to build a collection; it was my desire to hold history, since little public interest was expressed in the late 1960s and early 1970s. A Whitney Museum curator told me to consider acquisitions as if they were heat, electricity, printing, rent and insurance – all areas central to the operating budget for the gallery. As a result, a segment of history would be saved within my regional realm. Never did I anticipate the national and international future.
Helen Williams Drutt English: The Ornament as Art catalog is an amazing supportive document. It fulfills my wish that the works and artists be permanently recorded before (one never knows) any aspect of the collection is dissolved or deaccessioned. It is a stepping-off point for further research and inquiry and expands information in the previous book, Jewelry of Our Time, which was written a decade earlier with Peter Dormer. That text incorporated the first comprehensive bibliography and chronology ever published. Cindi Strauss, Kristin Wetzel and Keelin Burrows were an ideal Ornament as Art research team. Although I kept abundant records, they were not always precise or available. Records were destroyed in a flood in the basement in 1985 and a brief partnership, from 1987 to 1990, created a situation in which files that I had stored were not released. As a closet historian, ephemeral materials – that is, photographs, letters, lists, etc. – are essential documents. My unfulfilled desire would be to document those records as support for the actual works. I have decades of faxes and letters in storage cases waiting to be read.
Do you think Ornament as Art has affected the curatorial attitude towards art jewelry in other museums? Do you think they have been paying attention? How can you tell?
Helen Williams Drutt English: It is important to note that the first exhibition of the collection occurred in 1984, at the Chateau Dufresne, Montreal Museum of Decorative Arts, Canada. It subsequently traveled to Philadelphia, Cleveland, Honolulu, Helsinki, Gothenburg, Amsterdam, Ostend and Zurich. Those venues gave public distinction as well as greater awareness to the works and artists and served to create a greater discourse among artists on several continents. As it traveled, from 1984 until 1995, the collection grew. Then it was retired from public exhibition, as I continued to develop its base. Ornament as Art was the collection debut after a twelve-year hibernation and growing period.
Ornament as Art has acted as a catalyst for other institutions, but that may be a pretentious notion. The Daphne Farago Collection is a permanent part of the Museum of Fine Arts, Boston. Donna Scheier has given her alternative material works to the Museum of Arts and Design (MAD) and other works to the Metropolitan Museum. Major collections in Europe flourish at the Pinakotech der Moderne, Munich and the Stedelijk Museum, 's-Hertogenbosch, The Netherlands – all excellent collections. I cannot enter into the minds of curators, but I have observed that Elisabeth Agro, at the Philadelphia Museum of Art, has begun to break down the barriers among the national and international departments and, as a result, increase the museum's bounty. The Tacoma Museum of Art collection, which is dedicated to regional work and works influenced by the Northwest, is continually building. The collection at MAD has a great base of works, other institutions with noteworthy collections include the Mint Museum of Art among others. There are private collectors waiting to be discovered by a curator. Has the MFAH sparked this increased interest among the other institutions and collections? I would say yes.
What are your thoughts on your future collecting? What are you looking for now?
Helen Williams Drutt English: When the collection entered the MFAH, I thought it was time to retire. I believed that the next generation as well as emerging collectors could document their vision, offer other points of view and responses that would provide expansive information and include artists and territories not known to me. The desire to document, however, doesn't diminish or die. If it is in your blood, the surge cannot be halted. I found that it was an opportunity to reflect about missing works – filling in the voids within the spectrum that I had selected to observe – and, to my surprise, to begin examining another generation.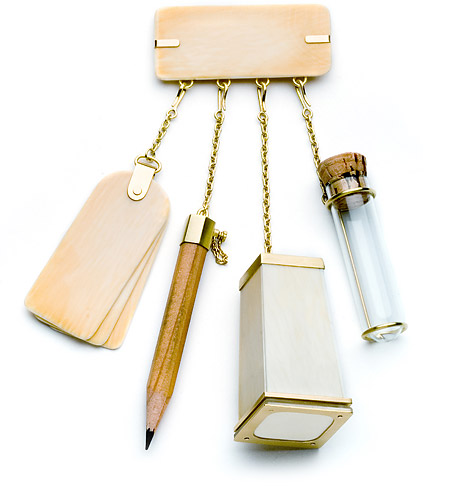 Helen Williams Drutt English: What is meant by young – age or recognition? My interest in works by Helen Britton, Melanie Bilenker, Kadri Malk, Iris Nieuwenburg, Karl Fritsch and Kyoko Fukuchi began to develop, as well as those artists whose work I missed – earlier works by Kiff Slemmons, John Paul Miller, Ron Ho, Eleanor Moty and Yasuki Hiramatsu. I'm looking back as well as forward, not necessarily for acquisition but certainly for information. I began to commission works by the artists that celebrated important occasions: for instance, Gijs Bakker's festschrift book cover for my husband Peter Stern's eightieth birthday and Gerd Rothman's silver fingerprint bowl, which documents the family upon the same occasion, or a necklace of my 104-year-old mother's fingerprints.
What do you think about computer produced jewelry, which is so strongly represented in your city, Philadelphia, at the Tyler School?
Helen Williams Drutt English: The survival of the hand in a mechanized society is fundamental to me. I understand the importance of technology and what can be created and, actually, I've begun to appreciate the work. The primary experience of direct contact with material cannot be replaced; its visual presence dominates the artwork and reduces anonymity. We must advance with our time in history, however. In an accelerated world, does the wish to devote three months to one work still exist? I hope so!
Any advice you would like to pass on to collectors and curators?
Helen Williams Drutt English: Trust your own responses. I believe it was Matisse who said, 'One foot in the museum and one foot in the world.' Trust good guidance; look at everything. Recently, I visited three collections. Only one was unique to the individual; two looked as if acquisitions were guided by a textbook and had no personal input. One's instincts are essential to building a collection, whether it is an in-depth examination of an artist or concentration on a position – that is, narrative, minimal, or abstract – regional, national, or international. Each collection will have merit. Go for it!
Selected Pieces from the Collection