How appropriate that a farm near Quilcene, Washington, now houses the Olympic Music Festival. It is on that farm that Nancy Worden lived her formative years. With a paper-bag lunch and instructions to 'Go play! See you at dinner!' Nancy was free to explore. She's been exploring ever since.
Karen Lorene: Tell me about your early years.
Nancy Worden: My parents were college professors. Even though no one in my family was a visual artist, they gave me a life built on the arts. They exposed us to the theatre, dance, music, the public library. They put a high regard on quality. We were readers. We talked about ideas. We were a household of makers.
Why did you choose jewelry?
My sophomore year of high school in Ellensburg, Washington, I was taking a print-making class. Immediately after our class was a senior class in jewelry making. I stood at the door watching and knew, 'That's it! That's what I want to do!' I began taking the class as a junior and I never looked back. In college I was privileged to study with Ken Cory. He demanded we learn the technical skills required of jewelry makers and he required we develop good ideas. In college, I began using found objects as a way to get color in my work and because I lacked the technical skill to duplicate the forms in metal. I still use found objects, American found objects that are common to the lives of women of my generation, to give my work a specific chronology.
Where do your ideas originate?
I go to an inner place in myself. My goal is to give the viewer comfort. People who love and purchase my work see themselves in it. My art has kept me sane. The show, Loud Bones, is the encapsulation of my journey. The show consists of 40 pieces, shown in chronological order. However, for every piece in the show, there are 20 pieces that did not make it into the show. It has been a difficult, demanding journey, but an exciting journey!
Take me through one piece, tell me the journey.
This piece is entitled Literal Defense. Here's how it happened. I was at a retreat in Canada, Hollyhock Center. When I go there, I take classes that put me out of my comfort zone. Hard to believe, but I took dancing. I loved how it stretched me (literally and figuratively). Another group at the center was studying astrology. That group didn't understand the art of dancing or art at all. A divide became apparent. Every day felt like a battle. To remove myself from the fray, I began sketching a piece of armor
– Literal Defense is that armor. The piece is constructed of aluminum pots, aluminum cookie sheets, an aluminum handle from an ice-cube tray (each carries the patina of the kitchen). I've inscribed every inch with words: words from Billy Collins, words from Joseph Campbell, words from Ovid. Words in defense of art. The finished project is light, wearable, full of meaning. That's how one idea grew.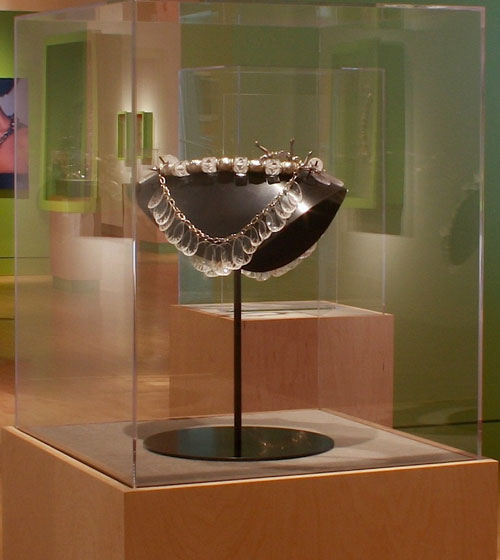 Jewelry is personal. The day after 9/11, I took my collection of mourning jewelry to share with my students. I wanted them to understand that jewelry is not frivolous; it is intertwined with our culture, our very being.
Any advice for younger jewelers?
You must believe in your own work. If you don't, who will? Don't be afraid to put yourself out there. Publicity isn't about ego, it's about business. Make yourself visible! Find a business mentor: get a job at a gallery, a jewelry store, or a jewelry manufacturer. Be a part of selling your work. Don't expect your gallery to do all the work.
Any closing thoughts about your relationship to AJF?
AJF has become a very important part of the jewelry art world. It is an organization that educates people, broadens the collecting world, influences museum personnel, validates jewelry art and encourages young people to get into the field
– and stay!