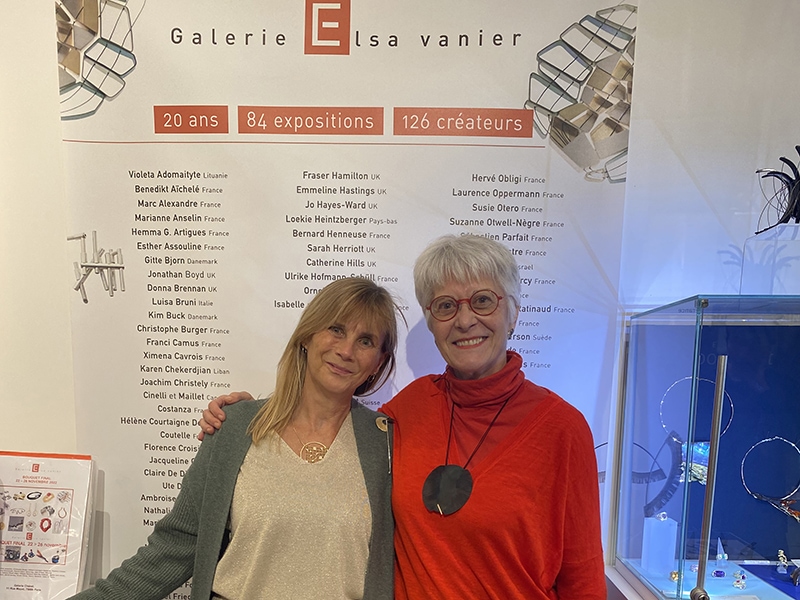 After two decades in existence, Galerie Elsa Vanier held its final exhibition at the end of 2022
For 18 months prior, Vanier had run her gallery as a nomadic affair, showing four exhibitions in three different spaces around Paris.
Vanier closed shop with the intention of curating independent jewelry exhibitions
AJF checked in to learn more, and to ask about her philosophies as a gallerist and curator
Carrie Yodanis: You now plan to travel to curate shows. What do you see as the challenges and rewards of curating exhibitions in new and different spaces?
Elsa Vanier: The challenges: When the gallery was nomadic, moving our client base to a new location for short periods of time was different for us. Communication was paramount and we were much more susceptible to external events, ranging from the weather to potential demonstrations preventing people from moving around Paris. You have to get used to a new space. It is never organized and equipped as you might wish, so you have to be flexible and creative!
The rewards included being able to work with both the new and faithful clients who follow us.  Also, finding innovative solutions to emerging problems, while a challenge, makes us very satisfied and proud!
The next Parcours Bijoux Paris exhibition, which I will curate, will be the first time I am a curator and not a merchant. That will be very different. No economic risk involved. (Parcours Bijoux will take place in October 2023.)
The next exhibition I am curating is called Citational Art. It will take place from Tuesday, October 3, to Friday, October 20, 2023, at Galerie Chéret, 11 rue Mayet, Paris 6ème. The participating jewelers are: Marianne Anselin (FR), Christophe Burger (FR), Marine Dominiczak (FR), Karen Gay (FR), Suzanne Otwell-Nègre (US/ FR), Karin Roy Andersson (SW), Agathe Saint Girons, (FR), Annie Sibert (FR), Martin Spreng (GE/FR), Niki Stylianou (the co-founder of Athens Jewelry Week, GR), and Claire Wolfstirn (FR).
I have no other plans but something for Schmuck 2024 would be nice!
Where would be your dream location to curate a show?
Elsa Vanier: In Paris, at the Musee d'Art Moderne de Paris. The beautiful Medusa exhibition was hosted there during Parcours Bijoux Paris, in 2017. Or at the Centre Pompidou, as this would mean that jewelry has finally found its place in art and culture.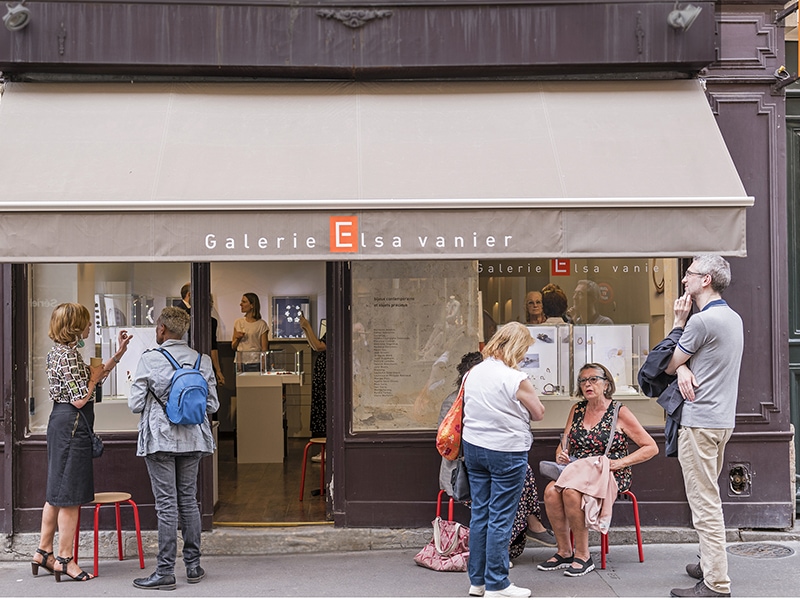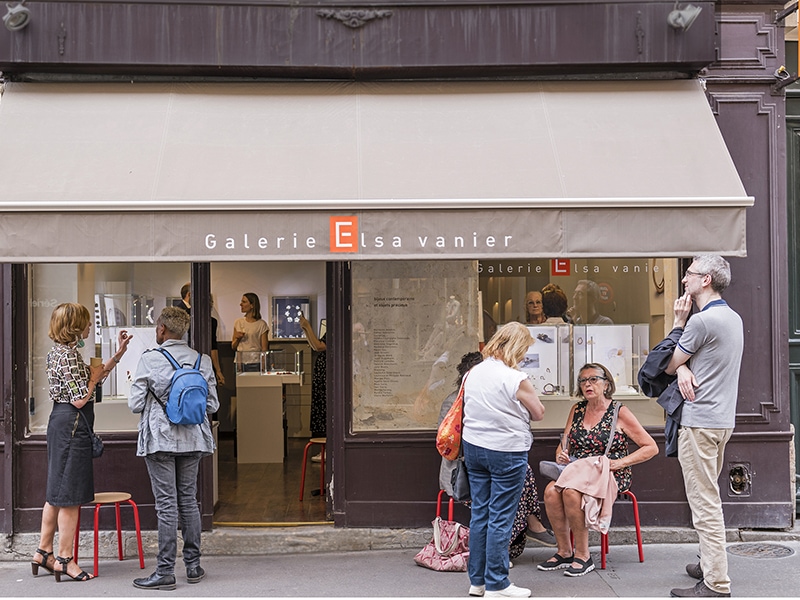 After 20 years, in which your gallery held 84 exhibitions involving 126 jewelry artists, what one memory will stay with you forever?
Elsa Vanier: I hope you will allow two of them. The first memory is from the opening of Á Taaaable (Dinner's Ready), an incredible show by Agathe Saint Girons. Our top collector, Solange, had come from Brussels with her husband. Agathe had created spoons in silver and titanium that everybody could use to taste delicious food, and the atmosphere was incredibly festive. Among the improbable works, Solange tried on a huge collar made of violet titanium tubes and yellow ostrich feathers. She looked like a queen. When she removed it, her husband, a former banker, quite serious looking, immediately took it and put it on his head … becoming the evening's king![1]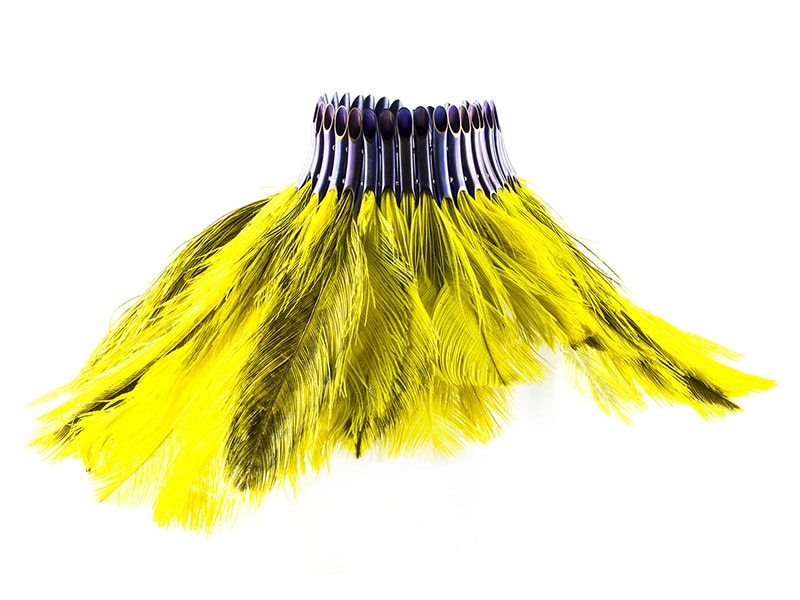 The second memory is coincidentally linked to our very last show. A woman who had come to visit the Galerie Chéret, which hosted our event, kindly visited our exhibition and fell in love with a ring by Esther Assouline. The ring had a rectangular chiselled yellow gold plate showing a tree of life sparkling with tiny old cut diamonds. It was expensive and the woman needed to think about it. Unexpectedly, she came back that same day and bought it. She looked quite moved, so I dared to ask her what the ring meant for her. She answered that she had recently lost a dear friend who had told her, holding her hand as he was dying, that he was seeing a shower of diamonds (his father had been a diamond dealer). The ring was evidence, binding them forever …
Over the years, in AJF's On Offer column, your gallery has featured many beautiful pieces made of precious materials, but also equally gorgeous pieces made from nonprecious materials such as recycled plastic bottles. Is it important to you to work with both?
Elsa Vanier: The original objective of the gallery was to open a space for independent jewelry artists, who did not have many spaces or events promoting them. The laws about precious metals are extremely strict in France, as in the UK. Every piece of jewelry containing gold, silver, or platinum must be hallmarked. Customs officers can show up anytime and inspect the whole gallery. Not many people besides the makers agree to work under these constraints. This might explain why there are so few galleries.
While I originally meant to concentrate on precious metals, I considered nonprecious jewelry, which did not require any specific insurance or knowledge of the rules and could be exhibited anywhere. At first I thought I did not have enough expertise in art or art history to promote pure artist jewelry. However, the expertise and the appreciation came along the way, fuelled by my reading, visits to museums, events like Schmuck, in Munich, and conversations with jewelry historians, such as Michèle Heuzé.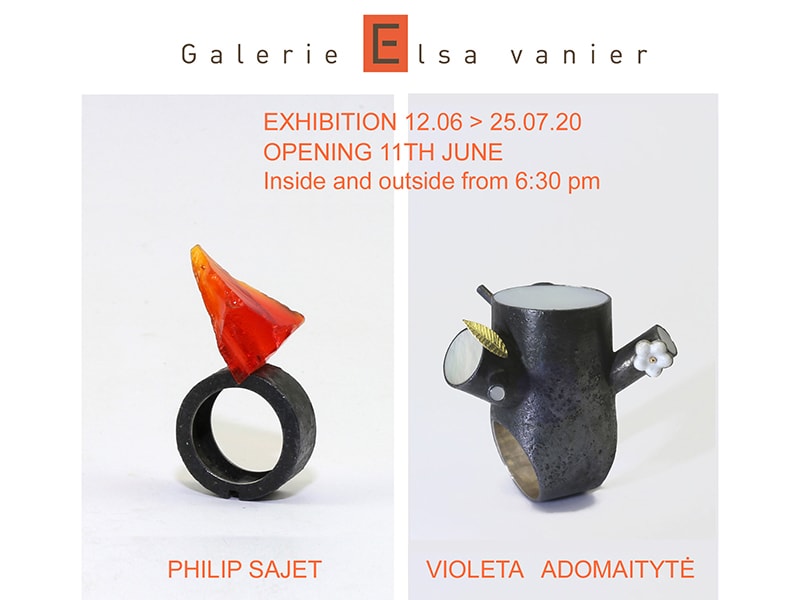 About selecting work for your gallery, you said, "I choose an artist as much as her work. I need to be moved by both!" What moves you in an artist?  
Elsa Vanier: The relationship with an artist is much more than commercial. I need to admire the work as well as the person creating it. I can be wrong, but it is something that I can feel from the first exchanges by mail. It is really a question of understanding one another. There must be some kind of mutual respect and trust because both jobs—being an artist and being a gallerist—are demanding. It took me time to realize that I was encouraging and coaching the artist.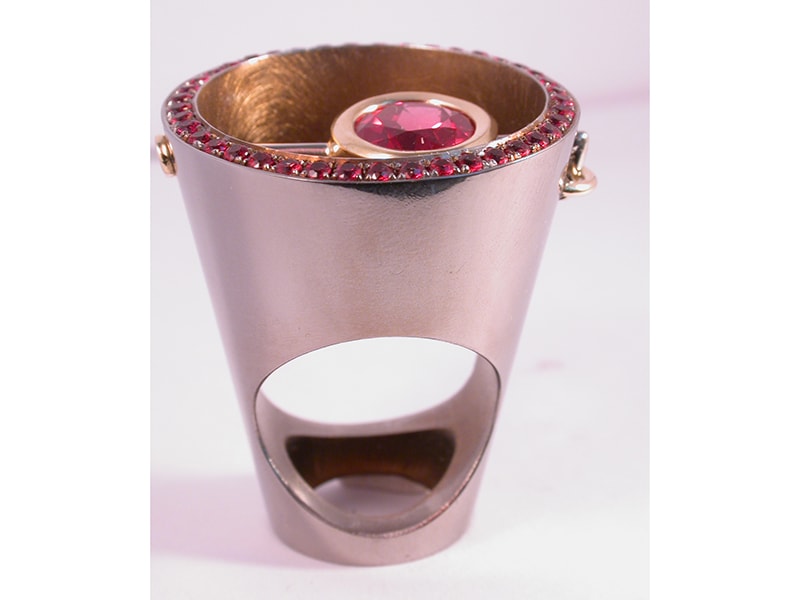 What is the power of jewelry that enables it to move us?
Elsa Vanier: Ouch, that is difficult! This is the very essence of jewelry. Jewelry and food artifacts are the main items found in ancient tombs. I consider jewelry to be the most powerful symbol of love, a bond between humans. It has a value, whether intrinsic or artistic. One does not treat a real piece of jewelry, whether made or carefully chosen specifically for us, like a mass-produced decoration. A piece of jewelry, on our skin, can simultaneously offer a substitute for immortality while reminding us that we are alive and short-lived! It is almost part of us! In my opinion, this can explain the grief that people feel when they are separated from a piece of jewelry, whether it's lost or stolen, regardless of its economic value.
Jewelers sometimes say jewelry needs to be worn on a body for it to come to life and be fully appreciated as an art form. In your gallery and in the exhibitions you curate, how do you manage jewelry's "desire" to be on the body?
Elsa Vanier: I always insisted on every member of the team wearing some of our designer's jewelry so that it could be seen on the body. And we used to encourage people to try on the pieces they looked at. In exhibitions and our gallery, it takes both openness and good judgement to make sure jewelry can be fully appreciated as art on the body.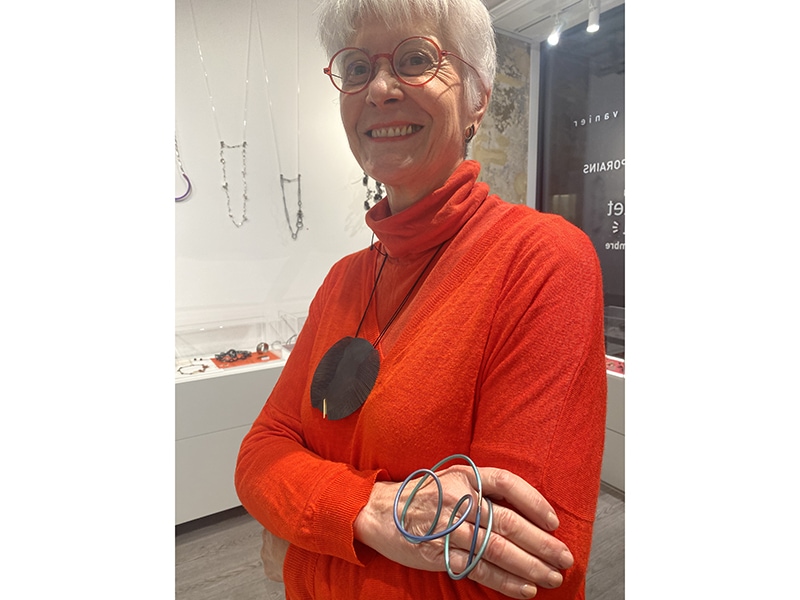 Rumor has it you're attracted to the color red. Is this true? If so, what draws you to this hue?
Elsa Vanier: Funny! Red is both warm and has conveyed preciousness since ancient times—like crimson from the murex, in Rome.[2] I thought that red on the first gallery's storefront would help attract attention, and the red on the back wall was meant to make people feel cozy. There is coral red on our logo as well—vibrant and chic, I hope!
The second gallery, on rue de l'Odéon, was quieter, with various shades of light gray since there was a lot of light coming in through the large windows. The jewelry set the mood on the floor.
Bright red is joyful, and I really like it, but strangely enough, regarding stones for example, I am also very fond of green. My eyes find green stones, especially emeralds, marvellous to dive into. But I also wear a spinel that glows like fresh lava!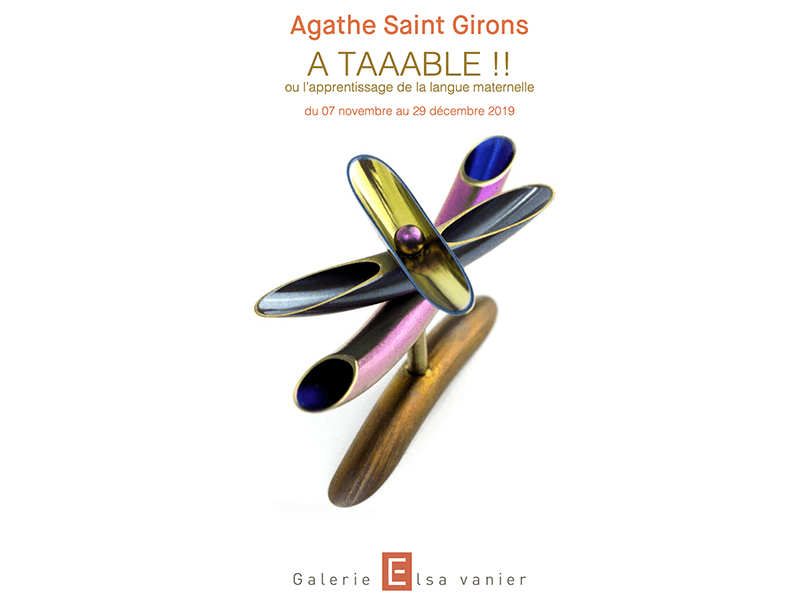 There has been recent discussion of how and why the West rejects color, falling back on grays and neutrals.[3] Yet, one of the last exhibitions in your gallery focused on color and jewelry. What are your thoughts on color, art, and adornment?
Elsa Vanier: I am keen on color in general. It took me a while to promote monochrome pieces in black steel or plain gold, but I finally did because they allow the eyes to rest and pay more attention to shape and volume.
I've never felt the West rejects colors. And I did not get that impression visiting art galleries and exhibitions recently in Paris or London. There are certainly trends, launched by influencers and magazines, so that consumers might follow them and buy more.
Grays and neutrals are classy in the same way a solitaire is classy, but a classy world would be terribly boring, wouldn't it? I definitely need a dash of color!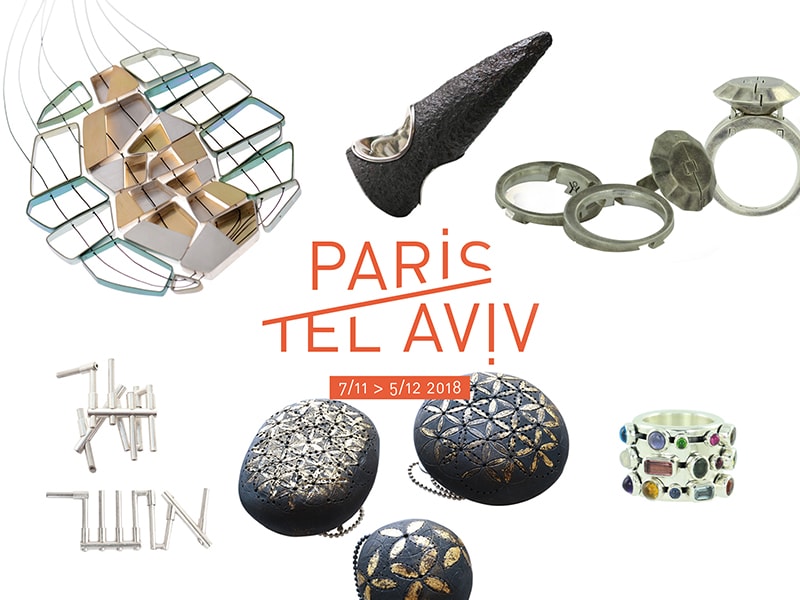 From your experience, how do regions, countries, cities in the world differ in their interest in art jewelry?
Elsa Vanier: I feel that art jewelry is a "niche" all around the world. Seen from Paris, however, I have the impression that the United States is more advanced, with long-time collectors. Art Jewelry Forum can be seen as both a catalyst and a consequence of that.
France has a long way to go! One of the explanations could be the weight of high-end jewelry and all of the powerful Maisons (editor's note: the high-end jewelry houses). They don't leave much space for independent jewelers. They feed the magazines, organize exhibitions, and provide powerful economic gains for the country. As a consequence, people in French cultural circles consider jewelry a luxury good to be both admired and loathed for its value. Jewelry is seen as an economic product and not a cultural good. Scandinavia is another story. There, the tradition of art jewelry is long.
How do art jewelry galleries differ from the traditional galleries of the art world focused on paintings, sculpture, and other visual arts?
Elsa Vanier: Do they differ? Both struggle. But traditional galleries might attract more interest within cultural circles, while jewelry galleries can remain unknown, misunderstood locations. For example, I don't think a visual art gallery owner would be questioned about what she paints, whereas I was often asked about the jewelry I was creating! The other difference, at least in France, is about the laws surrounding the exhibition of jewelry, including the labels, wording, and hallmarks it must comply with. Like for art galleries, insurance is also very strict because of the security risks involved … this was a high cost for a small gallery! Apart from that, we both deal with art and artists, and it is wonderful!
Editor's note: Vanier provided AJF with a number of her exhibition catalogs. We've placed them in our digital library for you to enjoy. Links appear below:
[1] You can read the catalog for this exhibition in AJF's Library—click here.
[2] The murex is a family of sea snails that lives in the Mediterranean. The Ancients discovered it as a source for purple and red dyes. Roman and Byzantine emperors reserved its use for the fabrics they and the members of their families wore.
[3] https://www.thejuggernaut.com/why-the-west-is-afraid-of-color