Elsa, please tell us the story of how you became a jewelry gallery owner.
It is a story dating from when I was a teenager and reading books about gemstones. I have always been very sensitive to colors, and for me, gemstones are like flowers living forever. (I still hate having to throw flowers away, and I always leave it for others to do!)
During my business school days in Paris, I met a great contemporary jeweler named Jean Vendome and was absolutely enthralled with his creations. I became a client, and for a long time I wondered what I could be doing to help him. But, after business school, I needed to earn a living. I did not know what I could do in the jewelry trade because I knew nobody and felt much stronger in math and finance than in marketing!
After 10 years of working in finance and three years in London, I went to gemological school. There, I started to meet young jewelers. In 2000, it became necessary for me to leave my financial life behind. I wanted to find a way to promote the jewelers and goldsmiths involved in creation. In 2003, having found no other suitable way, I opened the gallery. This was rather bold in view of the French market.
There are four partners in the gallery—three plus me—but I am the only one involved in the management of the firm. One invested in the project, and the other two are longtime friends with whom I can discuss my long-term projects. Beatrice Trelcat and Cecile Jeanneau are employees of the gallery. Beatrice is in charge of the day-to-day management of the gallery, and Cecile works on the website. Beatrice is a graduated gemologist, and Cecile studied until level two out of four.
How would you describe the type of jewelry you show? What are your criteria for choosing work?
I show various types of jewelry. It can have an antique feel to it. It can be very bold—large volumes in stainless steel or titanium with or without gemstones, and even resin. (I select non-precious material from an artist only when she also works with gold.) Non-precious jewelry does not require gemologists or expensive security to be exhibited. Any gallery could do so. I am offering a venue to those talented artists who do not find the adequate space in France.
I choose an artist as much her work. I need to be moved by both! What they have to say and how they say it is important. I don't choose jewelry by the beauty of the stone or the quality of the work only. Our shop windows and our magazines are full of these. Sometimes an artist is easy to sell and sometimes not, but we are not saleswomen at the gallery. We can only sell what we enjoy or admire, or at least, what we can say something about. We choose a new artist after the three of us have agreed. I make all final decisions, but we always discuss choosing or keeping an artist.
We like natural stones. We prefer them to treated ones unless the treatment brings some fun to the piece. The same philosophy applies to synthetic stones. We show them only if the piece is for fun or if there is something humorous about it.
About choosing a new jeweler: I can remember some times when it was not love at first sight, but like music or painting, it can take time to "tame" the work or the style. Then, over time, the artist must "evolve." He must propose new things over the years. Sometimes this is made difficult by the price of gold, but it is expected from an artist to have something to say about the world and not repeat himself. This year we will have reduced the number of our creators down to 15 or 18. When we receive too many applications, I sometimes think that we will soon have more artists than clients!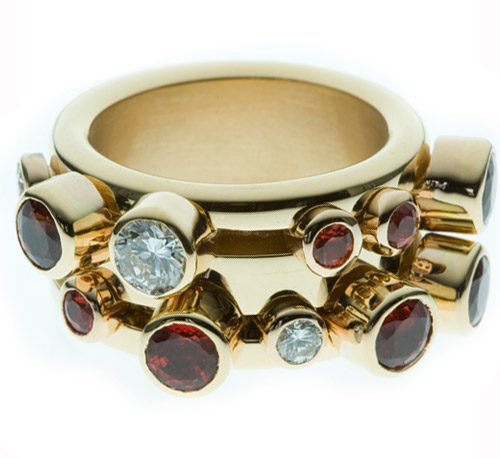 We organize four exhibitions a year. Generally, two of them are solo exhibitions. On average, my favorite jewelers have a solo exhibition every three or four years. Nonetheless, we keep a selection of their pieces all year long.
You have a degree in gemology and offer workshops on it at your gallery. How much is the value of the work you show determined by the quality of the stone and how much is determined by the name of the creator?
In France, none of my creators have the status of fine artists. They just try to calculate the amount of effort they have put into the piece and the amount spent on materials. French creators are not comfortable with the price of their works. They know that the French public is not very knowledgeable about the work involved and always seem surprised by the prices. We are here to educate them and to make people appreciate the wonders of a piece of jewelry that has meaning.
There has been a rejection of preciousness in some art jewelry circles. In other words, the artists purposefully use non-precious materials. Do you show anyone who makes work this way? What is your response to this way of thinking?
What I like about jewelry is the way it survives us, and what it teaches us about past civilizations. It is deeply human. For me, a piece of jewelry connects to or is a catalyzer for our personality. It does not need to be costly, but rather meaningful or fun and something one can talk about.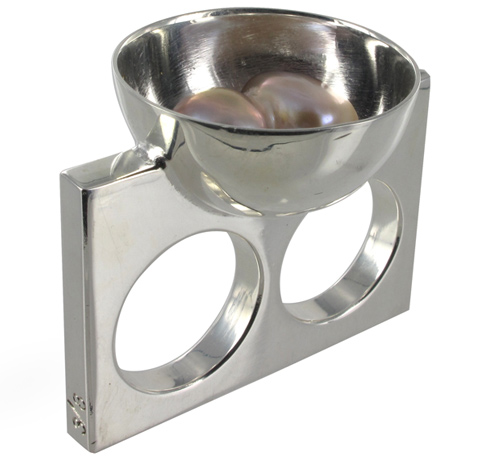 I have had two solo exhibitions of artist jewelry, and I included artist jewelry in one of my latest group exhibitions. Jean-Pierre Dussaillant, Aude Medori, and Laurence Verdier were in that show. It was difficult because I am not known for it. In France, I think it's difficult to mix the precious and non-precious in the same place. I appreciate that some artists create pieces to be worn or to be on the body, and I do not see why a work of art needs to stay on the wall, but then the acquisition motives are different. The client is a collector. He is buying a work of art either to be worn or not. In Northern Europe, I believe clients might be interested in both, but in France they are more distinct. Next month, I will show a jeweler mixing precious metals and urushi, the famous Japanese lacquer. So, I am still trying. If I do not do it, who would?
What are your current favorite jewelry books?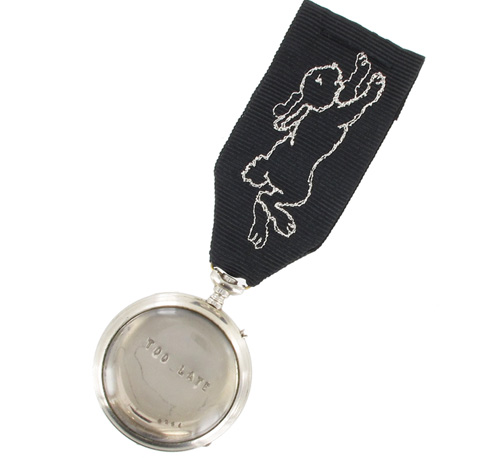 What do you do when you are not at the gallery? Do you have any other projects?
I had to keep a part time job in finance, and that will last until I can get a salary from the gallery! So I am awfully busy and lucky to have the wonderful and faithful help of Béatrice at the gallery to ensure the daily work. At home, I work almost every evening from 10:00pm until 12:00am to prepare exhibitions (images and texts for the newsletter, press releases, etc.). But it's nice, in a way, to work on two completely different jobs. So, I do not have much time for other projects! However, I get to relax at our quiet house in the country every other weekend with cooking and gardening or working on texts at a more normal pace. When I am in Paris on weekends, we enjoy the many contemporary art exhibitions (and I work some Saturdays at the gallery). My husband is an architect, and we like travelling once or twice a year, sometimes with our 12-year-old boy. Our next trip will be to Japan during the school holiday! Quite something!