Elisabeth Agro is the Nancy M. McNeil Associate Curator of American Modern and Contemporary Crafts and Decorative Arts at the Philadelphia Museum of Art. She talks to Susan Cummins, AJF chair, about her presentation at SOFA NY in 2009.
Susan Cummins: AJF has asked you to be our featured speaker at SOFA NY. Can you give us a glimpse of what you going to discuss in your talk there?
Elisabeth Agro: The title of my lecture is 'Incubation: Philadelphia's Emergent Metalsmiths,' which will focus on several artists that have either recently graduated from or are currently enrolled in either graduate or undergraduate programs at Tyler or University of the Arts. As a curator of crafts, I am very committed to perpetuating the field. We can do this by beginning to recognize and support mid-career artists and emerging artists. This lecture takes this idea a little further by looking at those artists who are either on the cusp of getting recognized or will be someone to watch as they come along in their work.
Tell us something about your background. Where did you study and what are your special interests? What is your position now at the museum? How long have you been there?
I grew up on the south shore of Long Island, raised by two New York City schoolteachers who took my family and me often to museums and Chinatown! I went to Mary Washington College (now University of Mary Washington) where I majored in Italian Studies – a self-created interdisciplinary major – which focused on the Italian Renaissance and Baroque through the lens of art history, Italian language and literature, history and religion. I also studied in Rome through Temple University in my junior year for a semester. I worked for a number of years in several New York City museums before obtaining my masters in the History of Decorative Arts from Cooper-Hewitt, NDM, SI, Parson's New School in New York. My major was sixteenth-century Italian metalwork and glass and seventeenth-century English ceramics with emphasis on dining and banqueting. This course of study also included understanding food history – which I rather enjoyed! My position at the Philadelphia Museum of Art is The Nancy M. McNeil Associate Curator of American Modern and Contemporary Crafts and Decorative Arts, which is housed within the American Art department. I've held this position for over two-and-a-half years.
Can you tell us something about the museum's collection and how you are preparing to show it during the SNAG conference? Some AJF members will be traveling to Philadelphia for the conference and might be wondering what they will see.
Most of you know that the Philadelphia Museum of Art has collected craft since the mid-twentieth century and more seriously since the 1970s. Our collection, like any museum collection, has strengths and weaknesses. We are strong in ceramics and fiber. We need to strengthen our holdings in metals (inclusive of holloware, sculpture and jewelry) glass and wood (inclusive of both furniture and woodturning).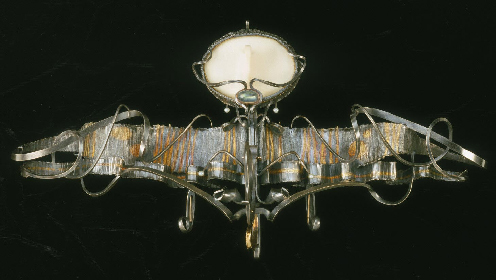 The exhibition I am preparing for SNAG is called Wrought & Crafted: Jewelry and Metalwork 1900 to the Present. It will be on view from May 9, 2009, to January 2010. My goal is to do what an art museum can do best, that is, put a historical spin on an installation by digging back in time – hence 1900 to the present. I thought it might be insightful for the many metalsmiths and collectors to see an installation of metalwork that places contemporary crafts in context with work that precedes it, drawing a bit from the arts and crafts tradition that finds its way into the first half of the twentieth century. I hope you all will come to the Philadelphia Museum of Art to see it.
Since you are part of the American art department, will you be only collecting American jewelry?
Although I am ensconced in the American art department, it is crucial to think about craft in a global way, especially today. The museum was recently offered several pieces of jewelry as gifts to the collection, which included work from foreign artists. We gladly accepted the works of art into the collection. I believe it will add depth and a needed dialogue that will inevitably strengthen our collection.
What do you think of the kind of jewelry you see coming out of the schools in Philadelphia?
There is so much talent in Philadelphia. It is no wonder given the great professors and programs in the Philadelphia area – Tyler, UArts, Moore, etc. Many artists choose to stay here, so there are a great number of talented makers in the area as well. But what do I think, you ask . . . I think the jewelry that is coming out of the schools here is diverse, shows promise, will add a voice and dialogue to the field and is worthy of attention.
Do you have plans for some other shows in the future that you can tell us about?
Well, as soon as SNAG is over, I am back to the drawing board planning my next installation for the craft gallery for Spring 2010, when NCECA rolls into town. That installation, as you probably guessed, will focus on our clay holdings. The exhibition that I really want you to know about is a large-scale exhibition that is slated for 2013 called (working title) World War II: Catalyst for Craft. This is a multi-layered exhibition that will look at the very beginnings of the American studio-craft movement and how it coalesced. Artists from all media will be surveyed for this important exhibition. I will be spending the summer identifying artists who worked/went to school/taught in the period of c.1930-1957 and may fall into several categories: migrant, internment (both for Japanese American and conscientious objector) and G.I. Bill to name a few. I will be compiling names of artists that we know very well, but more importantly, find those whose significance and contribution has become lost over the many years.