Trish Rodimer: Congratulations, Masumi, on being named the Art Jewelry Forum Emerging Artist for 2008. There was a high level of competency exhibited by the entrants this year, but the jurors felt that your work distinguished itself. We are interested in your thoughts about your work.
Masumi Kataoka: I am interested in emphasizing the intimate nature of jewelry as an object. In my previous work, I used human hair as a medium because I was interested in how the works blended into the body. These days I am using rawhide as my main material. In conjunction, I am researching word idioms that relate to the body, mostly in Japanese (my native language). The Gut Ball piece was the first one of the series and probably the most direct. Now, I am working more loosely and trusting my intuition more during the process. There are a lot of idioms in the Japanese language that relate to the gut and heart, since ancient Japanese people believed that feelings and emotions resided in those areas. Through my current body of work I am trying to visualize emotions into forms and thereby bring the inside outward, similar to how idioms function. However, my emotions are normally more complex and not as straightforward as such phrases. Also, lately I have been interested in visual symbolism too.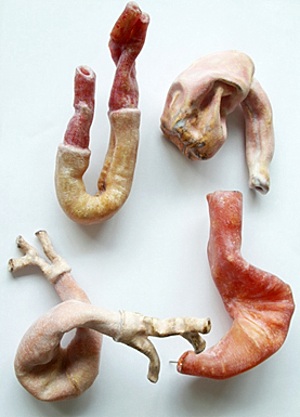 Who or what have been influences in art that inform your work?
Victorian jewelry has been an influence when I started working with hair and still is. I frequently look up word idioms and browse anatomy books as well as some fiction and everyday articles. I especially like Haruki Murakami's books. Sometimes I find myself just reading his stories to see how he describes situations. Lately, our dog, Yuki, has taught me how to work on rawhides. Also, there is a short essay that I re-read from time to time by Mishima Yukio, called 'Beauty of Non-existence' (Apollo no Sakazuki, Shincho, 1982.) In it, he describes how language functions, specifically how it resides in its own unique space apart from the speaker and a described object. I often think how that may apply to my practice.
Do you have any mentors?
My former professor, Harlan Butt, has been a great mentor and role model as an artist as well as a person.
Whose work, jewelry or other art, do you admire or find particularly informative to your work?
There are a lot of jewelry artists that I admire. I especially respond to the work of Ruudt Peters, Iris Eichenberg and Sophie Hanagarth. I also admire Lisa Walker's attitude toward her work. I appreciate artists of other disciplines as well, including Dario Robleto, Teruya Yuken, Locky Morris and Tim Hawkinson. My preference is toward artists whose works are somewhat material-based.
So materials must be especially important to your work. Will you elaborate?
Yes. I like how materials can carry or suggest certain meanings or qualities. I think a lot about how jewelry relates to the body. I have been focusing on using materials that may suggest the body, or relate to the body to make the piece more intimate to the wearer. I took a workshop with Ruudt Peters in 2006 and he taught me how to reveal certain qualities from a material through experimentations. I have been trying to do that with rawhide.
Is wearability important to you?
Yes, I want wearability somehow to benefit my work. So, where on the body my work is situated or positioned is important.
What are your future goals and desires in creating jewelry?
I would like to have my work collected by public institutions. Also, I want to keep my environment, practice and attitude fresh for the audience and myself. I would like to travel more as a result of my work as well.
Finally, do you have any thoughts or advice for other emerging jewelers?
Keep working and ask a lot of questions of yourself. Concentrate on your strengths.