In 2008, noted collector Donna Schneier gave a substantial part of her contemporary jewelry collection to the Metropolitan Museum. The associate curator at the museum, Jane Adlin, is collaborating with Donna on an upcoming exhibition and a publication devoted to Donna's gift. They kindly shared some jewelry thoughts with Susan Cummins.
Susan Cummins: Donna, why did you decide to give this part of your collection to the Metropolitan Museum? I understand that you gave work from the 1980s to the Museum of Arts and Design in New York, which made up the Zero Carat show and some other work to the Racine Museum of Art. How did you decide what should go where?
Donna Schneier: The initial collection was hung in my office building when I was importing gold jewelry in the late 1970s until the early 1990s and selling to large volume users. The object at that time was to demonstrate to the buyers that there were other forms of body adornment. (They didn't get it.) That collection turned out to have documented the jewelry revolution of the 1960s, 1970s and 1980s. When the business was sold I felt that these works, never to be seen again in the marketplace, should be donated to a museum. I was an active participant at MAD and they were interested in the collection, so it seemed the logical place to exhibit the work. It was only non-precious work, hence the name Zero Carat.
Always the hunter gatherer, I decided to concentrate on precious metal jewelry. However, I missed some of the works I had donated, so I filled in some of Otto Künzli's work, the work of Gijs Bakker and a few others in non-precious materials. When, after 50 years, I left my beloved New York City for Florida, I wanted to leave a legacy to the city. In conversation with Jane Adlin at the Metropolitan Museum she expressed an interest in the collection. It was a difficult decision because of my affiliation with MAD but when I realized that the Metropolitan Museum is the ultimate imprimatur there seemed to be no choice but to donate it to them.
The donation to the Racine Art Museum was jewelry that would complement work already in their collection. I have a history of donating works to many museums and will continue to do so.
Jane, how does Donna's collection fit into the holdings of the Metropolitan Museum?
Jane Adlin: Donna's collection of post-World War II jewelry continues to tell the story of modern design that begins in this department around the turn of the last century and includes work by important jewelers such as René Lalique, Dagobert Peche, Luis Masriera, unique works by Alexander Calder in the 1940s and early studio craft jewelers, just to name a few. Her collection will complement the collection and hopefully will continue to grow through the coming years. Two works from Donna's collection
– a Mary Lee Hu necklace and a brooch by William Harper
– are currently on view in the exhibition Masterpieces of Modern Design: Selections from the Collection.
What are your plans for the Schneier collection in the near future?
Jane Adlin: There will be an exhibition and publication devoted to Donna's gift. The date is not yet confirmed.
Tell us something about your background. Where did you study and what are your special interests?
Donna Schneier: I have been a dealer in twentieth-century painting and sculpture since 1966. In the mid-eighties I realized that there was affordability and growth, both artistic and financial in the five disciplines loosely described as craft
– that is, ceramics, glass, fiber, metal (jewelry) and wood. I choose to investigate and sell on the secondary market, ceramics, glass, fiber and wood, but to collect jewelry. I occasionally sold jewelry but was more interested in building a collection for myself.
Jane Adlin: I grew up in Chicago where I came to love the architecture of Frank Lloyd Wright, especially the Robie House. Also, the Art Institute of Chicago gave me many blissful days of pleasure. I went to Brandeis University and did graduate work at Hunter College and the Graduate Center (both part of the New York City college system). I started at the Metropolitan Museum in late 1986 as a part-time researcher and have been here ever since. My art-history background was in the fine arts but the research job I applied for was with the (former) curator of modern design and architecture. Currently, I'm associate curator, Department of Nineteenth-Century, Modern & Contemporary Art at the Metropolitan Museum.
How would you describe your own personal taste in jewelry?
Donna Schneier: I do not have personal taste in jewelry. My goal was to document as best I could the significant artists and movements in the field of contemporary jewelry, irrespective of my likes and dislikes. When considering a work I asked myself what contribution the artist had made to the movement and whether that work was of importance to the artist's contribution.
Jane Adlin: Personally, I am eclectic. I like old, new, serious, humorous, precious and non-precious. It just has to 'speak to me.'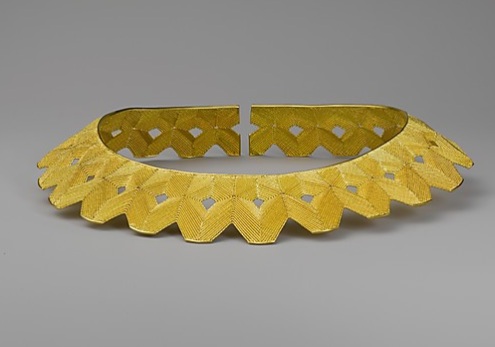 Donna Schneier: The impact on the contemporary jewelry movement is untold. No museum is more important. After the exhibition and the book they plan for 2011, the impact should be huge. It will put this movement on the twentieth-century art-history map as nothing else could.
Who are some of the artists that you feel are outstanding in your collection overall?
Donna Schneier: The jury is still out. The outstanding works in my collection are the masters in the field, that is, Hermann Jünger, Otto Künzli, Thomas Gentile, Mary Lee Hu, William Harper, Bruce Metcalf and 125 others too numerous to mention here.
Are you still collecting similar work?
Donna Schneier: As there are many 'holes' in the collection I donated to the Metropolitan Museum, it looks like I will be purchasing works for them to fill in the blanks.
Our members certainly are looking forward to seeing the collection at the Metropolitan Museum and appreciate all you have done as a patron of contemporary art jewelry. Thank you both.