This essay first appeared in Metalsmith magazine, published by the Society of North American Goldsmiths (SNAG).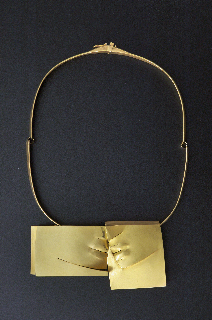 'Follow your nose. Like it, wear it, lend it. Either you get it, or you don't.'– Lois Boardman
Boardman and Drutt have a shared history in the arts dating back to the early 1980s, when both served as volunteers of the National Task Force in the Crafts, a team of 32 volunteers enlisted by Eudorah Moore, then craft coordinator of the National Endowment for the Arts. The volunteers were trained to gather pertinent information about crafts from every region in the United States.
During the one-year term, Boardman and Drutt were frequently paired as roommates. Hailing from Southern California, Boardman had studied ceramics under Ralph Bacerra at Chouinard Art Institute, directed programs for the Pasadena Art Museum and assumed the directorship of the California Design Exhibition Series, replacing Moore. Drutt founded the Helen Drutt Gallery in Philadelphia in 1974, spe­cializing in the crafts and became recognized as an expert and activist in the field. Their pairing was portentous and serendipitous. Boardman remembers: 'Helen was, at all times, wearing an intriguing piece of jewelry; a clever way to initiate conversation. Helen felt that as long as she was selling it, she had an obligation to be its best promoter. Her avant-garde taste in jewelryand commitment to wearing it, her vast knowledge of the field and her close relationships with jewelers from every continent piqued my interest and eventually led me down the ruinous path of collecting. I am indebted to Helen for expos­ing me to the field of contemporary jewelry, and for all the fun and wonder I've had pursuing this adven­ture.'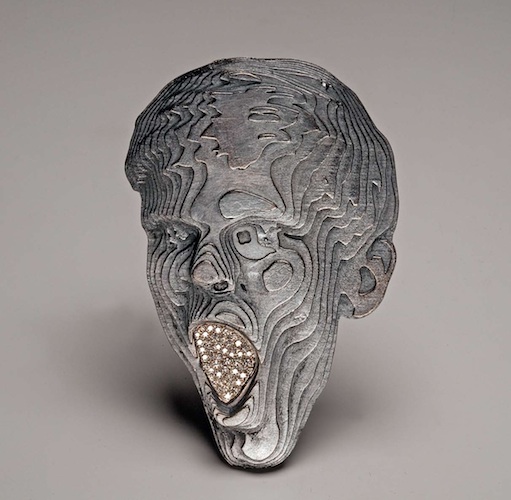 But it would be misleading to imply that Boardman doesn't prize pure beauty and wearability. Boardman willingly admits that her favorite material is gold and her collection contains several stunning examples that are elegant and scaled for wearing. Recently, Italian jewelers of the Padua school, with their con­temporary and experimental approach to using gold, have caught Boardman's eye. She has newly ac­quired a gold brooch by Graziano Visintin and a gold and silver brooch by Stefano Marchetti. She in­tends to collect at least one piece from every artist connected with the school.
'Contemporary jewelry communicates. It starts up a dialogue between the wearer and the maker.'– Lois Boardman
From a curatorial point of view, the Boardman Family Collection has all the hallmarks of a considerable public collection. The range and diversity of the objects confirm long-term commitment and expansive reach, the thoughtful accumulation of works over time – often representing early, middle and late periods of an artist's oeuvre – provides depth and the strategic inclusion of works that correspond to the defining moments of an epoch, render this collection of contemporary works aesthetically sound, historically sig­nificant and worthy of attention.
In the interest of history, Boardman is ready to fling the doors wide and bring the Boardman Family Col­lection from its private domain into the public arena. As a dedicated collector, Boardman delights in car­ing for and preserving these objects and lending them to important exhibitions. And most importantly, by daring to wear pieces from her collection at any occasion, Boardman has helped to raise awareness and appreciation of contemporary jewelry.