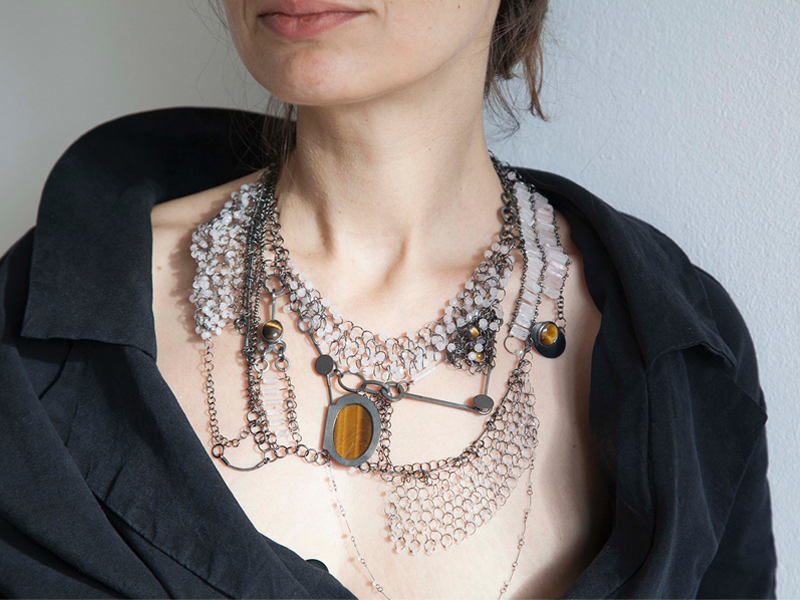 Doerthe Fuchs is a jeweler whose work is delicate and intriguing. Some pieces appear almost as tridimensional sketches by use of clear lines and circles. Others are surprising through asymmetrical compositions and unexpected articulations, exploration and findings of materials. Her work is currently being shown in a solo exhibition at Jewelers'Werk in Washington.
Adriana G. Radulescu: Where were you born, and where is your studio now?
Doerthe Fuchs: I was born and raised up in Tübingen, a small university city in southern Germany. Now I live and work in Munich, Germany.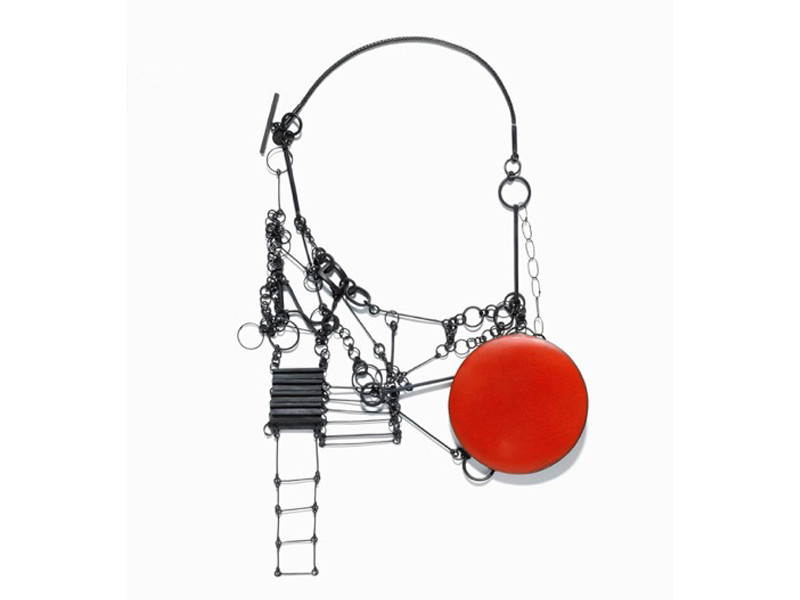 When did you realize you love making jewelry? Where did you learn to make it?
Doerthe Fuchs: I decided to become a jewelry maker in my adolescence. Always observing, collecting tiny things, attracted to details, passionate about handcrafts … I liked the idea of talking "through" with my hands …
I did a classical apprenticeship in goldsmithing before I went to study at the Academy of Fine Arts in Munich in Professor Herman Jünger's class … but I didn't spend much time there … Pretty soon I realized I prefer having my own studio; I started traveling.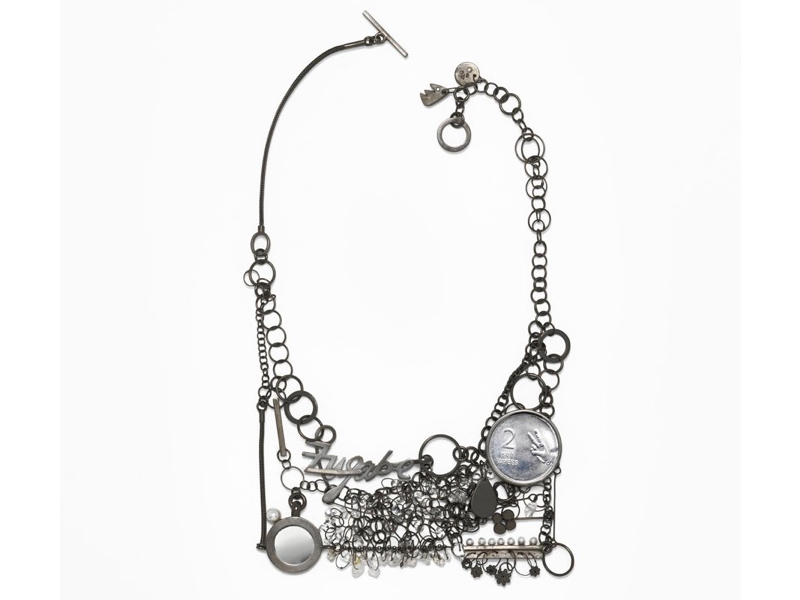 Your jewelry has always been very intricate, tridimensional and technically challenging. This collection has necklaces with very complex compositions and large stones, or enamel color. How did these compositions evolve from your past work, and what moved you toward larger patches of color and stones this time?
Doerthe Fuchs: Like drawings, my creations are the sum of their innumerable lines and circles or rather wires and loops … An intricate piece emerges, a composition that—when worn around the neck—becomes an embrace … I enjoy collecting, connecting and relating … That is how my jewelry is born.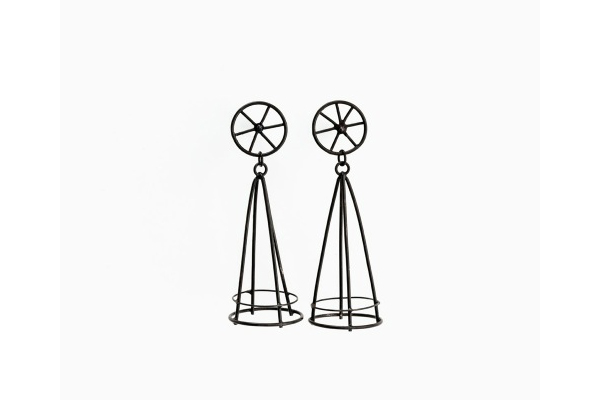 There are words/messages, money and encapsulated insects on some of the necklaces. What is their significance?
Doerthe Fuchs: Well, somehow each necklace is telling a story, sometimes following questions that are moving me … But in the end it is not required that everybody can "read" it (my story). It is me "telling" a story and you who will "read" it or find your own one, or there may be also none …
The chest (Dekoltee) offers a wonderful "stage" for jewelry!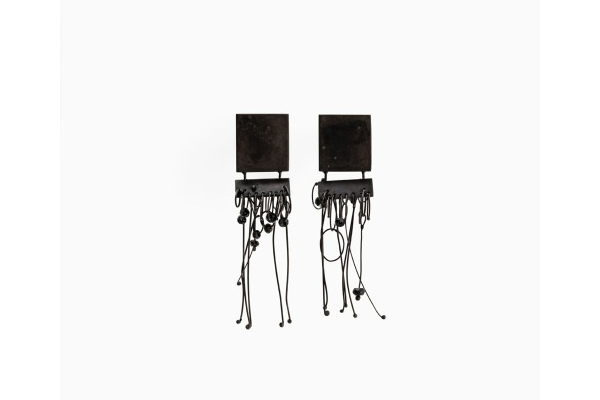 The earrings in this collection are very whimsical, almost dancing. Some are reminiscent of the crinoline structures of the 19th century. Is there a connection with women's body in motion?
Doerthe Fuchs: … earrings frame our face! They intensify our movements … there is always a movement … even if it is only the breathing … I like earrings to be little "beings" …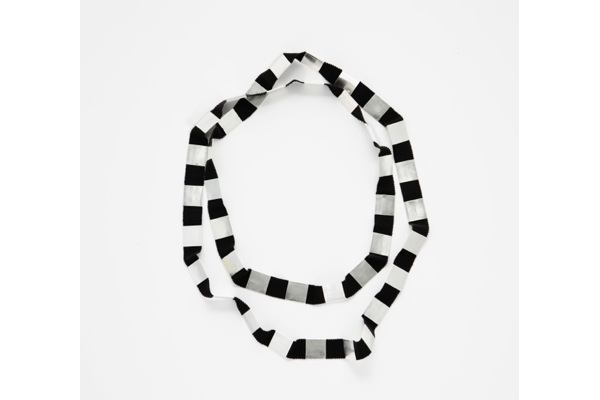 Among the very intricate pieces there are interpretations of your iconic, clear geometric fine-corded ribbon necklaces. How does the ribbon necklace design intersect with the other pieces?
Doerthe Fuchs: The Ribbon Necklaces are my "classics" … They are the only jewelry pieces out of my studio that have no "story" … They are the result of my questioning: "How can I make the metal look translucent? Or how can I create the illusion of metal appearing transparent?"
At that time I struggled with the heaviness/"gravity" of metal, and I was searching for more lightness … You can see it clearly especially with the circle ones; the ribbon looks like a spine through the metal … through the squares you can see the structure of the woven ribbon too, which gives the illusion of looking through the metal …
Tell us about the concept and meaning of the fish and coral series.
Doerthe Fuchs: … first of all I love fishes! For me they are amazing creatures! I always wonder how do they communicate? … Live without arms?
They are so beautiful, so elegant, so flexible, and somehow untouchable …
And all the silence with them! The clearness of their shape invites me to endless ideas, inspiring me a lot …
Observing them always catches all of my attention … these wonderful eyes, full of presence, and at the same time coming from so far away …
(Unfortunately I am still not diving!)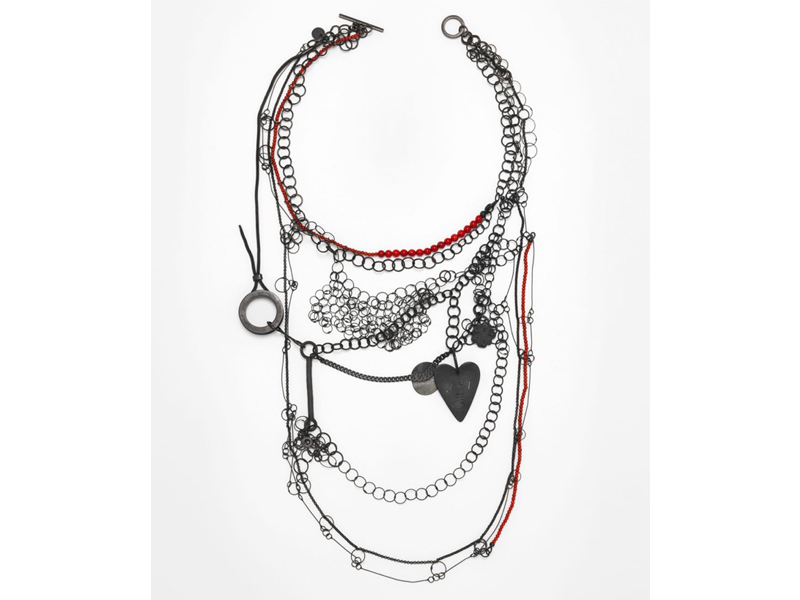 What is the beginning of your design process? Do you sketch, model, make mockups?
Doerthe Fuchs: I never make sketches or models or drawings. I follow my thoughts, inner questions, my fantasies through my hands … After a while I check if the piece is "fitting"—"growing" into the direction which feels right to me …
There are always several themes emerging/developing at the same time, becoming groups—like family members. The process goes forward – backward – forward …until I feel "Yes," now the piece is finished. I don't need to "like" it or feel it is beautiful; it is about something else …
In your creative process, does the technique or the composition come first? Or is it a symbiosis?
Doerthe Fuchs: … It's always the inner question, the theme or intention that I am following which wants to unfold; this is what is telling me what kind of material, technique, colors will fit best. But of course over the years I developed my "handwriting" and preferences …
I also don't like to care about time, I love to get "lost" into my work …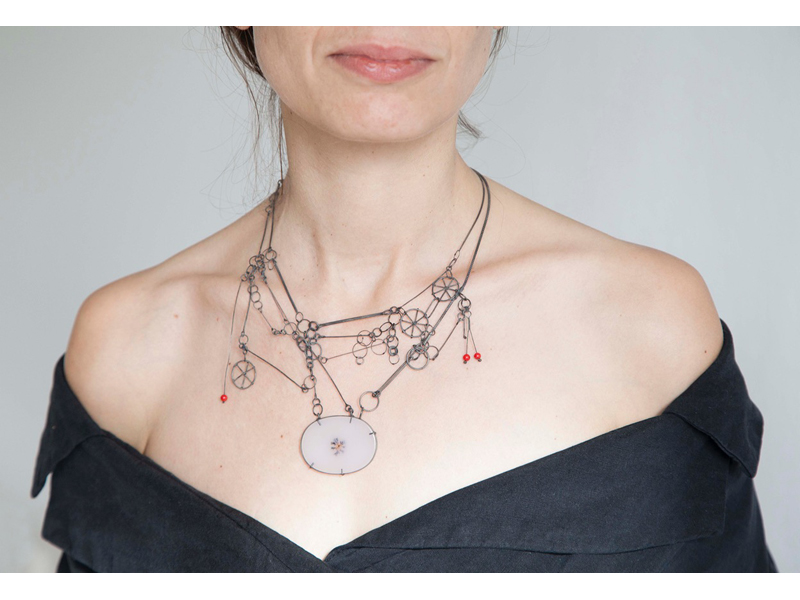 Do you have a favorite or most meaningful piece in this collection?
Doerthe Fuchs: … no particular one …
What are you reading, hearing, or seeing of particular interest?
Doerthe Fuchs: I love traveling, it is quite important for me. Pilgrim or Gypsy …? I am very curious about everything that is created by humans. Different cultures, religions, architecture, music … I love jumping into the unknown, looking behind the curtain … finding what I have not searched for …
Thank you.