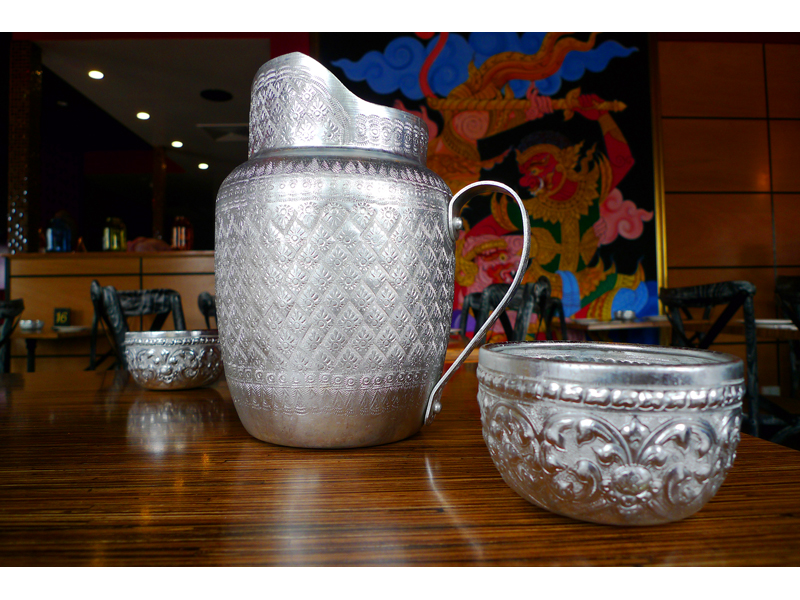 The tabletop at Totally Thai restaurant in Perth, Western Australia, 2015
Was it the shallow depth of the drinking vessels laid out on the table that made an immediate impression on my fellow diners and me, or their improbable shine? The aural disturbance they caused soon focused our attention; they rattled on the tabletop as we shifted our chairs. Eyes squinted, and hands reached outward to confirm that the cups were that light. Tactile investigation further diminished them, despite their detailed metalworking, as the incredible lightness that the stamping facilitated made them feel small and flimsy. Temperature analysis did not help their cause. Without the coolness of glass, or even that of their trusted peer—the colorful anodized aluminum cup—low scores were registering on the thirst-slaking-potential index.
But then came the water jug.
Filled, the cups gained much. The water weighted, and cooled, them down. The further from body temperature and the heavier in the hand, the more trustworthy their appearance. The server left the jug on the table, and that's where the material was finally and overwhelmingly justified. The cups were just a prelude to the real show, that heroically light water pitcher.