Chara Schreyer has been on the ArtNews 200 Top Collectors list for many years. She owns five houses filled with contemporary art and is on every major museum's list of collections to visit. She is also a supporter of AJF. I was particularly interested in interviewing her because she is one of the few high profile collectors I know who is aware of contemporary jewelry and actually wears it. I wanted to understand more about how she regards it within the context of her overall collecting attitude. She was kind enough to answer some questions for me.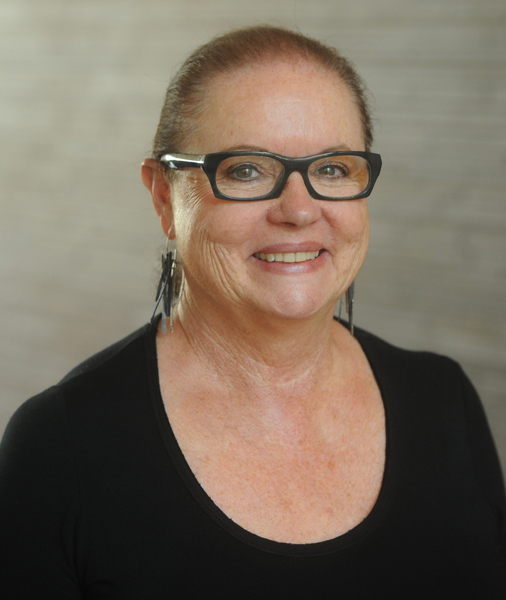 Susan Cummins: How did you develop an interest in collecting?
Chara Schreyer: It started as a young child. I collected dolls. I use to write to foreign embassies and they would send me dolls from their countries, which I kept for years. I also used to collect coins, stamps and beautiful girlfriends, so I think there is a gene for it.
And you have it…
Yes, I think I do. I have the collecting gene.
And now you are collecting art?
Correct. I have for many years.
When did that start?
Well, I was an art history major at Berkeley. I think you are born with an aesthetic sense, but it was very much cultivated as I was growing up. I used to walk with my father to model homes when I was five years old. Our escape on the weekends was to go out to our projects and look at the model homes our family business was building. So I think I cultivated a visual sense at a very young age. Then I just continued it all, because I loved aesthetics.
So in terms of the houses, do you think looking at them decorating them and then the buying of art for them was a natural progression?
That's an interesting question. Does the art have individuality apart from the house? I think all of it works as a piece for me. The houses I have bought over the years have become museums to me, livable museums, so I think it all came as a piece.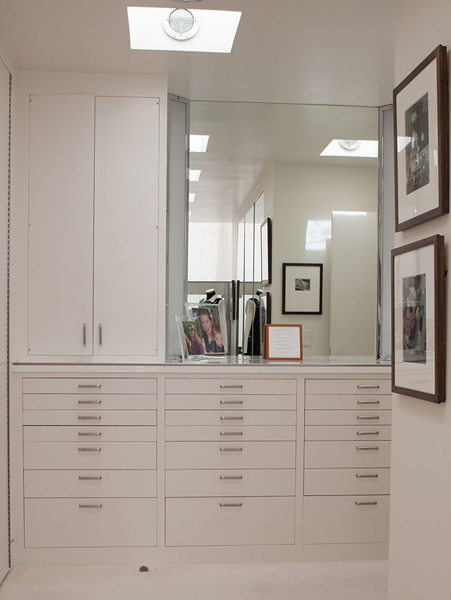 No, I don't do it that way. The art has an interpersonal dialogue of its own that I think is sort of unconscious and psychoanalytical. Things move around lot from house to house. I don't buy a specific piece for a certain spot – it is more of an intellectual exercise where I buy it for the collection. It has it own evolving meaning and multiple meanings that change and grow . . .
As you add different things in?
Yes, and one thing will relate to another thing differently, so when I move them around they talk to each other and the dialogue changes.
Does the house become one of those things and a part of the dialogue?
Yes, the house is part of the dialogue, that's why the house becomes important. It may seem crazy to an outsider, but it is of a piece. The house becomes a collectible as much as the art is a collectible, it becomes a finite part. So that is the house story. And I hope to stop collecting art so I can stop buying houses. It is a burden.
Let me ask you about the furniture in these houses. Do you think you are collecting furniture?
I have a funny feeling about furniture. I feel that everything I buy is a good aesthetic and investment decision. However, furniture unfortunately, is one of the great loss leaders. It is one of those things, like clothes, that you buy but has very little resale value. It always kind of irritates me. I don't collect old furniture, since I don't like old things, but I do have things like the Gio Ponti chairs and an original Hans Wegner table. So, I would say that furniture is beautiful and appropriate, but I don't collect furniture.
So that gets us to the clothes and jewelry. Do you think of those in the same way?
Interestingly, I don't. I buy things like my Aston Martin car that that I feel have a timeless quality to them. I know that when I find something that I really love, I will keep it forever. In thirty years I will probably still have it and in fact I will probably die with that car. Clothes are the same thing. You know I love Yamaguchi, Comme des Garçons, and Junya Watanabe. The Japanese clothes designers. They are so conceptually based that I will keep them forever. I have had clothes for twenty years and all I have had to do is let out the elastic in the waist.
So they are classics.
So they are classics – and the jewelry that I collect I feel the same way about. Once in a while I have a little pile that I weed out. However it takes a lot for me to finally say, 'this doesn't have the lasting value of time, it looks dated.' But very rarely do I have to do that. So I do collect the jewelry like I collect the art. An artisan does it and in that sense it has the same intrinsic value that the art has. There is a conversation there, a methodology of making it that I feel is very important.
Do you feel that the conversation is between the jewelry and the clothing?
I do.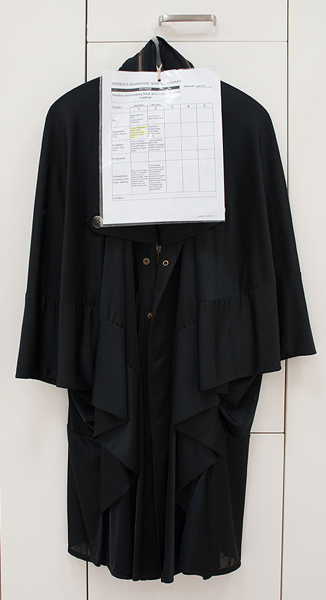 How do you decide what jewelry to choose and what process you go through to figure out what you are going to wear with it?
This an interesting question. Here is an example of how I match my jewelry to my clothes. I have made up some sheets, with the help of my consultant that hang on the special pieces of clothing and tell me what to wear with them. For example, this Junya Watanabe jacket, which I love, has an attitude, and sometimes I want to toughen it up and sometimes soften it. The jewelry speaks to the piece to change the feeling of the outfit.
I also notice that you have a whole drawer system, here in your dressing room, where you store your jewelry. So let's talk a little more about how you store and catalog it.
I had trays made to fit these drawers, so I organized the jewelry. Here, for example is the separate gold section.
So most of your jewelry isn't gold?
No, most of it's not gold, it's silver, tarnished silver, or wood, or leather or plastic, all kinds of materials.
Interestingly enough, you would think I would organize it by artist, but I just have them in a way where I have always sort of known where they are.
A lot of the rings are very substantial.
Yes, for the same reason as the earrings, I like big rings, because my hands are very chubby, I think the jewelry should match the body.
In the drawers, do you know which artist is which so you can match them with the name on the sheets?
Oh, when it says on my list Biba Schutz – do I know her? Well, I might, but I also describe them with something like 'Hanging sticks and tarnish silver with two gold pieces.' I describe them very well, so I will know which is which. So I can tell. We name them, like, these are the Jetsons and these are the Flintstones – we give them little nicknames that I have for them and I know them, I describe them so well on my sheet that I can find them, even if I don't know the artist's name.
Do you consider yourself a collector of jewelry?
That's interesting. I have never thought of it, I absolutely love it and if I had more time I would love to go on one of the AJF trips to learn more.
Maybe when you finish your new house in LA.
Yeah, I would because I absolutely love this as much as I love collecting art, because you can see that it is art.
So how do you acquire the jewelry that you have?
Well, I go to Velvet da Vinci gallery in San Francisco. Sometimes I go online to some place like Facèré up in Seattle or the places that you recommend in your newsletter.  I go to those when I have time and I buy things from them.
Do you find good jewelry in clothing stores?
Yes, sometimes I find designers at Neimans, or other high fashion stores. If they work for a certain outfit, I get it. I keep my eyes open and always look at jewelry when I'm in a good store.
What do you look for when you are buying jewelry? What interests you about it?
I'm much more prone to handmade things, like Biba Schutz, very fine crafted jewelers, not artsy-fartsy things, but things that are timeless, thought provoking, an interesting dialectic of materials like the clothes I wear.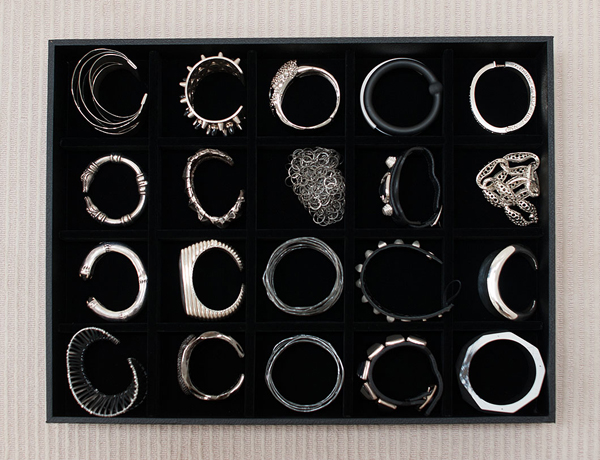 Usually it has to be at least three inches long but sometimes you need something short and chunky, so depending on what I'm wearing it could vary. There isn't a dyed-in-the-wool rule.
Is all your jewelry contemporary?
That's a good question. I bought this Lalique piece a long time ago and I just wore it to my daughter's wedding, because it went beautifully with what I was wearing. So not all my jewelry is contemporary, but pretty much most of it is. If something great comes along that isn't contemporary and it's a really pretty piece, even if it is more traditional, I will get it.
Do you have any inherited jewelry?
I have my mother's jewelry. I have a necklace l that my daughter wore at her wedding recently. I don't go out and buy vintage things, although I look at it when I'm at Barneys. Christies will send me one of those jewelry catalogs and I'm amazed at what you can get for the prices. They look so impressive,  but are not a huge price and I kind of like some of them, so I have half thought of bidding on some, but I wouldn't wear them.
Because you like contemporary things.
Yes.
What was the first piece of jewelry that you collected?
You know, it's hard to remember since I don't do it in those types of terms. These are from Angela Cummings in New York and I have had these a long time. She was a jeweler who showed her work at Bergdorfs.
Then what's the most recent?
This is fairly recent and it's Biba Schutz. I think I saw it on her website, any time she does something interesting and new, I love her work and so I loved these because it was the combination bronze and silver. I think that was fairly recent. I also love this one in rhodium, which is a very hard metal like titanium, and the black sapphires. I bought it at Neiman Marcus.
It's a designer called MCL, but they have a name I can't remember.
Does it make a difference that you wear the jewelry but not the art?
No.
Does this change how you think about it?
No.
But there's a difference between the art and the houses you refer to as objects  and the furniture, clothing and jewelry. The former are valuable, but the latter,  while having some value don't have a good investment value.
Right, but they become such a part of how you see yourself, your being. It is an offshoot of your identity, the things you think about and the things that reflect who you are in the world.
So that's the value?
That's the value. You buy the clothes that feel right, to your body and your state of mind.  Your fashion statements and the jewelry work hand in hand.
You know lots of people who collect art and lots of people who are very fashionable. Most of the people that collect art are very contemporary people who buy very contemporary art and fashion, but they wear very traditional jewel. Why do they do that?
Because, I think, in their circles those things have meaning in terms of dollars and cents. Or maybe they just wear more traditional jewelry and more traditional clothes, so maybe it's a part of the world that they came from. I am an outsider, my family were immigrants and so we don't have to follow those traditions necessarily. I don't feel that I need to be as skinny as they are either because I couldn't be if I wanted to!