Bonnie Levine is the kind of person who wants to do things right. She's honest, earnest, and takes care to think before she leaps. So I can imagine that before she decided to start a gallery, she had a long, hard think about it. In her interview below, she lets us in on her process, begun five years ago, that led to the beginning of her journey to be an art jewelry dealer. Her corporate background wasn't necessarily the obvious path. The resulting gallery, called Hedone, is a virtual one, except once a year when Bonnie assembles work to show at the SOFA show, held in November in Chicago. Bonnie also serves on the AJF board and heads the committee that organizes the grants and awards—a job she does with diligence and compassion.
Susan Cummins: How did you get interested in contemporary jewelry?
Bonnie Levine: I've been interested in the arts and jewelry from a young age. My mom was a buyer of tabletop and decorative accessories, an antiques tour leader, and a painter, so I was exposed to the arts early on. I fell in love with jewelry as a teenager while working in an antique store in the French Quarter (I'm from New Orleans). I was enamored by the delicacy, craftsmanship, and history of antique jewelry, and the idea of wearing something that had belonged to someone else was totally intriguing—what secrets and stories did it harbor? I also loved the idea of wearing something that was not commercial or mainstream, something that no one else had. My first jewelry purchase was an antique onyx ring with a small diamond in the center—I was so proud of it!
Over time I became interested in modern design, clean lines, sculptural shapes, and handmade objects. While not artistic myself in terms of making things, I loved looking for that unique item that was different and artistic, be it an item of clothing, an object, or a piece of jewelry. I eventually stumbled into the world of contemporary crafts and I found a place where objects, craftsmanship, and contemporary design came together. It was then that my love affair with contemporary jewelry really took off.
What is your background?
Bonnie Levine: Nothing related to jewelry! My professional training was as a speech pathologist, which I did for only a few years, but it wasn't what I expected. My next step was into academia. I moved back to New Orleans and worked for a major university there, eventually becoming the dean for admissions and financial aid in the business school. After getting an MBA while there, I moved to New York and worked for a major pharmaceutical company in human resources. I feel so incredibly fortunate to have had that opportunity. It was a great, and life-changing, experience. Three years ago, I took advantage of a corporate restructuring to retire after 25 years.
As an aside, the people I worked with knew about my love for jewelry. I dressed in a somewhat conservative, corporate way, and jackets were a perfect canvas for brooches. I wore one every day. People looked forward to seeing what I was wearing, even the guys! It reinforced my feelings about contemporary jewelry as a way of standing out, making a statement, and starting conversations.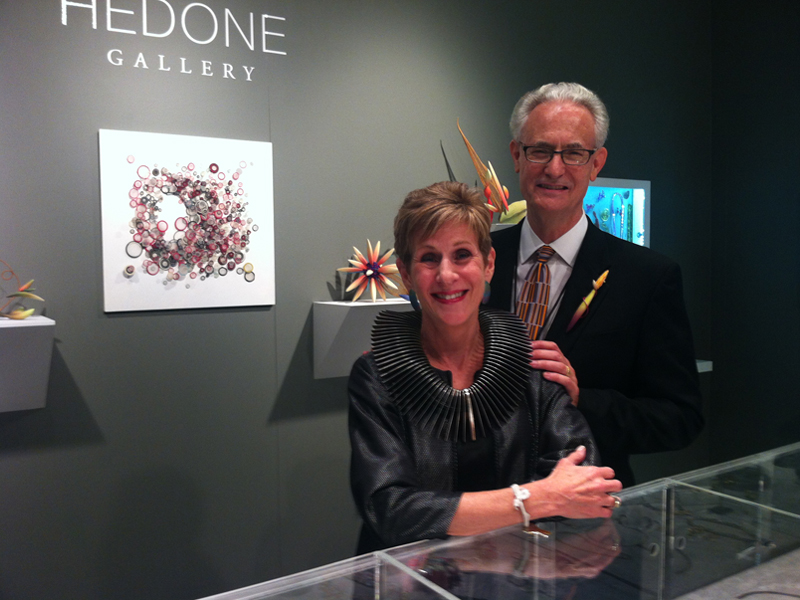 What inspired you to start a gallery? How long have you been doing it?
Bonnie Levine: My husband, Jeff, and I spent a lot of time going to craft fairs, galleries, art fairs, museums, etc. While some couples share golf, tennis, or bridge, we share the arts and design. We collect studio glass and sculptural objects and, lucky for me, he loves jewelry almost as much as I do!
I noticed that when I was at an art fair, I felt excited and stimulated in a way that I wasn't in my day job. I loved talking to artists, getting to know them and learning about their work. I wanted to educate others—to spread the word, if you will—to have a broader perspective about jewelry and help others take some risks about what they wear. We thought that getting involved in the art/design/craft world when our corporate and academic careers slowed down (he's a professor at a university in NYC) would be a good "next chapter" for us.
That day came sooner than expected in 2011 as we walked around the SOFA Chicago art fair. Feeling our usual excitement about being in that environment, Jeff proposed that we put together a group of jewelry artists whose work we love and believe in but who weren't being shown there and apply to SOFA as the way to jump-start our gallery. I was still working at the time, usually 50- to 60-hour weeks, and wasn't sure we could pull it off, but we convinced a group of artists to take the journey with us. This November will be our fifth SOFA fair—it's hard to believe!
Your gallery is called Hedone. What does that word mean?
Bonnie Levine: Hedone was the Greek spirit of beauty and pleasure. We felt that captured how we feel about contemporary jewelry. In hindsight, it's been challenging because people aren't sure how to pronounce it. We say "huh-DOE-knee," but I guess it doesn't really matter.
I understand that you don't have a commercial space. Where does the gallery exist? Do you successfully conduct your business through the Internet?
Bonnie Levine: I had always imagined that when the time came, we'd have a physical store and show jewelry and objects (ceramic and glass). I thought I'd want the structure of having a place to go every day to be surrounded by jewelry, and a venue for events. So it was quite a surprise that when the time actually came, our feelings about this had changed. It felt quite risky to invest in brick and mortar, especially as more and more galleries seem to be questioning the wisdom of having a retail space. Since so much is playing out over the Internet right now, we decided to go virtual—to participate in art fairs, trunk shows, and other events, and have an Internet presence. Since we're still a relatively "young" gallery, our primary objective is to let people know who we are and build a following.
What are the challenges facing you given your limited exhibition space? How do you compensate for it?
Bonnie Levine: It's really an interesting paradox—other gallerists tell us we were smart to steer clear of a retail store, but it's been more challenging than I thought to find venues for pop-ups, trunk shows, and other events that make sense for us. And until now, only a handful of art fairs welcomed jewelry. That seems to be changing now, though.
How would you describe what you show?
Bonnie Levine: The work we show represents a range of styles and materials with one common theme: adornment. This is where my love of jewelry started and continues today—the artist's idea, how a piece of jewelry is made and its structure, how it reacts with the body, and how the wearer experiences it. For the most part, our artists are making a statement about adornment though a combination of precious and nonprecious materials. Some of the work is easily accessible, while some is more edgy and pushing boundaries. Some artists are starting to experiment with performative pieces, such as the jewelry-dance-video-music collaboration that jeweler John Moore participated in. If you have a few minutes, it's a treat to watch!
So far, we haven't presented work that has narrative content.
We also try to show work at a variety of price points because I want it to be accessible to everyone—a young aficionado as well as a collector. When I started buying jewelry, I couldn't spend much on it and liked that I could buy something affordable that was not mainstream. From there my tastes evolved—as did the prices, of course! But I believe that one of our goals as gallerists is to educate the public about contemporary jewelry, which means it has to be accessible.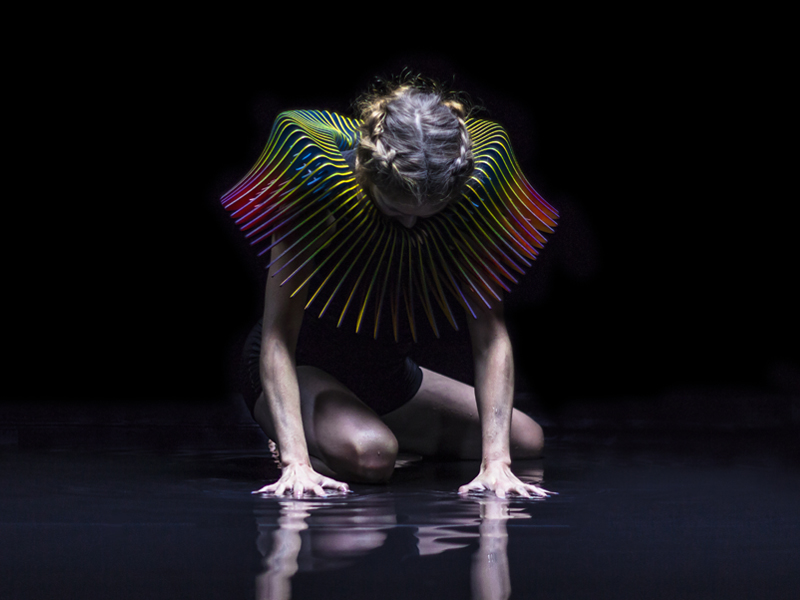 Who are the artists you have been successful showing?
Bonnie Levine: There is a group of artists we've shown over the years including John Moore (aluminum, gold, silver—UK), Jed Green (glass—UK), Jeffrey Lloyd Dever (polymer clay—US), Ayesha Mayadas (metal, stones—US); Naomi McIntosh (wood, paper—Scotland), Bongsang Cho (metal, stones—US), Donald Friedlich (glass—US), Annemieke Broenink (rubber—Netherlands), Ute Decker (metal—UK), Federica Sala (glass—Italy), Reiko Ishiyama (metal—US), Daphne Krinos (metal, stones—UK), and Giselle Courtney (glass—Australia).
We also present several new artists for each SOFA fair. This year we're excited to present Blanche Tilden (glass—Australia), SJ Paik (metal—US/Korea), Emmeline Hastings (acrylic—UK), and Alison Evans (metal—UK). In addition, glass and video sculptor Tim Tate has forayed into jewelry, creating a series of brooches that we're excited to show.
What are the three most interesting pieces of jewelry you have seen recently?
Bonnie Levine: Only three?! That's really hard—there are several that I love and covet, but three current favorites would include:
John Moore's Diamond Verto necklace. This piece expands on John's vocabulary, taking it into the realm of architectural sculpture for the body. The craftsmanship is beautiful and its fluidity and motion are dramatic and sensual—the wearer can really interact with this piece. It has won several awards in the UK this year, including the prestigious Goldsmiths Company Award 2016. It's a special piece for a special collector. He has created a similar, much larger version of this that's been used in dance performances.
Federica Sala's Meaningless Sense neckpiece. This piece is part of a new body of work called True Lies that was part of her MFA thesis and exhibition at Alchimia Contemporary Jewelry School in Florence. This work is about pushing the boundaries of material—in this case, glass—to find hidden qualities and create something new and unexpected. Here she has discovered how to embed stones and metal directly into the glass, not just using it (metal) as a supporting structure for the glass.
Biba Schutz's Black Score necklace. I'm really drawn to Biba's recent body of work using glass—I think my penchant for glass is showing here. This new work represents an evolution in her use of materials, combining the fluidity and transparency of glass with the structure of metal to create wearable pieces that relate to the body. This particular piece feels sleek and vibrant, but also calming; I feel as if I'm looking at a landscape of undulating hills and volcanoes.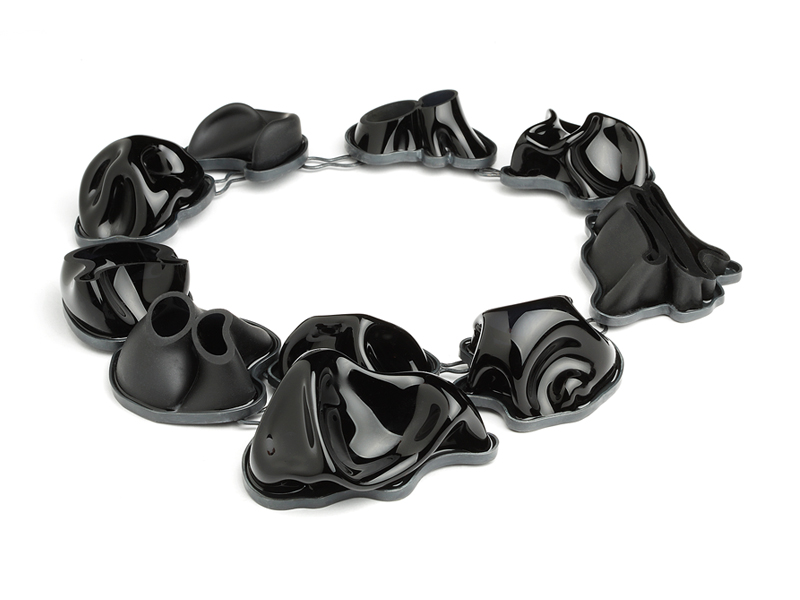 What do you love about representing artists? What do you hate about it?
Bonnie Levine: For me, the most rewarding part of being a gallerist is all about the artists. I like finding artists whose work I believe in and watching them evolve. I am in awe of their talent. But mostly I love the connections and relationships that develop, in some cases, into meaningful friendships. As gallerists, it's important to tell their stories and support the great work they do.
What do I hate?? Nothing—that's much too strong, though perhaps "frustration" fits in some situations. Maybe it's my corporate background coming out, but timeliness and follow-through are qualities I value. Some artists are better at this than others.
How do you think the field will develop in the next five years? Any predictions?
Bonnie Levine: I wish I had a crystal ball, but there are a few things I've been thinking about…
For one, what role will technology and the computer play in how we conceptualize and produce jewelry? Technology is quickly changing how we perceive and think about art. Where will this go, and will it change how we define contemporary jewelry?
We're also seeing jewelers moving into other forms of expression, such as performative art. Will we start to see more artists whose backgrounds are not in jewelry become more involved in creating works that can be worn? This could offer fresh, new perspectives and push our "world view" of jewelry to another level.
As these and other trends shape the future, it begs the question for me of what the parameters of "contemporary jewelry" are. I hear references to art jewelry and studio jewelry—are these interchangeable? Is only jewelry with a conceptual or narrative focus, or jewelry that's made in some new, cutting-edge way, considered art jewelry? Is there a place for jewelry that is purely decorative? And what about the jeweler who is an unparalleled craftsman and technician—where does his/her work fall?
I'm not sure where this is all headed, but it's clear that lines are blurring and artists continue to find new ways to express themselves. And we jewelry lovers benefit from their journey!
Thank you.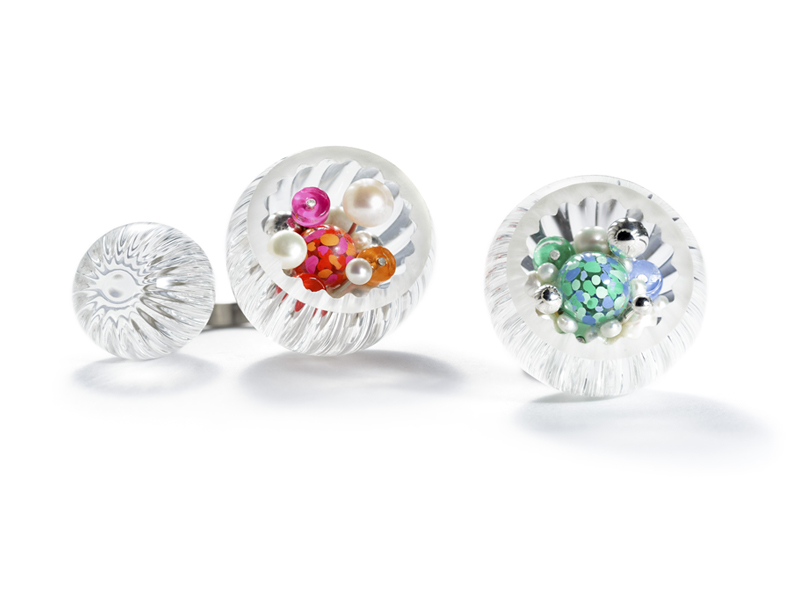 INDEX IMAGE: Seung Jeon Paik, Unity, 2015, brooch, sterling silver, 18-karat gold, 66 x 76 x 13 mm, photo: artist