The Munsteiner family is famous for the wildly innovative stone cutting they have been doing now for a couple of generations. De Novo hosted a trunk show with them in June featuring both their stones and the jewelry created by this extraordinary family of jewelers. There isn't too much available online about them so this was an excellent opportunity to get some of their background on record.
Susan Cummins: Tom, you come from a family of stonecutters. Can you give us a bit of your family history?
Tom Munsteiner: I am the fourth generation of stonecutters within my family, but the first big step away from the traditional cutting and toward our work today was made by my father, Bernd, in the middle of the 1960s, starting a "revolution" within the industry.
What were the revolutionary ideas your father worked with starting in the 1960s?
Tom Munsteiner: During that time, Bernd was attending the art school in Pforzheim, and one day his professor asked him, "How would you imagine modern gemstone design?" Considering most of the traditional cuts were already more than 500 years old, Bernd decided to start working with gems from a completely new perspective.
Am I correct in assuming that you both make faceted stones for other jewelers as well as make your own jewelry? How do you work with them?
Tom Munsteiner: We also sell our cut gems to goldsmiths and jewelers around the world, but the jewelry we sell is all made in our studio. Bernd and mostly I are the ones responsible for the stone designs and cutting, and my wife, Jutta, who is a master goldsmith, designs the jewelry.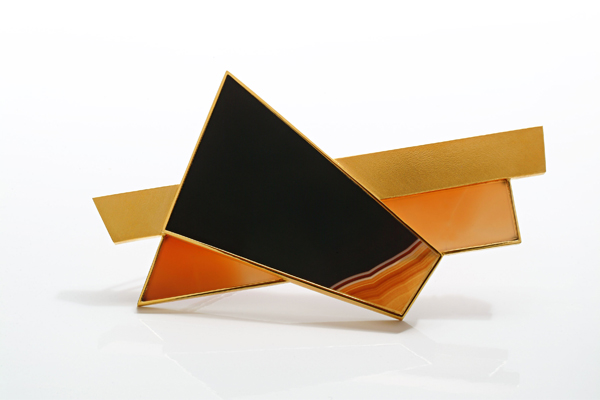 What stones do you like to use regularly? How do you find them?
Tom Munsteiner: We use a wide variety of gems. Our only limitation is the hardness, as we cannot cut stones with a hardness higher than 8. Our main sources for stones are rough stone dealers from all over the world, who visit the area of Idar-Oberstein very frequently. I also travel to Brazil personally to buy rough stones.
What excites you the most about cutting a stone?
Tom Munsteiner: Most of all I am excited about the never-ending possibilities to design something new.
I understand that you are also working on stone sculptures. What led you to work in a larger scale?
Tom Munsteiner: If I have the chance to work with a big piece of rough crystal, it's exciting to think of the piece as a whole, trying to make the most of it without cutting it into smaller fragments. The bigger the crystal is, the more possibilities you have in your design.
Is there one particular stone you really remember working on?
Tom Munsteiner: One of the most exciting projects was most definitely helping Bernd to work on the Dom Pedro Aquamarine sculpture. Another memorable piece was the sculpture Metamorphosis in the 1990s, which was my first experience with sculptures in such a big scale.
Please describe how your studio functions now. How many people work there and where are you located? What role do you play? What role does your wife, Jutta, play?
Tom Munsteiner: The studio is located in Stipshausen, in the outskirts of the Idar-Oberstein area in Germany. Our team consists of 10 people total, and is split between three floors: stonecutters, goldsmiths, and our office. Regarding my role in the company: As president, I'm responsible for organizing, sales, rough stone supplies, and of course also designing and cutting stones. Jutta helps in many of these areas as well, and she is responsible for designing our jewelry.
Thank you.