The poppy-as-emblem emerged simultaneously in North American, Australasian, and European cultures as a symbol of loss of life after two world wars. Nearly 100 years after it first appeared as a token of mourning, why has a small red poppy become so central to remembering countless global conflicts, for legions of men, women, and children across many international communities?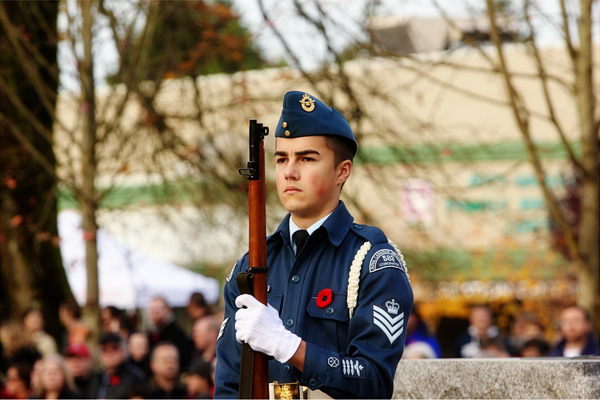 In December 1915, a poem written eight months earlier by Canadian poet and field surgeon John McCrae appeared in Punch. The poem's inspiration came about by the death of a close comrade of McCrae's during the Second Battle of Ypres in Belgium. The 15 immortal lines of "In Flanders Fields" set in motion a cultural pathway toward one of history's most recognizable symbols. It fused blood-red petals with the loss of life during war and ignited the passions of a postwar English-speaking generation grappling with the aftermath of so much human destruction.
Two humanitarians, American Moina Belle Michael and Madame Anna Guérin of France, promoted soon after the red handmade silken poppies as a flower of remembrance, and Americans and the British military started wearing it in 1921. However, by the mid-1920s the Flanders Fields Poppy was facing opposition: The British state-led Royal Legion was challenged to rethink its use of the red poppy as a symbol of triumph and accomplishment of war. A Quaker-led Peace Pledge Union began to promote the white poppy as a symbol of nonviolence and conscientious objection in time of war. A struggle ensued between the two poppies over their contested symbolism.
The debate is still very much alive today: Last year's Tower of London installation titled Blood Swept Lands and Seas of Red caught the world's attention and provoked much debate. Conceived by artist Paul Cummins, an impressive sea of red poppies seemingly dripping out from the Tower's outer wall onto the moat attempted to symbolize over 800,000 war casualties across allied commonwealth countries. British art critic Jonathan Jones saw the installation as a disturbing expression of backward-looking Anglo-nationalism, similar to that which had caused the Great War in the first place. For Jones, a truly meaningful memorial might have filled the moat with bones, skulls, and barbed wire.
The red poppy has become a wandering cultural paradox. Both a unifying and divisive emblem within many international remembrance landscapes, it questions the validity of commemorative ritual about past wars. While the poppy still remains a central and piquant force, it also lends itself to being a transmutable meme by way of appropriation within geopolitical agendas. Its latest foray was last year—2014—when the Ukraine adopted the red poppy and rejected the St. George Ribbon to consolidate western political alliances and NATO aspirations.
In 2001, my own curiosity about war and how we remember it led me to make a pilgrimage to the imposing New Zealand Memorial at Tyne Cot Cemetery near Passchendaele in Belgium's historic battlefields. Eager to understand more about the ANZAC tradition and how this had influenced a culture of remembrance, I was shocked by the sheer scale of the massacre. As I moved through the ranks of countless white Portland stone headstones lined across a manicured cemetery, my eye occasionally caught a small red poppy or wreath that lay to the side of the headstones.
Returning home to my Dunedin workshop, I began to synthesize something of these events and as I questioned why poppies were so predominant, their tragic but uplifting spirit began to take hold. For some years I had been fascinated by the materiality of the handcrafted debris of war known as trench art and its ironic content. And so I entered the place where "terror meets beauty," and began my own melding of discarded fragments of war with symbols of remembrance: I decommissioned and extruded a recently acquired souvenir, a spent gun cartridge, and turned it into a poppy. Part signifier of death and mourning, but also imbued with redemptive quality, this metallic poppy could be worn or used as part of large-scale sculptural actions.
Jewelry and sculpture are two forms of cultural production that can activate personal and collective memory. The Irish historian Roy Foster suggests that history is made by remembering things; I began to assert that we might also remember and understand histories in other ways—by making things.